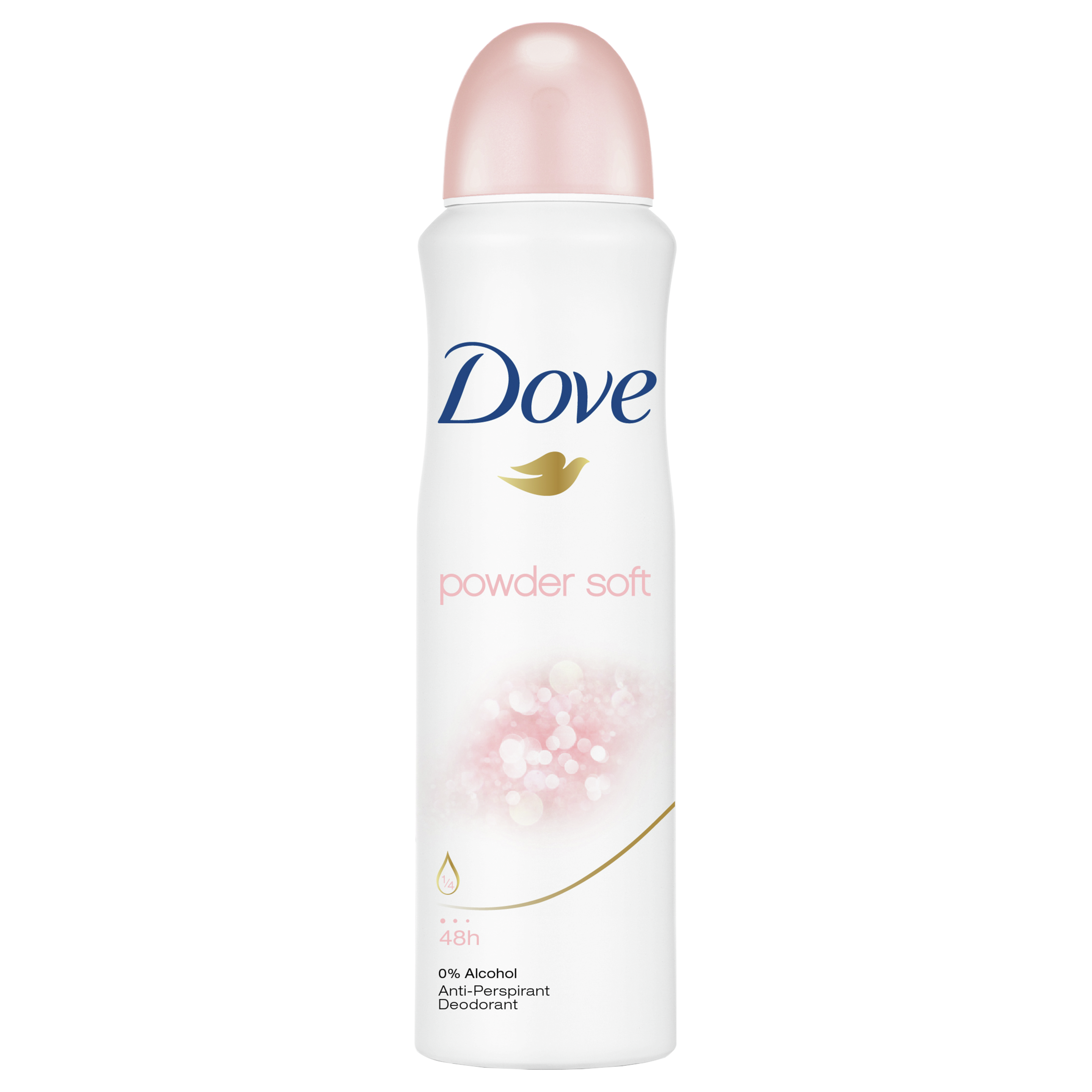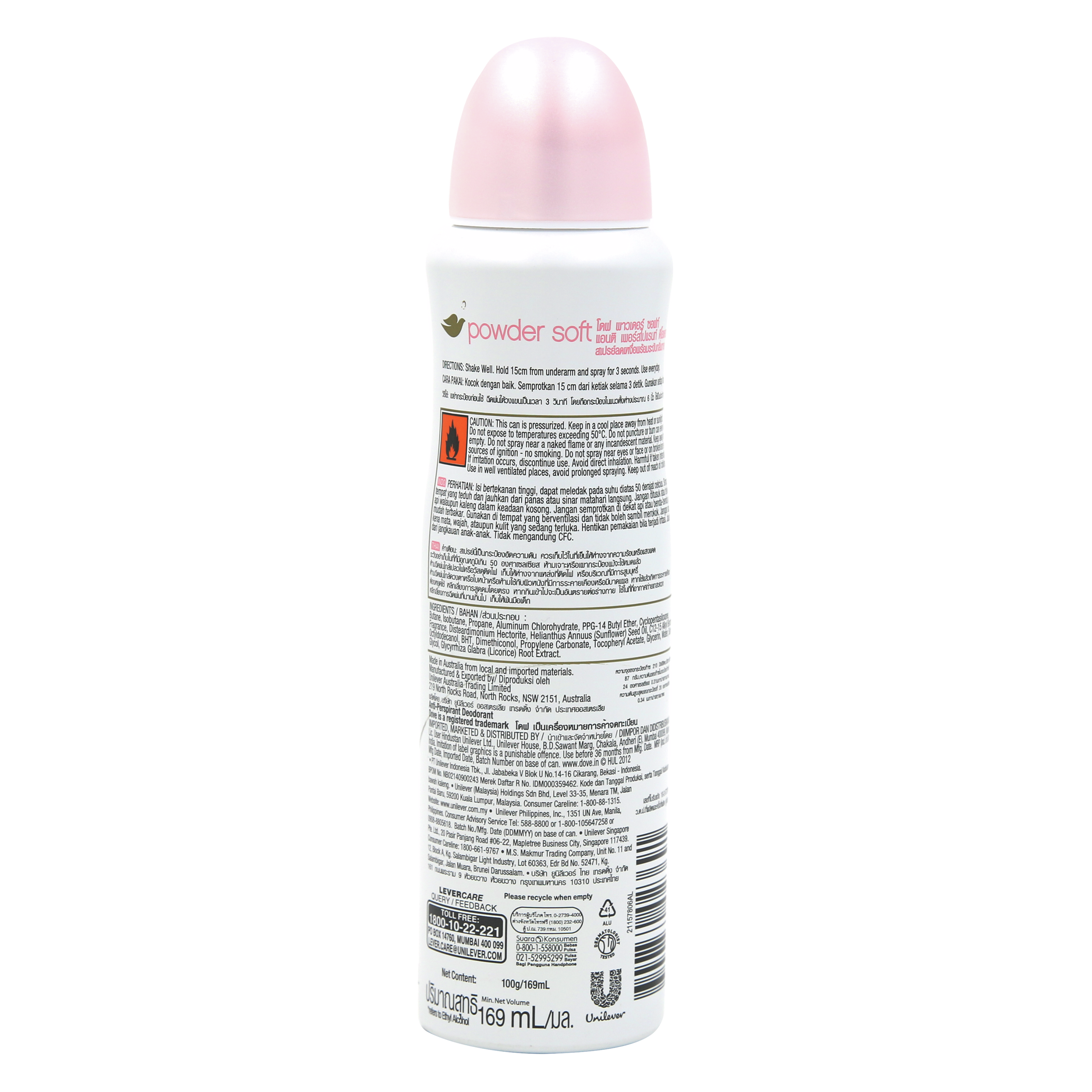 Powder Soft Antiperspirant Aerosol
Dove Powder Soft Antiperspirant keeps you feeling dry with a powder soft feel and a comforting baby powder fragrance.

• Soft as powder – feels good to use

• Reduces perspiration for up to 48 hours

• Contains ¼ moisturising cream for beautifully soft and smooth underarms

• 0% alcohol to help reduce skin irritation

• Gorgeous floral baby powder scent

• Compressed can lasts as long as our regular cans


You know when you're out shopping and you go past a rail of cashmere jumpers and just can't help but have a feel? It's the same with velvet dresses and silk sheets, right? We just love feeling softness on our skin. It's comforting and soothing, exactly what Dove Powder Soft Antiperspirant is all about.

Dove Powder Soft Antiperspirant feels as soft as powder and its warm floral scent of freesias and peonies reminds us of that gorgeous baby powder scent we all know and love.

With ¼ moisturising cream and a 0% alcohol formula to help reduce skin irritation, it doesn't just feel soft – it helps your skin to feel soft too! It helps to keep you dry for up to 48 hours and, thanks to that warm powder scent, it provides a beautiful, long lasting scent that's sure to give you a boost of confidence when you need it most. Our ¼ moisturising cream means you can have beautifully soft and smooth underarm skin in just three days.

Our compressed 125ml cans last just as long as our regular 250ml cans and their compressed, slow-release technology makes them soft on skin, too. Plus, you can pick up a convenient compressed 75ml can for your handbag, too. Perfect! 


Butane, Isobutane, Propane, Aluminum Chlorohydrate, PPG-14 Butyl Ether, Cyclopentasiloxane, Perfume, Disteardimonium Hectorite, Helianthus Annuus (Sunflower) Seed Oil, C12-15 Alkyl Benzoate, Octyldodecanol, BHT, Dimethiconol, Propylene Carbonate, Water, Tocopheryl Acetate, Glycerin, Butylene Glycol, Glycyrrhiza Glabra (Licorice) Root Extract, Propylene glycol


• Underarm care
Looking for the answer to how to get soft underarms? Let Dove's Powder Soft  Antiperspirant let you in on the secret. It contains our unique ¼ moisturising cream, which nourishes your delicate underarm skin to leave them feeling smooth and soft. And because it's compressed, it releases gas slowly, so it's softer on your underarms

• A powder-fresh feeling
It leaves a powder-soft, silky finish on your underarm skin with a lingering beautiful scent

• Long-lasting protection
Its hard-working ingredients keep you dry for up to 48 hours

• Your handbag
Because it's compressed, it's also the ideal travelling companion: our compressed cans last as long as their regular equivalents, but with less packaging (meaning it's good for the environment too)


For ultimate freshness, the easiest way to get the most out of your spray is to first give it a proper shake to get the benefits of all the ingredients. For even coverage, apply by holding the can around 15cm from your underarm as you spray it. Deliver a quick spray for a couple of seconds on each underarm.


How to get soft underarms: Use a razor for hair removal? Remember to always use shaving cream in order to put a barrier between the blades and your delicate skin, which will fend off irritation. Because Dove Powder Soft Antiperspirant contains ¼ moisturising cream, you can use it after shaving – it will help keep underarms nourished and smooth. 

When it comes to your body, love the one you're with
Beauty is an all-ages show