How to repair wavy hair in 6 easy steps
Many of us with wavy hair love our heat styling and chemical treatments. But over time, this can lead to damaged wavy hair. With the right products, some new techniques, and a bit of patience, you can fix your damaged wavy hair and have it looking wow-worthy once more.
What does damaged wavy hair look like?
Did you know, your wavy hair has a pattern memory which means it springs back to shape as it dries? When your hair is damaged, it can forget its wave pattern. When you see frizz, straightness, or stringy ends in place of your waves; it's time to give your hair some TLC.

What causes damage to wavy hair?
Wavy hair is naturally dryer than straight hair because the oils your scalp produces can't travel down the hair shaft as easily. Without these oils coating the hair, it's more prone to everyday damage.

Some of the main players involved in damaging wavy hair include:

Chemicals
Weather
Rough detangling
Using the wrong products
Product build-up
Mineral build-up from hard water
Diet
It's time to protect damaged wavy hair from almost anything, with nourishing care.

Is it possible to repair damaged wavy hair?
While damaged hair might not heal 100%, the good news is that taking care of wavy hair can bring your waves almost back to their former glory.

How to fix damaged wavy hair?
Here are six ways to return damaged wavy hair to its beautiful best.
1. Condition, condition, condition
Wondering how to revive wavy hair? Say hello to your new best friends: specially formulated shampoo and conditioner for wavy hair. Start with Dove Hydrated Waves Shampoo before applying Dove Hydrated Waves Conditioner. This holistic hair care system smooths hair cuticles for defined, nourished waves with protection from frizz.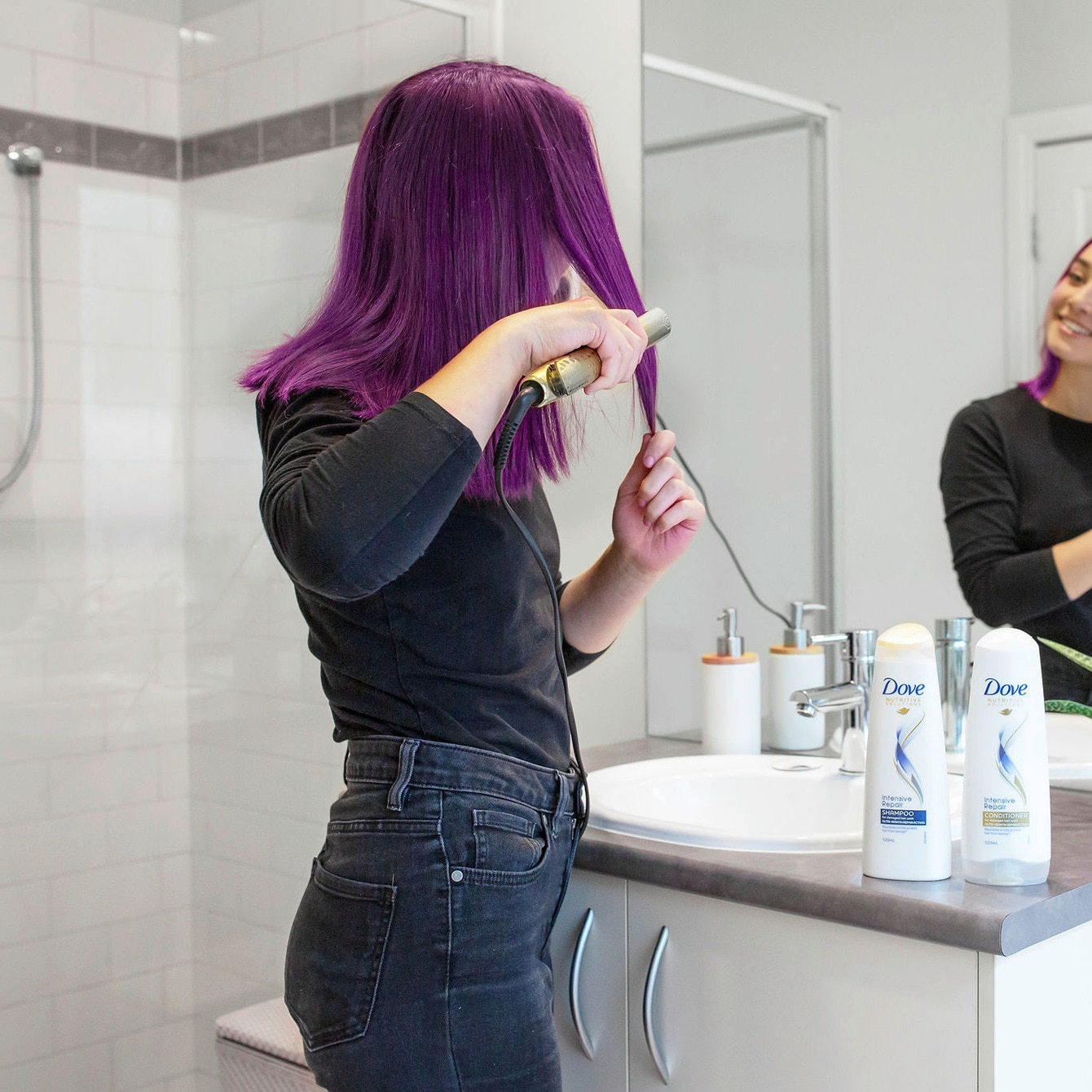 2. Brush this ways
When it comes to washing, detangling and styling your damaged wavy locks, the goal is to avoid breaking your delicate strands as much as possible. Show your hair some love when detangling. Tease out knots gently with a wide-tooth comb or your fingers while your hair is soaked in Dove Hydrated Waves Conditioner for extra slip.
3. Protect your waves
Heat from the sun and your heat styling tools can impact your beautiful waves. Always use a heat protector when you've got the flat iron or curling wand out, and try wearing hats when you'll be in the sun for long periods of time.
4. Give oils a go
Oils can be a wavy woman's secret weapon when figuring out how to repair wavy hair. They offer a dual nourishing effect: smoothing frizz, adding instant shine, while sealing in moisture to strengthen your waves. Try your favorite hair oils for your scalp and ends, and Dove Anti-Frizz Oil Therapy Shampoo and Conditioner for your daily dose of nourishing oils.
5. Put your hair health first
What's your wavy hair guilty pleasure? It might be heat, bleach or dye. When you want to restore your wavy hair, reducing these processes from your routine is a quick and easy way to start repairing your waves. Instead, have fun experimenting with natural dyes, air drying and no-heat styling for heat-damaged wavy hair.
6. Be patient
Now you've started your new wavy routine, you're one day closer to healthy waves. You'll need to be patient though. It may take a little while for your wavy, damaged hair to spring back to its wonderful wavy self. But when they do, it'll be worth the wait.
Hello, what are you looking for?
When it comes to your body, love the one you're with
Beauty is an all-ages show