The Lowdown on How To Fix Heat-Damaged Hair At-Home
Poker straight, bouncy, or curly; heat styling tools are our secret weapon when it comes to achieving the hair looks we love. But sometimes, all that heat can wreak havoc on our hair. Discover the tricks, cuts, and products that will repair your heat-damaged hair. Then find out exactly how to prevent heat-damaged hair in the future.
Does heat damage hair?
We all love heat styling. It gives us shiny, smooth locks that hold the shape we want, whether curly, straight, or a bouncy blowout.

But to get those amazing results, some hot styling tools reach up to 480°F. This can dry out your hair's protective cuticle layer and alter its natural proteins. How to spot this in your hair? You might see split ends, dryness, roughness, breakages, or lots of tangles and knots.
Read on to find out how to restore your hair health in a flash.

Can damaged hair be repaired?
There aren't enough hair masks in the world to fully reverse heat damage. But don't despair. There are lots of ways to give your heat-damaged hair a helping hand and get it back to its gorgeous self. What's more, you'll be making your hair stronger so you can heat style guilt-free in future.

How to repair heat-damaged hair
To take your hair from frazzled to fabulous, follow our tips for repairing heat-damaged hair.

How to help your hair look healthier
Damaged hair can look dull, and lack that healthy-looking lustre. While you're taking care of damage, you can still help your hair to shine. Enter: Dove Glow Restore Shampoo and Serum + Conditioner. This clever duo is infused with amino serum and vitamin C, and helps to nourish and detangle your hair, giving it some glow back.

Daily damage repair
Your wash day routine is a great place to start when thinking about how to treat heat-damaged hair. Dove Celebrity Stylist Mark Townsend says, "Dove Intensive Repair Conditioner is my absolute favorite product for reviving damaged hair because it nourishes and repairs damage on the surface, while strengthening to prevent future damage."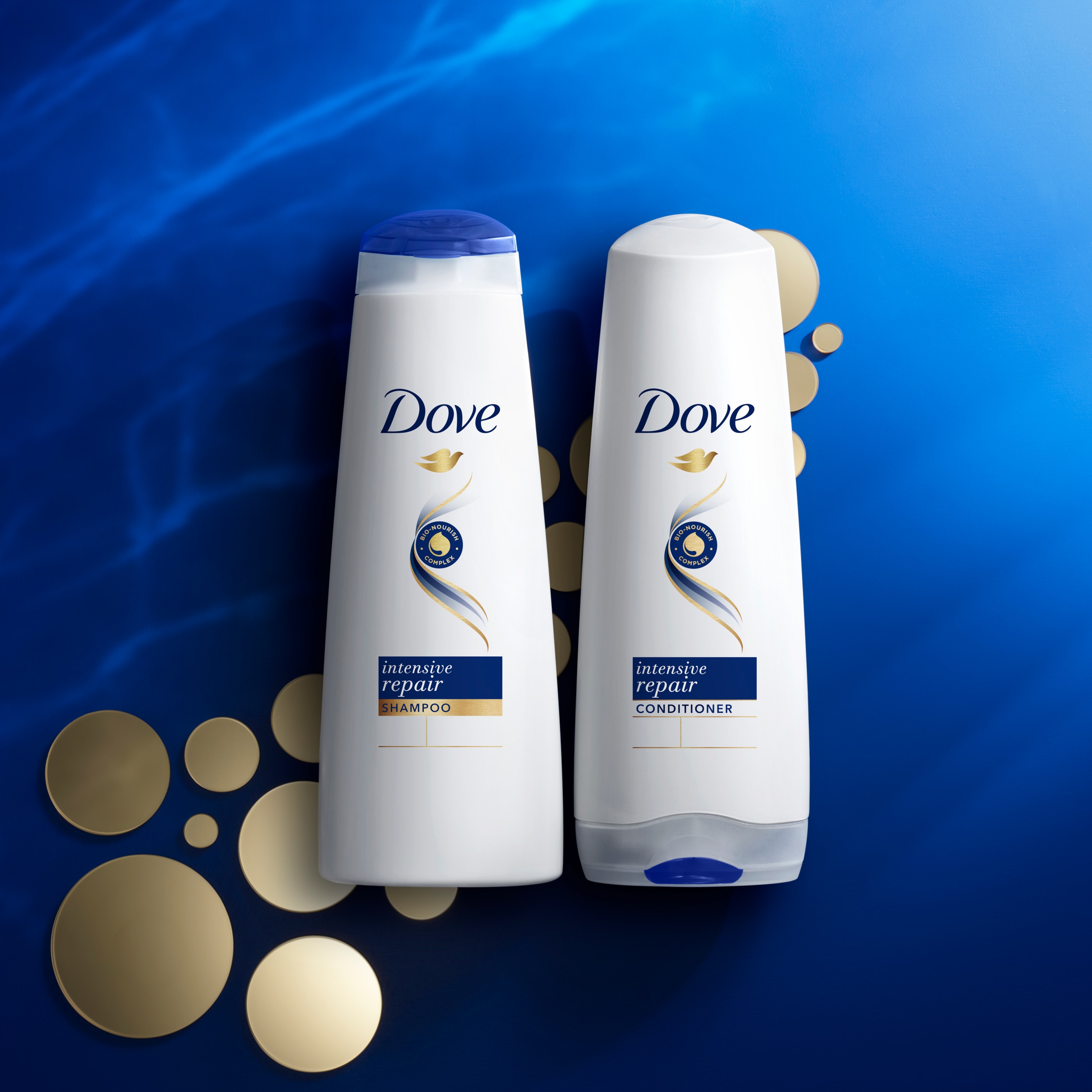 Weekly hydration
Look out for products to hydrate and soften hair. Using our Intense Repair Conditioner a great way to make hair more resilient against heat damage.

Healthy hair care
Heat-damaged hair needs all the love it can get. That means taking a break from chemical treatments and heat styling when you can, brushing gently, and patting hair dry using a cotton t-shirt or microfiber towel. Avoid tight hairstyles that tug on your hair and protect your strands from the sun. These all sound like small acts, but they add up to make a big difference in keeping your locks looking lovely.

How to repair heat-damaged curly hair
Curly hair might be heat damaged when it looks straighter than normal, tangled, or frizzy. These are all a sure sign your tresses need some TLC. Pack your routine with rich hair masks, deep conditioning treatments, and leave-ins. Look out for damage control products like Dove Rescue & Protect Shampoo and Serum + Conditioner. Together, they help nourish your hair at a cellular level,* strengthening internal bonds and sealing split ends for healthier-looking hair that feels softer.

How long does it take to repair heat-damaged hair?
We know the road to hair repair can feel long, especially if you're at the start of your journey. But you can do it. And if your hair doesn't look and feel better after three months, head to your trusted salon to chat about treatment options to get your hair back on track.

Prevention beats cure
The best thing you can do for luscious locks in the future is prevent further damage. Take a break from heat styling when you're having a chill-out day at home. Try a cute heat-free hairstyle for work now and then. Drop the temperature on your tools and upgrade your appliances for ones with improved heat regulation. And always cover your hair in our Heat Protection Spray before going near it with any hot styler.
Hello, what are you looking for?
When it comes to your body, love the one you're with
Beauty is an all-ages show