Hair Damage 101: What Is Hair Damage & How To Repair
Hair damage; it happens to us all at some point. Find out more about the different types of hair damage and how to show your hair the love it needs. Then discover easy ways to protect your hair from future damage in our ultimate guide to damaged hair.
Even with the best intentions, your lifestyle can sometimes take its toll on your hair. Hair damage comes in many forms. But with the right care, it's possible to not only save your locks from damage but prevent it from happening in future.
What does damaged hair look and feel like?
Damaged hair creates a whole range of hair troubles, at least one of which you've probably experienced. If your hair is dry , lacks elasticity, feels lifeless and dull, is frizzy or lackluster, it could be damaged. But let's not let damage hold us back; it's easy to treat and prevent.

How does hair become damaged?
Hair is easily damaged as we go about our lives. Daily situations like heat styling, chemical treatments, the weather, and rushed hair care routines can all affect hair health:
There are many ways damaged hair can show up when we look in the mirror. Which one of these signs can you relate to most?

Split ends
Split ends are when the tips of your hair split into two or more strands. This is the oldest part of your hair. It's been around the longest, so at some point it gets too tired and splits.
Heat damage
We love hot styling tools , but high temperatures can dry out or even crack your hair's protective outer layer and affect its natural proteins. You might notice split ends and breaking, dryness, and difficulty brushing or styling.


Brittle hair
Brittle hair is thirsty hair. It loses its smoothness and shine, it tangles and breaks easily. This is usually a sign of heat or chemical damage.

Bleached hair
We love a bit of blonde, but bleaching can dry out hair and cause split ends, shedding, tangles, and hair loss. It also strips your hair of proteins which give it strength and volume, leaving you with dull hair.

Curly hair damage
Wavy and curly hair is naturally less oily because sebum from the scalp can't travel down the coily hair shaft as easily. Without these nourishing oils, hair is more prone to damage. You might notice your strands are frizzy, straight, or prone to split ends .
When your hair is feeling a little worse for wear, give it the VIP treatment to repair the damage and get your locks back to their best.

Moisturize
Deep conditioning is a nourishing fix for frazzled hair. Once a week, take a little 'me time', run a hot bath and apply our Anti-Frizz Oil Therapy Hair Mask Stick a shower cap on and luxuriate for up to 30 minutes. Rinse and wash as normal to restore your hair's natural shine and bounce.

Add protein
Protein helps repair bonds within the hair structure and strengthen it from the inside. Dove Intensive Repair Shampoo and Conditioner contain keratin repair actives. They've got damage repair down to a T, leaving your hair strong and healthy.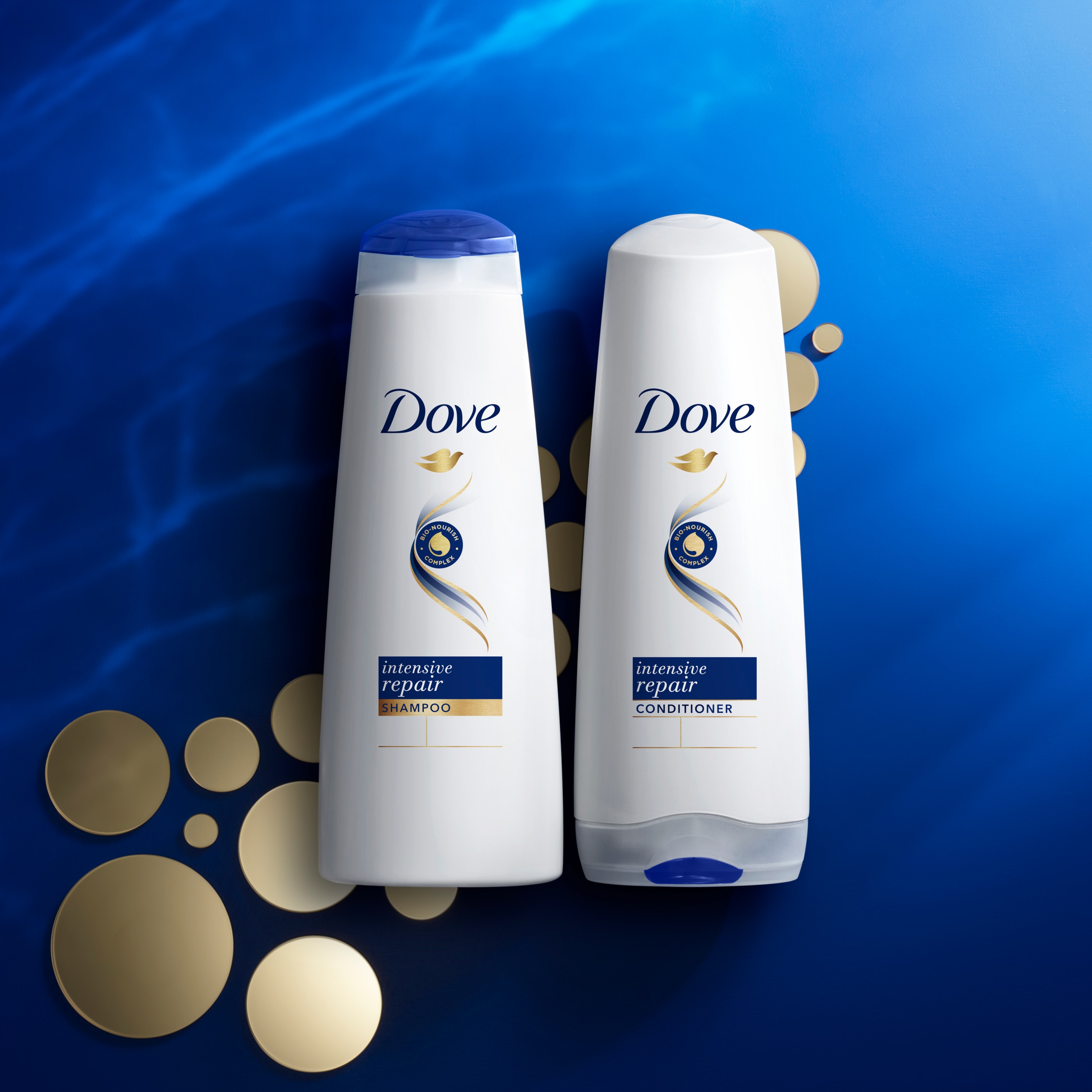 Get a cut
Sometimes the best thing for damaged hair is to give it a fresh start. Get your stylist to fix you up with a gorgeous new cut. Hair damage never looked so chic.
Dove Celebrity Stylist Mark Townsend tells us, "I spend a lot of time discussing how to prevent damage. It's much easier to prevent damage than it is to repair it, so it's important to take the necessary steps to ensure your hair stays strong and healthy."
Protect from heat styling
Mark has some great advice for hot tool fans: "Using a heat protectant spray is so important in preventing damaged hair while using hot tools." Dove Heat Protection Spray seals the cuticle and prevents damage while adding shine." "Speaking of hot tools," he adds. "Turn down the temperature! So many people style their hair at 450°F, when really you can achieve the same look at 375 to 400°F."
Choose the right products
Dove Daily Moisture Shampoo and Conditioner are gentle enough for regular washing, even for damaged hair. They clean your hair and scalp without stripping it of those protective natural oils.
Style gently
Over brushing your hair or overworking it while applying products or towel drying can weaken hair and lead to breakages. Taking a gentler approach at every stage in your routine is an easy way to maintain your hair health.
Hello, what are you looking for?
When it comes to your body, love the one you're with
Beauty is an all-ages show