Brittle Hair: What Is Brittle Hair And How Can You Treat It?
Brittle hair is hair that is dry, breakable, and dull. It's usually a sign your strands need some TLC. Luckily, caring for brittle hair is as simple as protecting your locks from heat, chemicals, weather, and rough styling techniques. With our tips, you'll be on your way to smooth, strong hair in no time.
You know you've got brittle hair when it feels dry and rough. Or when it doesn't take color or hold your favorite style well. In the shower, you might spot more tangles and more hair in the drain. Far from the dream hair scenario. We've got some tips that will restore your hair's strength and shine.
What causes dry, brittle hair?
You might be wondering what makes hair brittle. Well, it's usually a sign of damage from daily wear and tear and styling. Chances are your hair is wrung-out after overexposure to these hair health hiccups:

Heat
We all love our styling tools and blow dries. Sadly, our hair doesn't love those sky-high temperatures quite so much. Too much heat dries hair out, which can make it brittle over time.

Chemicals
When experimenting with the texture or color of our hair, we use dyes, perms, relaxers, and bleach. They might help create a dream look, but they can also leave our hair a little brittle.

Environment
If it's very cold or very hot outside, or if you do a lot of swimming in chlorinated water, your hair might become brittle. Sun, cold, and chlorine all have a drying effect.
How to treat dry, brittle hair
Ready for hair that stops traffic? Here's how to fix your brittle hair.
Choose the right products
When you know what products to use for dry, brittle hair, you're halfway to hair heaven. Dove Celebrity Stylist Mark Townsend says, "Healthy hair starts in the shower, so choosing the right shampoo and conditioner is key. For people who tend to be prone to breakage, I recommend using the Dove Hair Therapy Breakage Remedy Shampoo, Conditioner and Leave-On to nourish hair and prevent damage."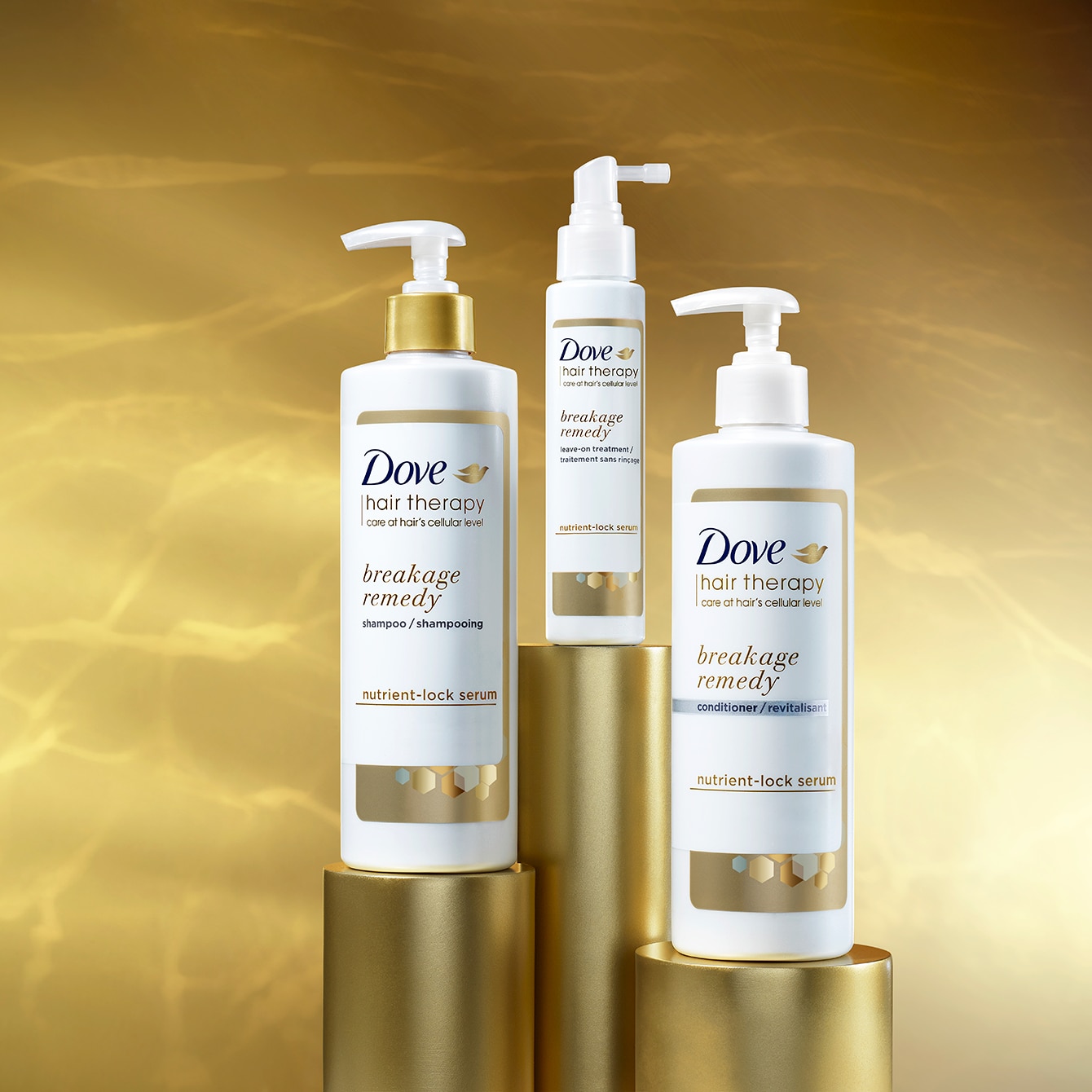 Continue your daily routine with our Heat Protection Spray before turning on your hairdryer. Once a week, use a moisturizing mask like our Intense Repair Conditioner.

Cool styling
Giving up heat styling tools altogether is a big ask. It's all about making them work for you. Try lowering the heat setting a little or skipping one day a week in favor of wearing your hair natural. The same goes for chemical treatments: spacing them out will help your hair bounce back to its beautiful self.

Handle with care
Brittle hair is breakable hair. So when thinking about how to care for brittle hair, it's important to go gently during your hair care routine. Wash your hair by carefully lathering the roots with shampoo. Rinse, then drench the ends in conditioner. Fresh from the shower, brush slowly using a wide-tooth comb. At bedtime, use a satin pillowcase or plait your hair and secure with a silk scrunchie to keep it smooth and breakage-free.

The hairstyle mix-up
Your signature high ponytail or ballerina bun can put pressure on your hair follicles. Have fun experimenting with a low ponytail, a loose chignon, or a laid-back plait. Looser styles give your hair the best chance of recovery.

Protect your hair from the elements
If you're heading out to have fun in the sun? Use a spray-on SPF for your hair. When taking a dip rinse your hair thoroughly in non-salt water when you're done. If your home is dry, a humidifier adds moisture to the air and your tresses at the same time.

Get a trim
When all you want is long, flowing locks, cutting your hair can feel like a step in the wrong direction. But what if we told you getting a trim is the very best way to maintain your hair health and reach your goal length? Tell your stylist you're growing it so they snip as little as possible and give you length-enhancing layers.
Hello, what are you looking for?
When it comes to your body, love the one you're with
Beauty is an all-ages show