How to Repair Chemically Damaged Hair
Chemical treatments give us the hair color and texture of our dreams. But they can also leave strands feeling dry and weak. If you want to restore your locks to their smooth and bouncy selves, we can help. Wondering how to treat your chemically damaged hair? The answer is: with care. Here's how to give your hair the help it needs to make a full and fast recovery.
What is chemically damaged hair?
Are you a swimmer, a bleached beauty, or a color change chameleon? You're likely no stranger to chemically damaged hair.

Chemicals tend to strip our strands of lipids. These are little protectors that keep our hair cuticle – the outer layer – smooth and shiny. When this layer is damaged, it cracks and lifts causing even more damage within the hair shaft.

What does chemically damaged hair look like?
If you're seeing frizzy, dull, and dry hair, or if you're experiencing split ends, breakages or hair loss, chances are you've got a spot of chemical damage.

Those of us with curly hair might notice our curls are less defined and may even become straight. Whatever your chemically damaged hair looks like, we're here to help.

Can you fix chemically damaged hair?
Once the hair fiber is damaged, it won't fully heal. But there are lots of ways to improve the appearance of your hair, restore its health and, most importantly, protect it when you next get a treatment.

How to repair chemically damaged hair?
If your hair is a bit worse for wear after a chemical treatment, check out our top tips for how to fix chemically damaged hair and get your tresses looking top-notch again.
Choose the right conditioner
When washing your hair, choose a nourishing conditioner like Dove Color Care Protective Conditioner. End your shower with a blast of cool water. This helps to seal your hair cuticle and gives your strands shine. If your hair is still feeling thirsty, try a leave-in conditioner for extra quenching.
Add moisturizing treatments
If you're on a mission to repair severely chemically damaged hair, we've got you. Throw in a weekly protein treatment like our Anti-Frizz Oil Therapy Hair Mask to strengthen your strands from the inside out.

If your hair has a lot of static, products containing oils are your friends. Try Dove Anti-Frizz Oil Therapy Shampoo and Conditioner for a nourishing chemically damaged hair treatment that replenishes lost lipids and adds shine.
Take a break
If you want to balance your favorite chemical routine with a caring and restorative routine, it's much simpler than you might think: the best treatment for chemically damaged hair is taking a break. Even 10 weeks chemical-free can transform your hair health. If you need a color touch-up, try just the new growth. And using a gentle shampoo – like Dove Color Care Sulfate-Free Shampoo – in between appointments will help your color stand the test of time.
Brushing and detangling with care
How to treat your chemically damaged hair? Detangling with care. Brush your hair gently, starting from the bottom and using a brush designed to detangle. If you're detangling your hair wet, try using your fingers first or a wide-tooth comb.
Friction-free hair care
Fresh from the shower, gently pat your hair dry with a microfiber towel or a cotton t-shirt. Roughing up your hair with a traditional towel can cause breakage.
"Another way you can prevent damage is making sure you're using the right pillowcase. Cotton steals moisture so I recommend a silk or satin pillowcase." says Dove Celebrity Stylist Mark Townsend.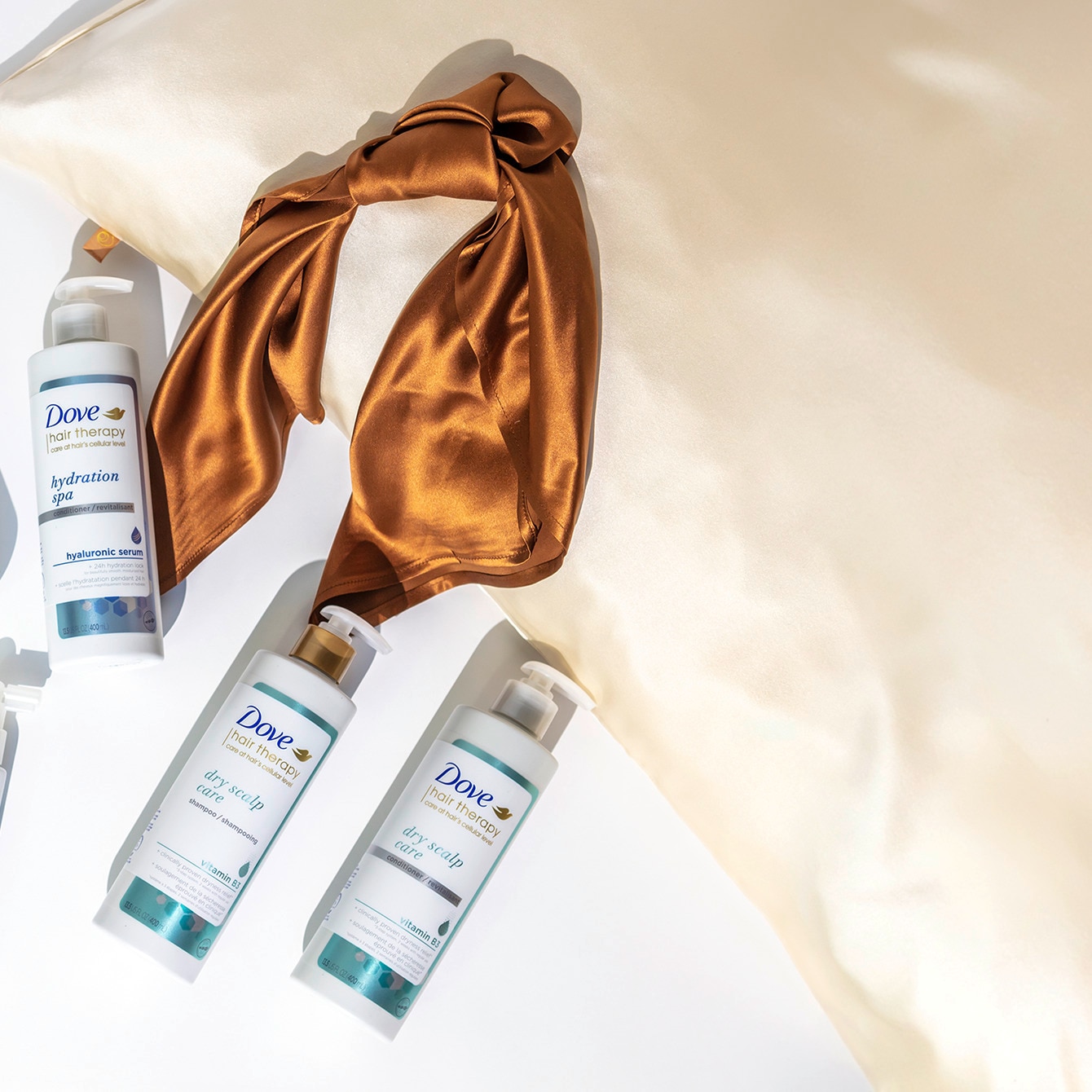 Modify your heat styling
If you're looking after dry and damaged hair, approach heat styling with care. Before you fire up your heat tools, follow these tips to maintain your hair health:

Start by partially air drying or rough drying on a cool setting
Use your hairdryer's attachments to create a barrier between hair and heat
Use Dove Heat Protection Spray to defend hair from heat damage
PRO TIP: Replace your heat tools regularly. After a while, they lose the ability to regulate temperature and can scorch your hair.

Switch up your look
Sometimes, chemical damage needs a new shorter cut or some layers to ride it out in style. As an added bonus, regular trims are great for keeping split ends at bay and encouraging your hair to grow healthy and long.

Hello, what are you looking for?
When it comes to your body, love the one you're with
Beauty is an all-ages show