Our commitment to ending systemic racism
The fight against systemic racism demands action, not just words. That's why we are accelerating our work to help eradicate anti-Blackness and systemic racism to achieve equity for the next generation. We are dedicated to deepening our commitment through four new initiatives:
Expanding and elevating the CROWN Coalition
In early 2019, together with the National Urban League, Color Of Change, and the Western Center on Law & Poverty, we co-founded the CROWN Coalition in the US to end race-based hair discrimination in workplaces and schools. We are now expanding this work and putting additional initiatives into action to help end racial discrimination. In partnership with our fellow Coalition members, we are evolving the CROWN Coalition and updating the name:
Creating a
Respectful &
Open
World with
NO RACISM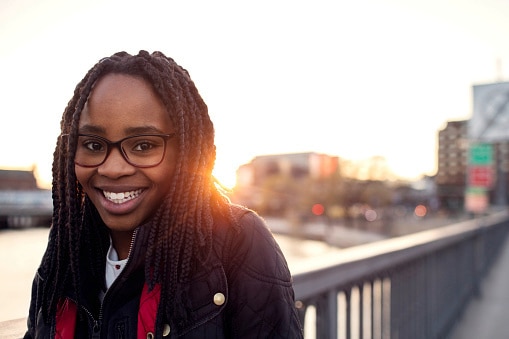 Legislative advocacy
Continuing to advocate for the CROWN Act in the US, enacting federal change to outlaw race-based hair discrimination
Evaluating additional bills that address the systemic racism and discrimination disproportionately affecting Black lives
Societal change
Developing and implementing an unconscious bias training program to help eliminate appearance-based biases in workplaces and in schools
Funding and programs to empower the next generation
In 2020, we created the CROWN Fund in the US and pledged $5M of ongoing support to drive change to eliminate the systemic racism and discrimination that disproportionately impacts Black lives. We are working with existing organizations and creating new programs that support the Black community, especially women and girls. We are also evolving the Dove Self-Esteem Project. Through educational resources for parents, teacher and mentors, the project has helped build body confidence and self-esteem in over 69 million young people so far – and now it will explicitly address the impact that racism and inequality have on the next generation.
Just a few of the organizations we're working with are:
Shattering stereotypes and amplifying Black voices
We will continue to increase the inclusive and authentic representation of Black people, both on our platforms and others. The world needs to see and hear from Black leaders, creators, and influential voices. And we have a responsibility to make sure they are seen and heard. We will continue to:
Amplify Black voices on our social channels, including Instagram takeovers on the @dove channel
Shatter beauty stereotypes in media and advertising with Getty images and Girlgaze through Project #ShowUs – the largest stock photo collection created entirely by women and non-binary individuals. And we will focus on increasing the representation of Black women who are defining their beauty on their own terms
Increase the representation of Black voices both in front of and behind the camera. We will commit at least 25% of our US influencer budget towards Black content creators and every year in June, we will conduct a review to track our progress against these metrics, for all of our initiatives
Additionally, as part of the Unilever family…

We continue to be committed to building an inclusive workforce that fully reflects the diverse communities we serve. We are part of the Unilever family, and on the Unilever Leadership Team 42% identify as people of color and 17% percent identify as Black. This includes EVP and COO of Beauty and Personal Care, Esi Eggleston Bracey, who leads the Dove business in North America. Of our Unilever US corporate employees, 30% identify as people of color and 8% percent identify as Black. More than 50% identify as women. However, we know there is more to be done. We are committed to:

Continuing to build a more diverse and inclusive workforce that reflects our community
Adding our voice and influence to advocate for safe and fair access to voting in the US
Upholding a zero-tolerance policy on intolerance among our Unilever employees and suppliers, customers and our partners that work with us
Increasing our support of investment and working with diverse suppliers
Donating over $1M to activists and organizations including Black Lives Matter, National Urban League, The Bail Project and National Bail Fund Network
And we won't stop there
The fight against systemic racism requires us all to take action – and to continue to take action. We're committed to creating a more inclusive, diverse and equitable world for everyone. We'll continue to advance our work with ongoing support and new initiatives. You can find out more about Unilever's progress to date here, and follow us on our journey here Fighting Systemic Racism.
We are committed to Creating a Respectful and Open World with NO RACISM. Join us. #PassTheCROWN
Hello, what are you looking for?
When it comes to your body, love the one you're with
Beauty is an all-ages show