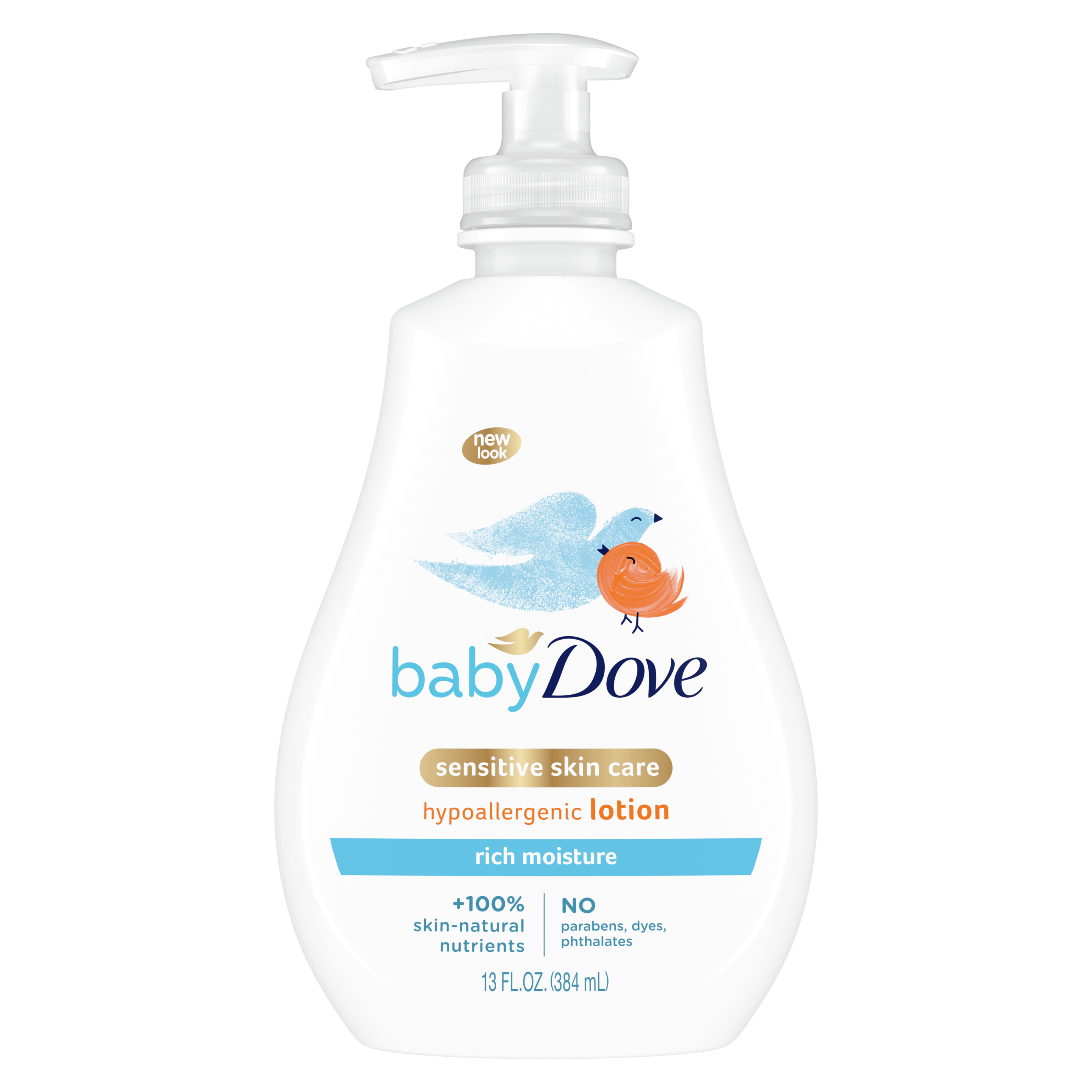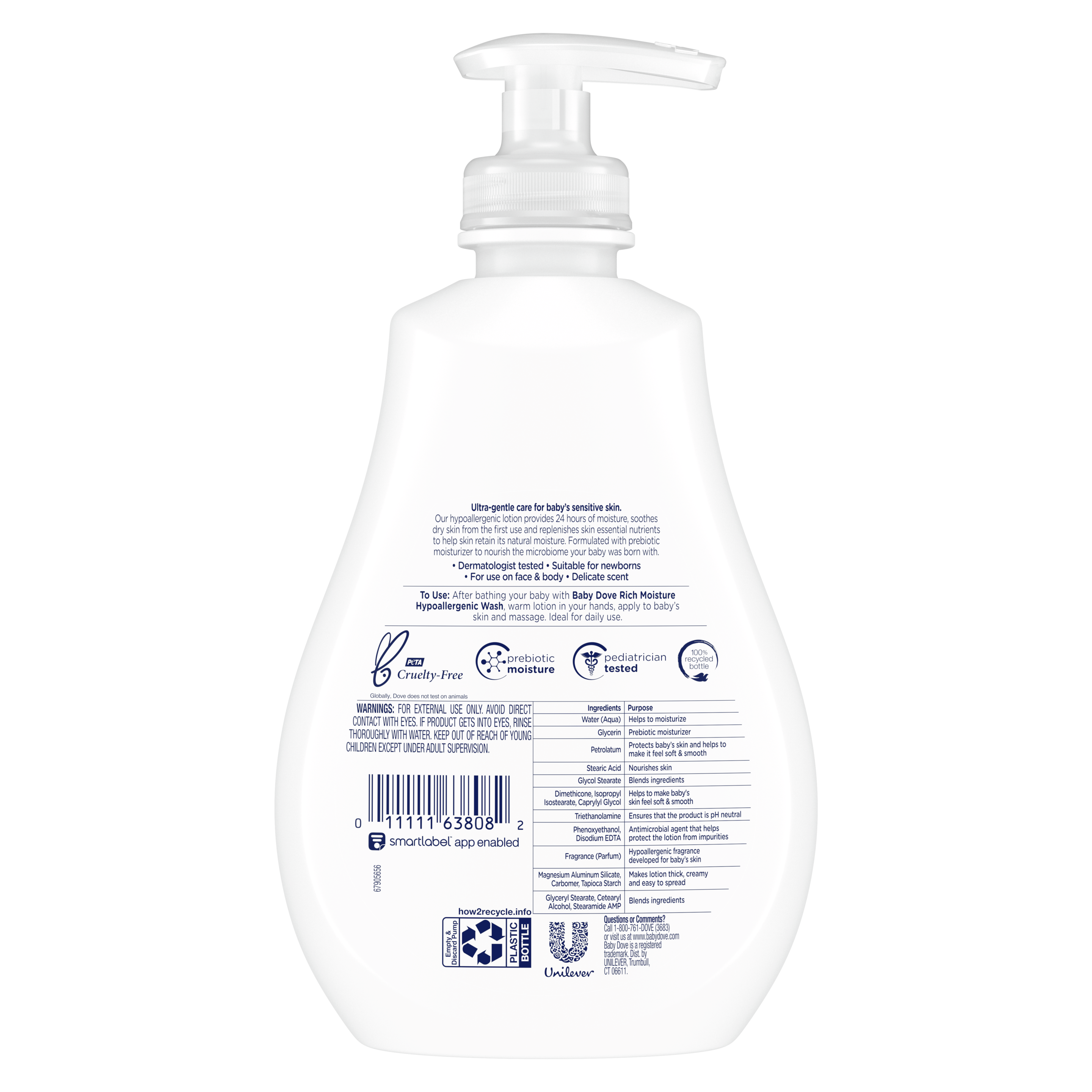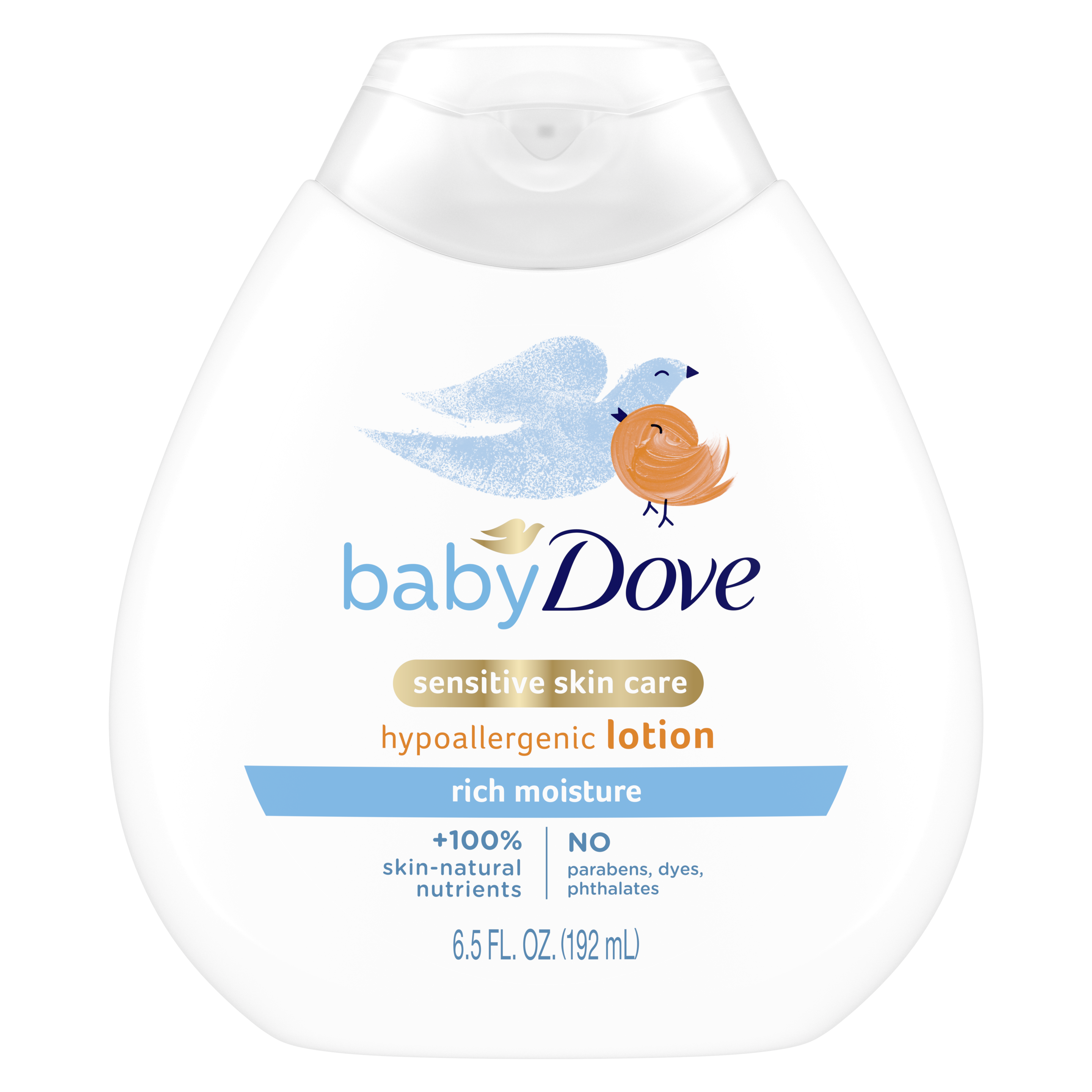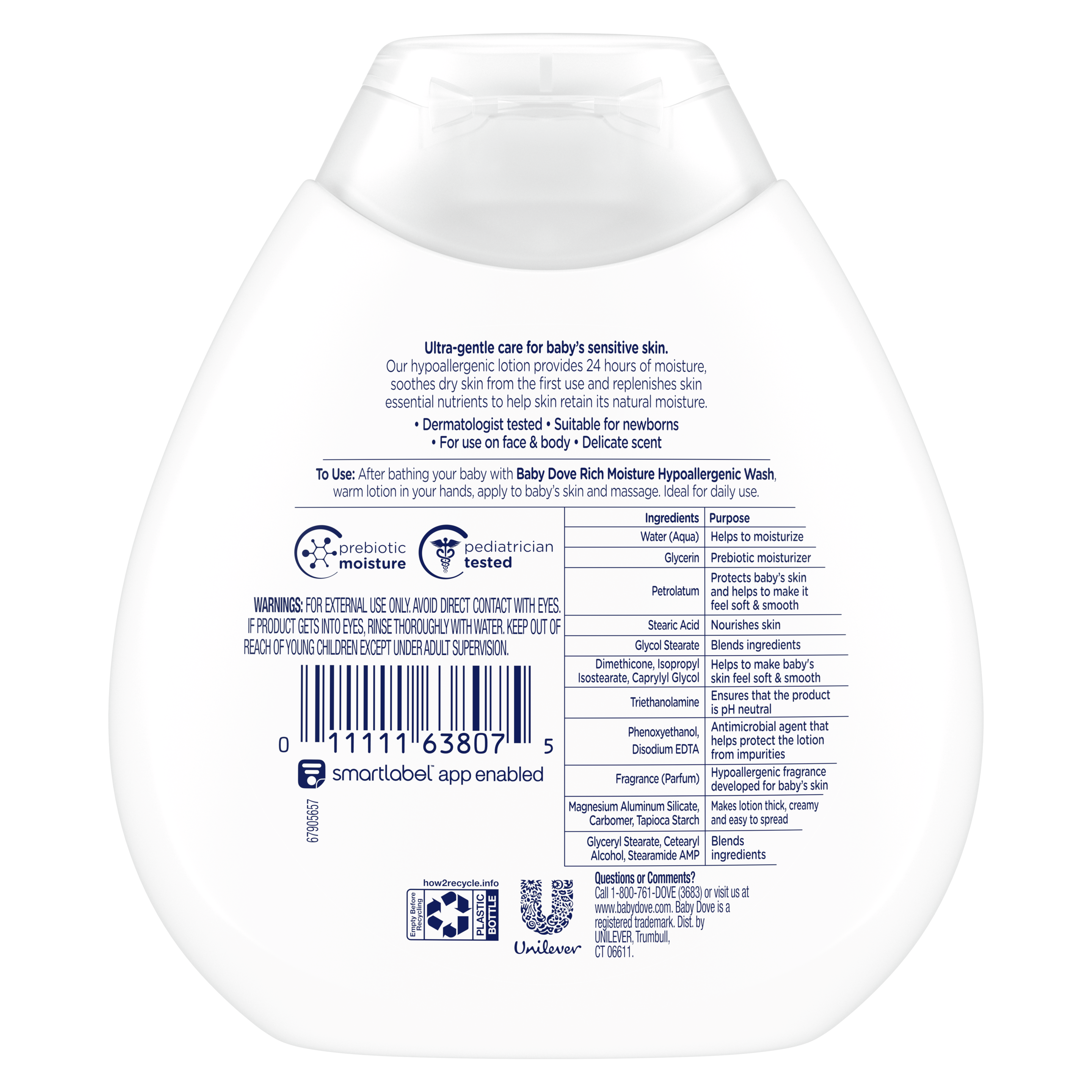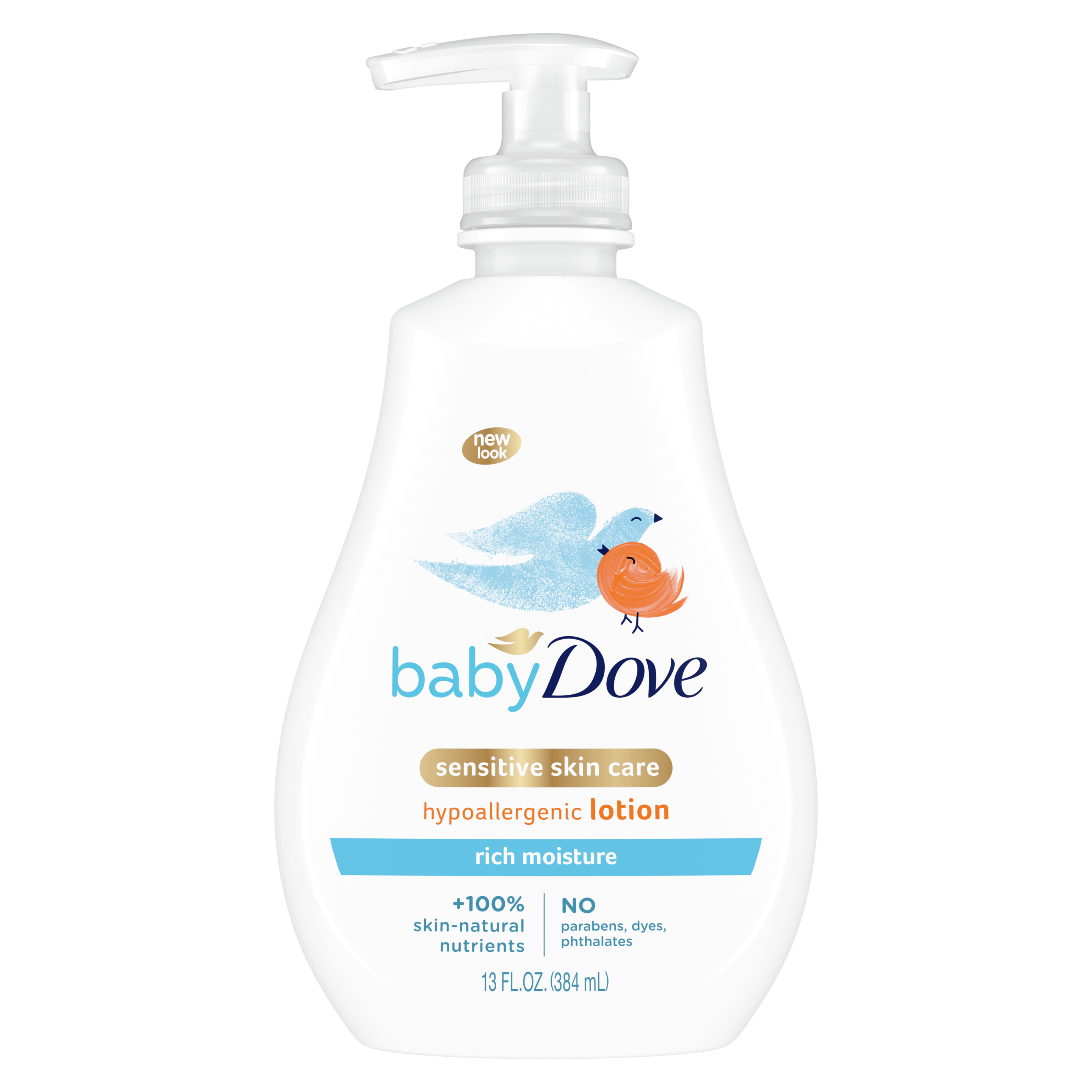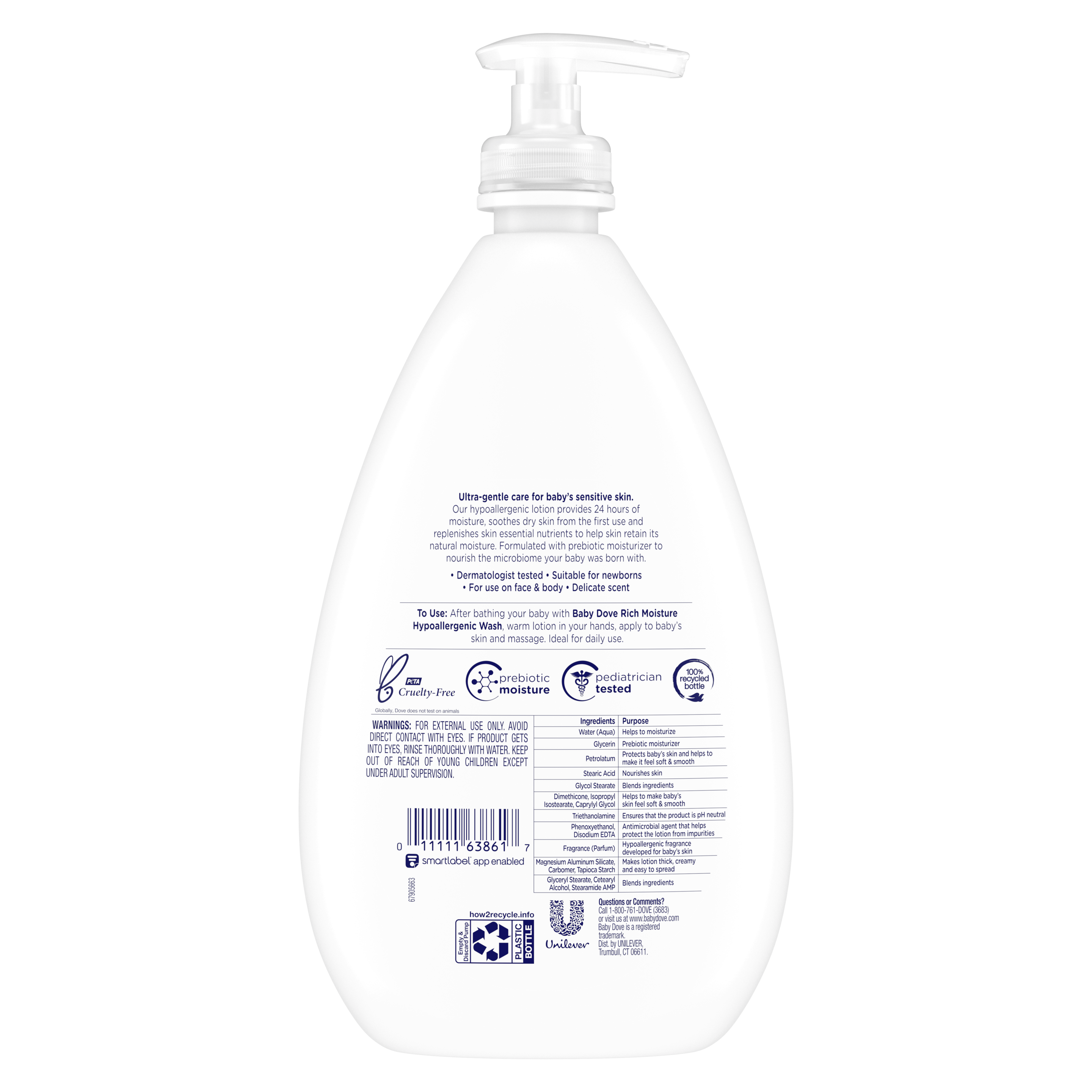 Rich Moisture Hypoallergenic Lotion
The hypoallergenic formula of this moisturizing lotion gives your baby's delicate skin the care it needs.

• Hypoallergenic baby lotion soothes dry skin from the first use 

• 100% skin-natural nutrients* nourish your baby's skin

• Formulated with prebiotic moisturizer to support baby skin's natural health

• Baby cream with a delicate, comforting scent

• Dermatologist and pediatrician tested moisturizing lotion, suitable for newborn skin

• Certified cruelty-free by PETA


Baby skin is delicate and can lose essential nutrients during bathtime. To keep your baby's skin soft and nourished, we created Baby Dove Rich Moisture Hypoallergenic Lotion. Soothing dry skin from the very first use, this caring baby moisturizer replenishes skin-essential nutrients to help baby skin retain its natural moisture.

Made with prebiotic moisturizer and 100% skin-natural nutrients*, this baby lotion is designed to nourish your baby's microbiome – the living layer that protects your baby's skin. The microbiome plays an important role in keeping your baby's skin resilient and healthy – looking after it is a beautifully simple way to care for your baby. 

With a comforting scent, the rich, gentle formula of this baby lotion offers long-lasting moisturization. Dermatologist tested, our cream for baby's delicate skin will be a helping hand in your routine.

As part of our commitment to reducing plastic waste, the packaging of this baby lotion is made from 100% recycled plastic bottles.

*Our nutrients are identical to those naturally found in skin 


Water (Aqua), Glycerin, Petrolatum, Stearic Acid, Glycol Stearate, Dimethicone, Isopropyl Isostearate, Caprylyl Glycol, Triethanolamine, Phenoxyethanol, Disodium EDTA, Fragrance (parfum), Magnesium Aluminum Silicate, Carbomer, Tapioca Starch, Glyceryl Stearate, Cetearyl Alcohol, Stearamide AMP


• 24 hours of moisture
Instantly soothe dry skin and protect your baby's delicate skin barrier with this rich baby lotion. Moisturizing for up to 24 hours, our baby cream leaves skin soft and nourished.

• Gentle care
Looking for gentle creams for newborn babies? We've got just the thing. Dermatologist tested, our moisturizing lotion for babies provides ultra-gentle care for your baby's sensitive skin. It's also free from parabens, phthalates and dyes. 

• A comforting scent
With a gentle fragrance developed just for babies, this lotion will add a dose of comfort to your routine.


After bathing your baby with Baby Dove Rich Moisture Hypoallergenic Wash, warm this lotion in your hands, apply to your baby's skin and massage.


For extra care and moisture, use a nourishing cleanser during bathtime – try Baby Dove Rich Moisture Tip to Toe Baby Body Wash. The combination will help keep your baby's delicate skin feeling soft, smooth and moisturized.