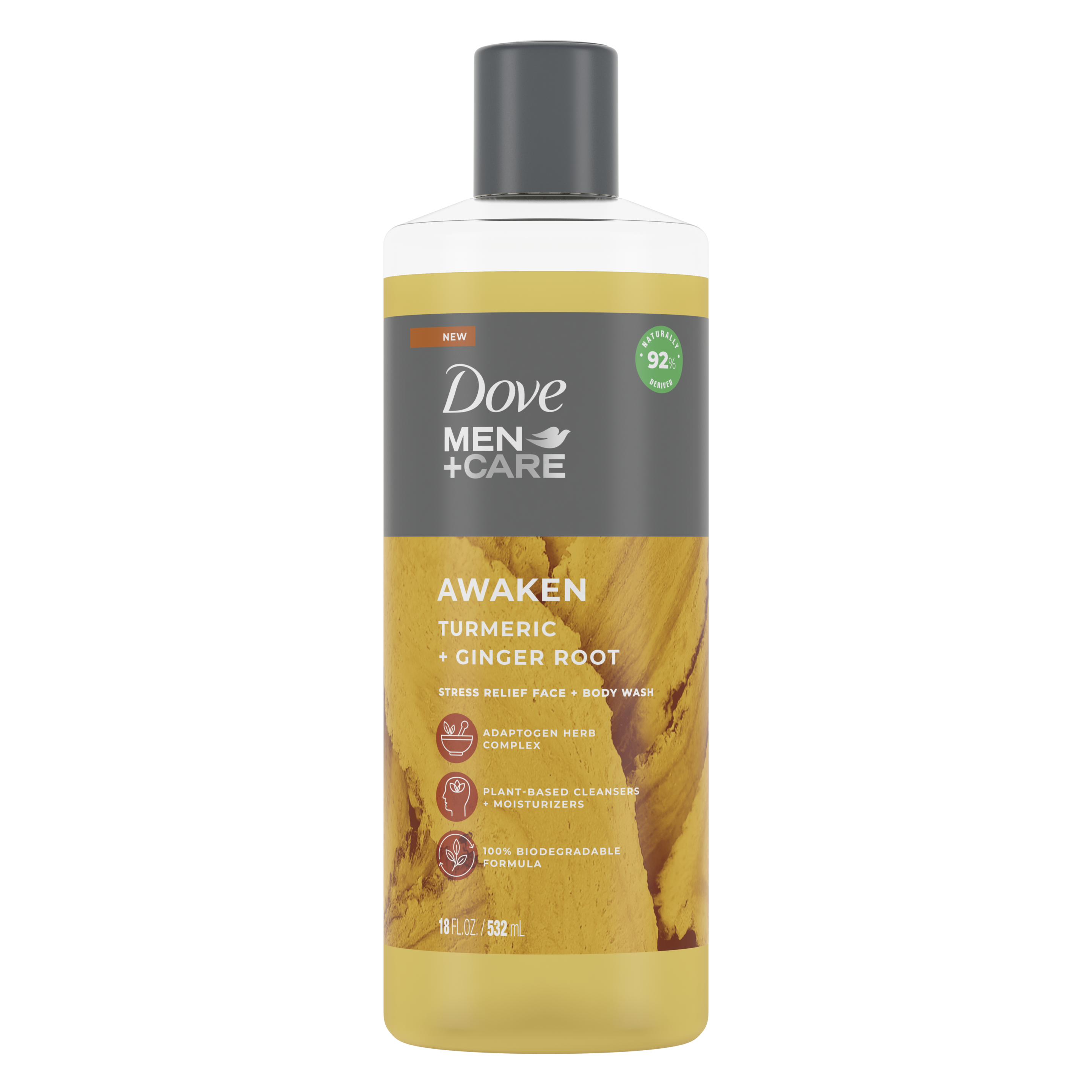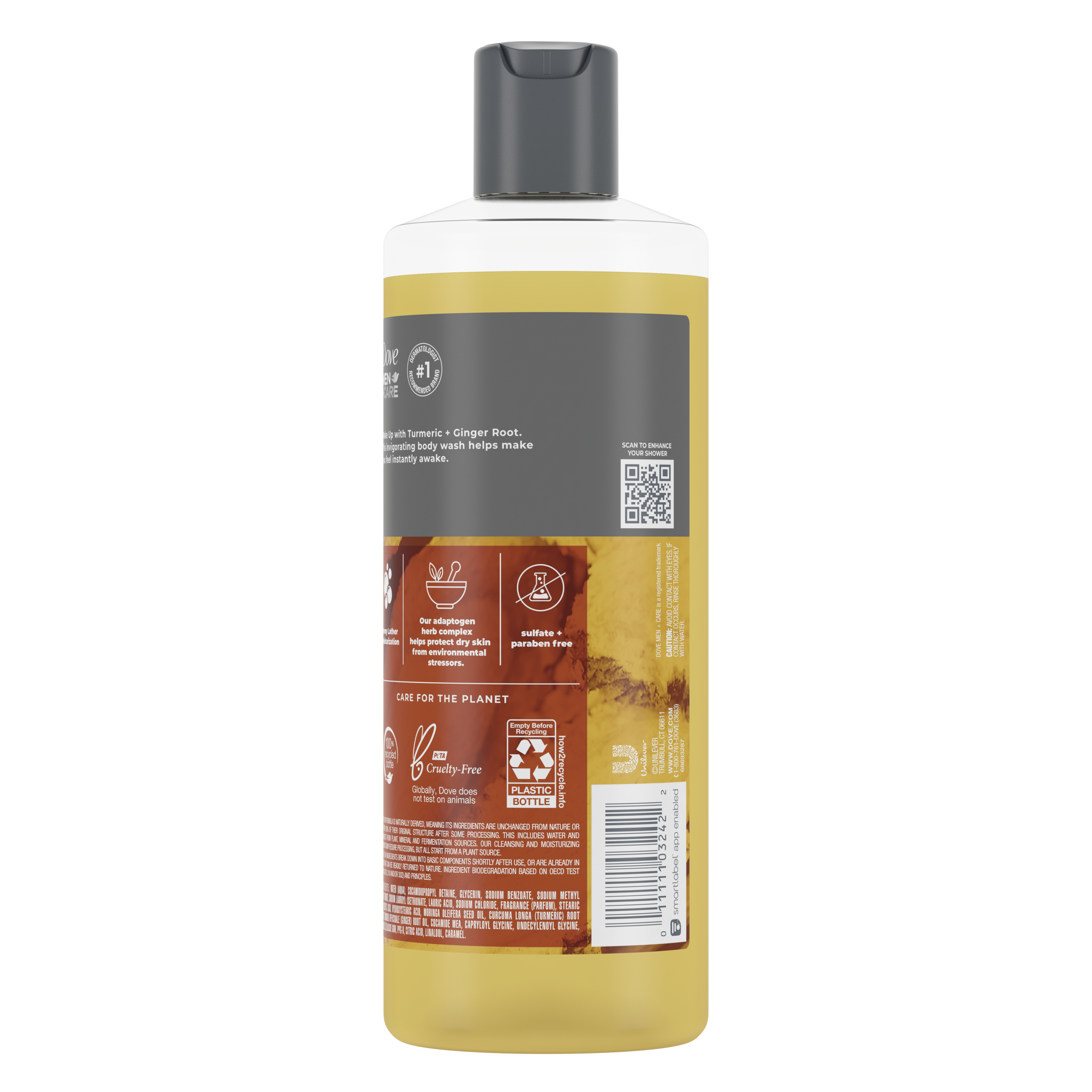 Men+Care Awaken Turmeric + Ginger Root Face + Body Wash
Awaken skin and energize and invigorate your senses with our refreshing, ginger root-scented body wash for men.

● Face and body wash for men

● Sulfate and paraben-free body wash and 100% biodegradable formula*

● Naturally-derived** body wash enriched with Adaptogen Herb Complex and essential oils

● Refreshing scent to energize and awake skin after your morning shower

● Certified Cruelty-Free by PETA

● Engineered by the #1 dermatologist recommended brand in the US


Kickstart your day feeling energized with our Awaken Turmeric + Ginger Root Face + Body Wash for men.

This unbelievably refreshing body wash doesn't just harness Vivascentz™ technology to give you a vibrant ginger scent that helps energize your senses every time you shower. It's also enriched with turmeric and ginger essential oils. And the Adaptogen Herb Complex in our formula helps protect dry skin from environmental stressors.

Our sulfate and paraben-free body wash also comes in a bottle that is recyclable and made with 100% recycled plastic, so you know you're doing a little good every time you step in the shower and kick off your day.

*Ingredient biodegradation based on OECD test methods (301, 302 and/or 310) and principles.
**We consider an ingredient naturally derived if it's unchanged from nature or has a natural source and undergone some processing but keeps more than 50% of its original structure. 92% of our formula, including water, is made up of naturally-derived content. 


Water (Aqua), Cocamidopropyl Benne, Glycerin, Sodium Benzoate, Sodium Methyl Lauroyl Mute, Sodium Lauroyl Isetkionate, Lauric Acid, Sodium Chloride, Fragrance (Parfum), Stearic Acid, Palmitic Acid, Kydroxystearic Acid, Moringa Oleifera Seed Oil, Curcuma Longa (Turmeric) Root Extract, Zingiber Officinale (Ginger) Root Oil, Cocamide Mea, Capryloyl Glycine, Undecylenoyl Glycine, Cellulose, Cellulose Gum, Ppg-9, Citric Acid, Linalool, Caramel.


● Transforming your morning routine
Your morning shower should do more than simply refresh and energize your skin. Take it to the next level with our invigorating body wash with turmeric and ginger root scent, so you can use that time to energize your senses as well.

● De-stressing every time you step into the shower
The Adaptogen Herb Complex in our body wash for men helps protect dry skin from environmental stressors.


Jump in the shower and squeeze a dollop of our body wash into your palm. Rub your hands together to lather it up. Apply to your face and body to refresh and awake skin. Let that turmeric and ginger scent invigorate your senses. Now rinse, towel dry and start your day feeling energized.


Feel that energy head-to-toe by pairing our face and body wash for men with our Fresh & Clean Fortifying 2-in-1 Shampoo & Conditioner. It has a menthol scent and will leave you with hair that looks stronger and more resilient. 

When it comes to your body, love the one you're with
Beauty is an all-ages show