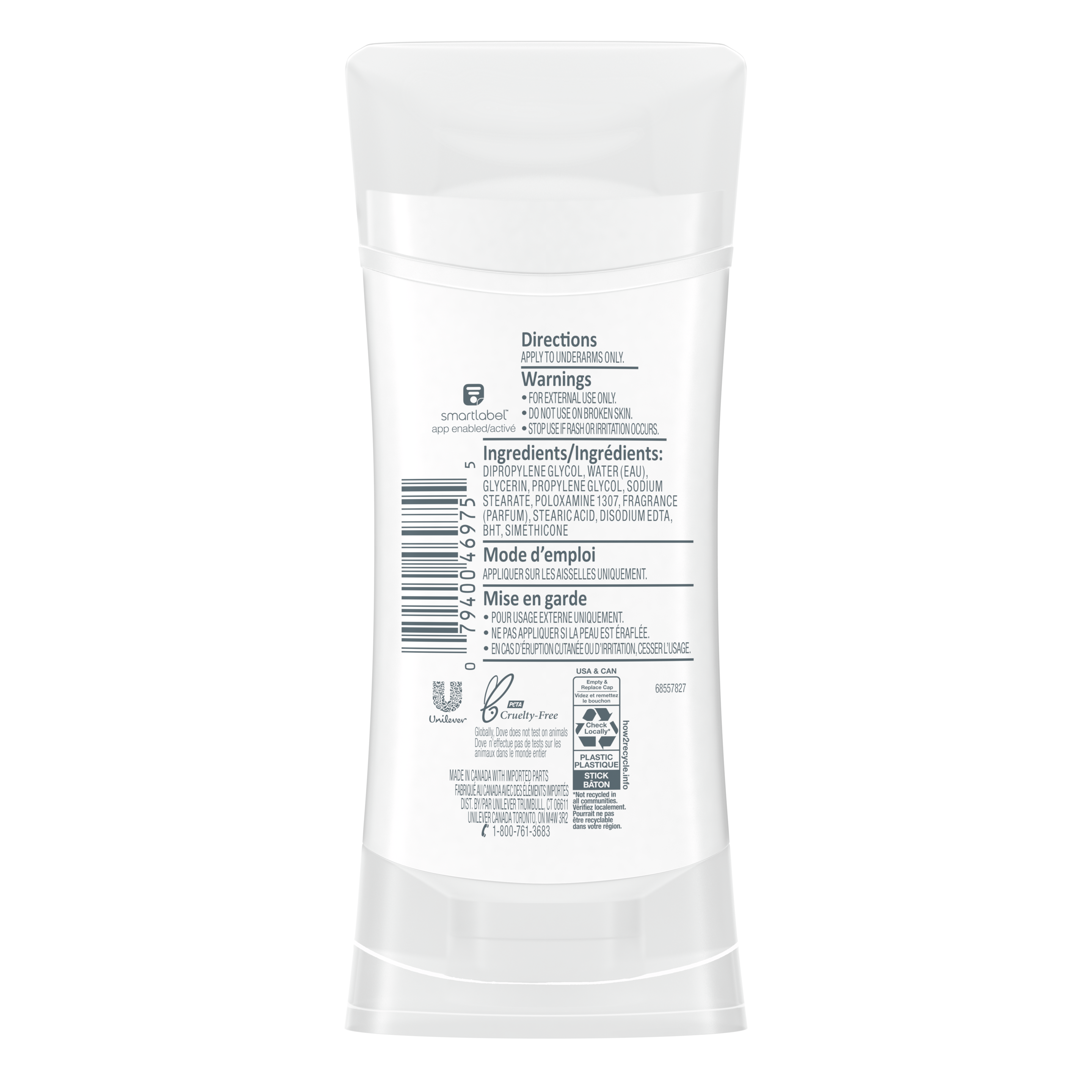 Dove 0% Aluminum Deodorant Stick Sensitive
Enjoy 48-hour odor protection and the best care with this aluminum-free deodorant stick.

• Gentle aluminum-free deodorant stick that provides unbeatable 48-hour odor protection
• Enriched with ¼ moisturizers that care for underarms
• 0% aluminum and 0% alcohol formula that's kind to skin
• Non-irritating with no baking soda
• Safe for sensitive skin
• Glides on easily for a smooth application
• PETA approved deodorant


It's time to give your delicate underarm skin the same care you give the rest of your body. Dove 0% Aluminum Sensitive Deodorant Stick is a kind-to-skin aluminum-free deodorant, specially formulated to deliver long-lasting odor protection – all while caring for your underarms. 

It's a deodorant without aluminum and alcohol that doesn't compromise on efficacy. Enriched with our signature ¼ moisturizers, the skin-kind formula leaves you with beautifully soft and smooth underarms.

This deodorant will help you start your day with confidence. Plus, it gives you 48-hour protection from odor to keep you feeling fresh. 


INGREDIENTS: Dipropylene Glycol, Water (Eau), Glycerin, Propylene Glycol, Sodium Stearate, Poloxamine 1307, Fragrance (Parfum), Stearic Acid, Disodium EDTA, BHT, Simethicone


• Soft underarms 
Taking care of underarms is easy when you have a kind-to-skin deodorant. With an aluminum-free formula that's enriched with ¼ moisturizers, Dove 0% Aluminum Deodorant will leave your underarms feeling soft and smooth after every use. 

• Odor protection 
Knowing you're protected from odor will give you the confidence to take on any day. That's why this aluminum-free deodorant stick provides 48-hour odor protection after every swipe. 

• Safe for Sensitive Skin
This alcohol free deodorant has no baking soda so it is gentle on sensitive skin. Plus, with ¼ moisturizers it helps reduce skin irritation after shaving.


For the best results and long-lasting freshness, use on clean, dry underarms. Twist the applicator to release the smooth deodorant stick and glide onto skin in even, light strokes.


Made to be small and compact, this aluminum-free deodorant stick is ideal when you're on-the-go. Just pop into purses and desk drawers for easy access whenever you're in need of a quick refresh. 

Hello, what are you looking for?
When it comes to your body, love the one you're with
Beauty is an all-ages show