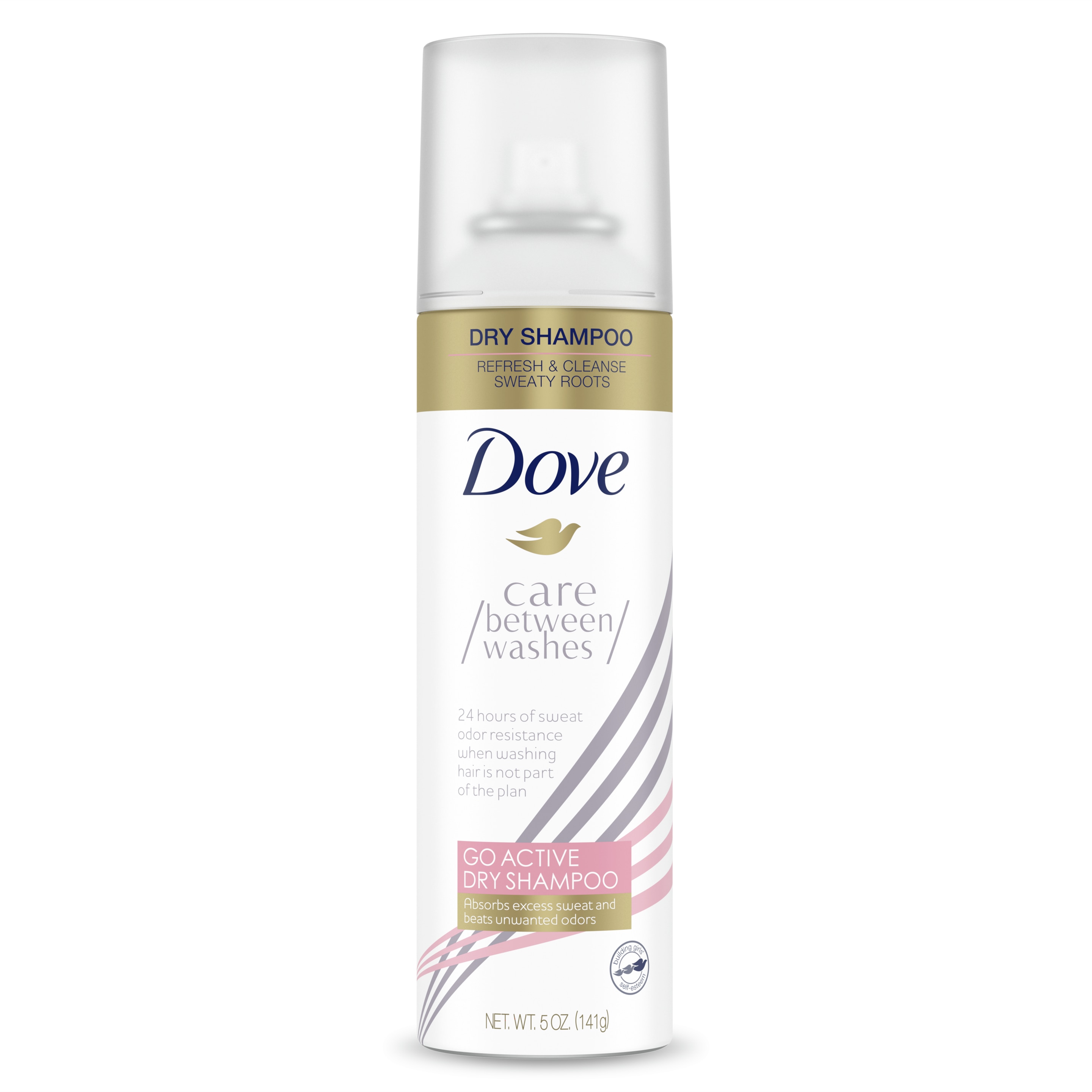 Care Between Washes Go Active Dry Shampoo
A floral-scented dry shampoo with up to 24-hours of sweat and odor resistance, instantly refreshing and cleansing hair.

• Dry shampoo to helps instantly refresh and cleanse hair

• With up to 24-hours of sweat odor resistance 

• Absorbs sweat to leaves hair quicker to dry and style

• Dove Dry Shampoo with a beautiful, bright, floral scent

• With ActiveScent technology to help beat unwanted odors

• Perfect to use after a workout to spruce up your hair


Sometimes we need haircare products that keep up with our busy lifestyles – that's why we created Dove Care Between Washes Go Active Dry Shampoo. Specially created for workout days or when you're on-the-go, this Dove Dry Shampoo spray helps to leave you with instantly refreshed and beautifully clean hair.  

This dry shampoo for greasy roots instantly cleanses hair and absorbs oils to give you up to 24-hours of sweat odor resistance. Formulated with our unique ActiveScent technology, the formula helps to beat unwanted odors too. 

With a bright, refreshing fragrance, it'll leave your hair with a luscious scent. Perfect for use after a workout, you'll be able quickly cleanse, refresh and restyle with our dry shampoo – sweaty hair doesn't have to be a problem again. 


Isobutane, Propane, SD Alcohol 40-B (Alcohol Denat.), Tapioca Starch, Butane, Fragrance (Parfum), Isopropyl Myristate, Silica, Citronellol, Geraniol, Limonene, Linalool.


• Helping to refresh hair after a workout
For some of us, finding the time to work out isn't a problem – but finding the time to wash our hair can be. Our post workout dry shampoo helps to absorb excess sweat and oil after exercise to leave you with instantly refreshed hair. The formula helps you to quickly re-style your strands and skip wash-day – so that there's no hair workout, after the real workout. 

• Hair that feels clean and cared for
Even when washing isn't part of the plan, we still think beautiful hair should be. Formulated with ActiveScent technology, our dry shampoo for oily hair helps to keep sweat and other odors at bay – so that your strands feel refreshed. Instantly cleansing excess sweat and oil, this Dove Dry Shampoo spray leaves your hair feeling clean and cared for. 

• A beautiful bright scent
Aside from leaving your hair feeling fresh, our dry shampoo also has a delightfully floral scent. Simply spray on to leave your hair with a bright fragrance and keep any unwanted odors at bay – it's our perfect no-wash day go-to.


Apply our dry shampoo after workout sessions or anytime your hair needs a boost of freshness. Shake well before use, then hold the can around 8-12 inches away from your roots, before spraying onto lifted sections of dry or sweaty hair. Massage the formula into your roots using your fingers – then brush through and style as usual.


Looking to give your ends a new lease of life too? Try pairing our dry shampoo with Dove Care Between Washes Go Active Dry Conditioner. Simply apply the dry conditioner to your mid-lengths and ends to leave your tips feelings nourished and touchably soft. We think it makes the perfect counterpart to beautifully refreshed hair. 

Hello, what are you looking for?
When it comes to your body, love the one you're with
Beauty is an all-ages show