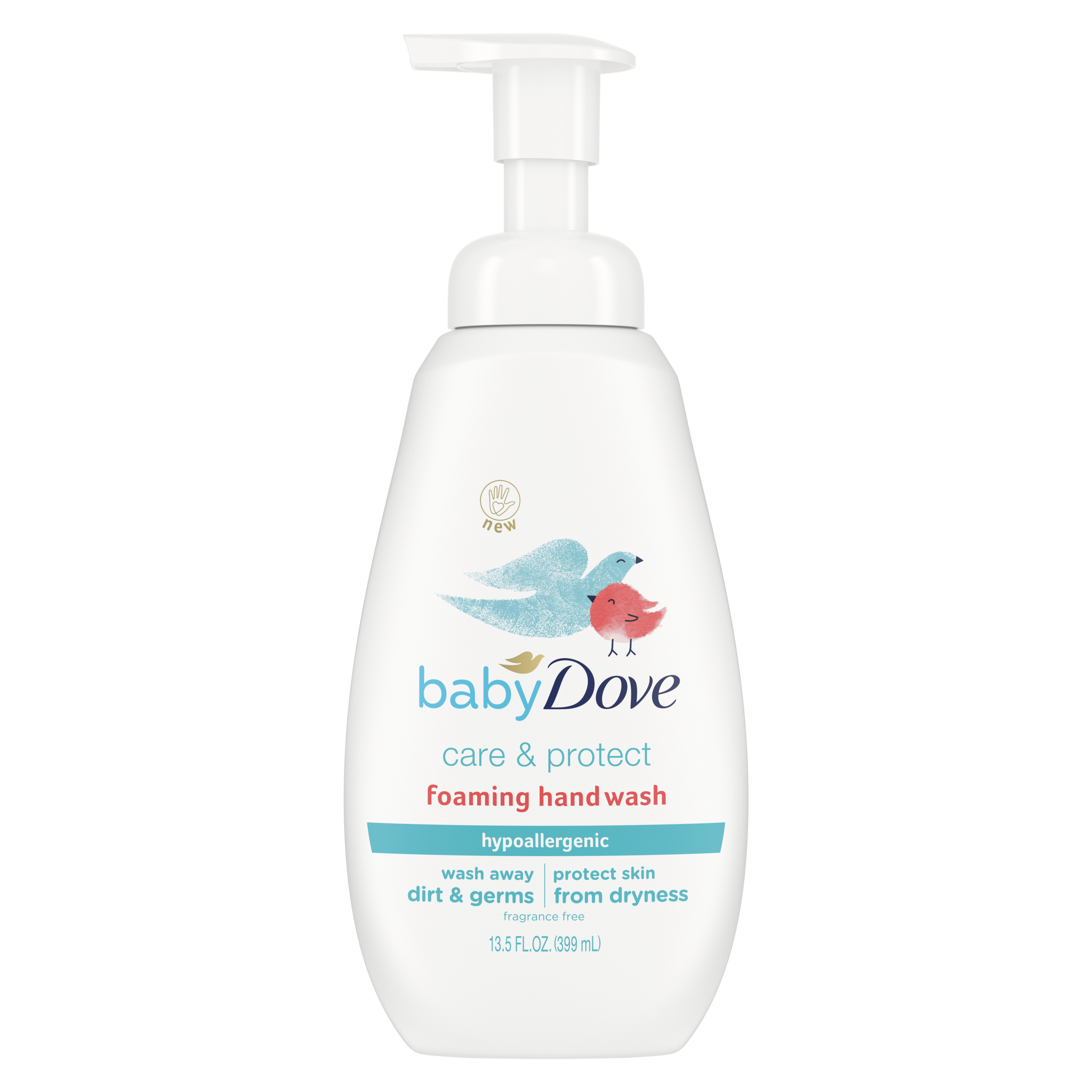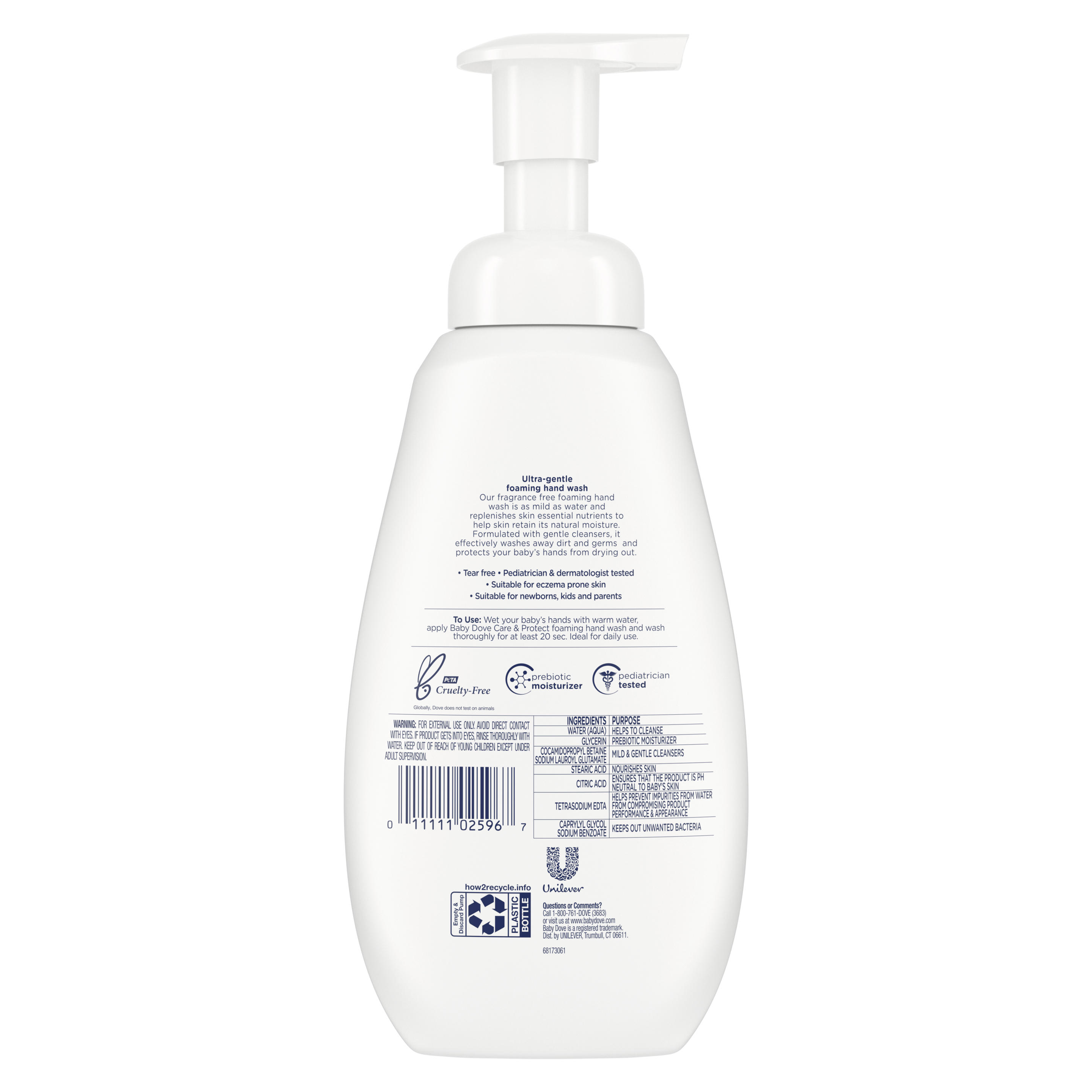 Baby Dove Care & Protect Hypoallergenic Foaming Hand Wash
Effectively wash away dirt and germs as you moisturize baby skin with this mild hand wash, for little curious hands.

●        Ultra-gentle foaming hand wash protects baby skin from drying out
●        With skin-essential nutrients to help skin retain natural moisture  
●        Gentle cleansers effectively wash away dirt and germs 
●        Fragrance-free, hypoallergenic hand wash, pH neutral to baby skin 
●        Tear-free hand wash created without dyes, parabens, phthalates or sulfates
●        Pediatrician and dermatologist-tested baby skin care for your whole family


Stocking up on hand wash for the family? Baby skin needs an ultra-gentle formula, like Care & Protect Hypoallergenic Foaming Hand Wash – it's moisturizing, nourishing, and as mild as water.

Did you know your baby's skin loses moisture up to 5x faster than yours? That's why our hand wash for baby gives their delicate skin TLC, while it's still developing. This hypoallergenic hand wash replenishes skin-essential nutrients, to help your little one's skin retain its natural moisture.

Made with gentle skin cleansers, this nourishing, foaming hand wash effectively washes away dirt and germs while protecting your baby's skin from drying out. Keep this moisturizing hand wash by the sink to care for newborns, little ones and parents. It's even suitable for eczema-prone skin, too. Enjoy our signature superior care with a difference: baby skin protection against dryness, while washing away germs. 


Water (Aqua), Glycerin, Cocamidopropyl betaine, Sodium lauroyl glutamate, Stearic Acid, Citric acid, Tetrasodium EDTA, Caprylyl glycol, Sodium benzoate


•	Mild baby skin care
You see your little one grow more and more every day – and their skin is developing, too. Some hand wash may contain harsh cleansers that could damage their skin, but we've made our ultra-gentle Care & Protect Hypoallergenic Foaming Hand Wash tear-free, fragrance-free and pH-neutral to baby skin. 

•	Soft baby skin
We don't want hand washing to harm your little one's super soft skin. So, this gentle hand wash works to moisturize baby skin – even eczema-prone skin – and protect little curious hands from drying out.


Time to wash your baby's hands? Wet your baby's hands with warm water, apply Care & Protect Hypoallergenic Foaming Hand Wash, and wash thoroughly for at least 20 seconds. Ideal for daily use – and the whole family.


Finding it tricky to keep your little one scrubbing for 20 seconds? Try switching Happy Birthday to their favorite song. Classic nursery rhymes like Hickory Dickory Dock fit the bill or hit a more modern note with a sped-up cover of their favorite hit. 

Hello, what are you looking for?
The best way to care for your baby? Your way
There are no perfect moms. Only real ones