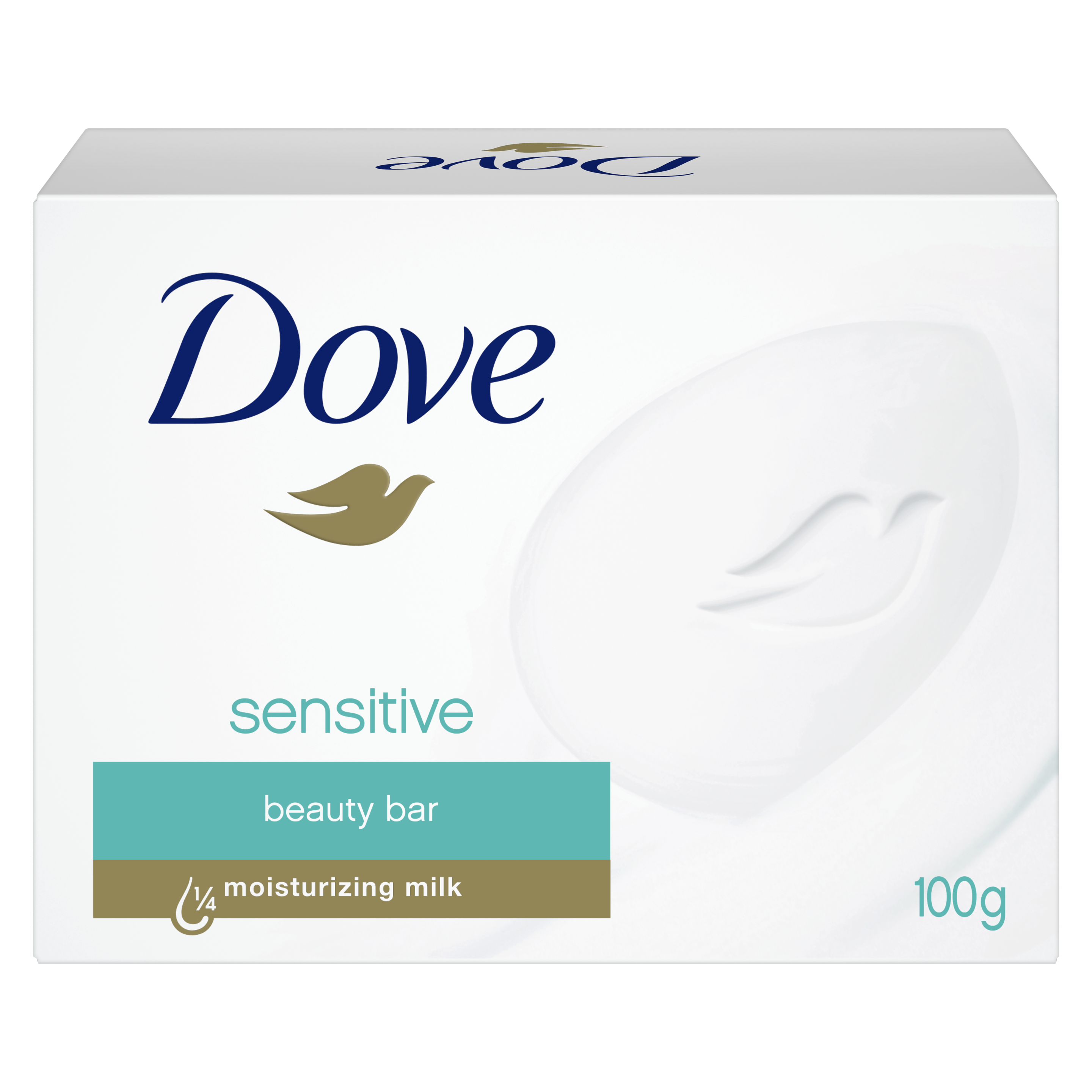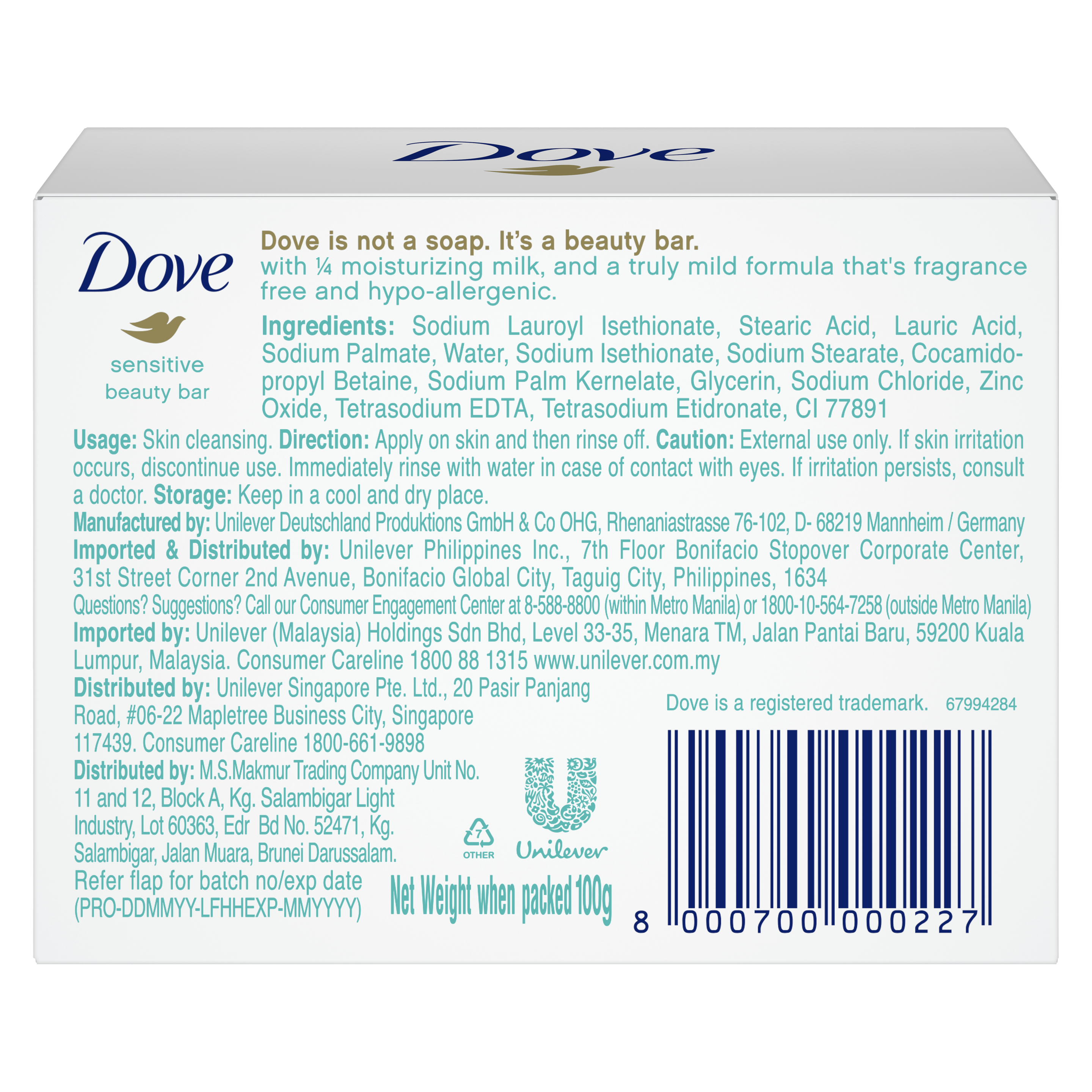 With its fragrance-free, hypoallergenic formula, this Dove Beauty Bar is perfect for sensitive skin care routines, making it the moisturizing soap for sensitive skin. Take care of your skin with the Dove sensitive skin bar, the Dove green soap.

Good sensitive skin care depends on having a cleanser that truly cares for your skin and won't dry it out. Dove Sensitive Beauty Bar gives you truly mild cleansing that leaves sensitive skin feeling soft and smooth. This Dove sensitive skin bar brings the classic Dove cleansers and ¼ moisturising cream in a fragrance-free, hypoallergenic bar that's gentle enough for sensitive skin. Suitable for daily use, it helps protect skin's natural moisture and can be used on your hands, body or face.


Good sensitive skincare depends on having a cleanser that truly cares for your skin and won't dry it out, and once you find something that works, you stick with it. Here's some great news: The Dove Beauty Bar range has exactly what you need. Meet the Dove Sensitive Beauty Bar Body Cleanser and Skin Care for Sensitive Skin with 1/4 Moisturizing Cream and Fragrance-Free, Hypoallergenic Formula 100g. It's not a soap—it's a beauty bar! This Dove beauty bar combines the mild yet deep cleansing formula with our unique and signature 1/4 MOISTURIZING CREAM to give you smoother, more glowing, and nourished skin after every wash. This beauty bar's mild cleansers also help your skin retain its natural moisture rather than strip it away. Using this skin cleanser will even help replenish key skin nutrients that are lost during bathtime. Where an ordinary soap bar can leave your skin feeling tight and rough, the Dove Relaxing Ritual Lavender beauty bar doesn't dry out the skin. The result? Healthier-looking and softer skin when you walk out of the shower. Since the Dove Sensitive beauty bar skin cleanser has a caring FRAGRANCE-FREE AND HYPOALLERGENIC formula and designed as an ideal skin care for sensitive skin, you can use it every day—not just on your body, but on your face and hands, too. Usage is fuss-free. Just wet your hands and then rub the Dove Sensitive beauty bar skin cleanser gently between them until the bar lathers up. Massage the lather over your face or body before rinsing thoroughly with warm water. There's nothing like knowing that your skin is silky smooth and soft—and with the right products you can have that feeling every single day, starting with your genlte yet deep cleansing routine using the Dove Sensitive Beauty Bar Body Cleanser and Skin Care for Sensitive Skin. Get the gentle skin care for sensitive skin that you deserve, and try the Dove Sensitive Beauty Bar now! 


Sodium Lauroyl Isethionate, Stearic Acid, Sodium Palmitate, Aqua, Lauric Acid, Sodium Isethionate, Sodium Stearate, Cocamidopropyl Betaine, Sodium Palm Kernelate, Glycerin, Sodium Chloride, Zinc Oxide, Tetrasodium EDTA, Tetrasodium Etidronate, Alumina, CI 77891


Sensitive skin
If you find it tricky to care for your sensitive skin, Dove can help give it the special attention it needs. Dove Sensitive Beauty Bar is, you guessed it, unscented, as well as hypoallergenic and dermatologically tested, providing the kind of mildness that's ideal for sensitive skin care 

• Gentle cleansing
Cleansing with ordinary soaps can strip the skin of its natural moisture and cause sensitive skin to feel dry and look red. With Dove Sensitive Beauty Bar, even delicate skin can come out of cleansing nourished and soft

• Nourishing dry or extremely dry skin 
Just like our other beauty bars, Dove Sensitive Beauty Bar contains our unique formulation of ¼ moisturising cream for softer, smoother skin


Rub your Dove Sensitive Beauty Bar between your hands to create lather. Smooth the foam over your skin, massaging gently. Then just rinse off the foam with warm water.


Dove Sensitive Beauty Bar is mild enough to be used every day, even on your face, without worrying about it drying out or irritating your skin. That's because it is not a soap bar, it's a Dove beauty bar, specially designed by skin care experts to be unscented, hypoallergenic and gentle for sensitive skin. 

When it comes to your body, love the one you're with
Beauty is an all-ages show