Shower skin care: cleansing and moisturizing skin
Did you know that our skin is our biggest organ? It shields us from the outside world, it's our first line of defense against the elements, dirt and germs – but it's so easy to take for granted. As amazing as it is, sometimes our skin needs a little help. With a good antibacterial cleanser, moisturizing skin care, and a mindful routine, you can help your skin look and feel it's very best. So, if you're wondering how to take care of your skin, the shower can be a great place to start.
Choose a moisturizing cleanser with antibacterial care
We all know about the importance of moisturizing for soft, smooth skin – but did you know you can choose a moisturizing body cleanser that also provides antibacterial care? Specially formulated with a Moisture Renew Blend™, Dove Care - Protect Antibacterial Body Wash helps renew your skin's natural moisture and protect from dryness – so you can remove bacteria and moisturize, all at once.
Not only is antibacterial cleansing in the shower perfect for washing away the day, but it's also one of the best ways to care for ourselves and those around us.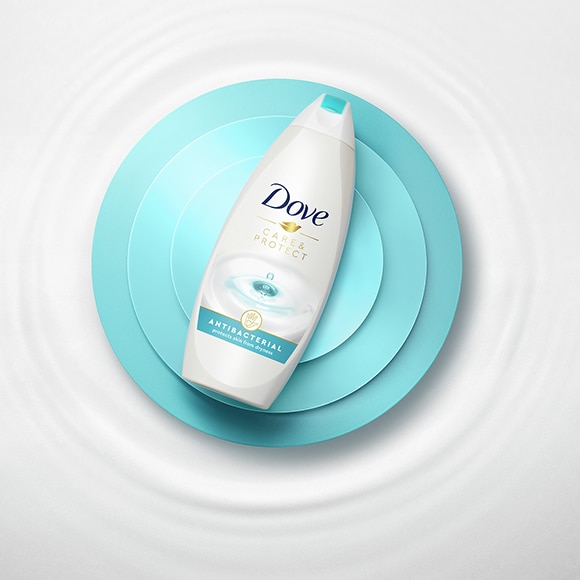 Use warm water, not hot
Hot water can strip your skin of its natural moisture, leaving it feeling dry and irritated. To show your skin a little love and help dry skin, dial down the temperature. Longer showers can cause dryness too, so try to keep your showers on the shorter side if you can.
Pat yourself dry
Pat yourself dry using a soft towel, instead of rubbing vigorously. Patting leaves some moisture for your skin to soak in – another quick way to help dry skin.
Carry on the care
Make Dove Care & Protect a part of your daily cleansing routine which protects your skin from dryness. It removes 99% of bacteria in seconds* and moisturizes for hours. The range is gentle enough for everyday use, so you can get the effective cleansing you want and the benefits of moisturizing that you love, every time you shower
*in a 20 second wash test vs. E. coli
Hello, what are you looking for?
When it comes to your body, love the one you're with
Beauty is an all-ages show