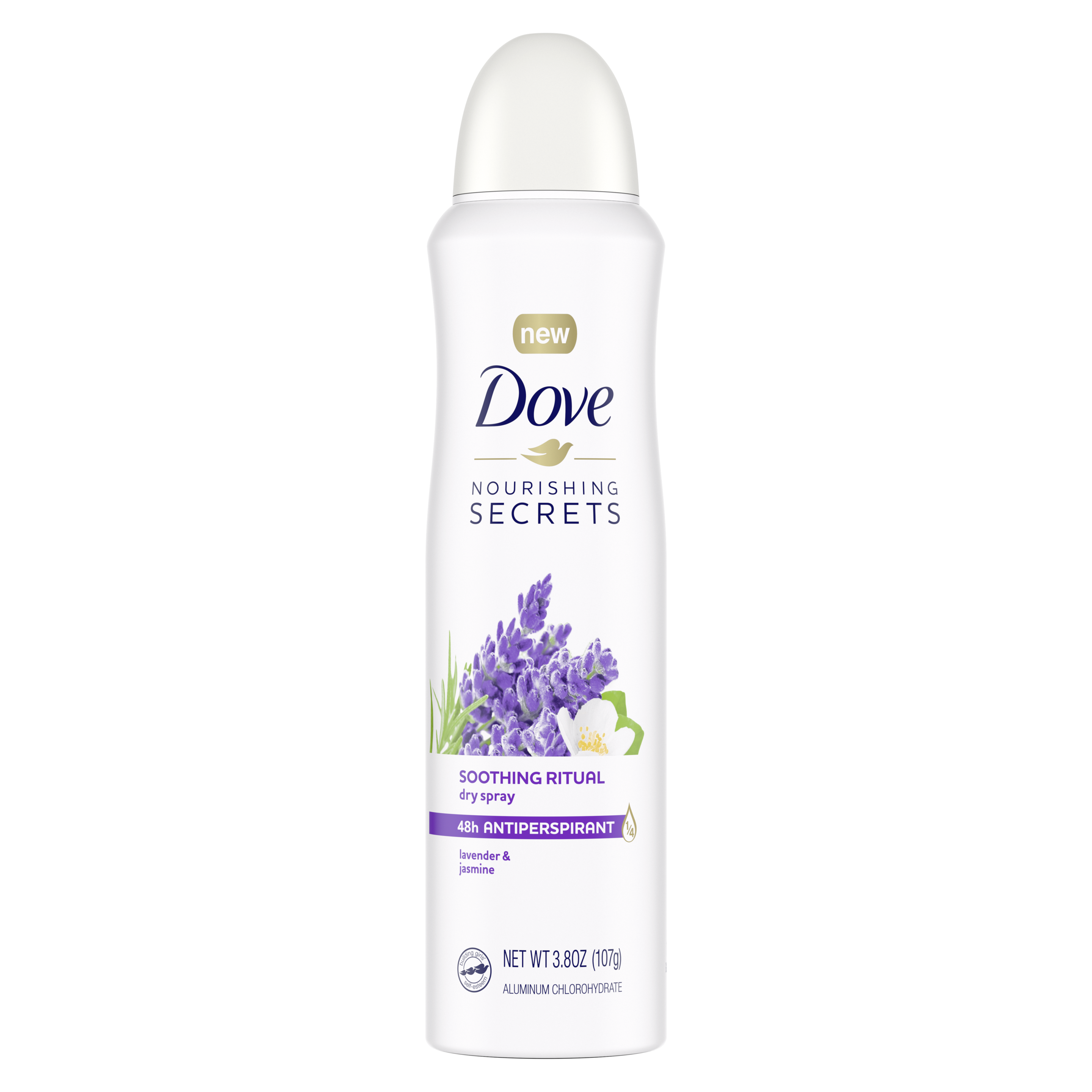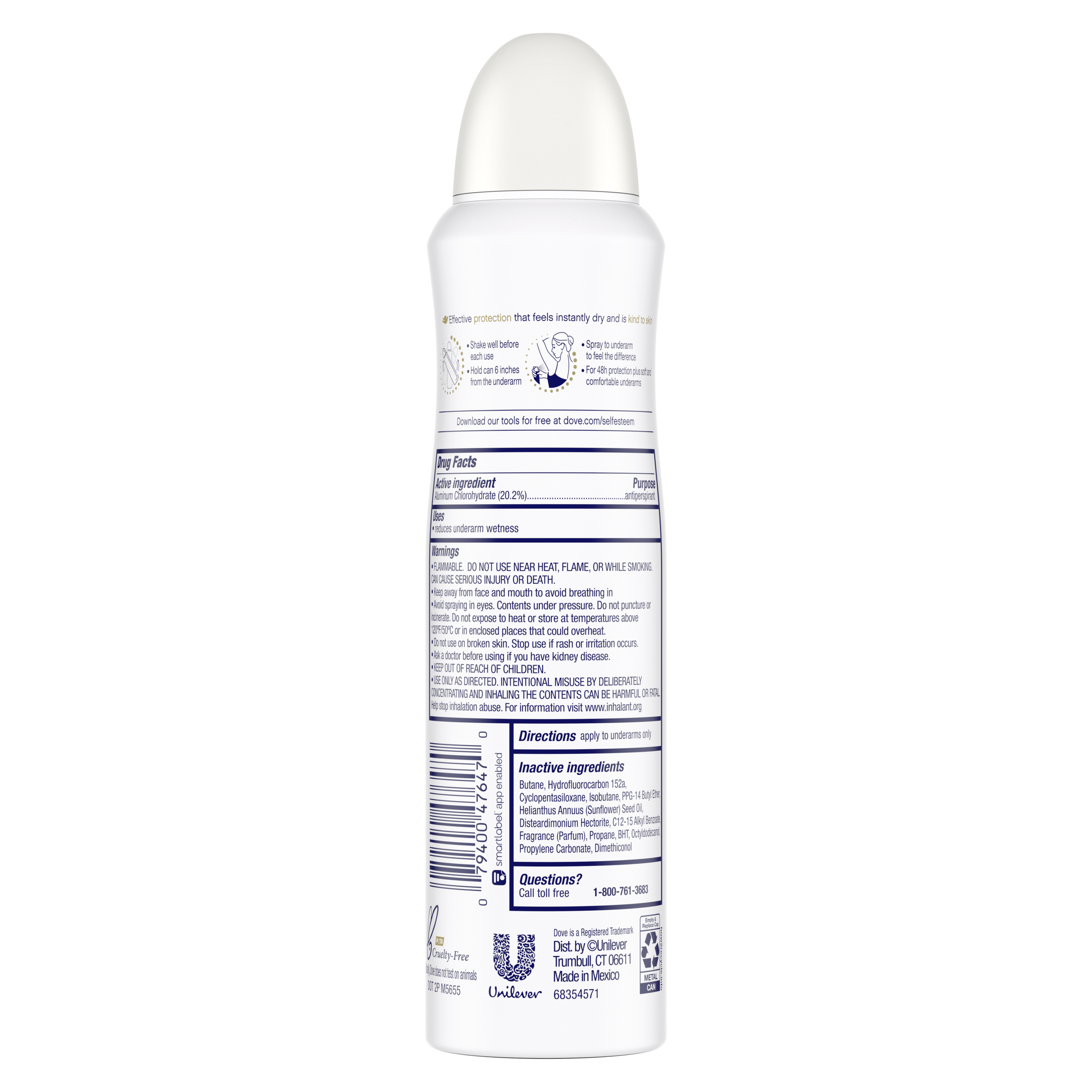 Dove Nourishing Secrets Dry Spray Antiperspirant Soothing Ritual Lavender and Jasmine
Get underarm protection, care and a dreamy aromatic scent with our Nourishing Secrets antiperspirant deodorant dry spray.

• Effective antiperspirant deodorant spray with 48-hour protection 
• Caring formula enriched with ¼ moisturizers 
• Gentle formula with 0% alcohol (ethanol) is kind to skin
• Aromatic, floral scent of lavender, jasmine, patchouli and musk
• Instantly dries for a fresher feel 
• Leaves your underarms feeling comfortable and cared for


With a kind-to-skin formula, underarm protection and a dreamy lavender field scent – our Soothing Ritual Antiperspirant Deodorant Dry Spray is a secret we just can't keep.

This long-lasting antiperspirant deodorant helps keep you dry for up to 48 hours. Reducing underarm wetness and keeping you fresh all day, this is an effective antiperspirant deodorant spray you can rely on. Plus, it sprays on and dries instantly, so you can get dressed and face the day with confidence. 

Made with 0% alcohol and enriched with our signature ¼ moisturizers, the non-irritating antiperspirant formula leaves you with comfortable, beautifully soft underarms. And that's not all –this moisturizing antiperspirant is a treat for your skin and your senses. Blending classic Dove care with the aromatic, nature-inspired scents of lavender, jasmine, patchouli and musk, it helps you transform your underarm care routine into a ritual you'll enjoy every morning. 


Active Ingredient: Aluminum Chlorohydrate (20.2%) 

Inactive Ingredients: Butane, Hydrofluorocarbon 152a, Cyclopentasiloxane, Isobutane, PPG-14 Butyl Ether, Helianthus Annuus (Sunflower) Seed Oil, Disteardimonium Hectorite, C12-15 Alkyl Benzoate, Fragrance (Parfum), Propane, BHT, Octyldodecanol, Propylene Carbonate, Dimethiconol


• 48 hour antiperspirant protection 
With long-lasting antiperspirant protection and a formula that sprays on and dries instantly, you can count on this antiperspirant spray to keep you feeling fresh for up to 48 hours. 

• Kind-to-skin care 
Enriched with our signature ¼ moisturizers, this antiperspirant deodorant spray leaves you with beautifully soft underarms.

• A soothing ritual 
This antiperspirant deodorant spray combines the aromatic floral scents of lavender and jasmine with comforting patchouli and musk. This nature-inspired fragrance has been created with responsibly sourced ingredients, too – so you can enjoy a soothing ritual without compromising on care. 

• Cruelty free underarm protection 
 We care about you and about animals, too. For over 30 years we've used non-animal approaches to assess the safety of our products and ingredients. Dove has enacted a policy prohibiting any animal tests, anywhere in the world, and we are delighted to say that Dove is certified cruelty-free by PETA globally.


Shake the can for a few seconds to mix the ingredients. Hold your antiperspirant deodorant spray around 6 inches away from your underarm and give it a quick spray. Then repeat on the other side. It dries instantly so you can get dressed and go.


To make your morning even more relaxing, start with a refreshing shower, add some music and follow up with our Nourishing Secrets Lavender and Jasmine Antiperspirant Deodorant Dry Spray to complete your soothing morning ritual. It works best on clean, dry skin so make sure you dry your underarms before you apply.