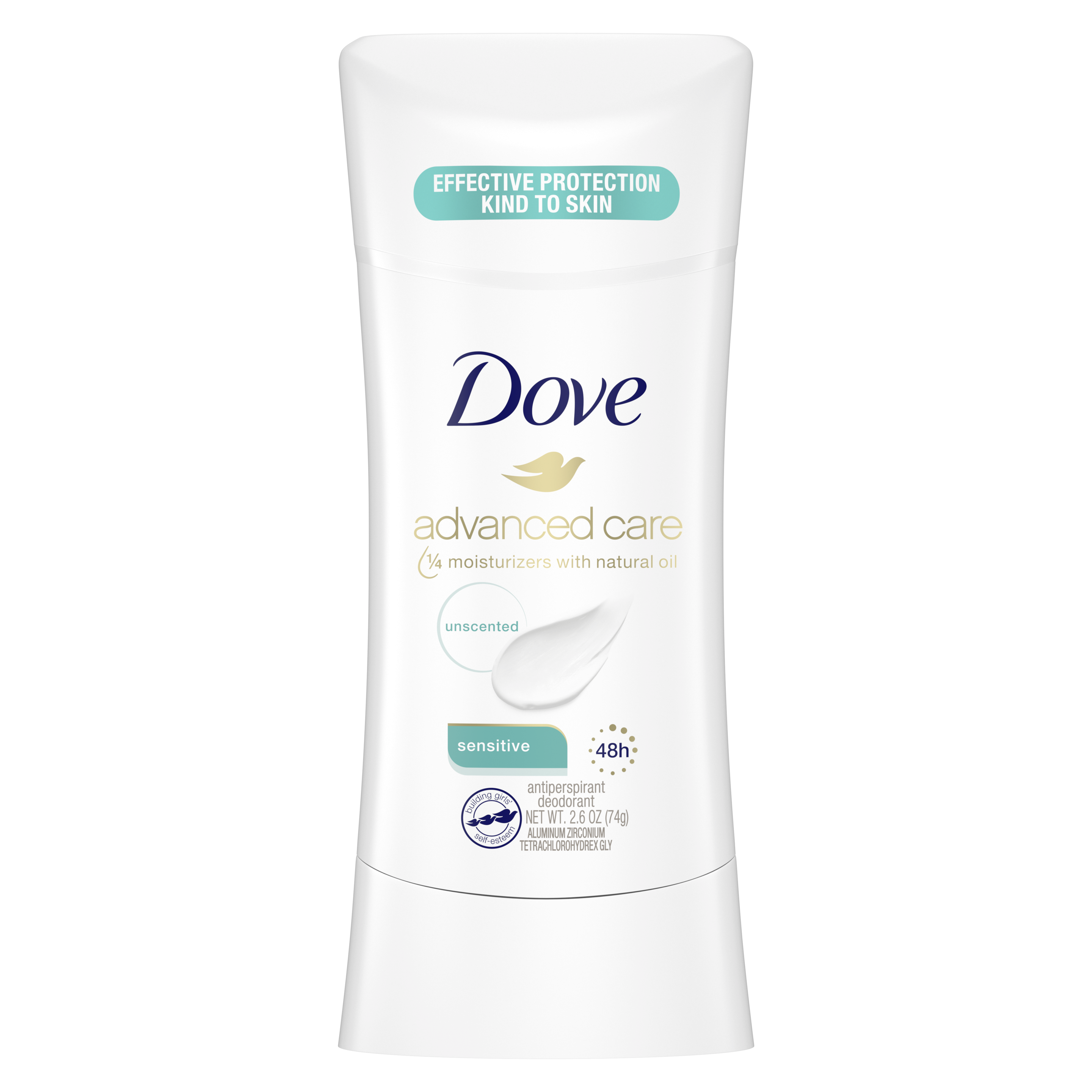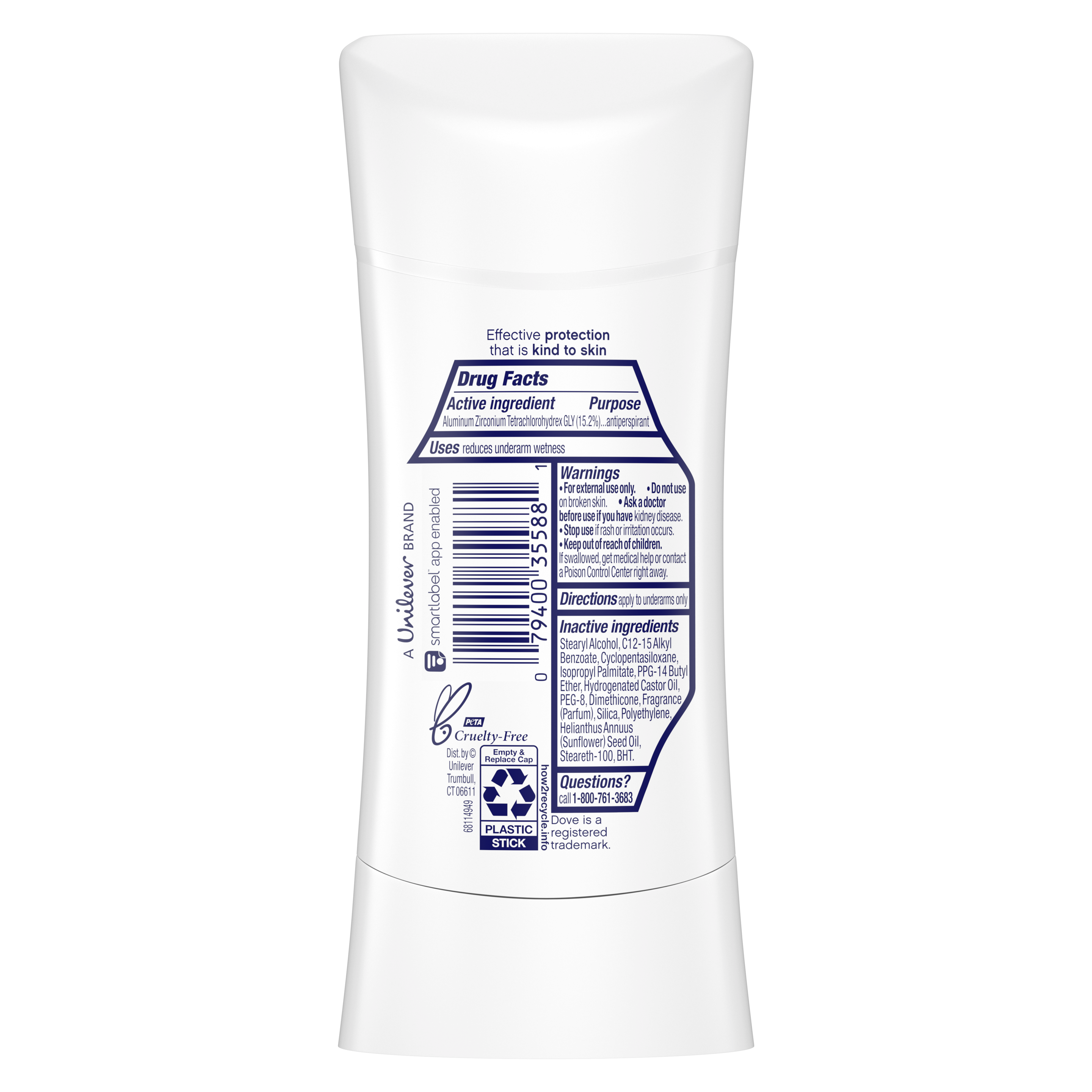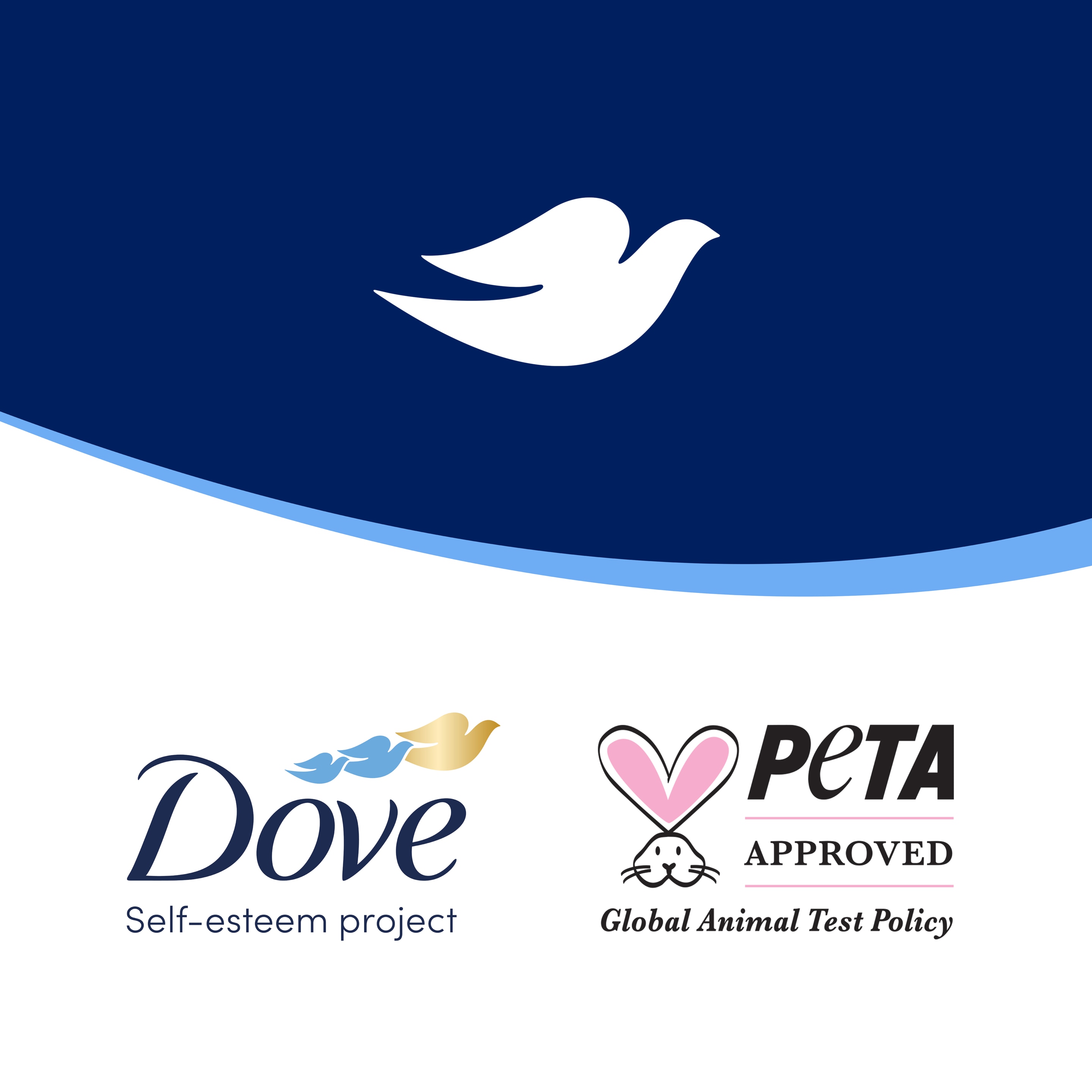 Advanced Care Antiperspirant Deodorant Stick Unscented Sensitive
A 48-hour antiperspirant deodorant stick with a kind-to-skin, unscented formula that soothes underarms.
Sensitive Skin
Fragrance-free
0% alcohol

• Deodorant for sensitive underarms with 48-hour antiperspirant protection
• Kind-to-skin formula containing ¼ moisturizers with natural oil 
• 0% alcohol formula helps soothe underarm irritation
• Perfect scent-free antiperspirant for sensitive skin
• Antiperspirant stick glides on easily, leaving underarms soft and comfortable
• Helps reduce underarm worries so you can live beautifully unselfconsciously


Wondering how to take care of sensitive skin? Finding the right antiperspirant for sensitive skin can be tricky, but we have a solution. Say hello to Dove Advanced Care Unscented Antiperspirant Deodorant for sensitive underarms. With a gentle formula, this deodorant for women gives you underarm care and protection you can rely on.

Enriched with our signature ¼ moisturizers with natural oil, the formula of this scent-free antiperspirant deodorant stick cares for your underarm skin, soothes shaving irritation, and leaves you with underarms that feel soft and comfortable. Plus, it's designed to give you up to 48 hours of antiperspirant protection.

We're on a mission to help women raise their self-esteem – because we believe beauty should be a source of confidence, not anxiety. Dove antiperspirant deodorants deliver effective protection and are kind to skin, so women can live life beautifully unselfconsciously and free from underarm worries. 


Active Ingredient: Aluminum Zirconium Tetrachlorohydrex GLY (15.2%)

Inactive Ingredients: Stearyl Alcohol, C12-15 Alkyl Benzoate, Cyclopentasiloxane, Isopropyl Palmitate, PPG-14 Butyl Ether, Hydrogenated Castor Oil, PEG-8, Dimethicone, Fragrance (Parfum), Silica, Polyethylene, Helianthus Annuus (Sunflower) Seed Oil, Steareth-100, BHT.


• Scent-free antiperspirant
The gentle, fragrance-free formula of this antiperspirant deodorant is kind to delicate underarm skin.

• Long-lasting protection
If you ask us, the best deodorant gives you protection you can rely on. A great deodorant for sweat and odor protection, Dove Advanced Care Unscented Stick has a long-lasting antiperspirant formula that  keeps underarm sweat at bay for up to 48 hours.

• Dry, sensitive skin
Wondering how to improve your skin care routine for sensitive skin? This moisturizing antiperspirant deodorant will give you underarms that feel soft and comfortable in no time.

• Extra peace of mind
For over 30 years we've used non-animal approaches to assess the safety of our products and ingredients. We are delighted to say that our products will now carry PETA's cruelty-free logo to assure you that Dove does not, and will not, test on animals.


To get the best from your Dove antiperspirant deodorant stick, apply it first thing in the morning, or whenever you need a dose of freshness. It'll give you underarm care that'll leave you feeling confident and comfortable.


Try applying your antiperspirant deodorant at night. Your body temperature will be cooler, so the formula can work more effectively. 

When it comes to your body, love the one you're with
Beauty is an all-ages show