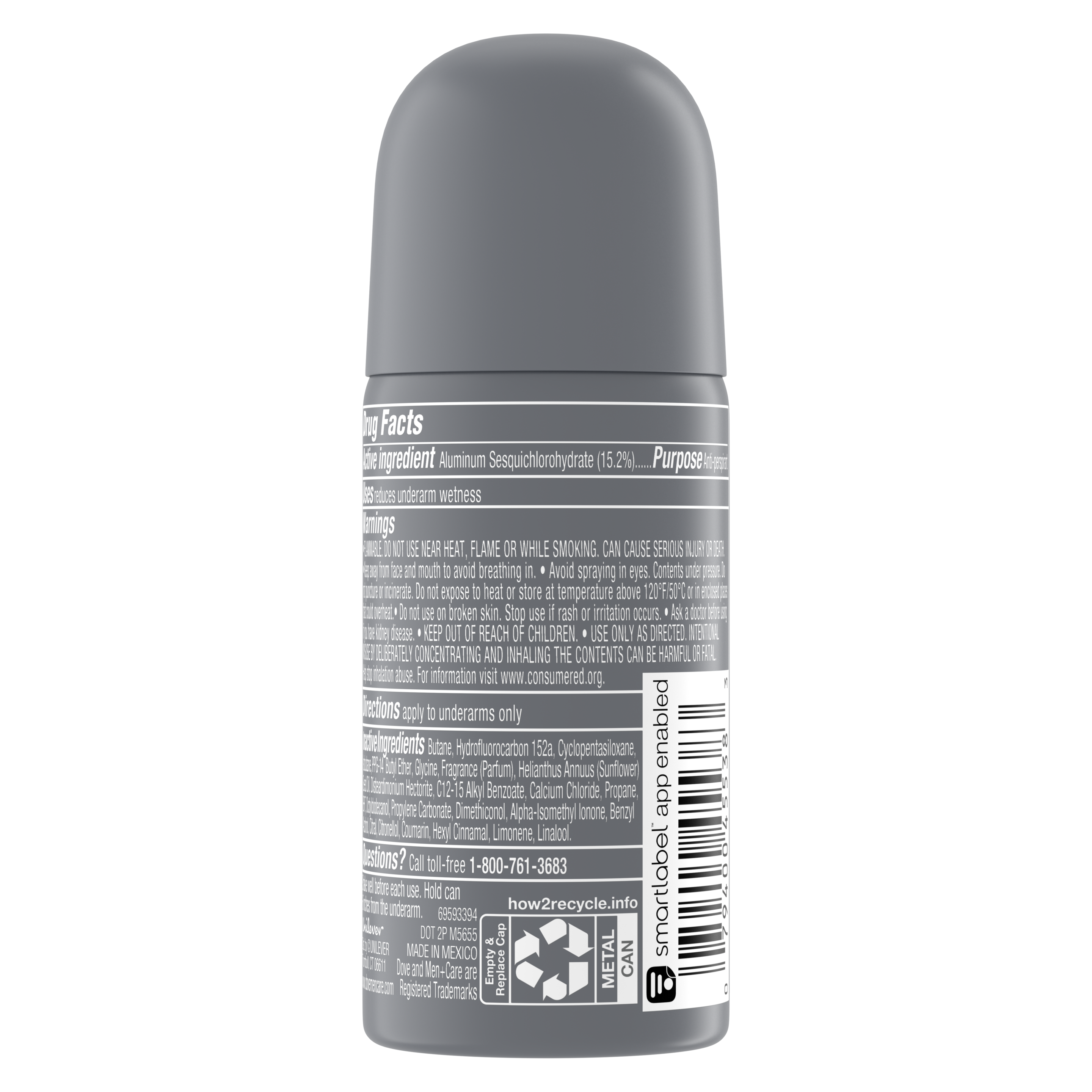 Dove Men+Care Dry Spray Antiperspirant Deodorant Clean Comfort
Stay fresh on-the-go with Dove Men+Care 1 oz Clean Comfort Dry Spray Antiperspirant.

• Mini deodorant dry spray offers the same 48-hour powerful sweat and odor protection as full size
• Triple moisturizing technology helps protect skin against irritation
• Clinically proven non-irritant formula
• Goes on instantly dry so you can easily apply while on the go
• On-the-go size underarm deodorant dry spray for men with clean, crisp scent
• Deodorant for men that easily fits in toiletries bag or backpack


When you're traveling or on-the-go, stay dry and fresh with Dove Men+Care Clean Comfort Dry Spray Antiperspirant Deodorant that goes on instantly dry for a clean feel and long lasting protection against body odor and sweat. This men's dry spray antiperspirant deodorant delivers up to 48 hours of powerful protection and it's small enough to fit in your toiletries bag. 

As part of the Dove Men+Care range, its strength doesn't stop at sweat and odor. Its clinically proven non-irritant formula, with triple moisturizing technology, is tough on sweat, not on skin to keep your under arms comfortable. 

Dove Men+Care Clean Comfort Dry Spray Antiperspirant Deodorant goes on dry so you can dress immediately and avoid damp patches on your shirts. With triple moisturizing technology, it's kind to your skin as well as your clothes¬—add it to your vacation packing list! 

For long-lasting sweat and odor protection, shake the can well before use. Hold the can of men's dry spray deodorant upright and six inches away from your underarm you can then apply two or three sharp bursts to each underarm. Enjoy the clean, fresh scent and 48 hour powerful antiperspirant protection throughout the day. Now there's no reason to wait before getting dressed in the morning, just simply reach for Dove Men+Care Clean Comfort Dry Spray to start your day right. 


Active Ingredient: Aluminum Chlorohydrate (20.2%)
Inactive Ingredients: Butane, Hydrofluorocarbon 152A, Cyclopentasiloxane, Isobutane, PPG-14 Butyl Ether, Fragrance (Parfum), Helianthus Annuss (Sunflower) Seed Oil, Disteardimonium Hectorite, C12-15 Alkyl Benzoate, Propane, BHT, Octyldodecanol, Propylene Carbonate, Dimethiconol, Tocopheryl Acetate, Alpha-Isomethyl Lonone, Butylphenyl Methylpropional, Citral, Citronellol, Coumarin, Hexyl Cinnamal, Limonene, Linalool


thoroughly first. Twist the bottom until approximately half a centimetre of the block is visible. Swipe over skin to dispense an even layer to each of your underarms.

HELLO, WHAT ARE YOU LOOKING FOR?