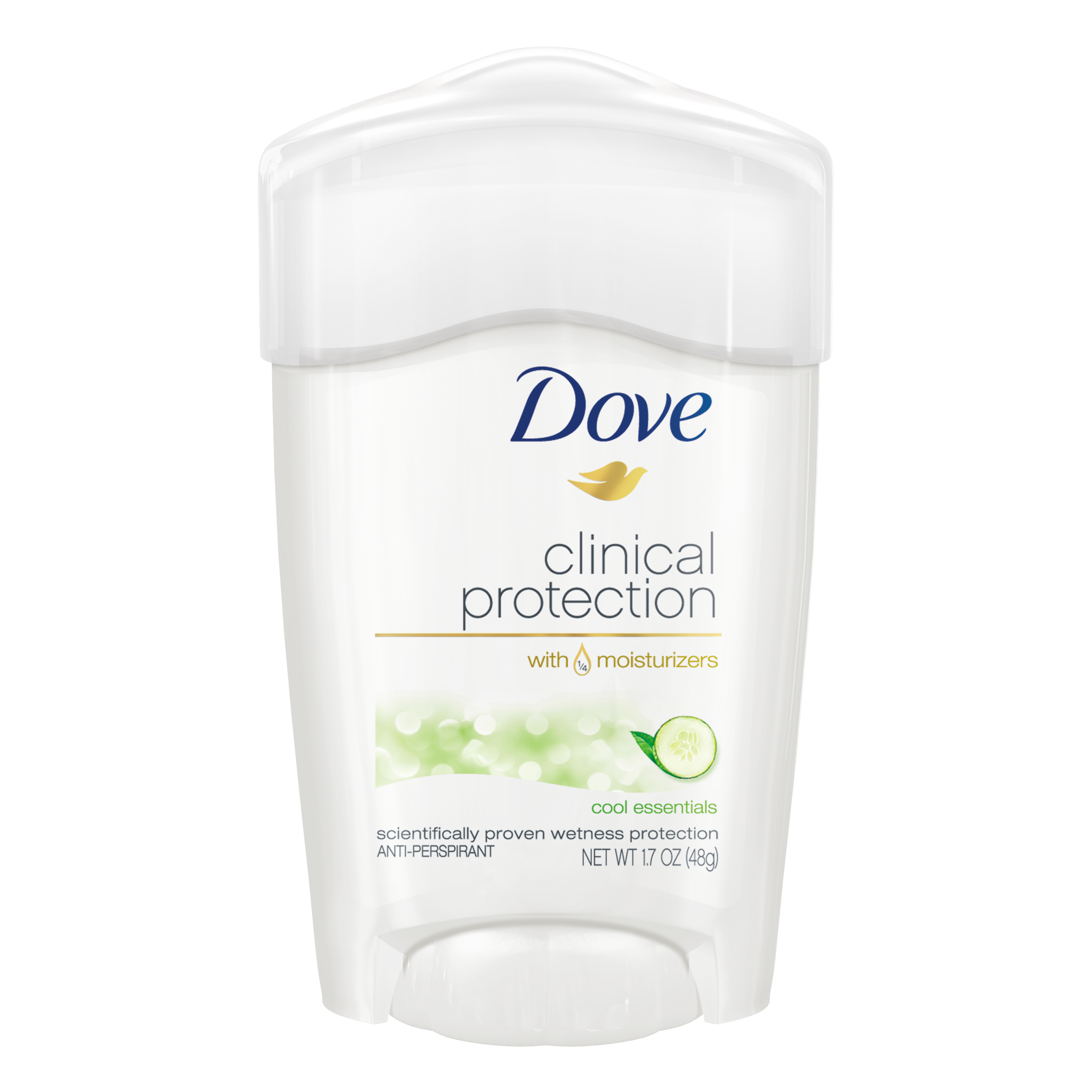 Clinical Protection Antiperspirant, Cool Essentials
A clinical-strength 48-hour antiperspirant deodorant with ¼ moisturizers and a refreshing cucumber and green tea scent.

• Clinical strength antiperspirant

• Dermatologically tested

• Refreshing scent inspired by nature

• Contains ¼ moisturizers beautifully soft and smooth underarms

• Helps delicate underarm skin recover from irritation caused by shaving


Have you noticed that the times you need a little more protection against wetness are usually the times you need to feel your most confident? Like when you've spent days getting that presentation just right - the last thing you want to worry about when you're in front of your boss is whether you have damp patches on your top. Dove Clinical Protection Antiperspirant, Cool Essentials is a clinical strength antiperspirant that gives you extra help to stay dry when you need it most.

This is one of our most effective antiperspirants and it doesn't compromise on underarm care. It contains ¼ moisturizers to help underarm skin recover from irritation caused by shaving while reducing perspiration. So if you're following that stressful day at work with a salsa class, you can go right ahead without worrying about anything (apart from where your feet are supposed to be).

Twice the strength of our regular antiperspirants, Dove Clinical Protection Antiperspirant, Cool Essentials gives you the strongest antiperspirant protection with a refreshing scent of cucumber and green tea to keep you feeling fresh throughout the day. 


Active Ingredient: Aluminum Zirconium Tetrachlorohydrex Gly (20%) Inactive Ingredients: Cyclopentasiloxane, Dimethicone, Paraffin, Microcrystalline Wax, Silica, Fragrance (Parfum), Helianthus Annuus (Sunflower) Seed Oil, Dimethicone Crosspolymer, BHT


• Long-lasting protection 
If you've been searching for the solution to underarm wetness that lasts longer than just a few hours, look no further than Dove Clinical Protection Antiperspirant, Cool Essentials. It's an extra strength antiperspirant deodorant clinically proven to provide Clinical protection against wetness.

• Caring for underarm skin
While it's busy keeping you dry, you can also relax knowing that it's looking after your delicate underarm skin too, with our unique ¼ moistuizers. 

• Complimenting your perfume
Plus it smells gorgeous and refreshing with the clean, uplifting scents of cucumber and green tea, inspired by nature. It's a Dove antiperspirant deodorant that makes sure you look, feel and smell your best


To get the most out of your Dove Clinical Protection Antiperspirant Deodorant, apply it before bed. Give your applicator about two clicks for each underarm. Then, holding one arm above your head at a time, slick on the product in three or four swipes to each underarm. Finally, give yourself a couple of minutes before putting on your pyjamas, to make sure the antiperspirant is properly dry.

Hello, what are you looking for?
When it comes to your body, love the one you're with
Beauty is an all-ages show