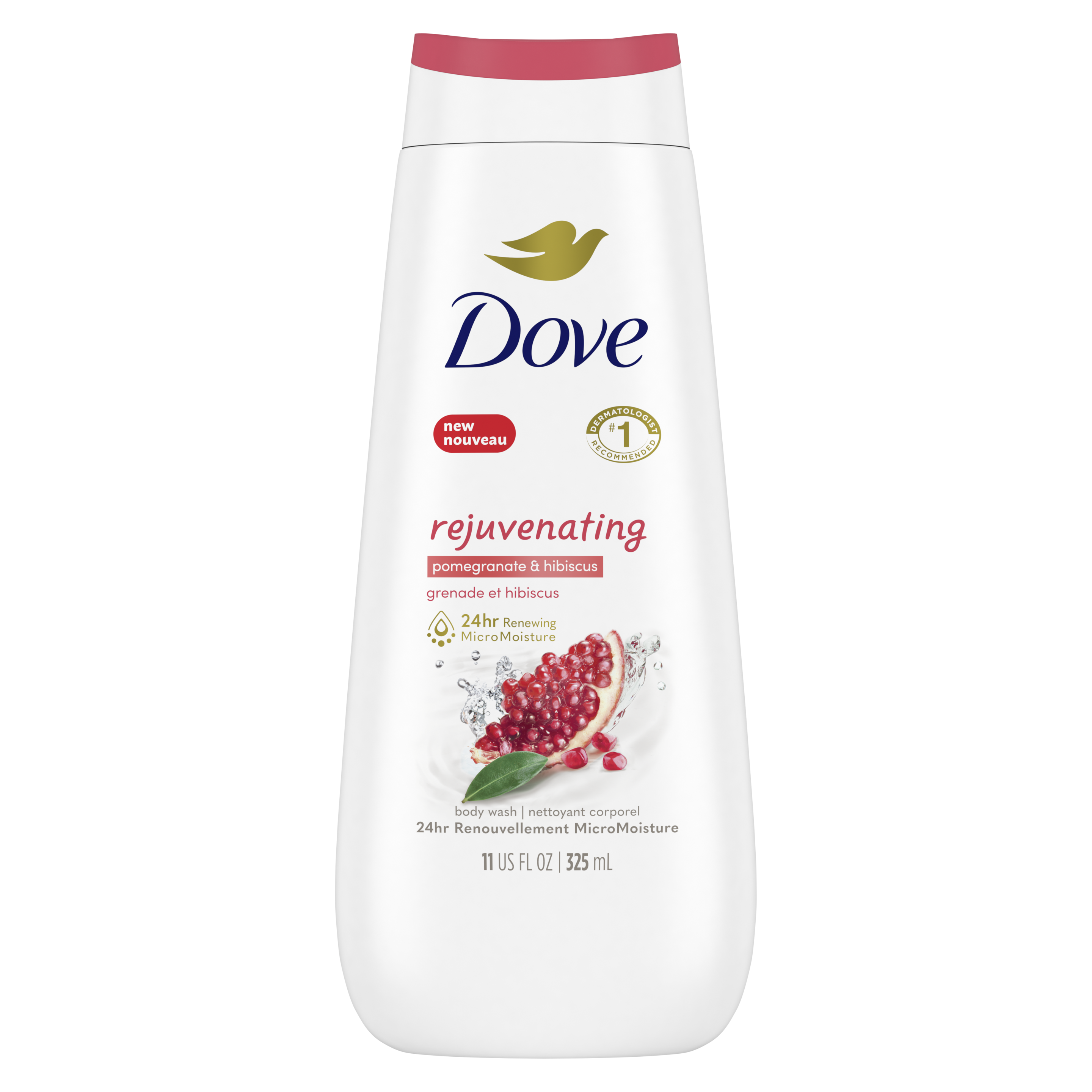 Rejuvenating Body Wash with Pomegranate and Hibiscus Tea
Help to revive skin and invigorate your senses with this pomegranate and hibiscus body wash.

"•Dove Rejuvenating Body Wash helps to energize and revive skin

•Moisturizing body wash helps leave skin soft and smooth 

•Made with pomegranate and hibiscus fragrance to invigorate your senses

•Dove Moisture Renew Blend to help renew skin's natural moisture

•Sulfate-free Dove body wash is gentle to skin's microbiome

•#1 dermatologist recommended body wash brand

•Made with 100% recycled plastic, our bottles are now beautifully unique"


"Is your skin care routine in need of a shake up? We've got just the thing you're looking for. Made to help revive skin, our Rejuvenating Body Wash combines the classic care of Dove with pomegranate and hibiscus tea extracts – leaving you feeling uplifted after every use. 

Made with Moisture Renew Blend technology, our hibiscus and pomegranate body wash helps to renew skin's moisture. And because your skin deserves the most gentle care, this sulfate-free Dove body wash is kind to your microbiome – skin's outer living protective layer – with naturally-derived cleanser and plant-based moisturizer. 

While the sweet notes of pomegranate and hibiscus help to wake up your senses, this moisturizing body wash gets to work. You'll step out the shower with skin that's touchably soft and delicately fragranced." 


"•Daily skin rejuvenation
Our Rejuvenating Body Wash not only uplifts your sense, but it works with your skin to provide intensive nourishment. With our Moisture Renew Blend, the nourishing formula works to renew your skin's natural moisture for long lasting care. 

•Kick-starting your skincare routine
With the bright, fruity fragrances of hibiscus tea and pomegranate in this paraben-free body wash, you can kick-start your skincare routine every morning. Allow the sweet, floral aroma to fill your shower as you lather – then rinse away and get ready to take on the day. 

•Microbiome-gentle care 
Wrapped up in a gentle formula, this sulfate-free Dove body wash respects your microbiome – skin's outer living protective layer, too. Formulated with naturally-derived cleansers, you can rest easy that your skin's delicate balance will be respected with every wash."


Squeeze a generous amount of this moisturizing body wash into your palms. Spread all over your body and work into a lather, before taking a moment to allow the sweet scents of hibiscus and pomegranate to fill your shower. Rinse away with warm water to reveal soft, revived, and nourished skin.


Want to invigorate every shower with a simple trick? After you've finished cleansing, slowly lower the temperature of the water. Giving your skin a burst of cold water doesn't just wake up your body, but it helps your skin retain it's glow too! 

When it comes to your body, love the one you're with
Beauty is an all-ages show