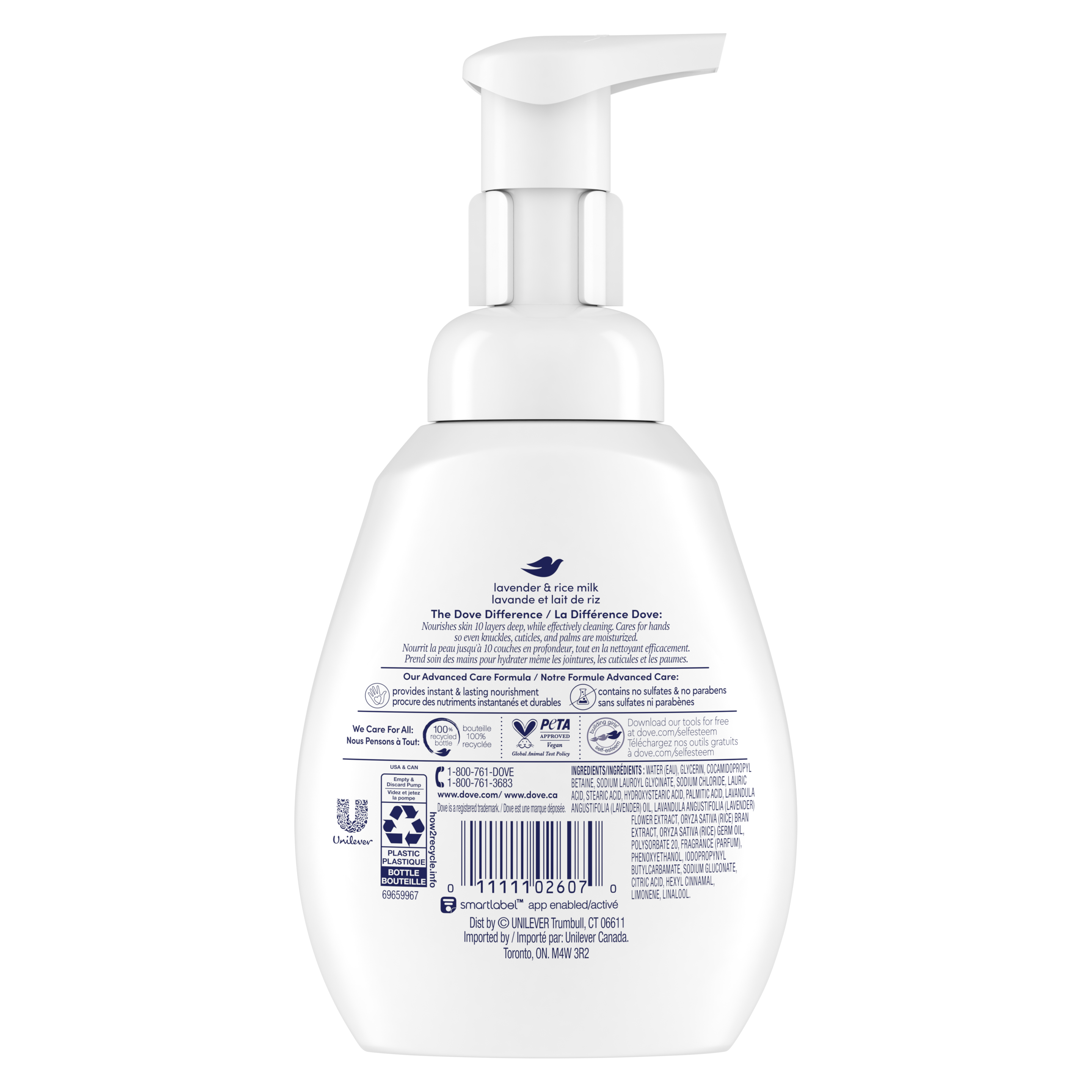 Lavender & Yogurt Nourishing Foaming Hand Wash
Our indulgent foaming hand wash wraps your skin in a decadent foam that cleanses and nourishes after every wash.

• Foaming hand wash infused with calming lavender scent 
• Moisturizing foaming hand wash that effectively cleans hands 
• 5x Moisturizer Blend consisting of 5 skin nutrients and moisturizers
• Sulfate and paraben free formula for a gentle cleanse 
• Indulgent experience that leaves skin fresh and moisturized  
• Suitable for every wash


Wrap your hands in the creamy lather of this Dove foaming hand wash. After just one wash, you'll be left with nourished, softer skin. 

Washing hands effectively while giving them the care they need has never been so easy. Our 5x Moisturizer Blend consisting of 5 skin nutrients and moisturizers will leave your hands feeling deeply cleansed, soft and moisturized. Plus, our sulfate and paraben free formula is gentle on all skin types – so the entire family can enjoy the feeling of instant and lasting nourishment.

The beautifully scented foam with lavender and yogurt fragrance is the perfect dose of relaxation to break up a busy day. Who knew cleaning hands could be so luxurious? 


Water (Eau), Glycerin, Sodium Lauroyl Glutamate, Sodium Lauroyl Glycinate, Cocamidopropyl Betaine, Stearic Acid, Palmitic Acid, Yogurt Powder, Sorbitol, Hydroxyethyl Urea, Lavandula Angustifolia (Lavender) Oil, Lavandula Angustifolia (Lavender) Flower Extract, Sodium Chloride, Polysorbate 20, Phenoxyethanol, Fragrance (Parfum), PPG-9, Citric Acid, Tetrasodium EDTA, Iodopropynyl Butylcarbamate, Hexyl Cinnamal, Limonene, Linaool


• Washing hands effectively 
The skin on our hands may seem tough, but it needs care and attention like the rest of our bodies. Give them the treatment they deserve with our gentle, sulfate and paraben free foaming hand wash.  

• Added nourishment 
Made with our unique 5x Moisturizer Blend consisting of 5 skin nutrients and moisturizers  our rich foaming hand wash nourishes your skin while effectively cleansing. Plus, our gentle skin-friendly formula leaves your hands moisturized for up to 2 hours.

• A luxurious experience 
Find indulgence in the small parts of your day. This luxuriously creamy foaming hand wash will wash away the dirt on hands and leave you with an indulgent lavender and yogurt scent.


Pump a generous amount of Dove Foaming Lavender & Yogurt Hand Wash onto your wet palms. Work the rich foam into a lather and massage into your skin. Count to at least 20 seconds while washing to ensure a thorough cleanse before rinsing.


After a busy day, it can be hard to wind down and relax. If you are wondering how a lavender scent benefits you, try spraying some lavender scent on your towels and pillows. You'll instantly feel the relaxing fragrance promote some extra calmness in your life. 

When it comes to your body, love the one you're with
Beauty is an all-ages show