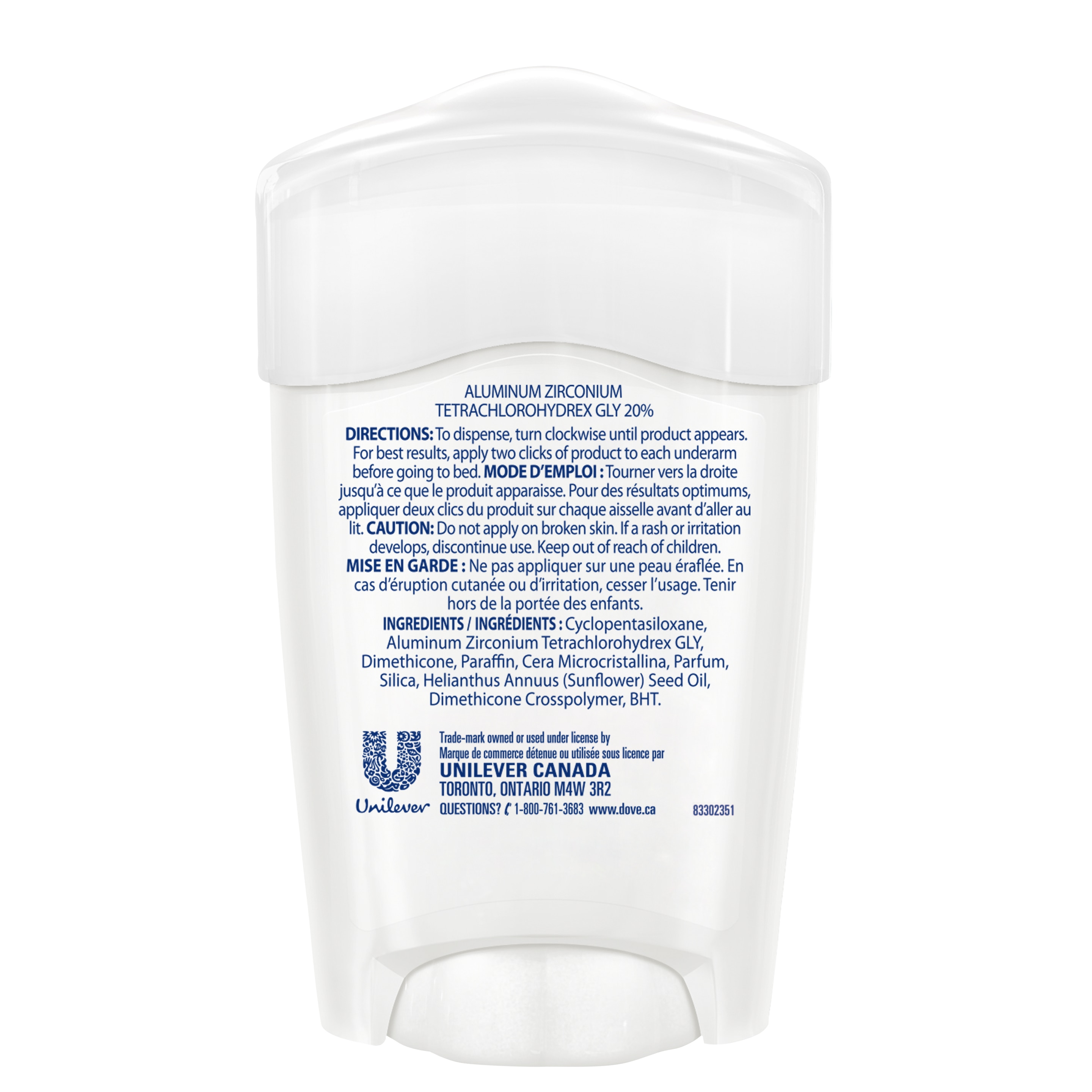 Clinical Protection Original Clean Antiperspirant
Nourish underarm skin with an extra effective Antiperspirant that's dermatologically tested to be kind on skin.

• Dermatologically tested

• Clinical strength Antiperspirant for our most effective protection

• Contains ¼ moisturizing cream for great underarm care

• Gives up to 48 hours of odour protection


We're most likely to sweat during challenging times when we want to feel our most confident. Perhaps it's the day of a tough meeting that you've been burning the midnight oil to prepare for or one of those occasions where absolutely everything happens at once. Whatever the reason, the solution is the same; Dove Clinical Protection Original Clean Antiperspirant.



Unlike other leading clinical strength deodorants, Dove Clinical Protection Original Clean contains ¼ moisturizing cream to help underarm skin recover from dryness caused by shaving for great underarm care. Add in the fact that it's been dermatologically tested and you can be sure that this extra effective Antiperspirant will be kind to your skin while being tough on sweat. 



Now the only thing you have to worry about is impressing your boss or prioritizing your time. Let Dove Clinical Protection Original Clean Antiperspirant take care of perspiration while you turn on the charm and enjoy your day. 


Cyclopentasiloxane, Aluminum Zirconium Tetrachlorohydrex GLY, Dimethicone, Paraffin, Cera Microcristallina, Silica, Parfum, Helianthus Annuus (Sunflower) Seed Oil, Dimethicone Crosspolymer, BHT.


• Long-lasting dryness



When you need a little extra strength from your Dove Antiperspirant turn to Dove Original Clean. It's our best extra effective Antiperspirant, giving you up to 48 hours of odour protection that won't let you down – it's confidence you can wear



• Moisturizing underarm skin



Dove Original Clean contains ¼ moisturizing cream, that helps to restore delicate underarm skin from the dryness caused by shaving, keeping it beautifully soft and smooth



• Underarm care



If you're looking for an alcohol-free Antiperspirant, this has you covered on that front, too


To stay fresh and dry all day, start by twisting the applicator wheel to release the Antiperspirant – two clicks for each underarm – then smooth on the product with light, even strokes. You can use Dove Original Clean in the morning, but for the best results, apply it before bed: your sweat glands are less active at night, and your skin is drier, so the formula can adapt to your body and form its long-lasting barrier ready for the morning.


Make sure your skin is completely dry and you're not sweating from the heat of a bath or shower before applying Maximum Protection Original Clean. Trapping moisture in your pores will prevent the cream from being absorbed into your skin properly and will reduce its effectiveness. 

When it comes to your body, love the one you're with
Beauty is an all-ages show