What are adaptogens? Your guide to de-stressing your senses
Everyone is talking about adaptogens, but how do adaptogens work and why are they known for helping us de-stress our skin and senses? Keep reading to learn the science behind adaptogens and how they infuse our new range of face and body washes. You'll be adding these to your self-care routine in no time.
What are adaptogens?
Adaptogens are extracts from plants, herbs, mushrooms and spices (like turmeric, ginger root, holy basil, hemp seed oil, ashwagandha and white lavender) that can help us de-stress our skin and our senses. So, when you're struggling to squeeze work, time for yourself and time for the ones you love into your busy day, adaptogens like turmeric and ashwagandha for stress relief are a great addition to your self-care routine.
How can you add adaptogens to your self-care routine?
Adaptogens can be taken as supplements, drank in tea or used in cooking (but always in low doses). And now we've made it possible to add adaptogens to your daily self-care shower routine.
Enter our new trio of face and body washes, enriched with our Adaptogen Herb Complex.

To wake up feeling energized, hop in the shower with Men+Care Awaken Turmeric + Ginger Root Face + Body Wash. To add a moment of tranquility to your morning self-care routine, lather up with Men+Care Inner Peace Holy Basil + Hemp Seed Oil Face + Body Wash. And to de-stress your senses before bed, shower in the evening with Men+Care Wind Down Ashwagandha + White Lavender Face + Body Wash.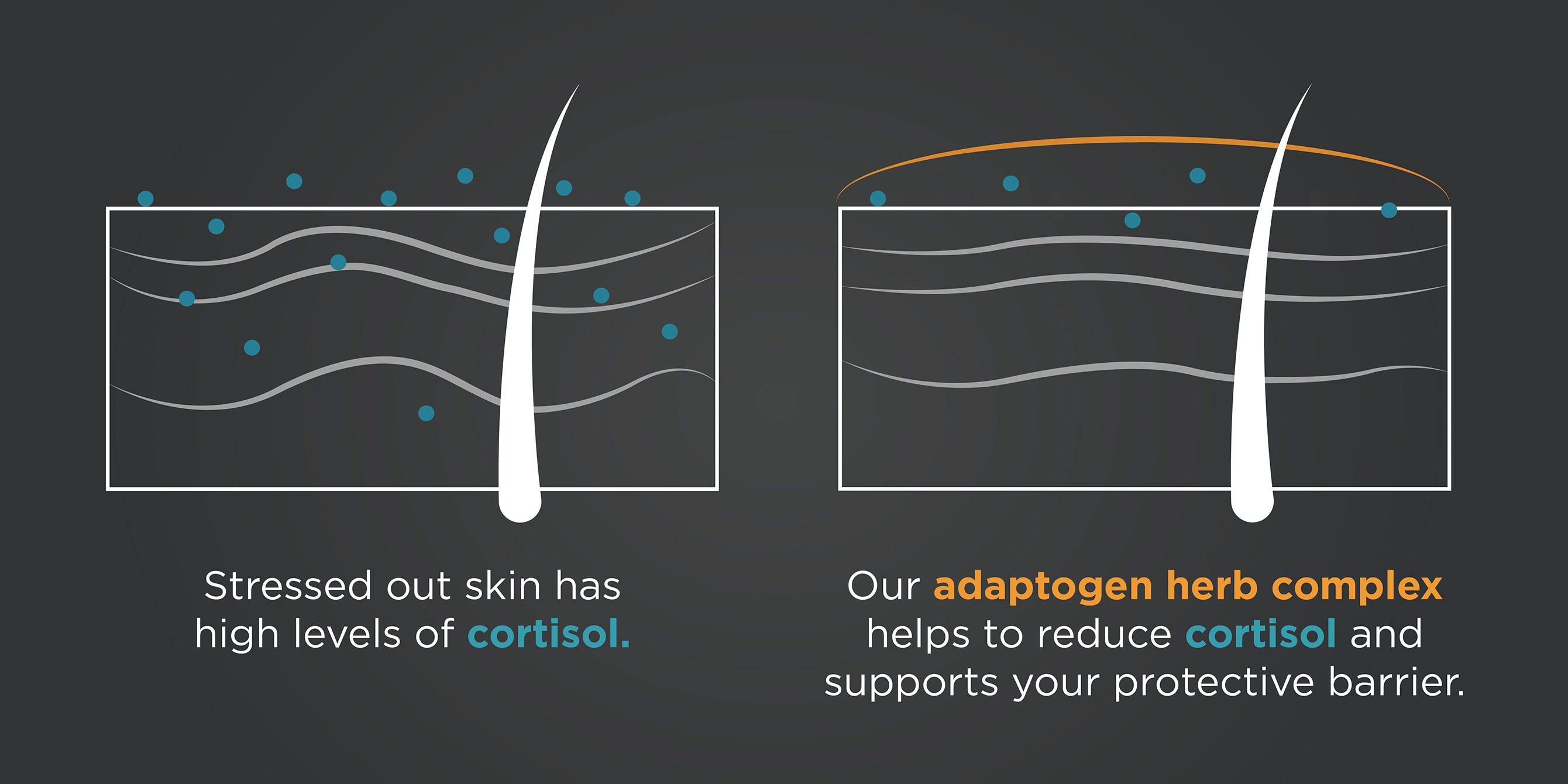 How do adaptogens work in our new range?
The Adaptogen Herb Complex in our formula, which harnesses the power of adaptogens, helps protect dry skin from environmental stressors.

Not technical enough? Take a look at the diagram. Here's adaptogen science 101: our Adaptogen Herb Complex reduces stress on your skin by helping reduce its cortisol levels (which is your body's primary stress hormone). Less cortisol, essentially, means less stress. Our Adaptogen Herb Complex also forms a protective barrier on your skin so that external stressors like pollution don't cause dry skin to become more stressed. Simple, right?

To help support our Adaptogen Herb Complex, our formula is also equipped with a unique fragrance technology that helps de-stress, refresh and awaken your senses after every shower. So, whether you want to start the day feeling energized, find a moment of calm or de-stress before your head hits the pillow, there's a body wash in our powerful new range that you can add to your self-care routine.
Hello, what are you looking for?