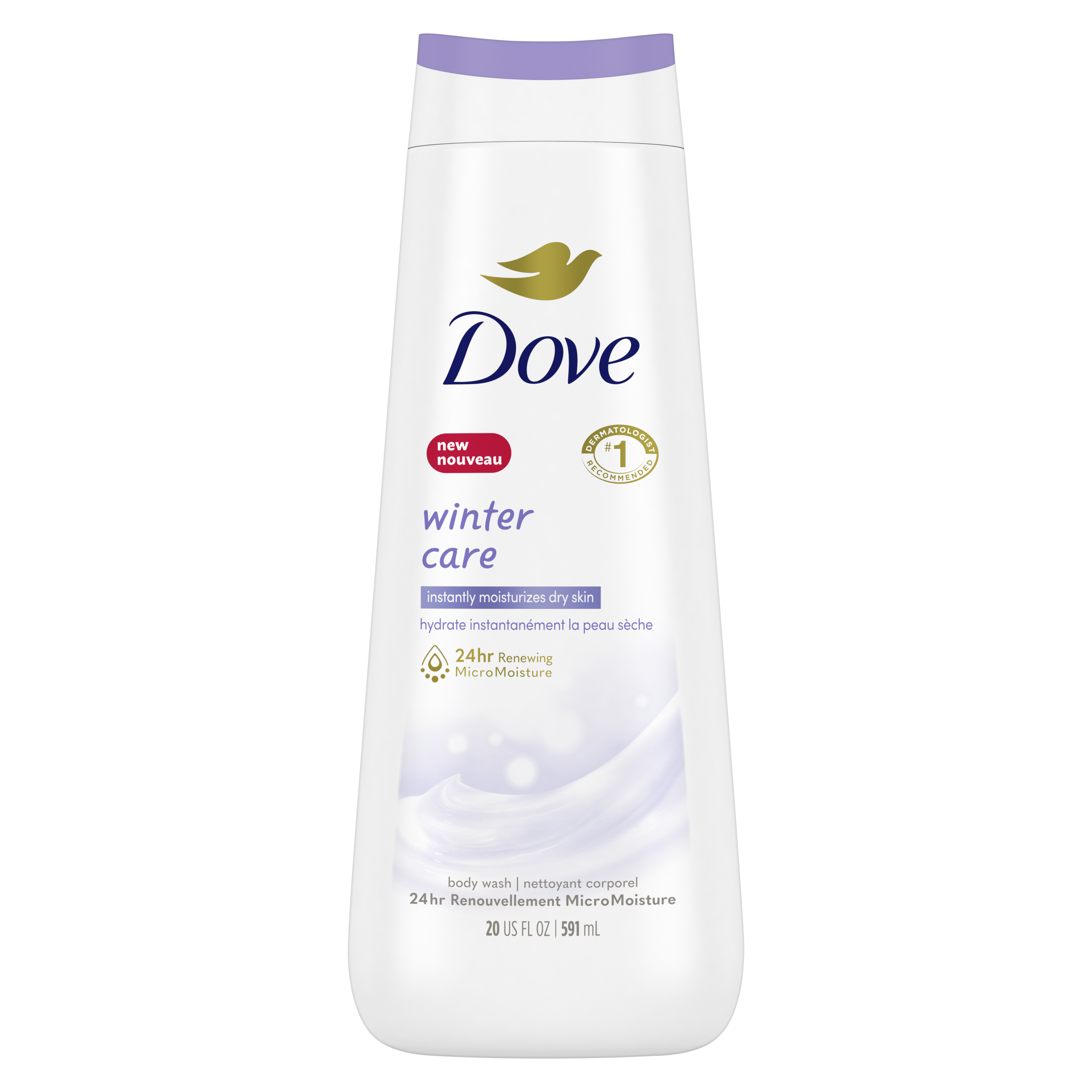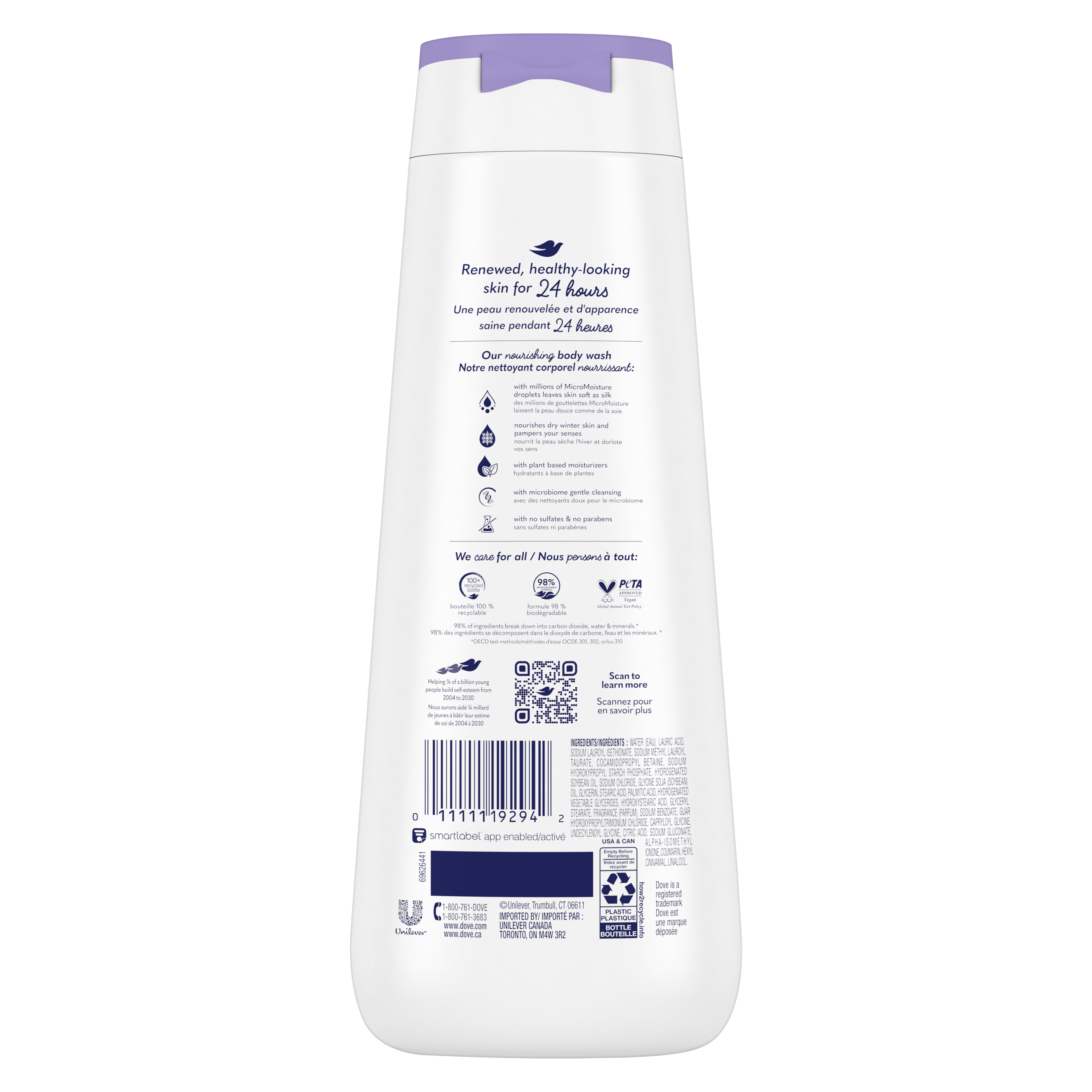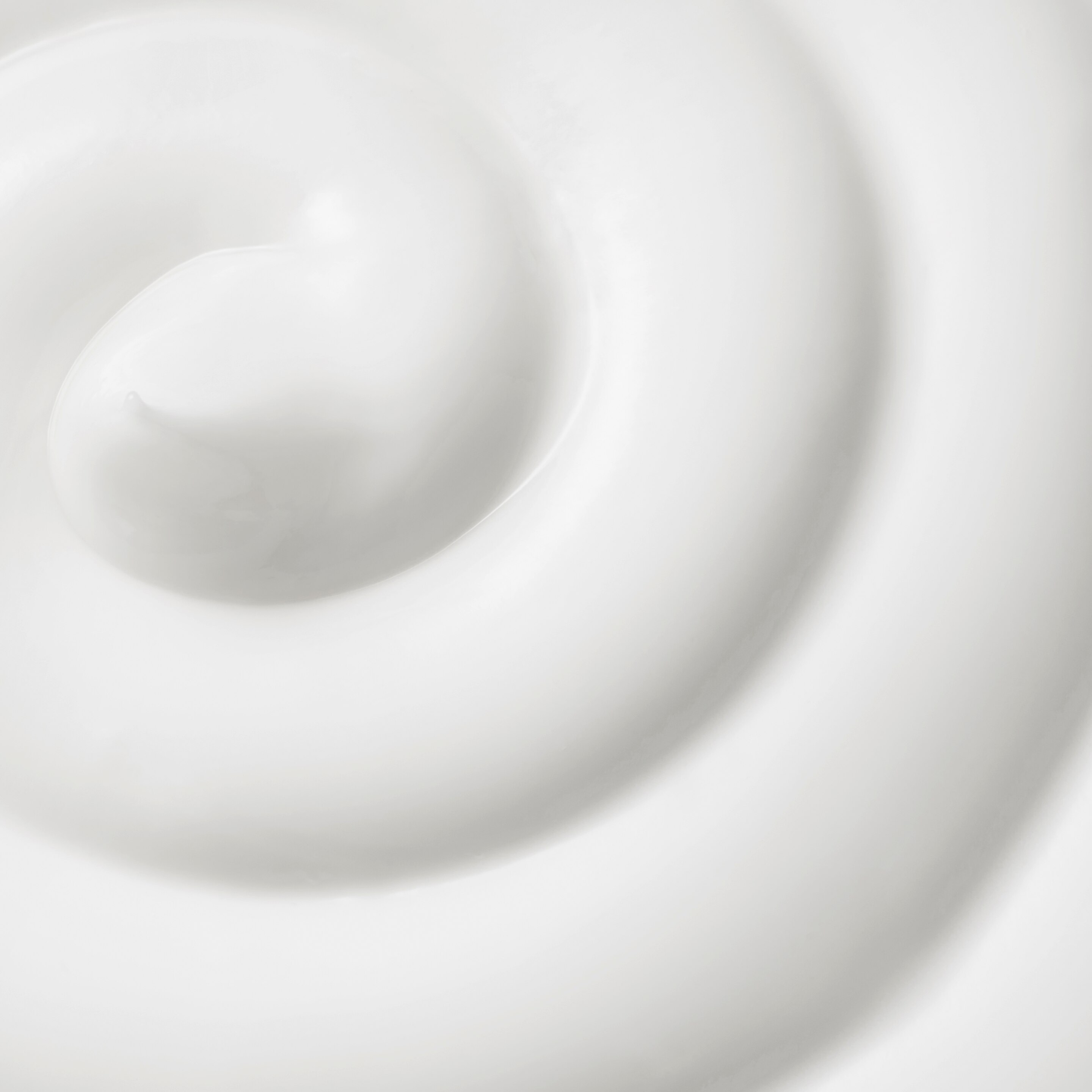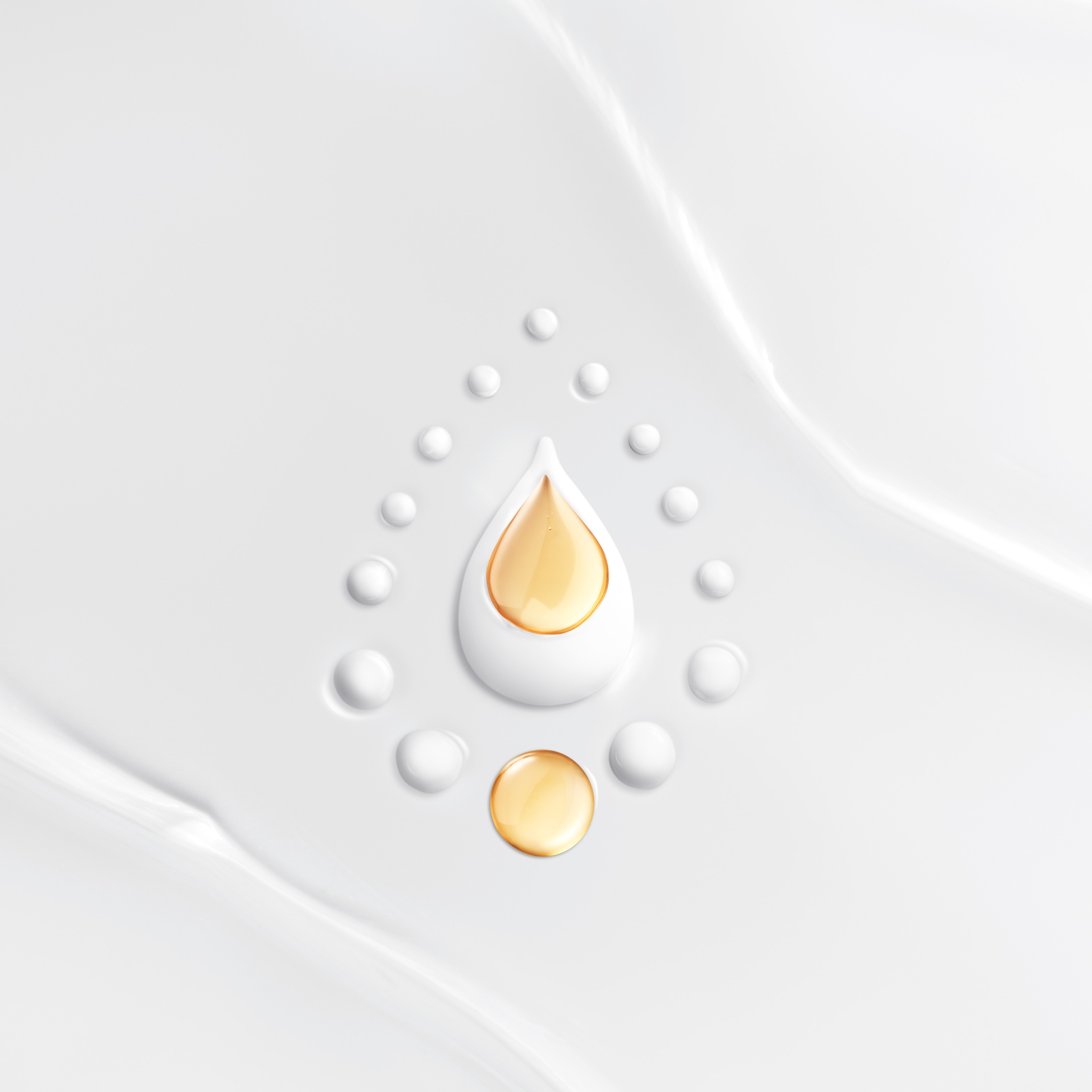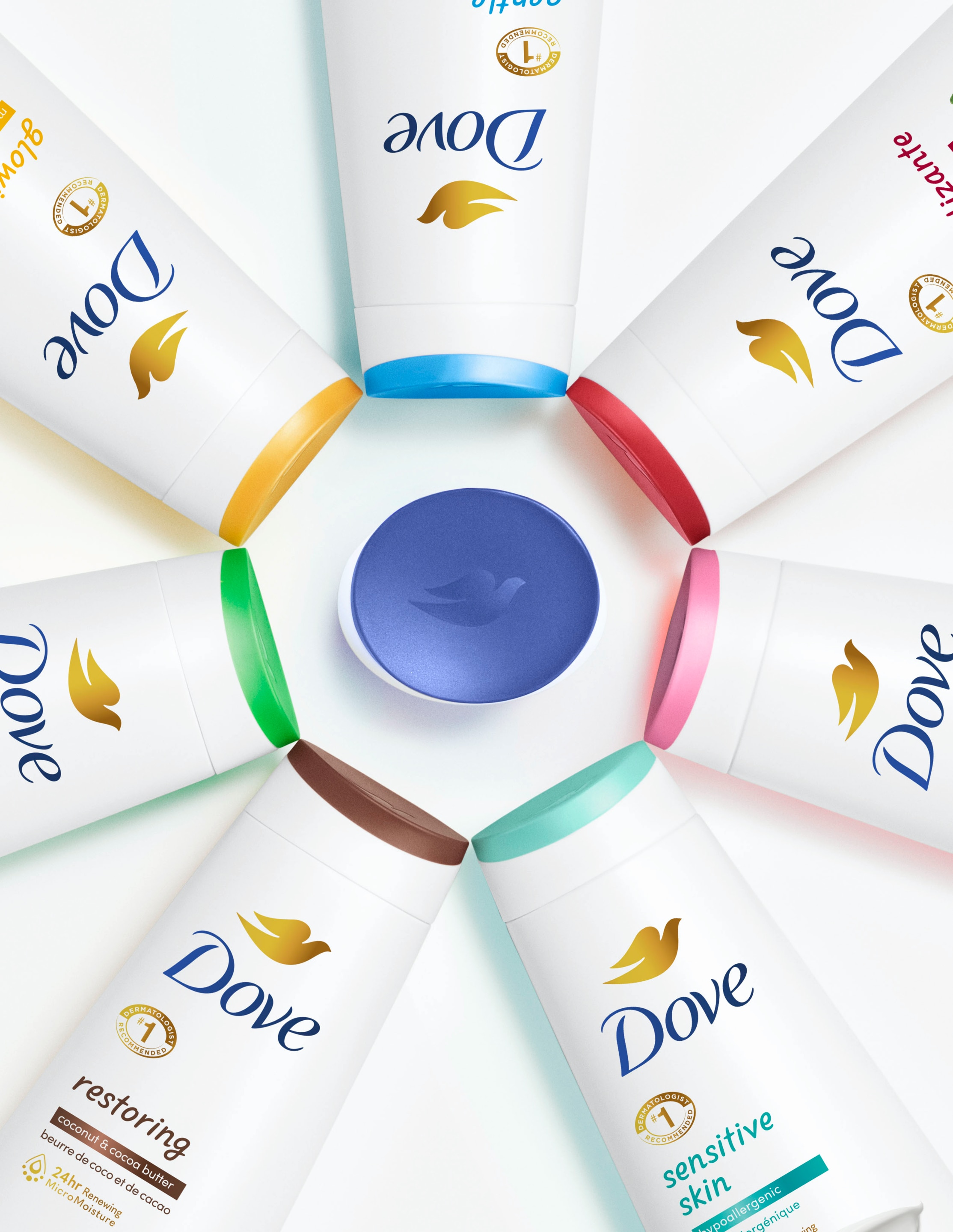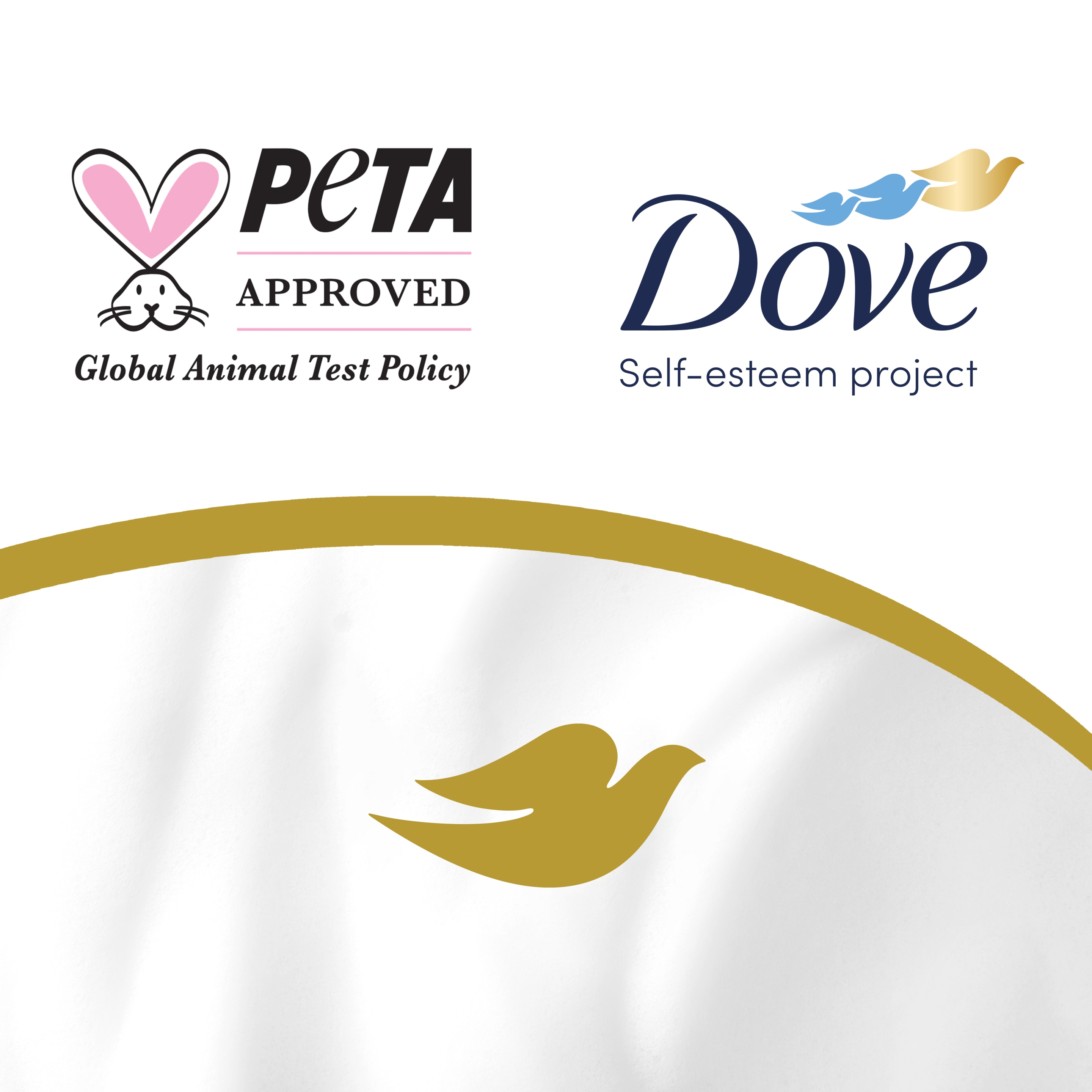 A nourishing body wash for winter skin routines that moisturizes dryness and relieves tightness, leaving skin silky-soft.
PETA Approved Vegan
Microbiome gentle
#1 dermatologist recommended brand
No sulfate
100% recycled plastic bottle

•Winter Care body wash to moisturize dry skin
•Gives you renewed, healthy-looking skin for 24 hours
•Gentle body wash without parabens and sulfates
•Infused with a classic Dove scent
•98% biodegradable formula* in a recycled plastic bottle
•PETA Approved Vegan, moisturizing body wash

*98% of ingredients break down into carbon dioxide, water & minerals (OECD test methods 301, 302 and/or 310)


Winter can be tough on our skin – the cold air can make it easier for it to dry out, leaving us with parched, rough and uncomfortable skin. Care for your skin by choosing Dove Winter Care Body Wash, a moisturizing body wash that instantly relieves dry skin in winter, in just one shower. 

Specially formulated to  nourish dry skin and regenerate skin's natural moisture, our winter body wash uses plant-based moisturizers and 24-hour Renewing MicroMoisture, giving you renewed, healthy-looking skin for 24 hours. The formula contains millions of MicroMoisture droplets that leave your skin soft as silk, and delivers microbiome-gentle cleansing free from sulfates and parabens. 

Ideal for cold winter mornings, this PETA Approved vegan, moisturizing body wash has a creamy lather perfect for when skin feels tight and dry. Plus, it comes in a recyclable, ergonomic bottle that inverts to help you get more body wash out. 


Water (Eau), Lauric Acid, Sodium Lauroyl Isethionate, Sodium Methyl Lauroyl Taurate, CocamidopropylBetaine, Sodium Hydroxypropyl Starch Phosphate, Hydrogenated Soybean Oil, Sodium Chloride, Glycine Soja (Soybean) Oil, Glycerin, Stearic Acid, Palmitic Acid, Hydrogenated Vegetable Glycerides, Hydroxystearic Acid, Glyceryl Stearate, Fragrance(Parfum), Sodium Benzoate, GuarHydroxypropyltrimonium Chloride, Capryloyl Glycine, Undecylenoyl Glycine, Citric Acid,Sodium Gluconate, Alpha-Isomethyl Ionone, Coumarin, Hexyl Cinnamal, Linalool.


Gentle cleansing
Dove is the #1 dermatologist-recommended body wash brand for dry skin. We created this body wash to deliver microbiome-gentle cleansing without parabens and sulfates to help strengthen your skin's natural moisture barrier – perfect for helping to prevent dry skin. 

Skin nourishment
Our moisturizing body wash works with your skin's microbiome while cleansing, actively regenerating your natural moisture levels. It helps you moisturize dry skin with every shower, leaving it softer and noticeably smoother after just one wash.

Care for all 
Globally, Dove does not test on animals, and this is a PETA Approved Vegan body wash. Plus, it has a 98% biodegradable* formula and comes in a recycled plastic, ergonomically designed bottle that inverts to help you make the most of each drop. 

98% of ingredients break down into carbon dioxide, water & minerals (OECD test methods 301, 302 and/or 310)


To add a little care to your routine, simply squeeze a generous amount of this moisturizing body wash onto your hands or a shower pouf, create a rich lather and rinse away to instantly relieve dry winter skin in just one shower. The ergonomic bottle design  makes it easy to get more body wash out – simply flip it upside down when you're running low.


Does your skin feel dry and sensitive come winter? That might be because you're using soap. Ordinary soap can strip your skin's natural oils, which can dry it out and leave it feeling tight and uncomfortable. Our Winter Care Body Wash will work to moisturize dry skin. 

When it comes to your body, love the one you're with
Beauty is an all-ages show