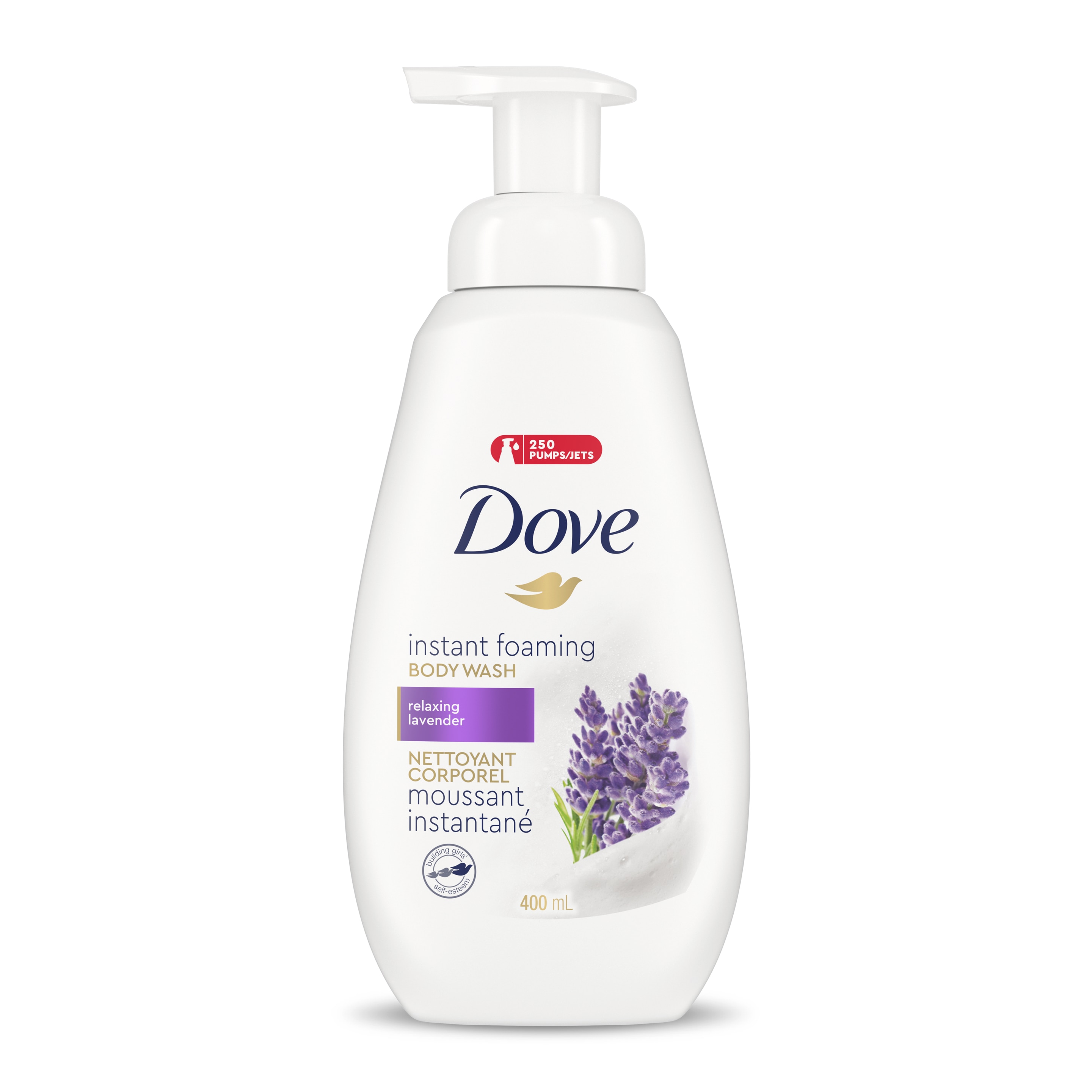 Instant Foaming Body Wash Lavender
A deeply relaxing foaming body wash that cleanses and boosts skin with moisture, with a calming lavender scent.

• Instant foaming body wash gently cleanses and cares for skin

• Gentle body wash with a sulfate-free formula

• NutriumMoistureTM technology delivers skin natural nourishment

• Foaming body wash forms light instant lather

• Lavender scent is perfect for a relaxing shower 

• Over 250 pumps per bottle


When you think about how to pamper yourself at home, visions of face masks, foot spas and luxurious bubble baths spring to mind – but with the right products, you can transform an everyday shower into a moment of relaxation, too. Our Relaxing Lavender Instant Foaming Body Wash is the perfect gentle body wash to help you start the day calm and collected or unwind just before bed. 

With NutriumMoistureTM technology, our foaming body wash helps to retain the skin's essential moisture and nutrients. This light and airy formula instantly lathers and nourishes deep* into the surface layers of your skin, to leave it softer, smoother and beautifully cleansed. Infused with a calming lavender scent, it makes the perfect pampering addition to any shower. So next time you think about how to pamper yourself at home, a relaxing shower and a foaming body wash will be the first thing you think of.

*within the stratum corneum 


Water (Eau), Sodium Lauroyl Glutamate, Glycerin, Sodium Lauroyl Glycinate, Cocamidopropyl Betaine, Sodium Chloride, Polysorbate 20, Fragrance (Parfum), Phenoxyethanol, PPG-9, Stearic Acid, Citric Acid, Tetrasodium EDTA, Iodopropynyl Butylcarbamate.


• Softer, smoother skin 
Formulated with NutriumMoistureTM technology, this gentle body wash helps to maintain the skin's natural moisture barrier and replenish essential nutrients, leaving it feeling softer and smoother. 

• Lightweight cleansing 
With a weightless foam formula, this lavender body wash indulges your skin in a light cloud of comfort while leaving it feeling clean and fresh. 

• Soothing the senses
There's a reason we chose the relaxing scent of our lavender body wash. Lavender is known for its calming and soothing properties for the skin and mind – a perfect combination for a relaxing shower.


Simply press the pump to fill your hands with light and airy foaming body wash. No lathering up required – just smooth the instant bubbles all over your body to gently cleanse your skin.


If you're using Dove Lavender Instant Foaming Body Wash for a relaxing shower before bed, make sure you don't have the water temperature too high. Your body naturally cools in the evening, and changing your body temperature too much can impact your sleep. {HYPERLINK:https://www.webmd.com/sleep-disorders/what-happens-body-during-sleep#1} 

When it comes to your body, love the one you're with
Beauty is an all-ages show