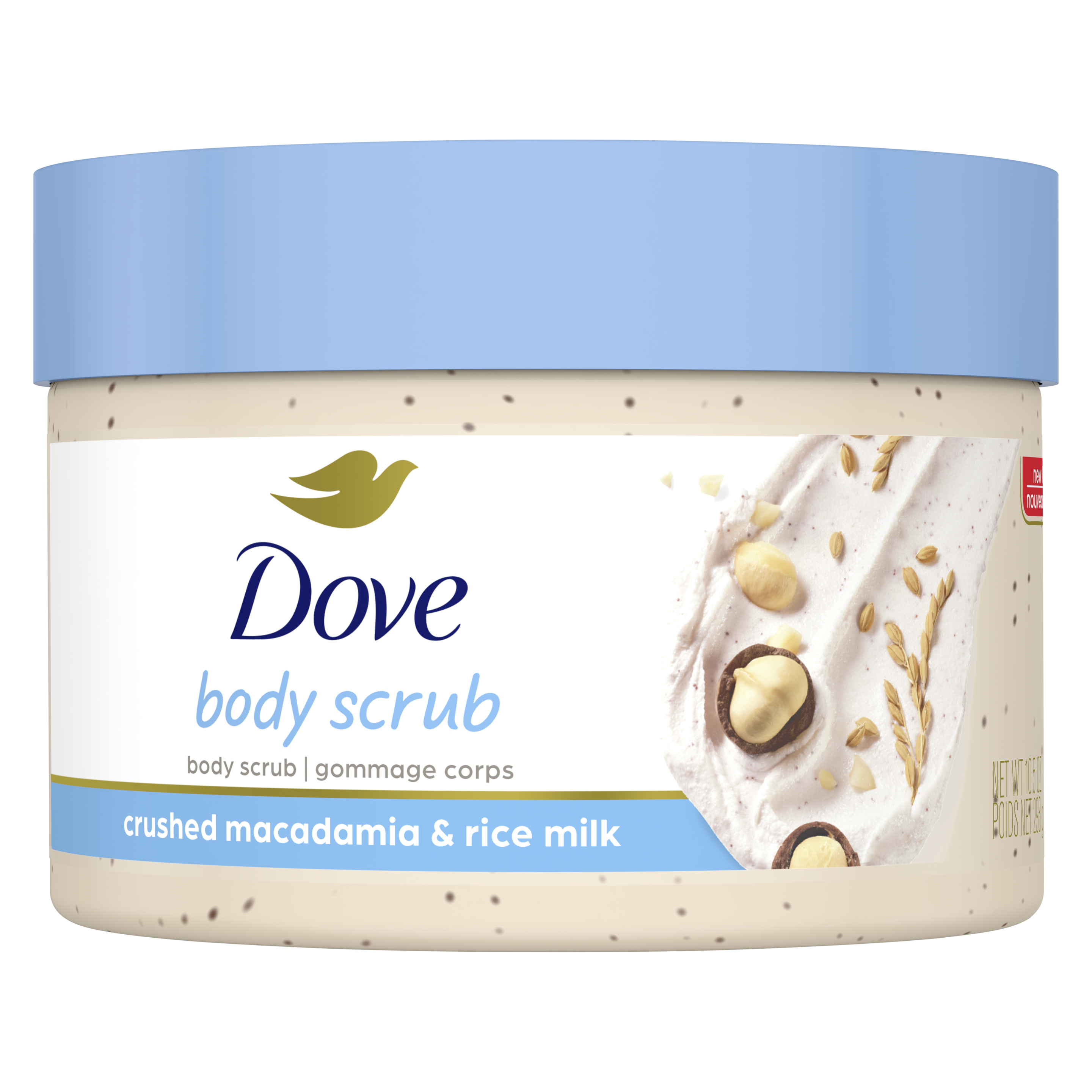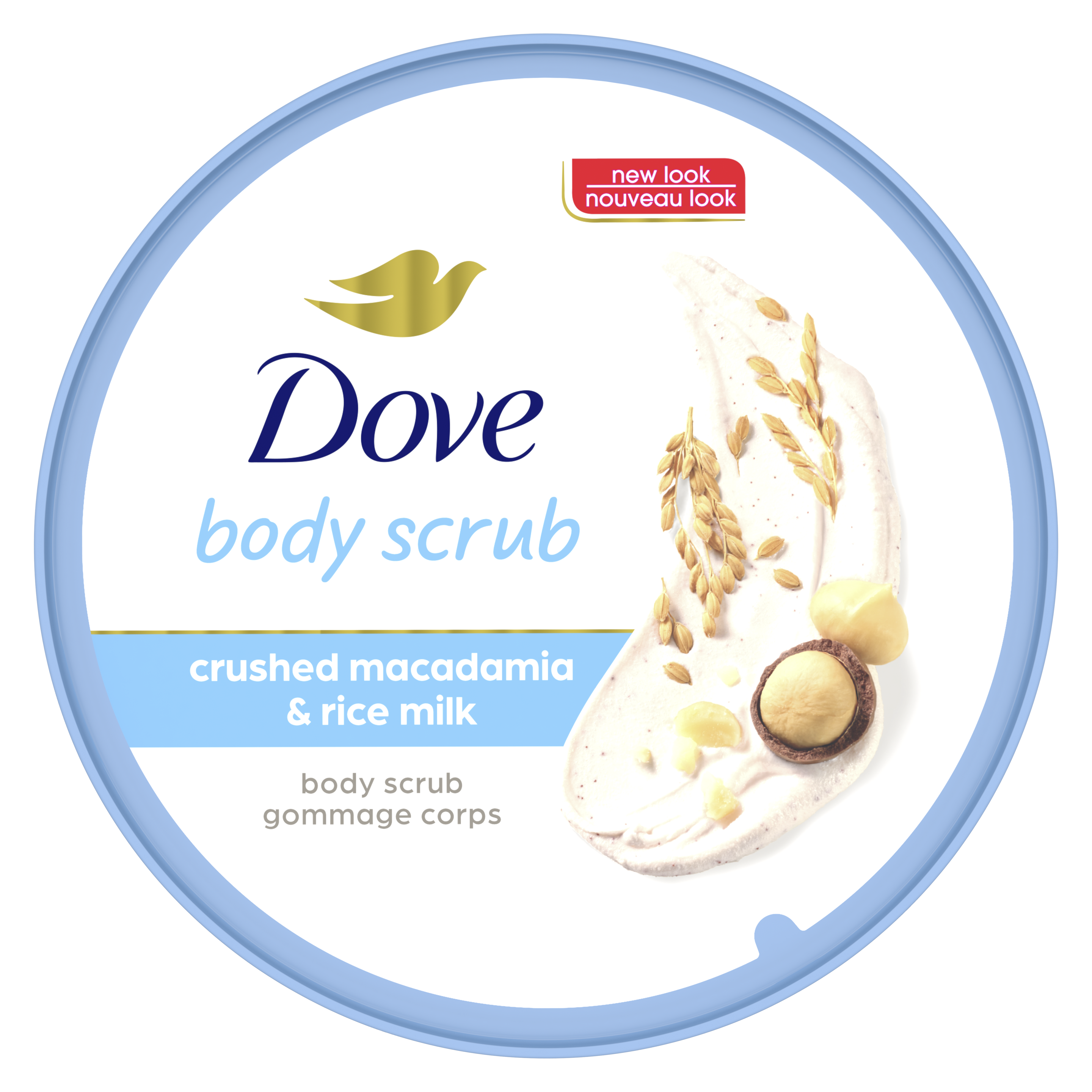 Crushed Macadamia & Rice Milk Moderate Exfoliating Body Scrub
A creamy body scrub enriched with rice milk and macadamia that uses moderate exfoliation to reveal silky-smooth skin.
Calming scent
#1 dermatologist recommended brand
No sulfate cleansers
100% recycled plastic jar

• Exfoliating body scrub uses moderate exfoliation to remove dead skin

• Formula with sulfate SLES free, naturally-derived cleansers

• Formulated with ¼ moisturizing cream

• Provides instant skin softness and lasting smoothness

• Whipped texture that creates a rich, creamy lather 

• Rice milk and macadamia body scrub with a velvety scent


Scrubbing, peeling, buffing: renewing skin doesn't have to be as rough as it sometimes sounds. Polish your way to smooth, soft skin with something different – Dove Exfoliating Body Polish Crushed Macadamia & Rice Milk. This moderate body exfoliator effectively removes dead skin cells to reveal soft, radiant skin.

Enriched with our signature ¼ moisturizing cream and naturally derived cleansers, this body polishing bath scrub cares for your skin as it exfoliates. With a rich, whipped texture that gives you a beautifully creamy coverage, this Dove body scrub is sure to add a hint of luxury to your routine. With every use, the velvety fragrance of crushed macadamia and rice milk will fill your bathroom. Say goodbye to dull skin and hello to the glow you've been looking for. 


Water (eau), g hydrated s ill ca,
Sodium isethionate, stearic acid, sodium stearate/
Cocamidopropyi beta ne, fragrance (parfum), macadamia
Integrifoiia/tetraphyiia seed oil/ oryza sativa (rice) germ oryza
Sativa (rice) bran extract, [auric acid, sodium oieate, cetearyi
Alcohol, synthetic wax, sodium isethionate, sodium chloride, sodium
Benzoate hydroxyacetophenone, sodium iaurate, tetrasodium
Tetrasodium triglyceride, nonfat dry milk
(poudre de écremé)I kaolin or (ou) titanium
Dioxide, benzyl alcohol, benzyl salicylate, coumarin, limonene,
Ii iron ox I 77499), iron ox ides iron ox ides 77492)


• Exfoliating skin
Wondering how to exfoliate skin without drying it out? Look no further. Dove Exfoliating Body Polish Crushed Macadamia & Rice Milk is a moderate exfoliator with a moisture-rich formulation, caring for your skin as it works. So, you'll be left with silky smooth skin every time.

• Nourished skin
This Dove exfoliating body scrub is enriched with ¼ moisturizing cream, giving your skin a dose of hydration.

• An indulgent scent
With a velvety macadamia and rice milk scent, this polishing, exfoliating body scrub makes your shower even more indulgent and leaves you feeling pampered.


In the shower or bath, scoop a generous amount of Dove Exfoliating Body Scrub out of the jar with your hand. Massage to get all-over creamy coverage and then rinse away to reveal silky smooth skin. Use every 3-4 days to enjoy touchably soft skin. For sensitive skin, use the body scrub once a week and then try gradually increasing.


Wondering how to prevent ingrown hairs? If you're a frequent shaver, ingrown hairs come with the territory – but exfoliators can help. Soak your skin in warm water for a few minutes before exfoliation to help soften the skin. This will help get rid of any dead skin cells and help to free any trapped hair.