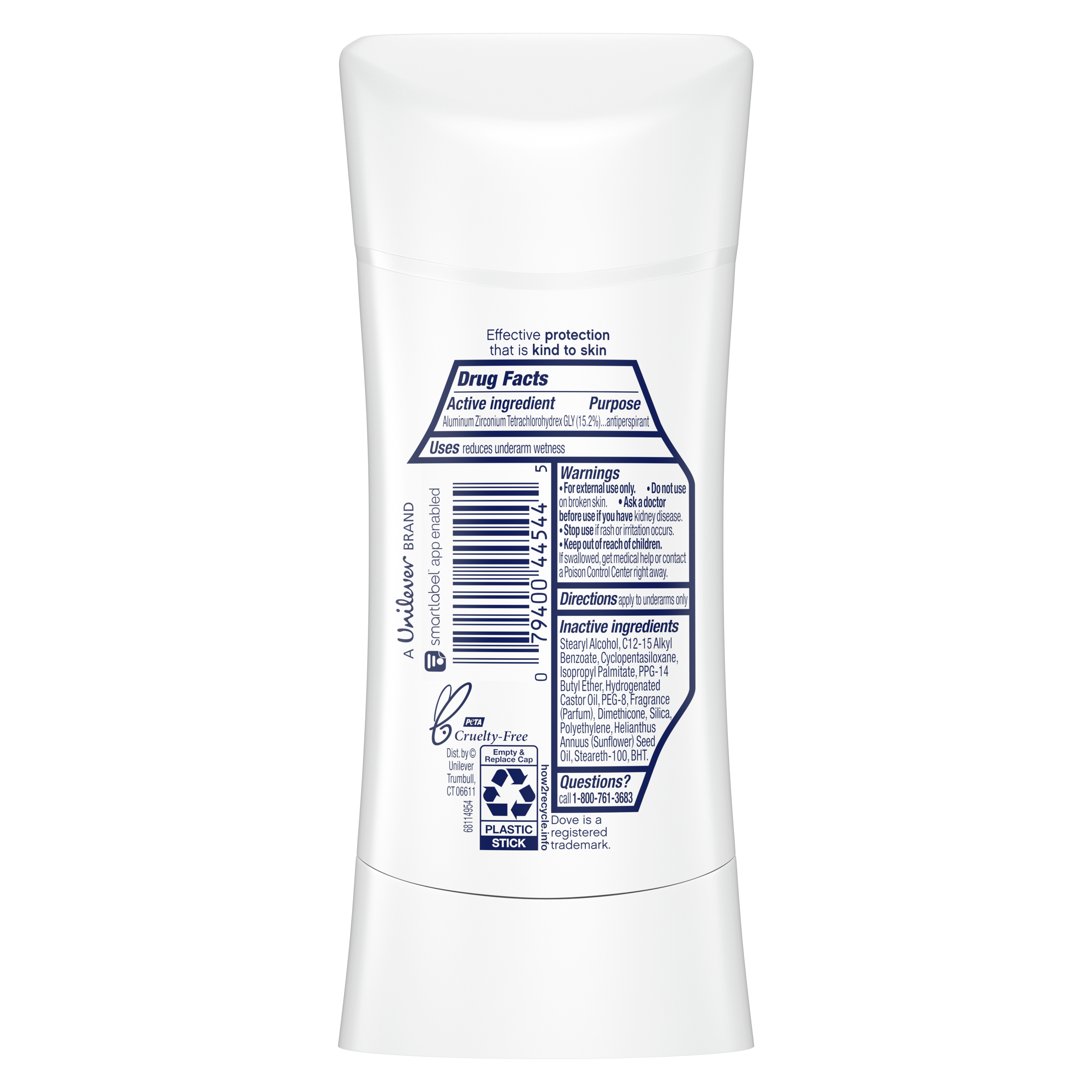 Advanced Antiperspirant Deodorant Stick Original Clean
Get soft, comfortable underarms, and 48-hour antiperspirant protection with Dove Advanced Care Original Clean Stick.

• Up to 48 hours of antiperspirant protection
• Kind-to-skin formula containing ¼ moisturizers with natural oil
• Soothes underarm skin irritation with a 0% alcohol (ethanol) formula 
• Moisturizing antiperspirant with a classic clean and delicate scent
• Antiperspirant deodorant stick glides on easily for reliable coverage
• Helps remove underarm worries so you can live beautifully unselfconsciously


Some things never go out of style, and the caring, reliable protection of this deodorant is no different. Dove Advanced Care Original Clean Antiperspirant Deodorant is designed to relieve skin irritation and leave you with soft underarms, all while giving you up to 48 hours of antiperspirant protection. Plus, its infused with our classic scent, so you can feel comfortable, confident, and ready to take on whatever the day brings your way – what's not to love?

We're on a mission to help women raise their self-esteem and realize their full potential, because we believe beauty should be a source of confidence, not anxiety. Dove antiperspirant deodorants deliver effective protection and are kind to skin, so you can be free of underarm worries – and this Dove Advanced Care Original Antiperspirant Deodorant for women is no different. 


Active Ingredient: Aluminum Zirconium Tetrachlorohydrex GLY (15.2%)

Inactive Ingredients: Stearyl Alcohol, C12-15 Alkyl Benzoate, Cyclopentasiloxane, Isopropyl Palmitate, PPG-14 Butyl Ether, Hydrogenated Castor Oil, PEG-8, Fragrance (Parfum), Dimethicone, Silica, Polyethylene, Helianthus Annuus (Sunflower) Seed Oil, Steareth-100, BHT.


• Taking care of underarms
Have you been dreaming of smooth underarms? This gentle antiperspirant deodorant will give you underarm skin that feels soft, comfortable, healthy and protected, so you can feel confident and free of underarm worries.

• A classic scent
Embrace the signature scent of Dove Advanced Care Original Antiperspirant Deodorant Stick. With its bright fragrance of uplifting fruity notes and white flowers, you can start your day with a touch of comfort.

• Keeping underarm sweat at bay
The best deodorant for reliable antiperspirant protection, Dove Advanced Care Original Stick Deodorant for sweat will keep you comfortable and dry for up to 48 hours.

• Peace of mind
For over 30 years we've used non-animal approaches to assess the safety of our products and ingredients. This antiperspirant deodorant stick is no different. That's why it will now carry PETA's cruelty-free logo to assure you that Dove does not, and will not, test on animals.


To get the most out of your Dove antiperspirant deodorant stick, swipe it up and down cool, dry underarms two or three times until an even layer has been applied.


Sometimes the best antiperspirant deodorant is one you know you can trust. To get that fresh, 'just clean' feeling, apply our Advanced Care Original Clean Antiperspirant Deodorant to dry underarms after showering or bathing. 

Hello, what are you looking for?
When it comes to your body, love the one you're with
Beauty is an all-ages show