Care for the planet: reducing waste
We're on a mission to help reduce waste around the world, from helping you recycle plastic to using more recycled materials in our packaging.
Transforming Sustainability in Deodorants
It's not just through our plastic bottles that we're finding ways to reduce waste. In 2023, we launched our 200ml compressed deodorants that last just as long as the previous 250ml deodorants – but with less packaging, and less waste.
We found a way to compress the same amount of antiperspirant protection into a smaller 200ml can, by re-engineering our spray system. This new and improved design reduces the amount of gas needed, but you still get the same amount of protection with every spray. Use your 200ml deodorant as normal, and they perform just as well and last just as long as our 250ml deodorants just with less packaging.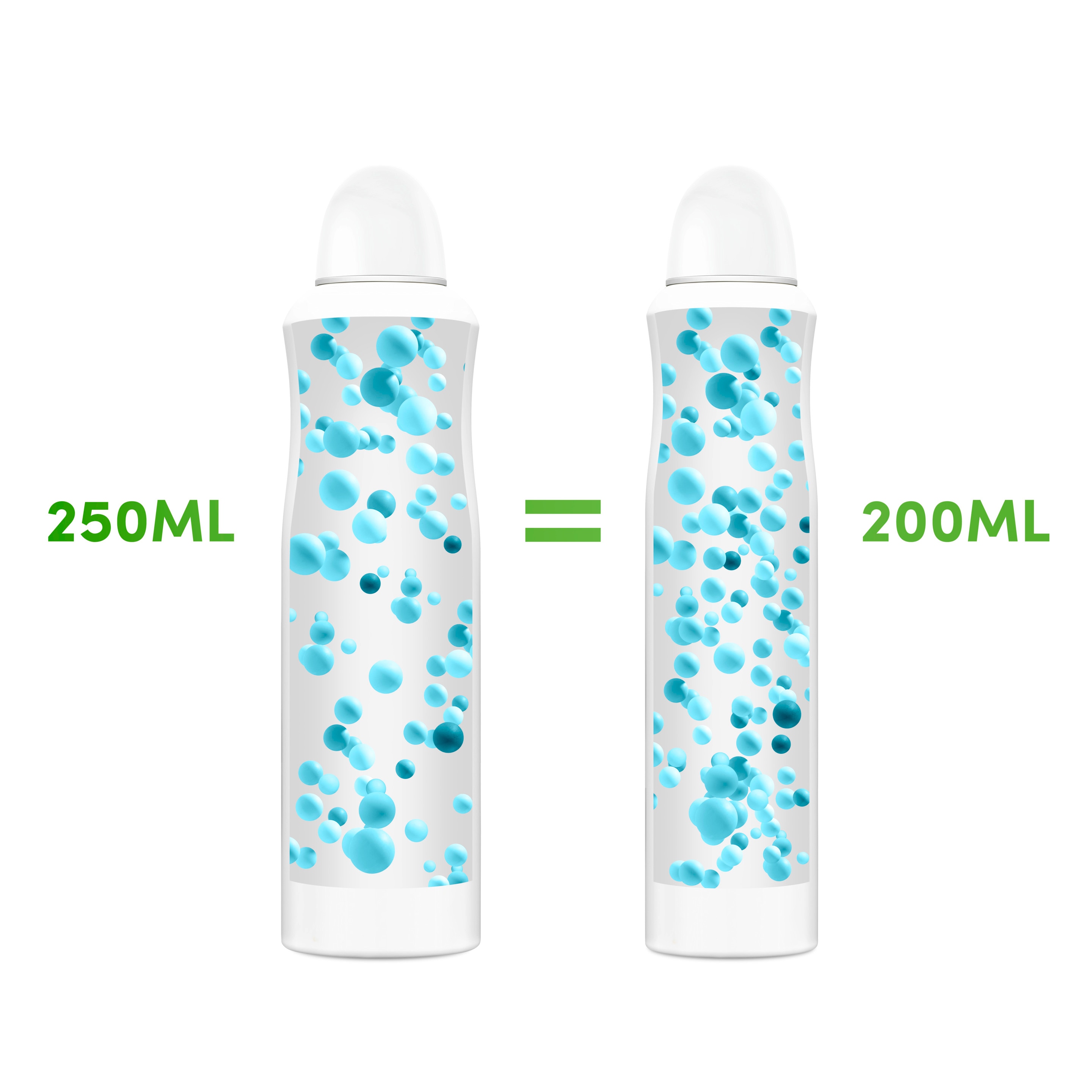 And the innovation doesn't stop there. The aluminium in our compressed deodorant cans is made with recycled material and 100% renewable grid electricity.
If you prefer a roll-on, we've got you covered too. Dove Advanced Roll-On Deodorant uses 20% less plastic than before, while delivering effective protection and our signature Dove care. Our ambition by the end of 2023 is to use 100% post-consumer recycled plastics to make them.
Zero waste to landfill
Our parent company, Unilever, is proud to be an eco-responsible company. One of our real achievements has been to have zero manufacturing waste going to landfill. To make it happen, we work with the three 'R's: Reduce, Reuse and Recycle. During production, our factories make sure any waste is used as productively as possible — just as it should be. Any cardboard boxes transporting raw materials are sold to recycling companies to ensure they are reused, to reduce packaging waste. In our Hefei factory in China, uniforms for staff are made from recycled materials – using the plastic packaging waste from our shampoos and conditioners – and at our Cikarang factory in Indonesia, all the organic factory waste is used to fertilise the onsite fruit trees and orchids. We're always thinking outside the box and striving to do better in terms of environmental protection.
Our single use sachet recycling scheme
The impact of waste on environment is huge, so although we know our single use sachets give people around the world affordable personal care, we also know they often end up in landfill or as litter. Since we're determined to reduce plastic waste, Unilever is trialling a new plastics recycling technology called CreaSolv® to recover and reuse plastic from waste sachets. By recovering the plastic polymer from the sachet, it can be reused to make new ones. Unilever also plans to set up sachet packaging waste collection schemes with local governments and communities to reduce waste and create economic growth opportunities.
Helping you recycle
The next step in our waste management strategy is even closer to home: increasing the amount of waste recycling that happens in the household. We know life gets busy and want to make it as easy as possible for you to recycle plastic and our products.
In Europe, Unilever is working with organisations such as Ceflex to develop better services to collect, sort and reprocess recyclable packaging to reduce waste. In the UK, we partnered with Alupro and managed to significantly increase the number of local authorities who would accept cans for recycling from 67% to over 90% — a big increase — as well as campaigning to increase awareness for the people recycling their cans.
We also want to support organisations around the world to increase the scale and accessibility of recycling. In the US we support the Closed Loop Fund, which works to ensure companies, customers, governments and recyclers all play a part in promoting a circular economy. They've reached 1.2 million households so far and diverted 100,000 tonnes of waste away from landfill, which we think is a big achievement.
Is there anything else we can help you discover?
When it comes to your body, love the one you're with
Beauty is an all-ages show