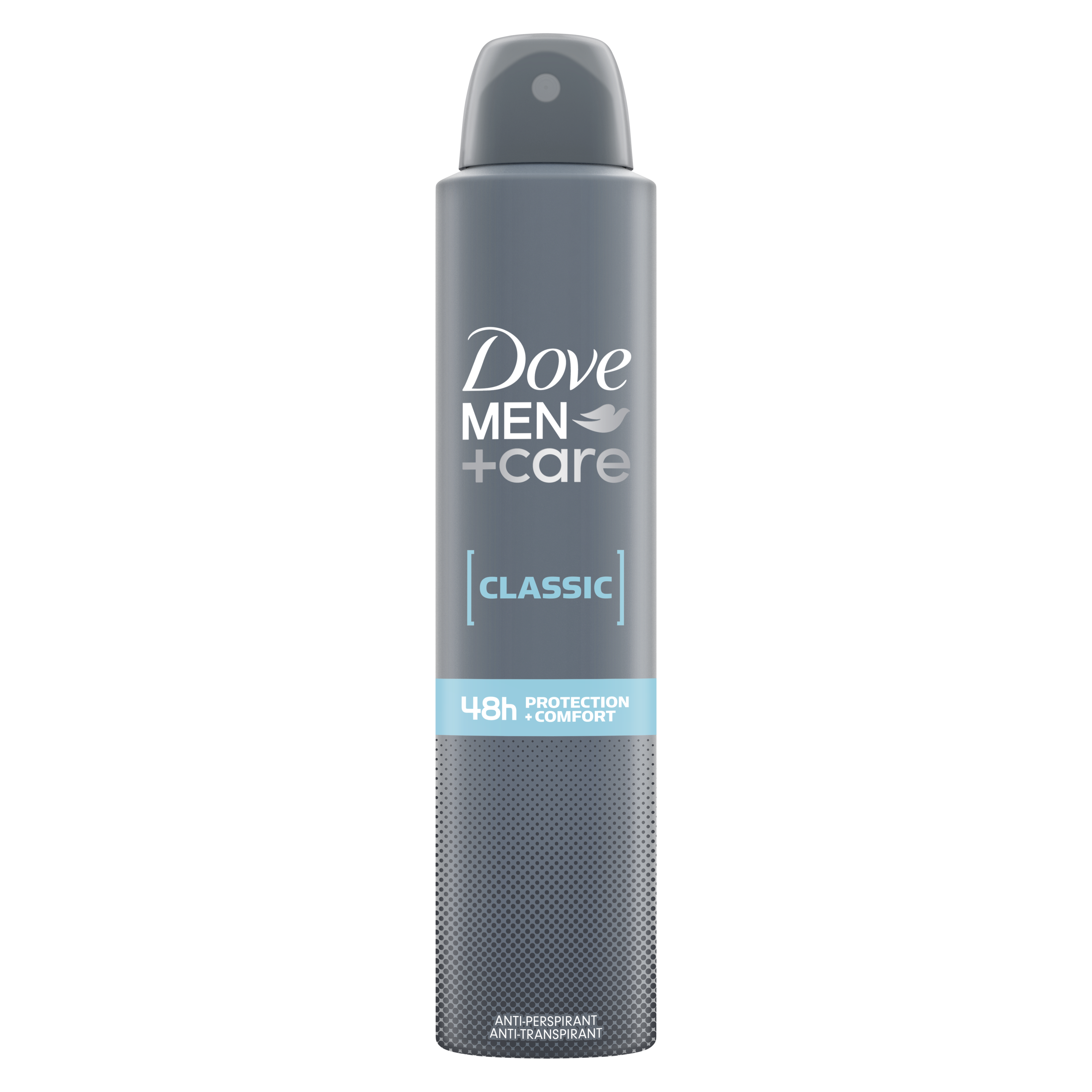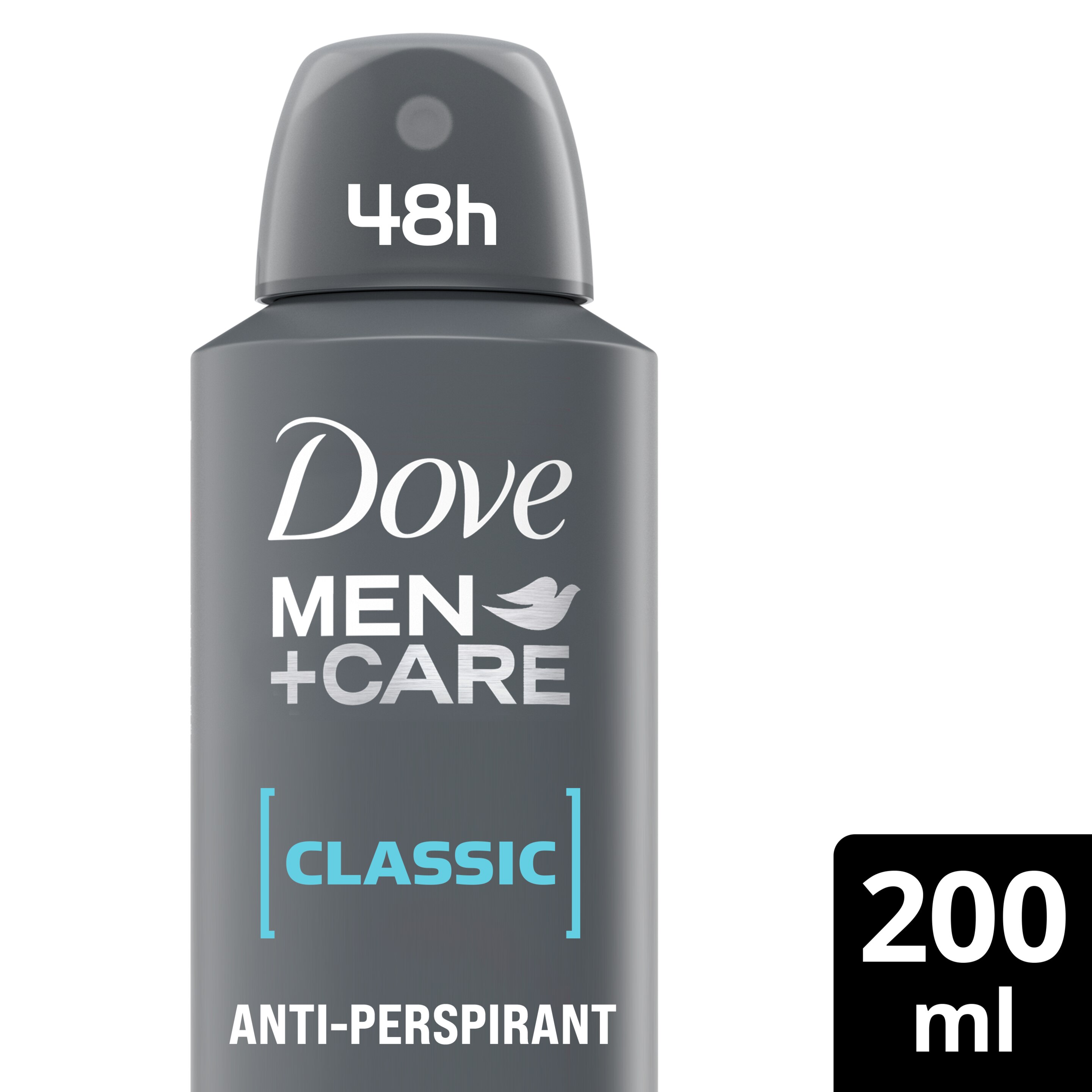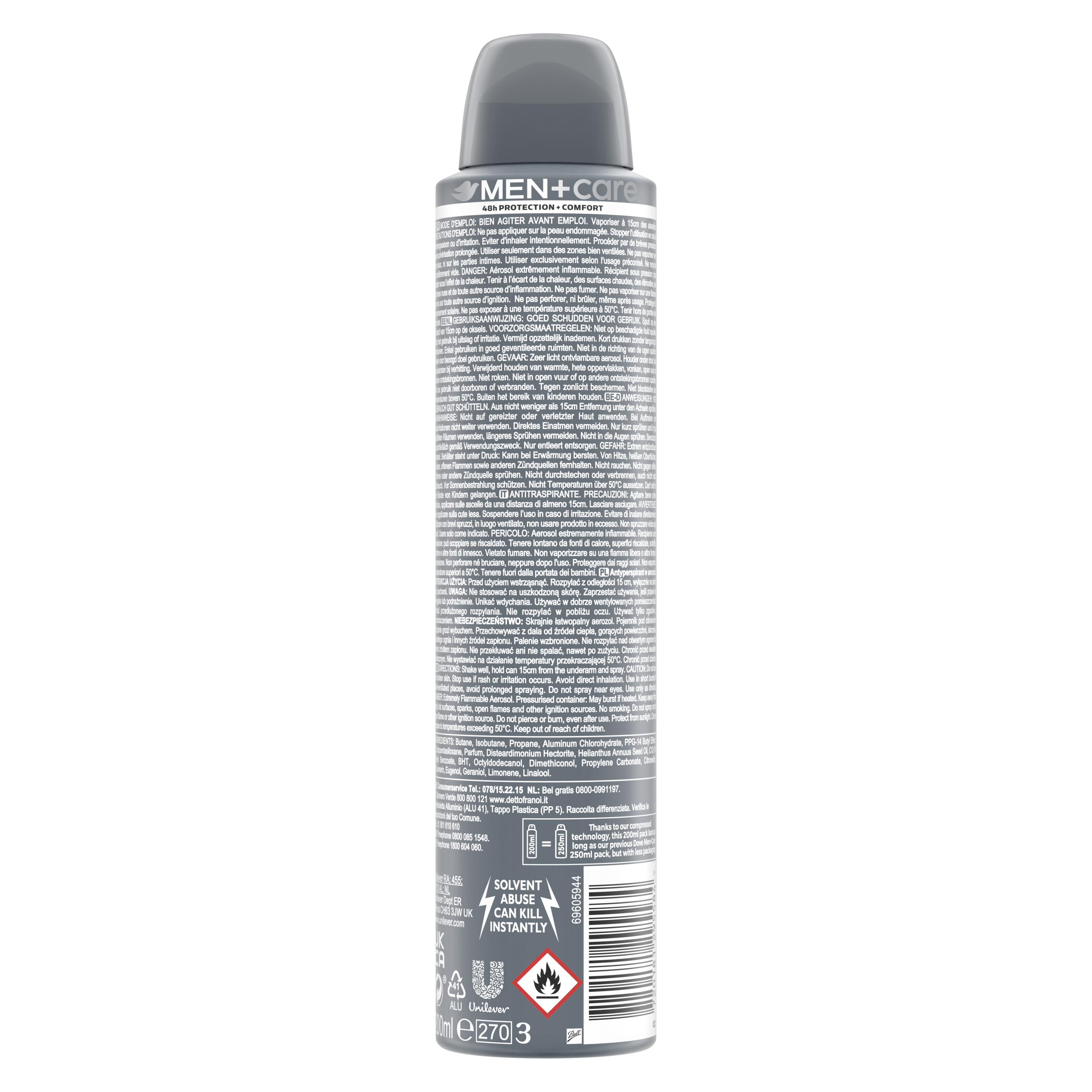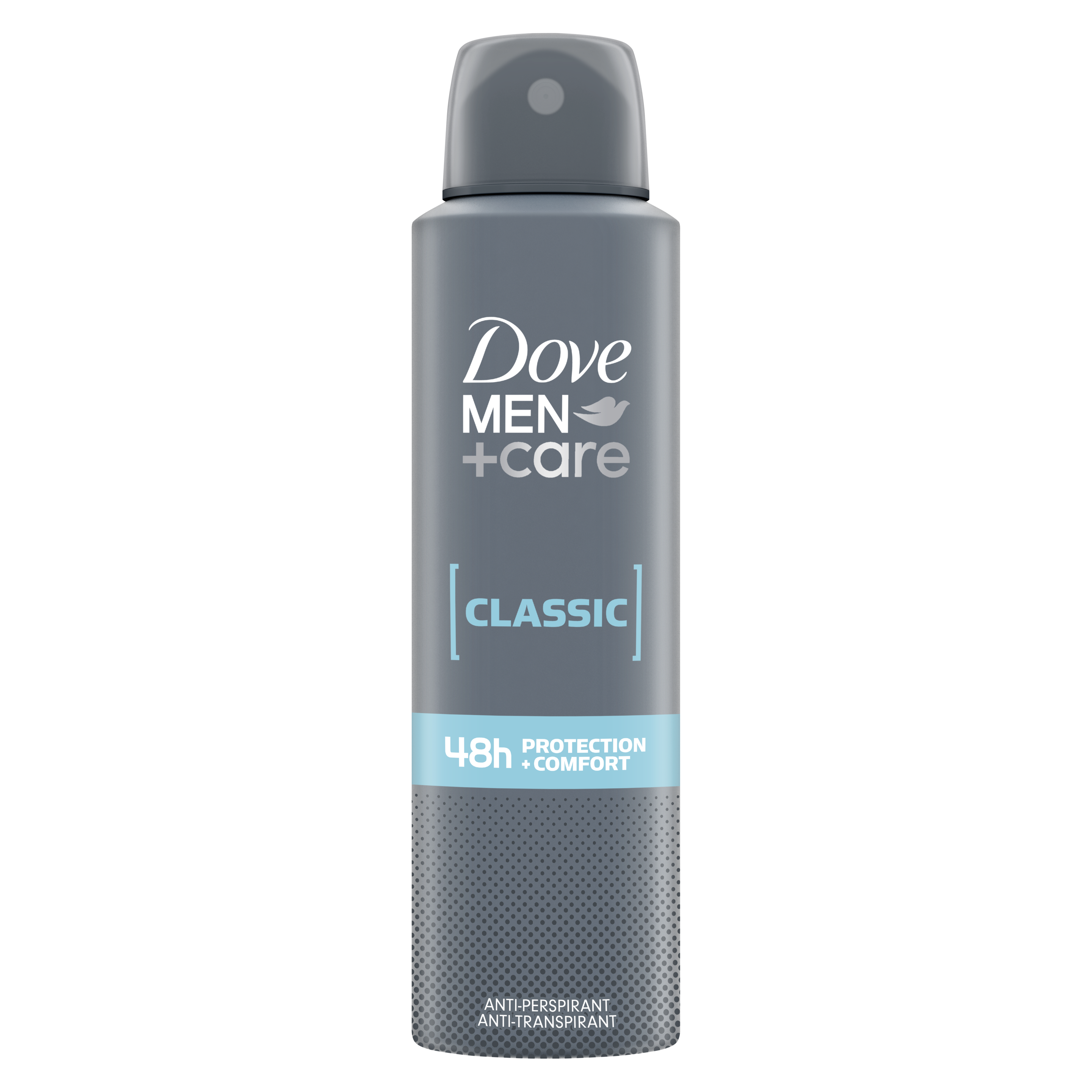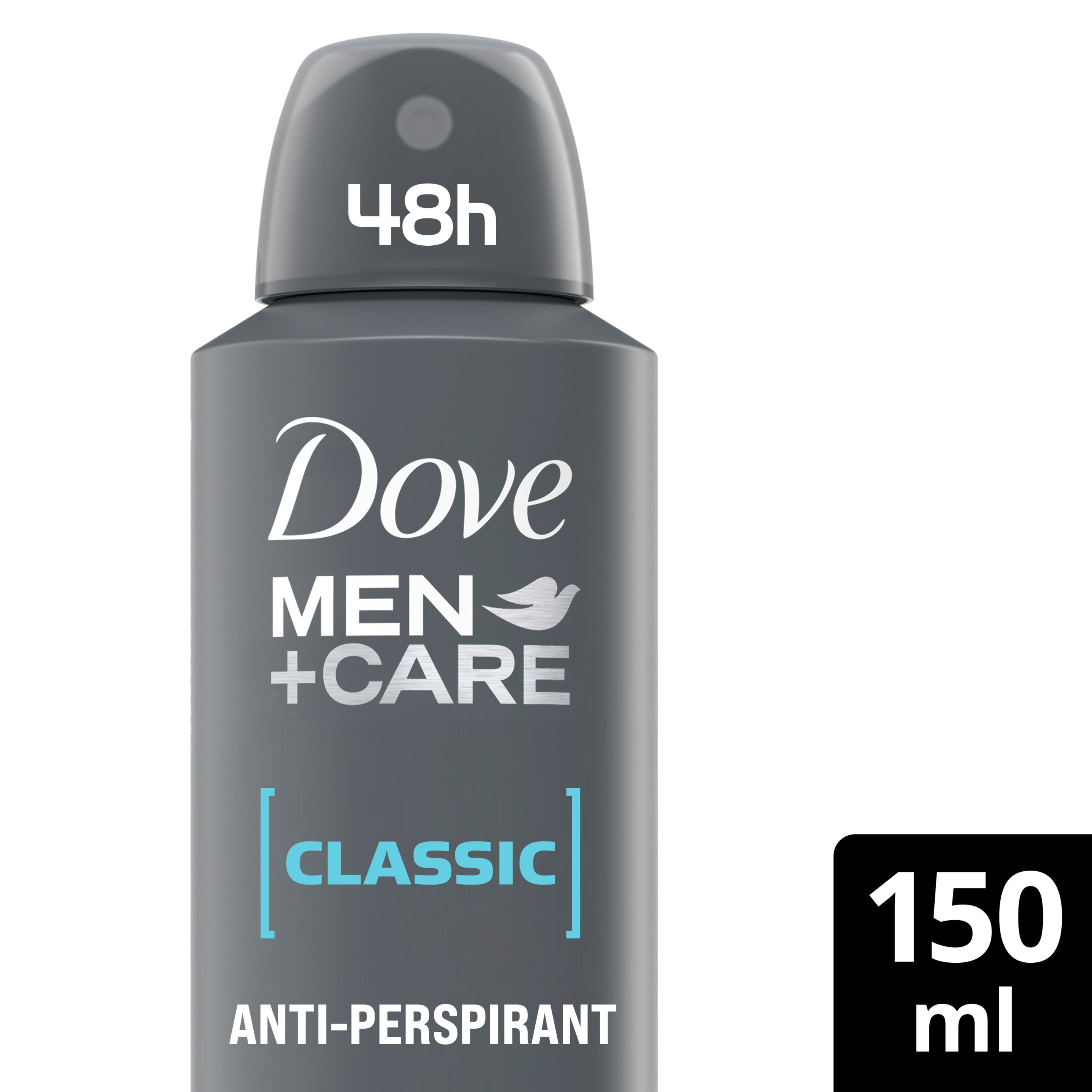 Men+Care Classic Antiperspirant Deodorant Aerosol
Get effective protection from sweat and odour for up to 48 hours with this men's antiperspirant spray.

• Classic antiperspirant for men

• Effective 48-hour odour and underarm sweat protection

• Made with ¼ moisturising cream to help soothe dry armpits 

• Non-irritating, alcohol-free formula that cares for your skin

• Packs a subtle, clean scent for all-day confidence and freshness

• PETA Approved men's antiperspirant spray


Looking for underarm protection that lasts? Dove Men+Care Classic Aerosol is designed to protect and care for your underarms , so you can go about your day with confidence.
If you're searching for a way to help stop underarm sweat, this men's antiperspirant spray is the sweat protection you need. It's designed  to give you 48-hour sweat and odour protection, a long-lasting fragrance and moisturised skin. Trust us – you won't want to go anywhere without this. 

Made with our unique ¼ moisturising cream, this aerosol antiperspirant protects your underarms from irritation caused by sweat and shaving. 

This antiperspirant is PETA Approved. Globally, Dove does not test on animals. 


Butane, Isobutane, Propane, Aluminum Chlorohydrate, PPG-14 Butyl Ether, Cyclopentasiloxane, Parfum, Disteardimonium Hectorite, Helianthus Annuus Seed Oil, C12-15 Alkyl Benzoate, BHT, Octyldodecanol, Dimethiconol, Propylene Carbonate, Citronellol, Coumarin, Eugenol, Geraniol, Limonene, Linalool.


• 48-hour sweat + odour protection
Everyday confidence starts here. Dove Men+Care Classic Antiperspirant Deodorant Aerosol helps control underarm sweat and offers 48-hours odour protection, while helping retain your skin's moisture. The result? Sweat protection that lets you do what you want, when you want.  

• Long-lasting fragrance
A long-lasting deodorant scent will keep you feeling refreshed and invigorated all day long. This antiperspirant does just that, enriched with a clean scent to feel uplifted for the day ahead. 

• Unique underarm care 
We all know that some antiperspirants can cause irritation or itchiness to your underarms. That's why our formula is made with our unique ¼ moisturising cream, giving you the underarm care you deserve.


Ready to apply? To get the most out of your antiperspirant deodorant, shake the can and hold it 15cm away from your underarms before spraying. Now enjoy long-lasting freshness and underarm care.


Headed for a workout? Keep this antiperspirant in your gym bag for easy access and 48-hour underarm protection. If you want to mix up your deodorant for different occasions, try Dove Men+Care Advanced Invisible Dry Antiperspirant Deodorant Aerosol, which helps prevent underarm wetness and protects clothes from white marks and yellow stains. 

Is there anything else we can help you discover?
When it comes to your body, love the one you're with
Beauty is an all-ages show