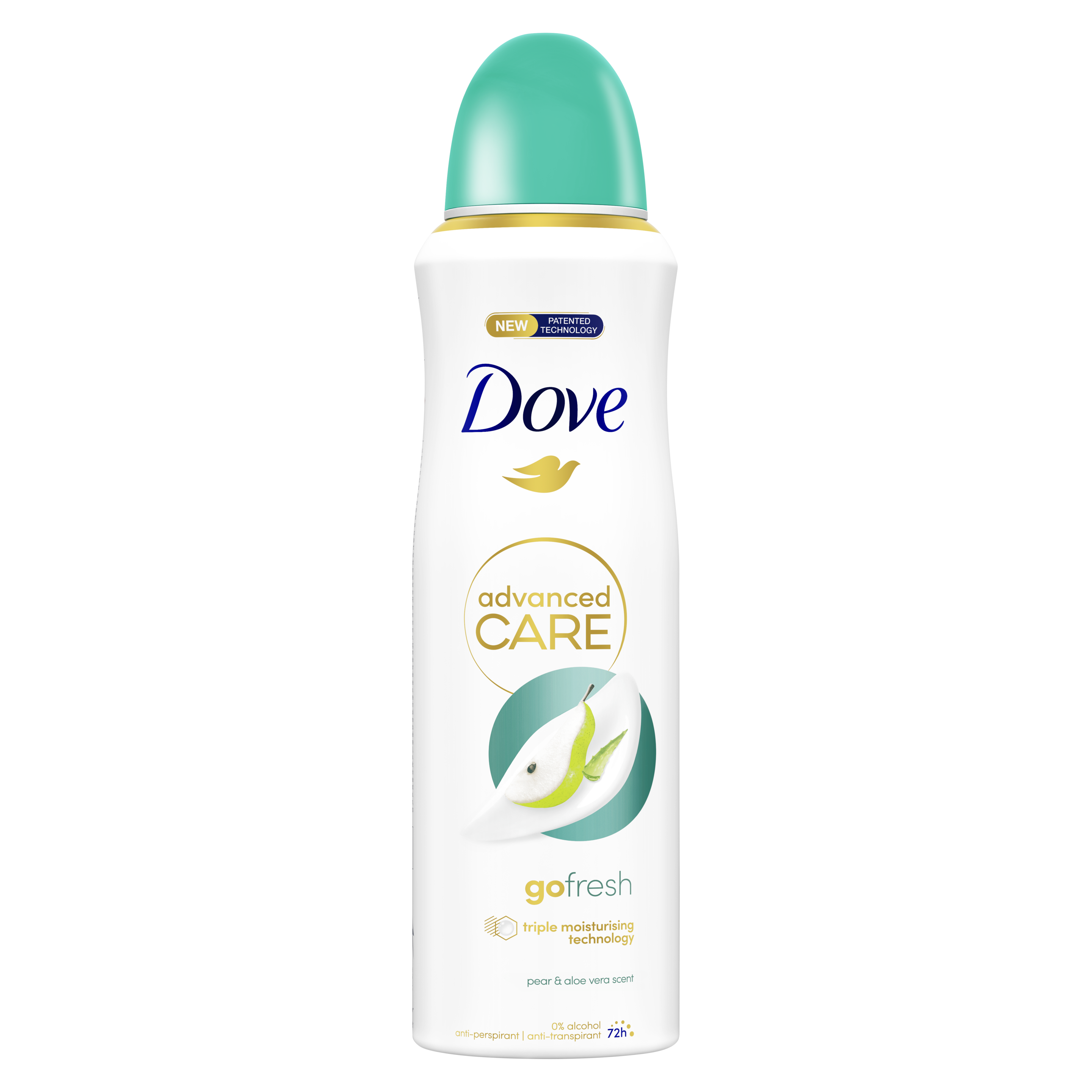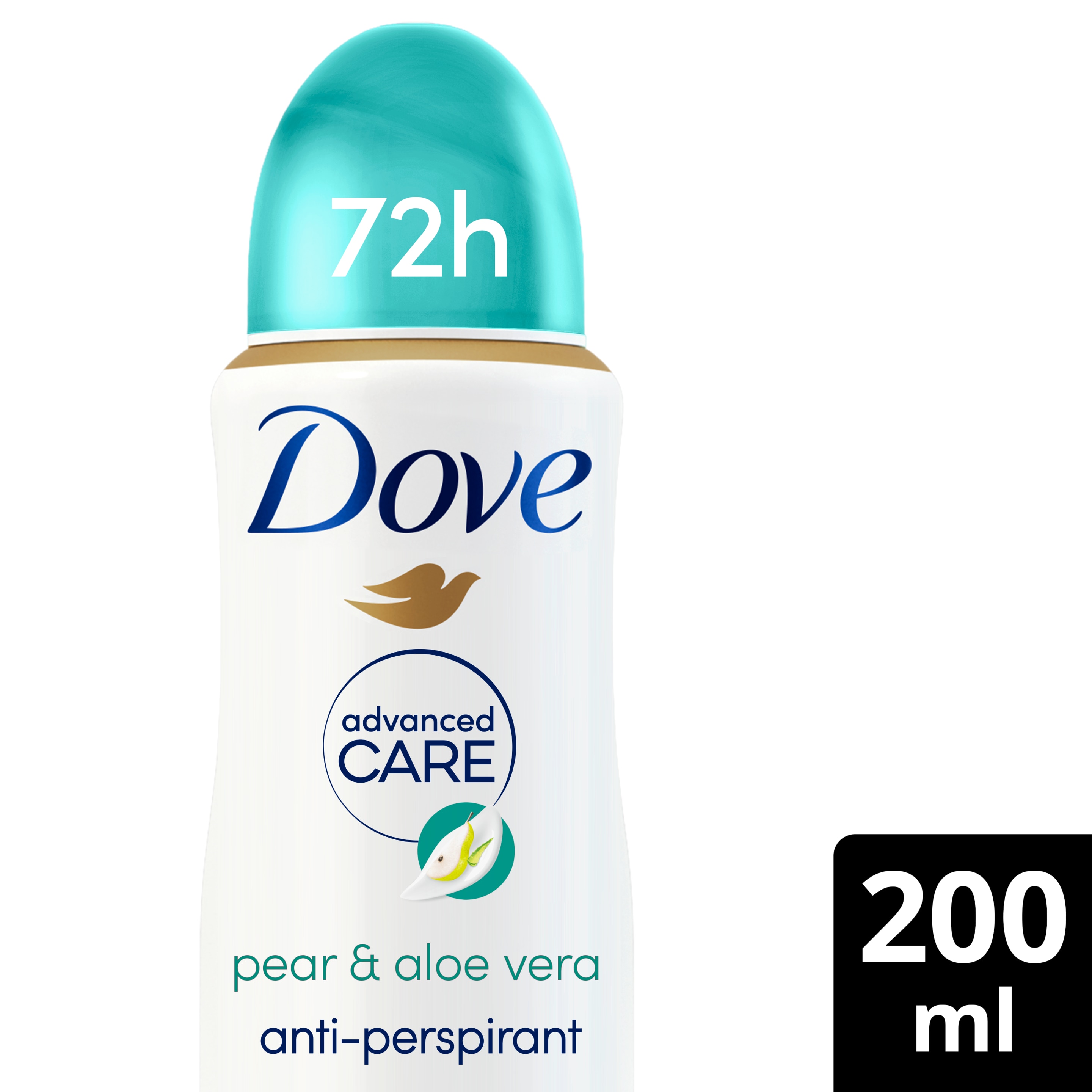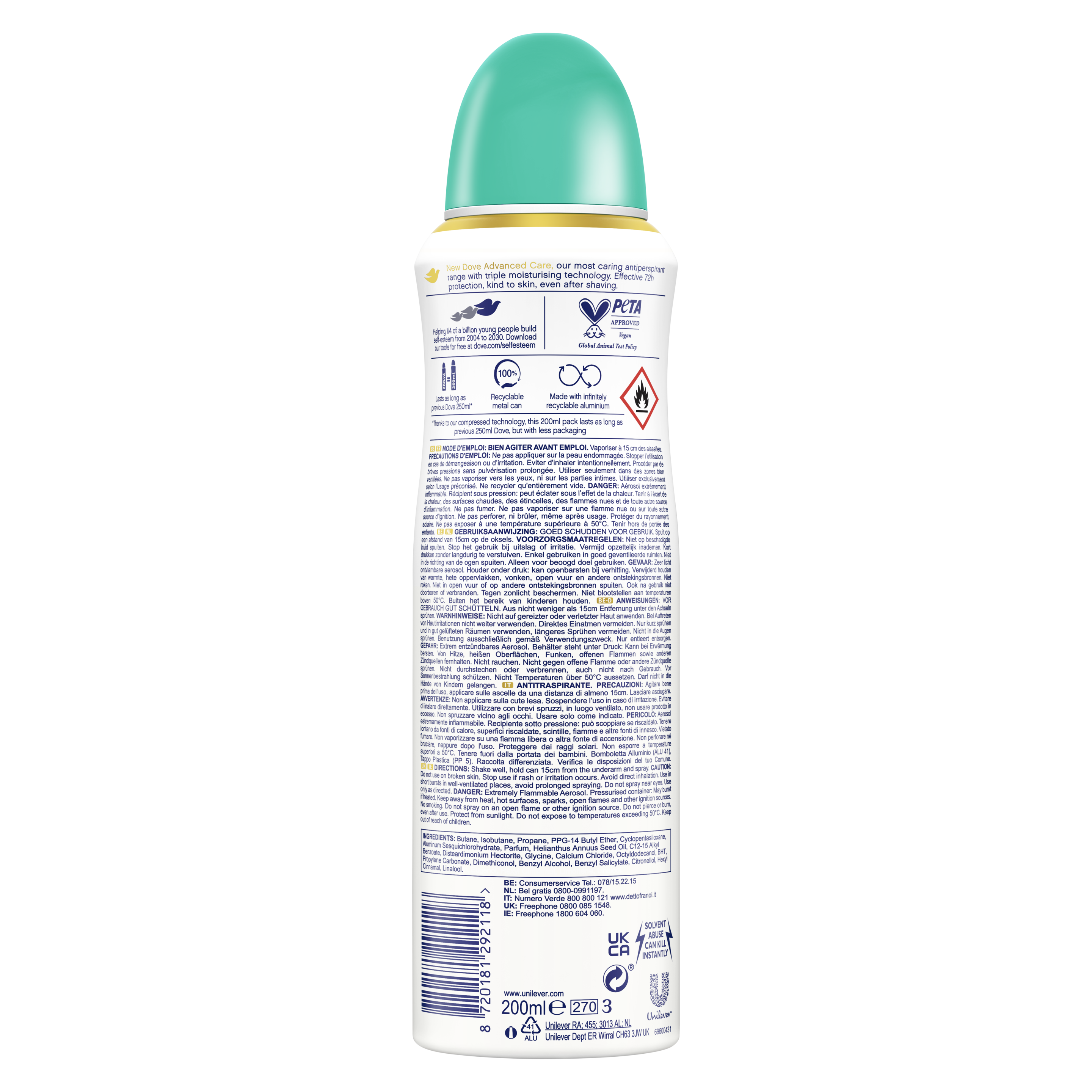 Advanced Care Go Fresh Pear & Aloe Vera Antiperspirant Deodorant Spray
With a kindest-to-skin formula and 72-hour protection, our Go Fresh Pear & Aloe Antiperspirant Deodorant gives your underarms the care they deserve.

• Alcohol-free deodorant spray containing our kindest-to-skin formula 

• 72-hour deodorant that protects against sweat and odour 

• Revolutionary Triple Moisturising Technology retains moisture within your skin
 
• Deodorant with our most advanced formula for superior skin care  

• Long-lasting antiperspirant with aloe vera and pear fragrance

• Kindest-to-skin formula helps reduce underarm irritation after shaving


Indulge in Dove Advanced Care Go Fresh Pear & Aloe Vera Antiperspirant Deodorant Spray, offering you 72-hour protection from sweat and odour and our kindest-to-skin formula. 

This moisturising deodorant spray helps to reduce underarm irritation caused by shaving using our most advanced formula. Working hard to protect your skin, it contains our Triple Moisturising Technology that boosts the skin's moisture barrier to retain moisture deeper within the skin. Softer, smoother underarms are just a spray away.

The smell? A juicy pear scent entwines with the soothing scent of aloe vera – the perfect aroma to accompany you as  you go about your day. 

What's more, this deodorant is PETA Approved Vegan. Globally, Dove does not test on animals. 


Butane, Isobutane, Propane, PPG-14 Butyl Ether, Cyclopentasiloxane, Aluminum Sesquichlorohydrate, Parfum, Helianthus Annuus Seed Oil, C12-15 Alkyl Benzoate, Disteardimonium Hectorite, Glycine, Calcium Chloride, Octyldodecanol, BHT, Propylene Carbonate, Dimethiconol, Benzyl Alcohol, Benzyl Salicylate, Citronellol, Hexyl Cinnamal, Linalool.


• Effective deodorant protection
This 72-hour deodorant spray gives you effective protection from sweat and odour. That means you can start the day with peace of mind and feel the most confident version of you. 

• Beautifully softer underarms
Dove Advanced Care Go Fresh Pear & Aloe Vera Antiperspirant Deodorant delivers boosted moisture to keep your underarm skin ultra-soft. It's infused with premium caring ingredients and our revolutionary Triple Moisturising Technology, that prevent moisture evaporating from the surface of the skin, locking the skin's external barrier. The result? Smoother underarm skin you'll want to show off straight away. 

• Caring for the planet
This Dove antiperspirant spray is housed in a 100% recyclable metal packaging and made with 25% recycled aluminium.  The spray also comes in packaging made from infinitely recyclable aluminium, caring for your skin and the planet.


For best results, apply this deodorant to clean, dry underarms. Shake the can to evenly mix the ingredients, then hold it about 15cm away from your underarms and spray for a few seconds on each side.


Dove Go Fresh Pear & Aloe Vera deodorant is a seasonal all-rounder. But if you like switching up your deodorant scents each season, choose  from our Dove Go Fresh antiperspirant deodorant range. 

Is there anything else we can help you discover?
When it comes to your body, love the one you're with
Beauty is an all-ages show