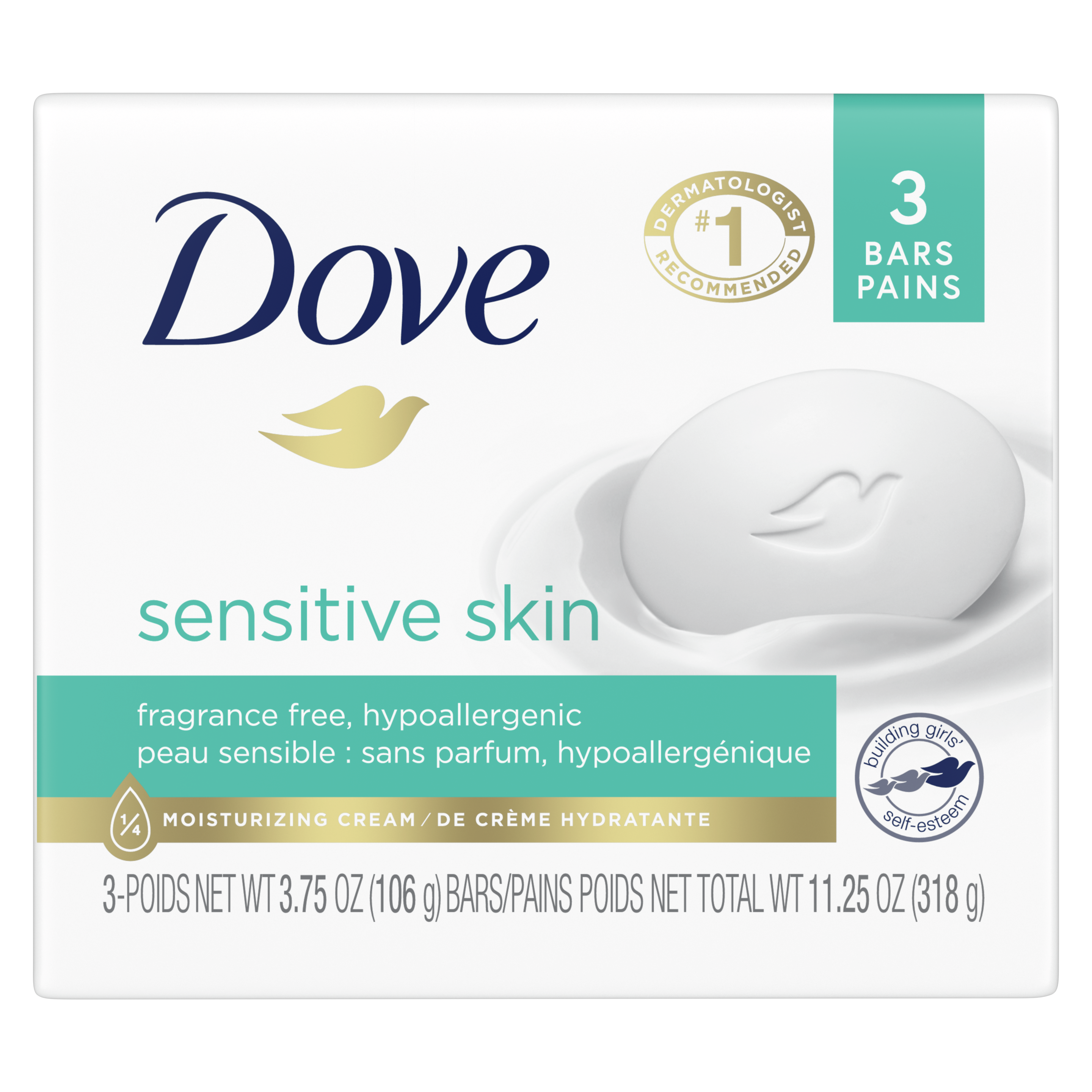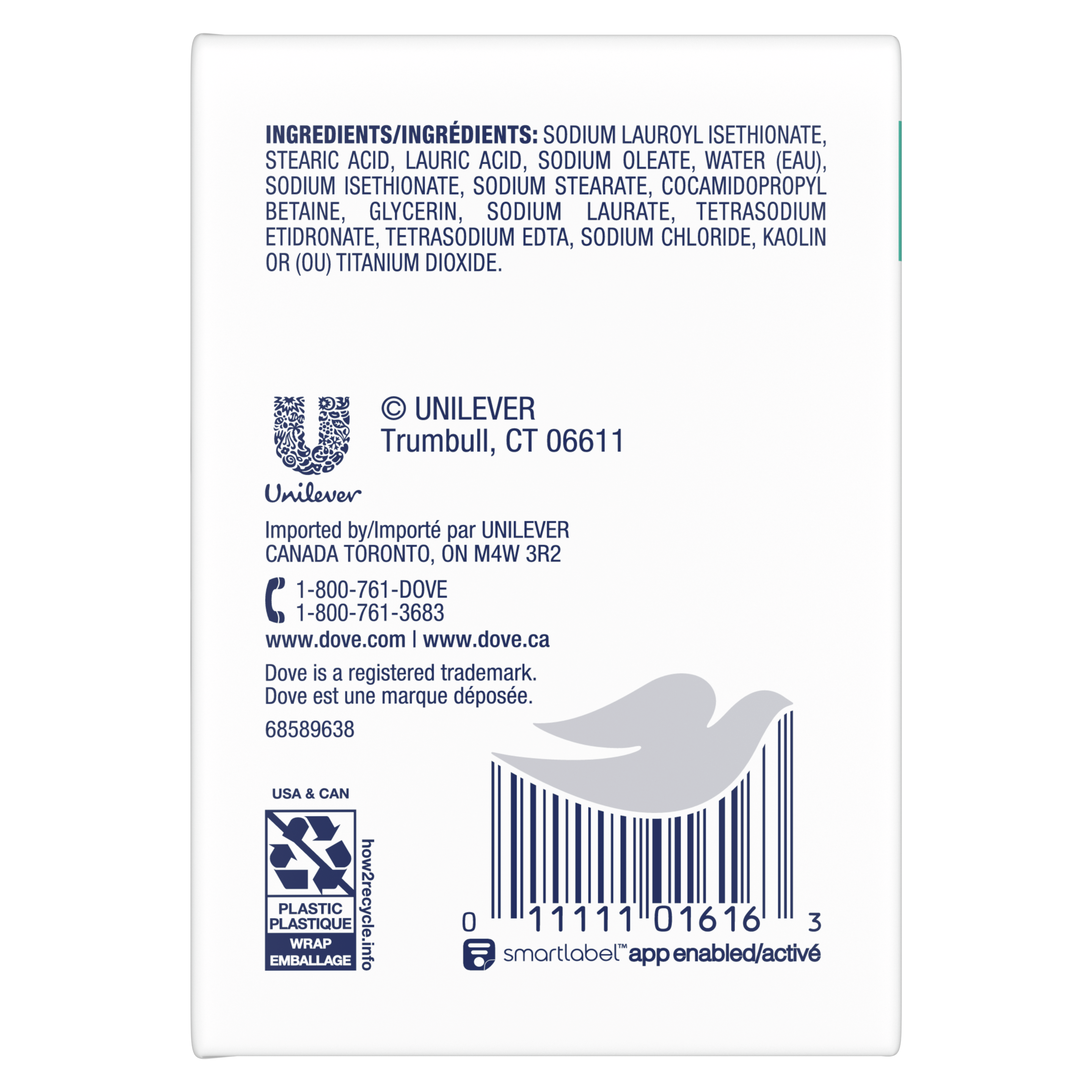 Sensitive Skin Beauty Bar
With its fragrance-free, hypoallergenic formula, this Dove Beauty Bar is perfect for sensitive skin care regimens.

• Hypoallergenic and gentle on sensitive skin

• Dove doesn't dry skin like soap can

• ¼ moisturizing cream and mild cleansers help protect skin's moisture

• Leaves skin soft, smooth, and healthy looking 

• Suitable for daily use on face, body and hands

• It's not a soap – it's a beauty bar


If you have sensitive skin, you know how important it is to choose the right cleansing products. Good sensitive skin care depends on having a cleanser that truly cares for your skin and once you find something that works, you stick with it. So here's some good news: Dove Sensitive Skin Beauty Bar gives you truly mild cleansing that leaves sensitive skin feeling soft and smooth.



This Dove sensitive skin bar brings you the classic Dove cleansers and ¼ moisturizing cream in a hypoallergenic bar that's gentle enough for sensitive skin. Suitable for daily use, it helps retain skin's natural moisture and can be used on your hands, body or face. Get the gentle skin care for sensitive skin that you deserve – try Dove Sensitive Skin Beauty Bar. 


Sodium Lauroyl Isethionate, Stearic Acid, Lauric Acid, Sodium Tallowate or/ou Sodium Palmitate, Aqua, Sodium Isethionate, Sodium Stearate, Cocamidopropyl Betaine, Sodium Cocoate or/ou Sodium Palm Kernelate, Dipropylene Glycol, Sodium Chloride, Tetrasodium EDTA, Tetrasodium Etidronate, Maltol, Titanium Dioxide (CI 77891).


• Sensitive skin
If you find it tricky to care for your sensitive skin, Dove can help give it the special attention it needs. Dove Sensitive Skin Beauty Bar is hypoallergenic and dermatologist tested, providing the kind of mildness that's ideal for sensitive skin care 

• Gentle cleansing
Cleansing with normal soap can strip the skin of its natural moisture and cause sensitive skin to feel dry and look red. With Dove Sensitive Skin Beauty Bar, even delicate skin can come out of cleansing replenished and soft

• Replenishing dry or extremely dry skin 
Just like our other beauty bars, Dove Sensitive Skin Beauty Bar contains our unique formulation of ¼ moisturizing cream for softer, smoother skin


Rub your Dove Sensitive Skin Beauty Bar between your hands to create lather. Smooth the foam over your skin, massaging gently. Then just rinse off the foam with warm water.


Dove Sensitive Skin Beauty Bar is mild enough to be used every day, even on your face, without worrying about irritating your skin. That's because it is not a soap bar, it's a Dove beauty bar, specially designed by skin care experts to be hypoallergenic and gentle for sensitive skin. 

When it comes to your body, love the one you're with
Beauty is an all-ages show