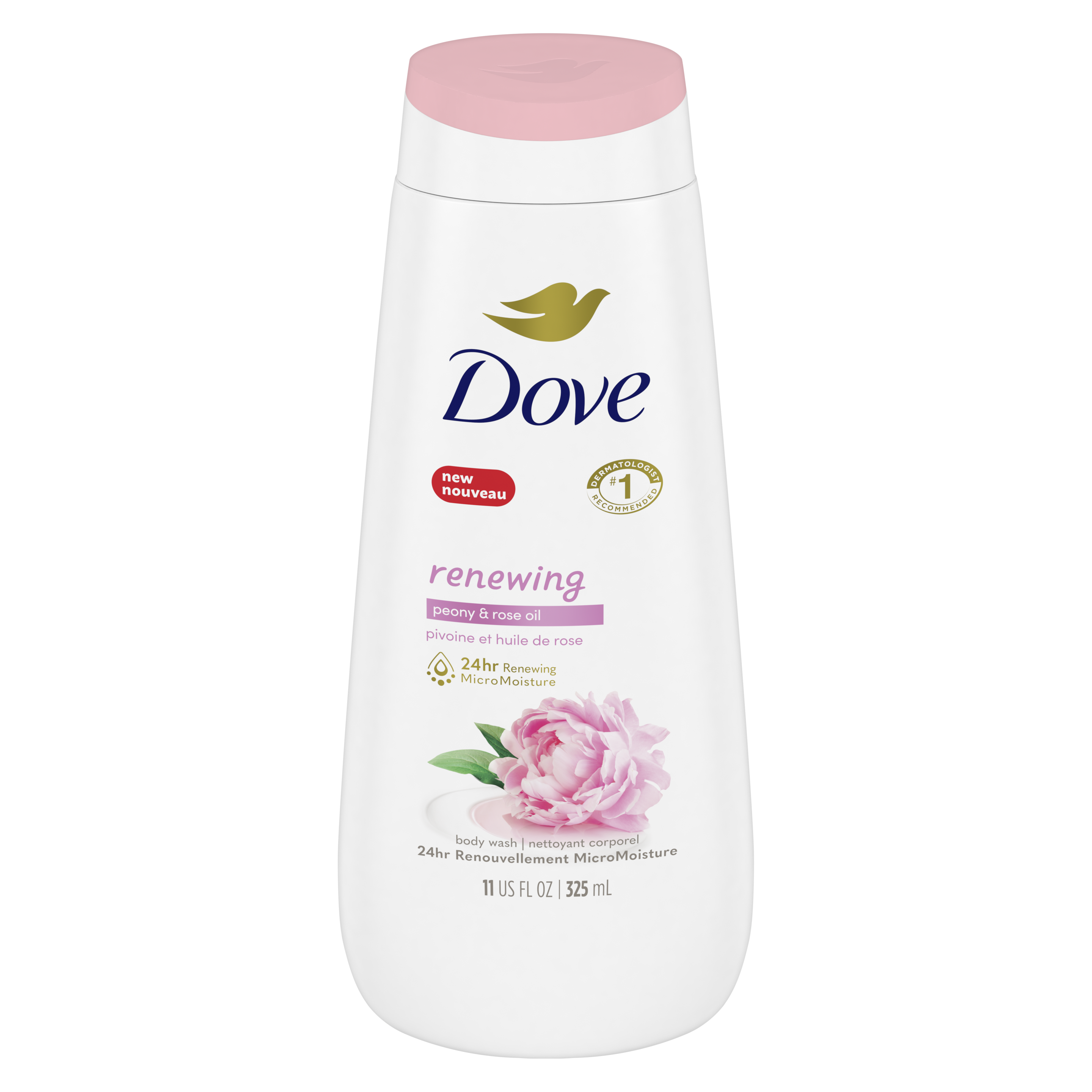 Renewing Body Wash with Peony and Rose Oil
Made with peony and rose oil extracts, our Renewing Body Wash leaves you with dewy, renewed and supple skin.

"•Our Renewing Body Wash leaves skin looking radiant and dewy

•Made with peony and rose oil to energize your senses

•With Moisture Renew Blend to help renew skin's natural moisture

•Sulfate-free Dove Body Wash that's microbiome gentle

•#1 dermatologically recommended body wash brand 

•Perfect for daily use and with modern, floral scent

•Made with 100% recycled plastic, our bottles are now beautifully unique"


"Radiant, dewy skin doesn't have to be hard to get – in fact, you can reveal a natural glow after your morning shower. Combining peony and rose oil extracts with the care of Dove, our Renewing Body Wash helps to renew your skin for a beautifully dewy finish.

Formulated with our unique Moisture Renew Blend, as well as naturally-derived cleanser and plant-based moisturizer, the formula helps to renew skin's natural moisture. This moisturizing body wash nourishes deep into skin to give you instant softness – all while leaving you with radiant looking, dewy skin. 

With a light, floral scent too, this rose oil and peony body wash helps you to feel fresh and radiant from head to toe. Delight your senses and give your skin the treat that it deserves with our Renewing Body Wash – you won't regret it." 


"•Dewy, radiant and supple skin 
Our rose and peony body wash gives you the perfect blend of care and nourishment. Infused with plant-based moisturizers, the formula works to leave you with supple skin that feels beautifully cared for. 

•Gentle skin care
To be gentle on skin, we've created a sulfate-free, microbiome gentle and paraben-free body wash. The caring body wash also works to be kind on your microbiome, your skin's outer living protective layer, cleansing while respecting your skin's delicate pH balance. 

•A bright, floral scent
Turn your morning shower into a joyful experience with our Renewing Body Wash. With a light, floral fragrance, our peony and rose oil body wash delights your senses each time you wash – and leaves your skin delicately fragranced throughout the day."


To use, start by gently massaging the formula onto your skin with your hands. Work the peony and rose body wash into a lather. Rinse away with warm water to reveal radiant, dewy skin.


For even softer skin, pair your peony and rose oil body wash with a loofah. It'll help to exfoliate away dead skin, leaving it feeling fresh and beautiful. Simply apply the body wash to the loofah instead of your hand, and then gently buff over your body in a circular motion. 

When it comes to your body, love the one you're with
Beauty is an all-ages show