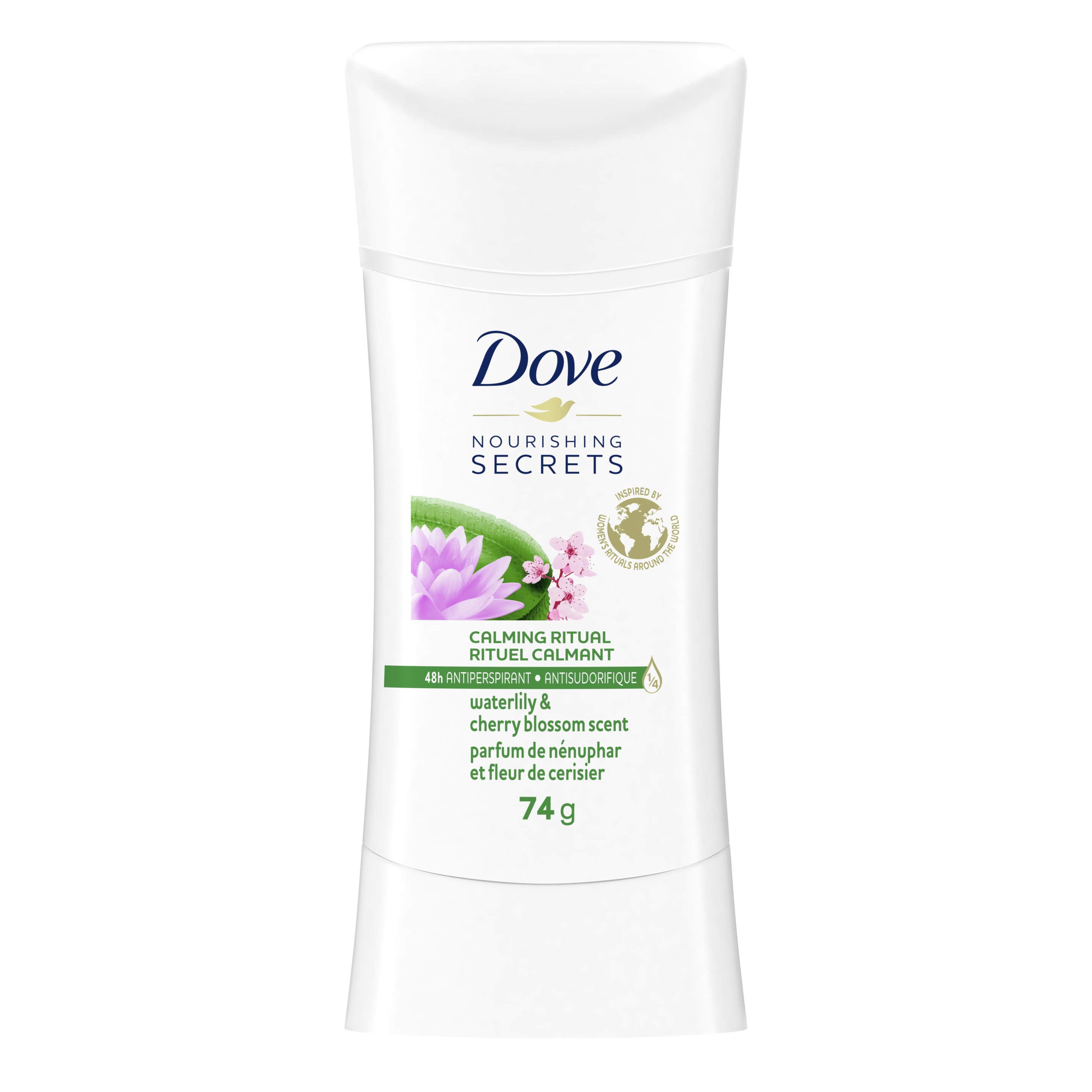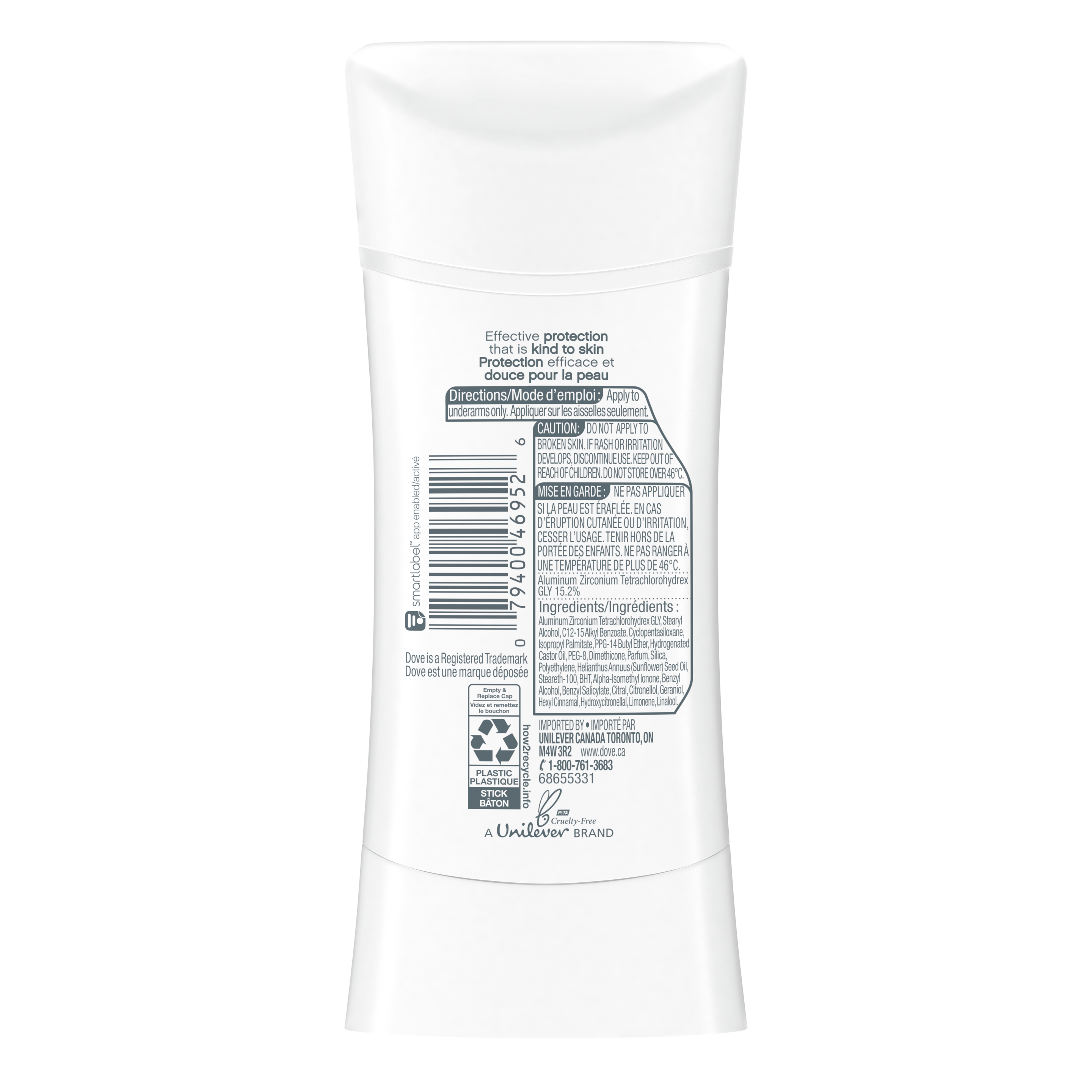 Dove Nourishing Secrets Antiperspirant Deodorant Stick Calming Ritual Waterlily and Cherry Blossom
Glide on underarm protection, a kind-to-skin formula and a sophisticated scent with this antiperspirant deodorant stick.

●	Effective antiperspirant deodorant stick with 48-hour protection 
●	Caring formula enriched with ¼ moisturizers
●	Gentle, kind-to-skin formula with 0% alcohol (ethanol) 
●	Sparkling and sophisticated floral scent 
●	Antiperspirant stick glides on easily 
●	Leaves your underarms feeling comfortable and cared for


Busy morning routine? Our Antiperspirant Deodorant Stick is just the thing to keep you feeling calm, comfortable and confident for the day ahead. 

This gentle antiperspirant is made with 0% alcohol (ethanol) and enriched with our signature ¼ moisturizers – making it the perfect addition to your underarm skin care routine. With all the care of Dove you know and love, the nourishing formula leaves you with soft and comfortable underarms, too. 

This antiperspirant stick isn't just kind to skin, it has 48 hour antiperspirant protection too. Giving you underarm protection you can rely on, it helps you reduce underarm wetness and stay fresh, no matter what life throws your way. Plus, it treats your senses as well as your skin. Simply glide it on for a fresh citrus and floral scent – and take a moment to enjoy the calm before you start your day. 


Aluminum Zirconium Tetrachlorohydrex GLY, Stearyl Alcohol, C12-15 Alkyl Benzoate, Cyclopentasiloxane, Isopropyl Palmitate, PPG-14 Butyl Ether, Hydrogenated Castor Oil, PEG-8, Dimethicone, Parfum, Silica, Polyethylene, Helianthus Annuus (Sunflower) Seed Oil, Steareth-100, BHT, Alpha-Isomethyl Ionone, Benzyl Alcohol, Benzyl Salicylate, Citral, Citronellol, Geraniol, Hexyl Cinnamal, Hydroxycitronellal, Limonene, Linalool.


●	Underarm protection 
With 48-hour protection, you can count on this antiperspirant deodorant stick to keep you protected from sweat and odour all day long.

●	Smooth underarms 
Alcohol-free and enriched with our signature ¼ moisturizers, the kind-to-skin formula of this moisturizing antiperspirant deodorant leaves you with soft, comfortable and smooth underarms.

●	A calming ritual 
This  antiperspirant deodorant stick treats your senses to the nature-inspired scents of waterlily and cherry blossom. The fragrance has been created with responsibly-sourced ingredients too, so you can enjoy a daily dose of calm, without compromising on care and protection. 

●	Peace of mind

We care about you and about animals, too. For over 30 years we've used non-animal approaches to assess the safety of our products and ingredients. Dove has enacted a policy prohibiting any animal tests, anywhere in the world, and we are delighted to say that Dove is certified cruelty-free by PETA globally.


Gently glide your antiperspirant deodorant stick over each underarm, making sure an even layer is applied. It really is as simple as that.


Apply after a relaxing morning shower for the perfect calming ritual. Your antiperspirant deodorant stick is most effective when used on clean, dry skin, so just make sure your skin is cool and dry before you apply it. 

When it comes to your body, love the one you're with
Beauty is an all-ages show