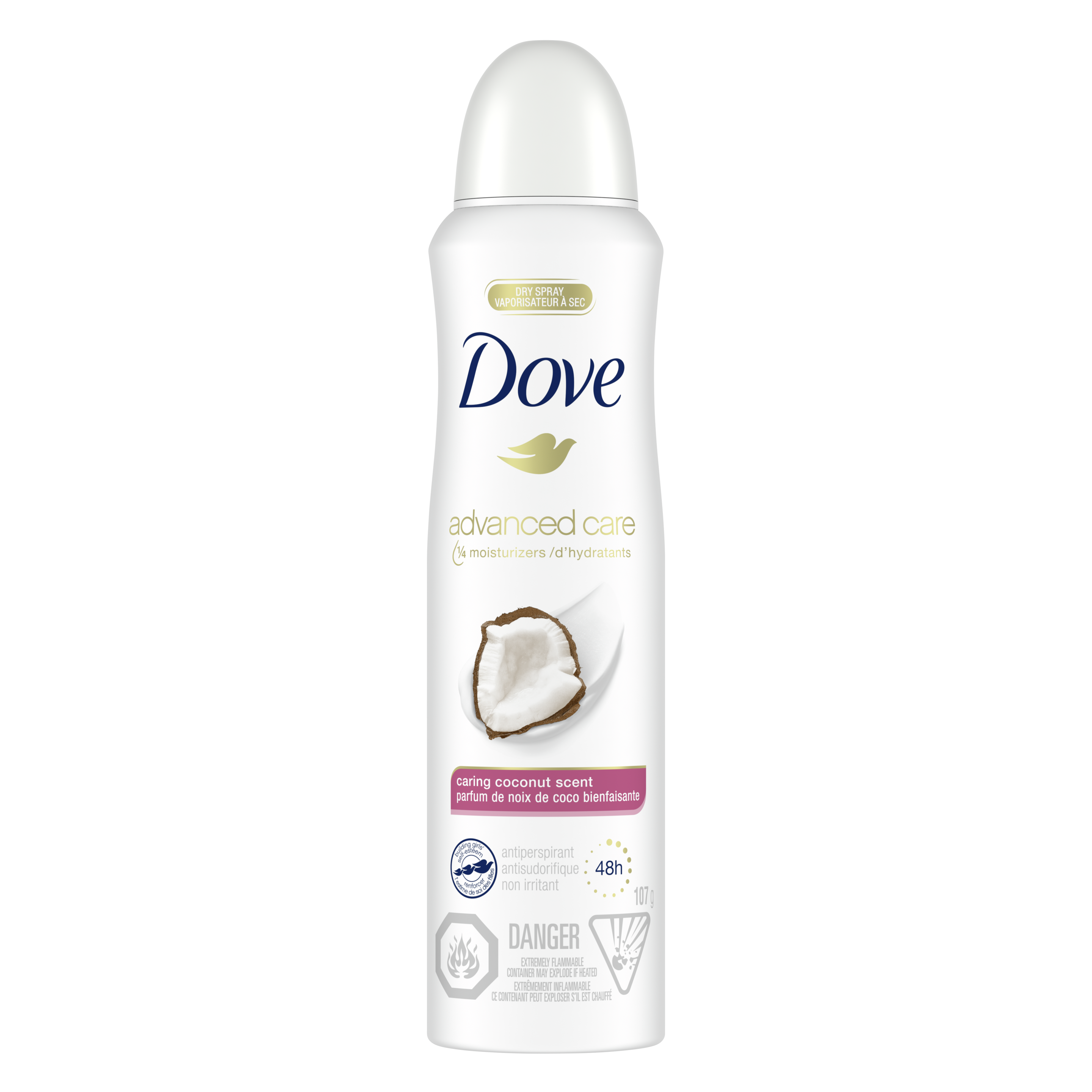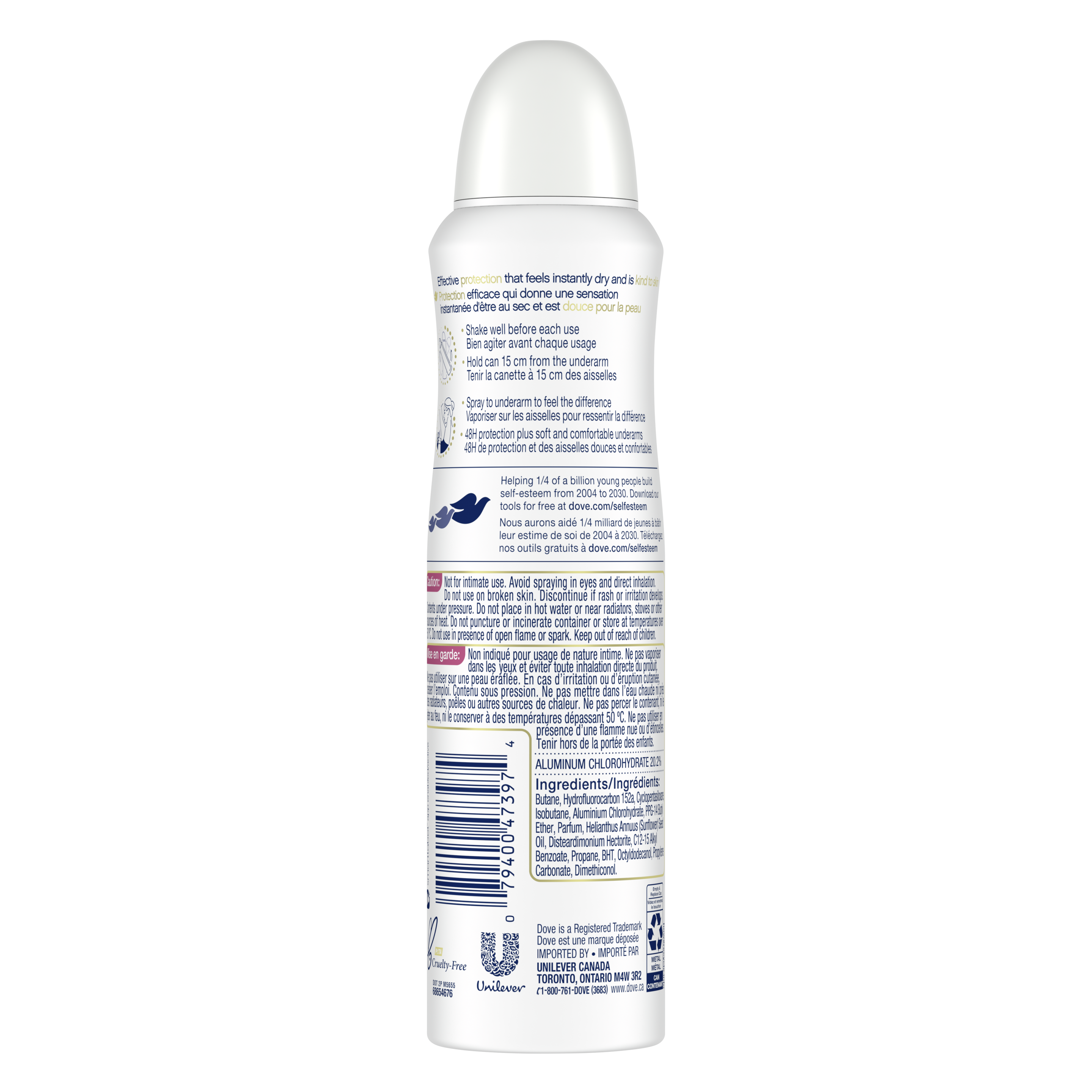 Advanced Care Dry Spray Antiperspirant Caring Coconut Scent
This antiperspirant sprays on dry, delivering up to 48 hours of protection with a delicate coconut scent.

•  Up to 48 hours of antiperspirant protection and kind to skin

•  Kind-to-skin formula containing ¼ moisturizers with natural oil

•  0% alcohol (ethanol) formula helps relieve skin irritation due to shaving

• Antiperspirant with a sweet and delicate coconut scent

• Sprays on instantly dry, for an immediate fresh feel 

• Helps remove underarm worries so you can live beautifully unselfconsciously


Have you been wondering how to moisturize underarms? Try this caring antiperspirant dry spray, with a delicate coconut fragrance to help you keep underarm sweat at bay. 

Containing ¼ moisturizers infused with natural oil, the formula of this antiperspirant spray leaves your underarms feeling soft and comfortable. Its dermatologically tested, 0% alcohol, non-irritant antiperspirant formula is kind to skin, helping your delicate underarms recover from irritation caused/due to by shaving. Plus, this coconut antiperspirant sprays on dry and gives you up to 48 hours of antiperspirant and odour protection, so you can feel your best all day long.

We're on a mission to help women raise their self-esteem – because we believe beauty should be a source of confidence, not anxiety. Dove antiperspirants deliver underarm protection and are kind to skin, so women can embrace life free from underarm worries. 


Aluminum Chlorohydrate 20.2%

INGREDIENTS/INGRÉDIENTS: Butane, Hydrofluorocarbon 152a, Cyclopentasiloxane, Isobutane, Aluminium Chlorohydrate, PPG-14 Butyl Ether, Parfum, Helianthus Annuus (Sunflower) Seed Oil, Disteardimonium Hectorite, C12-15 Alkyl Benzoate, Propane, BHT, Octyldodecanol, Propylene Carbonate, Dimethiconol.


• Dry underarms
Are you wondering how to moisturize underarms? Improve skin hydration and turn dry underarms into soft underarms with Dove Advanced Care Caring Coconut Antiperspirant Dry Spray.

• A coconut skin care routine
This antiperspirant is infused with a sweet and delicate coconut scent – perfect if you love a fragrance with tropical notes.

•  Reliable antiperspirant protection 
Looking for an antiperspirant that works? This effective spray antiperspirant is the perfect for sweat & odour control and is also kind to skin.

•  Peace of mind
Globally, Dove does not test on animals and is certified cruelty-free by PETA.


To use this antiperspirant spray, give each underarm 2 or 3 short bursts from about 15 cm away. This handy antiperspirant spray dries immediately, so you can get dressed without delay.


Before applying Dove Advanced Care Caring Coconut Scent Antiperspirant Dry Spray, make sure your skin is nice and dry – it will help the formula get to work so you can feel comfortable and confident. 

When it comes to your body, love the one you're with
Beauty is an all-ages show