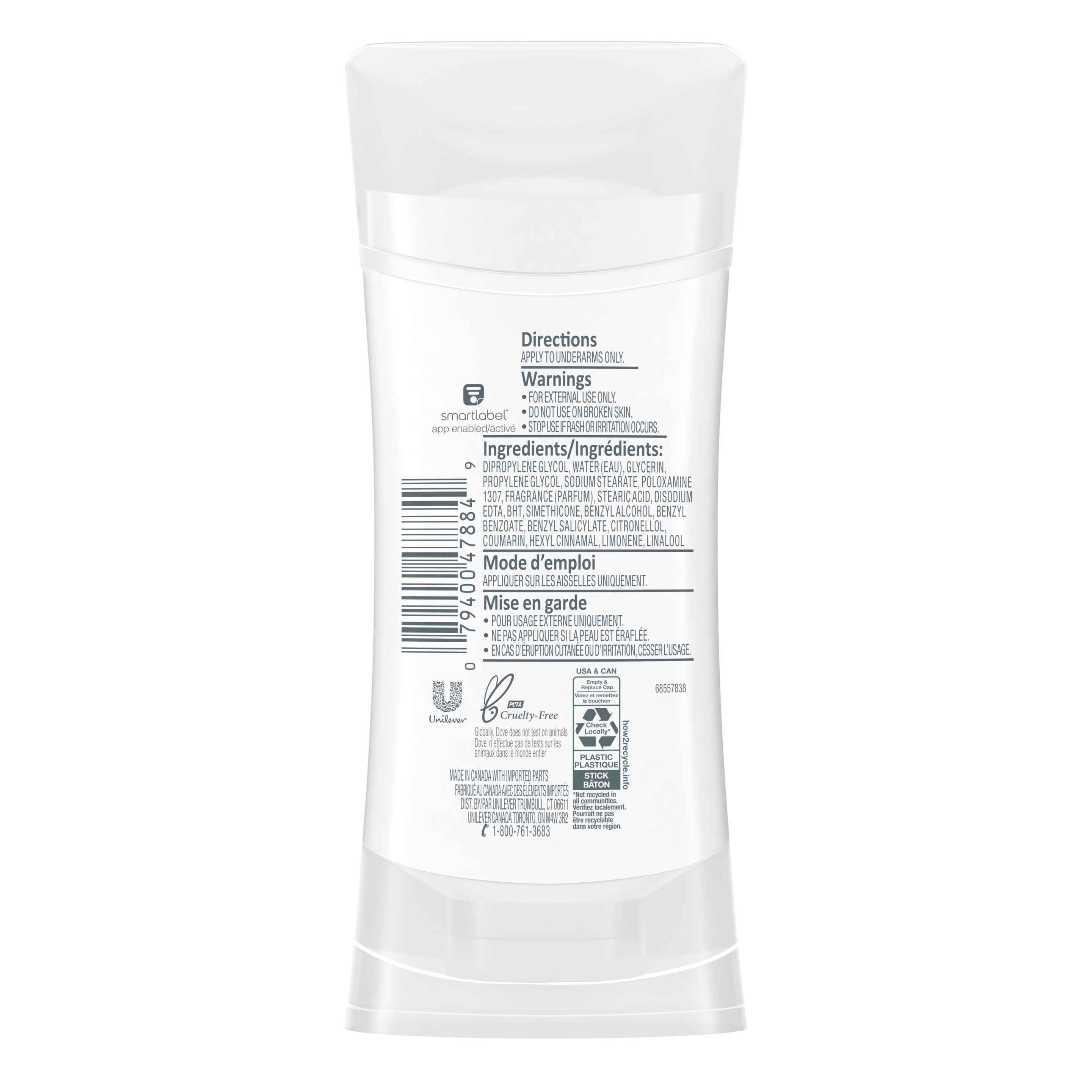 Dove 0% Aluminum Deodorant Shea Butter
With ¼ moisturizers and 0% alcohol, this aluminum-free deodorant stick is just what your underarms need.

• Dove 0% Deodorant contains 0% aluminum

• The aluminum free deodorant provides 24 hour odour protection

• Contains ¼ moisturizers for soft and smooth underarms

• Non-irritant deodorant for women glides on easily

• 0% alcohol (ethanol) formula helps underarms recover from shaving irritation


Are you looking for the best aluminum-free deodorant for you? Try Dove 0% Aluminum Deodorant to start your day feeling fresh and invigorated. It is an aluminum-free deodorant with 0% alcohol to keep you odour free and feeling fresh for up to 24 hours. 

Dove 0% Aluminum Deodorant is the perfect addition to your morning routine. It contains ¼ moisturizers to help your delicate underarm skin to recover from irritation caused by shaving. 

With underarms that are fresh and protected from odour for up to 24 hours, you can enjoy this revitalizing and gentle aluminum-free deodorant. So for all-day freshness and smooth skin, give your underarms the care they deserve with Dove 0% Deodorant.

What is the difference between deodorant and antiperspirant? 
Both Dove antiperspirant and Dove deodorant keep you feeling fresh and protected from odour all day long. To help stay dry all day, choose an antiperspirant to help control sweat. If all you need is something to keep you feeling fresh, choose an aluminum-free deodorant instead. Our Dove 0% Deodorant gives you up to 24 hours of odour protection.  If all you're searching for is odour protection in a deodorant without aluminum, try Dove 0% Deodorant.  

Dove products are certified cruelty-free by PETA. 


Dipropylene Glycol, Water (Eau), Glycerin, Propylene Glycol, Sodium Stearate, Poloxamine 1307, Fragrance (Parfum), Stearic Acid, Disodium EDTA, BHT, Simethicone, Benzyl Alcohol, Benzyl Benzoate, Benzyl Salicylate, Citronellol, Coumarin, Hexyl Cinnamal, Limonene, Linalool.


For the best results and a long-lasting freshness, use on clean, dry underarms. Twist the applicator to release the smooth deodorant stick and glide on in even, light strokes.

When it comes to your body, love the one you're with
Beauty is an all-ages show