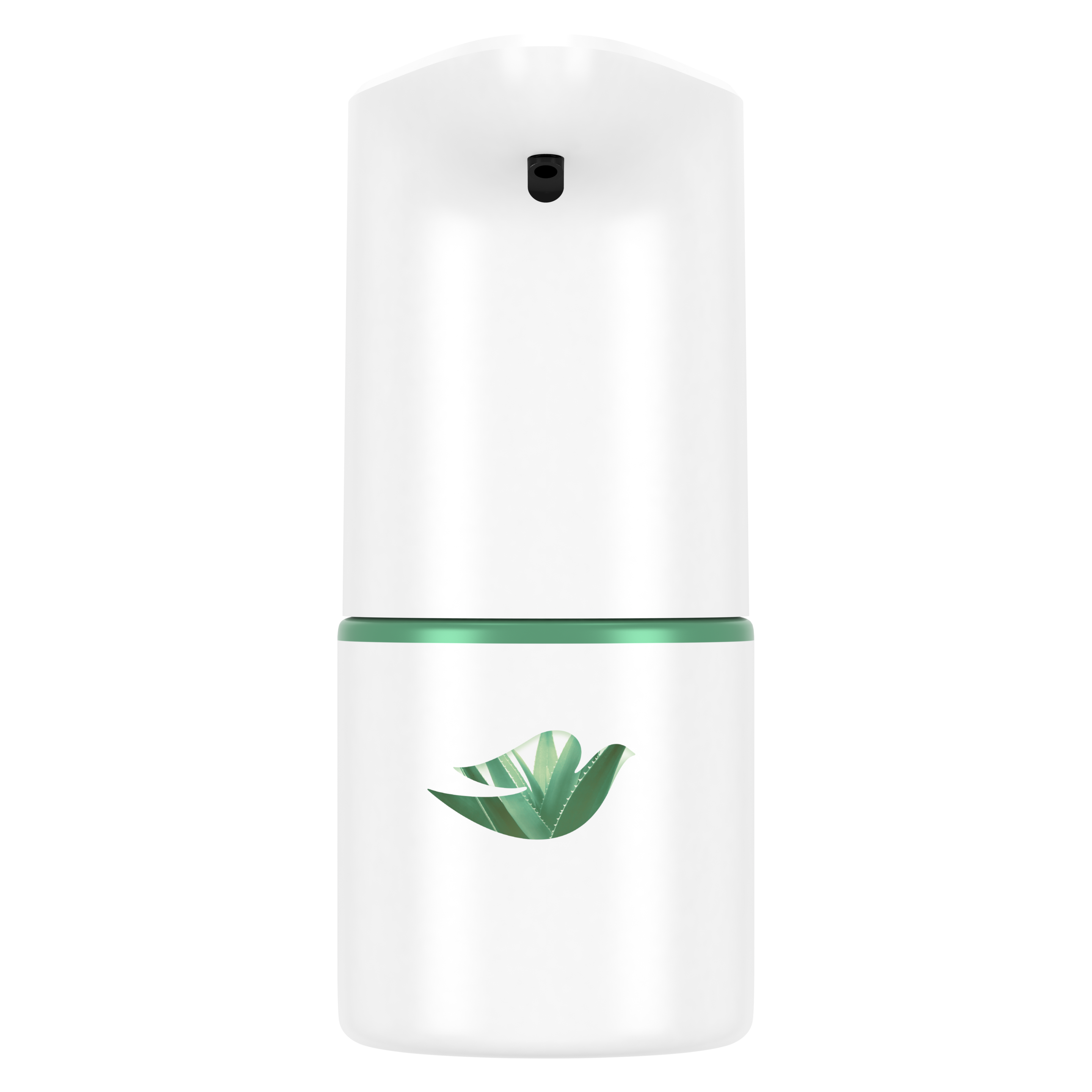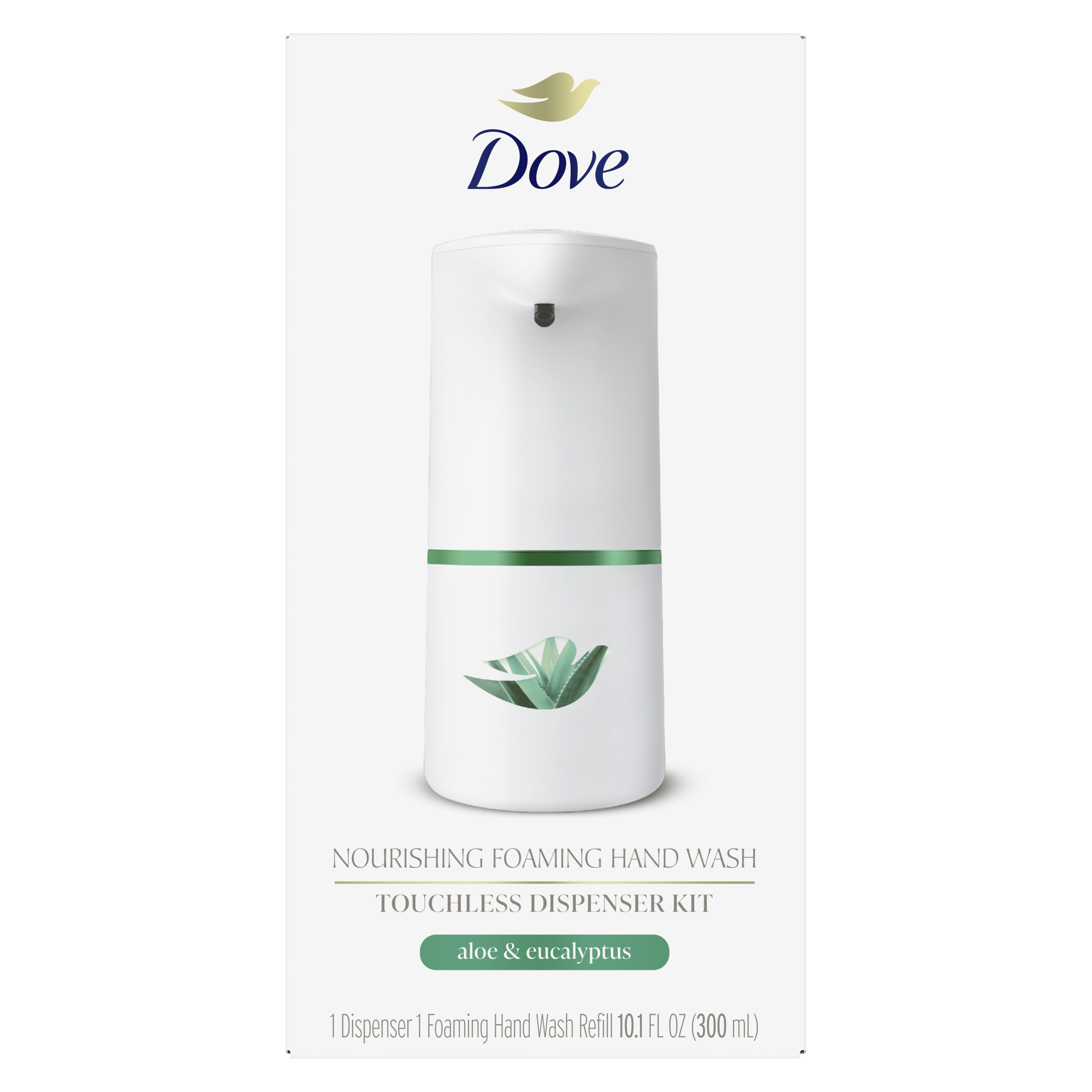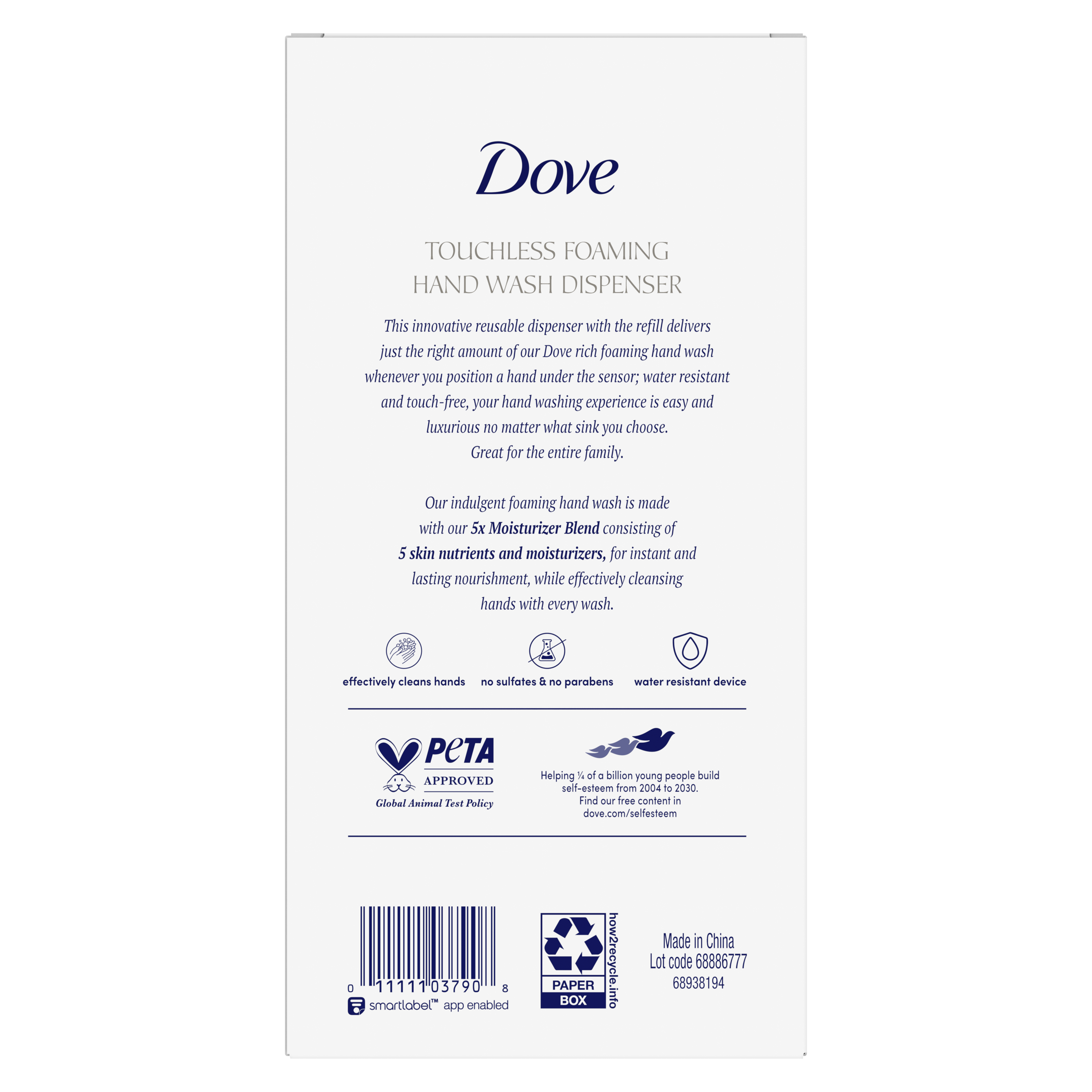 Nourishing Foam Hand Wash Touchless Dispenser Kit Aloe and Eucalyptus
Our Foaming Hand Wash Touchless Dispenser makes hand cleansing simple, for cleansed, nourished hands every time.

•Luxurious, water-resistant  hand wash dispenser that's easy to use
•Foaming hand wash with a fresh aloe scent 
•Optimal foam dispensed automatically
•5x Moisturizer Blend with five skin-natural nutrients and moisturizers 
•Free from parabens and sulfates
•Recyclable refills available


Make hand cleansing simple and easy with Dove Nourishing Foaming Hand Wash Touchless Dispenser. Perfect for any sink, it instantly dispenses our Aloe & Eucalyptus moisturizing hand wash with no mess.

This touchless dispenser has a smart sensor that automatically dispenses the perfect amount of our foaming hand wash. Easy to use and to clean, the hand wash dispenser has a simple on/off button powered by 3 x AA batteries (not included). Plus, it's water resistant and has an IPX4 waterproof rating, which means you can clean the device with ease whenever you need. 

The rich, indulgent Aloe & Eucalyptus foaming hand wash is formulated with a 5x Moisturizer Blend, consisting of five skin-natural nutrients and moisturizers for instant and lasting nourishment. It effectively cleanses hands with every wash, removing germs in seconds* and nourishing for hours for beautifully smooth skin. 
* It is recommended to wash for at least 20 seconds.

This nourishing hand wash is free from parabens and sulfates. Plus, globally, Dove does not test on animals and is PETA Approved. 


Water (Aqua), Glycerin, Sodium Lauroyl Glutamate, Sodium Cocoyl Glycinate, Cocamidopropyl Betaine, Stearic Acid, Palmitic Acid, Hydrogenated Starch Hydrolysate, Aloe Barbadensis Leaf Juice, Hydroxyethyl Urea, Sodium Chloride, Polysorbate 20, Phenoxyethanol, Fragrance (Parfum), Ppg-7, Citric Acid, Tetrasodium Edta, Iodopropynyl Butylcarbamate, Hexyl Cinnamal, Limonene, Linalool.


Touch free hand cleansing for enhanced hygiene 
This smart, hand-free dispenser makes it easy to wash your hands. Simply hold your hands under the dispenser for the foaming hand wash to deliver to your hands, without the mess.

Treating your skin gently 
This nourishing hand wash is specially made to be gentle on hands, and won't leave your hands feeling tight or dry. It's formulated with our 5x Moisturizer Blend, with five skin-natural nutrients and moisturizers, and keeps your hands feeling soft and nourished, every time you wash. 

Effective and easy hand cleansing 
Keeping your hands cleansed has never been easier. This dispenser automatically releases the right amount of foam every time. It effectively cleanses your hands and removes germs in seconds*. 
* It is recommended to wash for at least 20 seconds.


Make sure the no-touch hand wash dispenser is switched on, and position your hand under the sensor to dispense the right amount of foaming hand wash. Massage your hands well for 20 seconds, making sure to wash your palms, wrists and nails. 

To replace a refill, twist to eject the old bottle and remove the cap and plug from the new one. Then, simply fit the new refill to the hand wash dispenser.


You can choose recyclable refills to use with your hand wash dispenser. When you're ready to replace the refill, try the Lavender & Chamomile Foaming Hand Wash refill for a pampering, soothing hand wash experience. 

When it comes to your body, love the one you're with
Beauty is an all-ages show