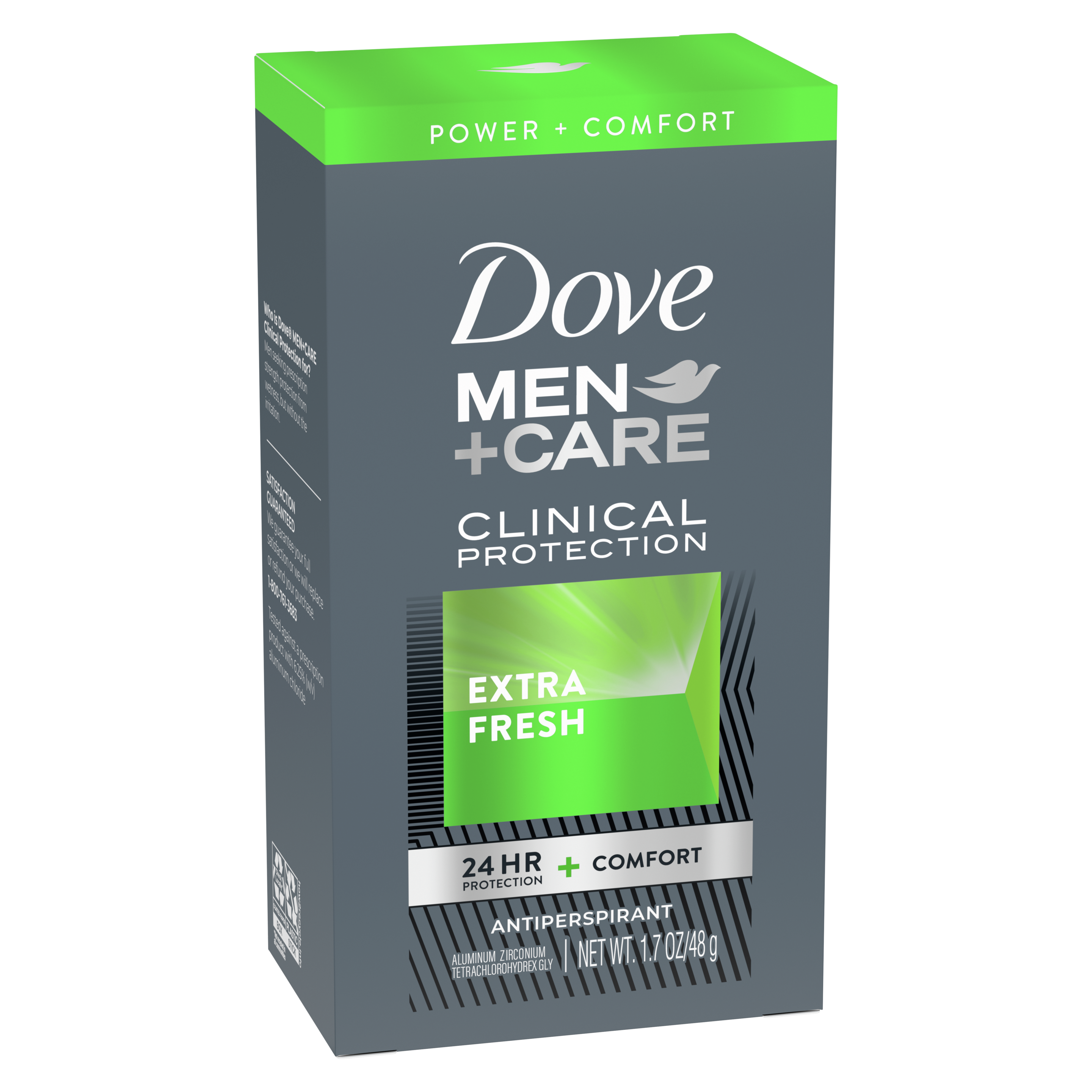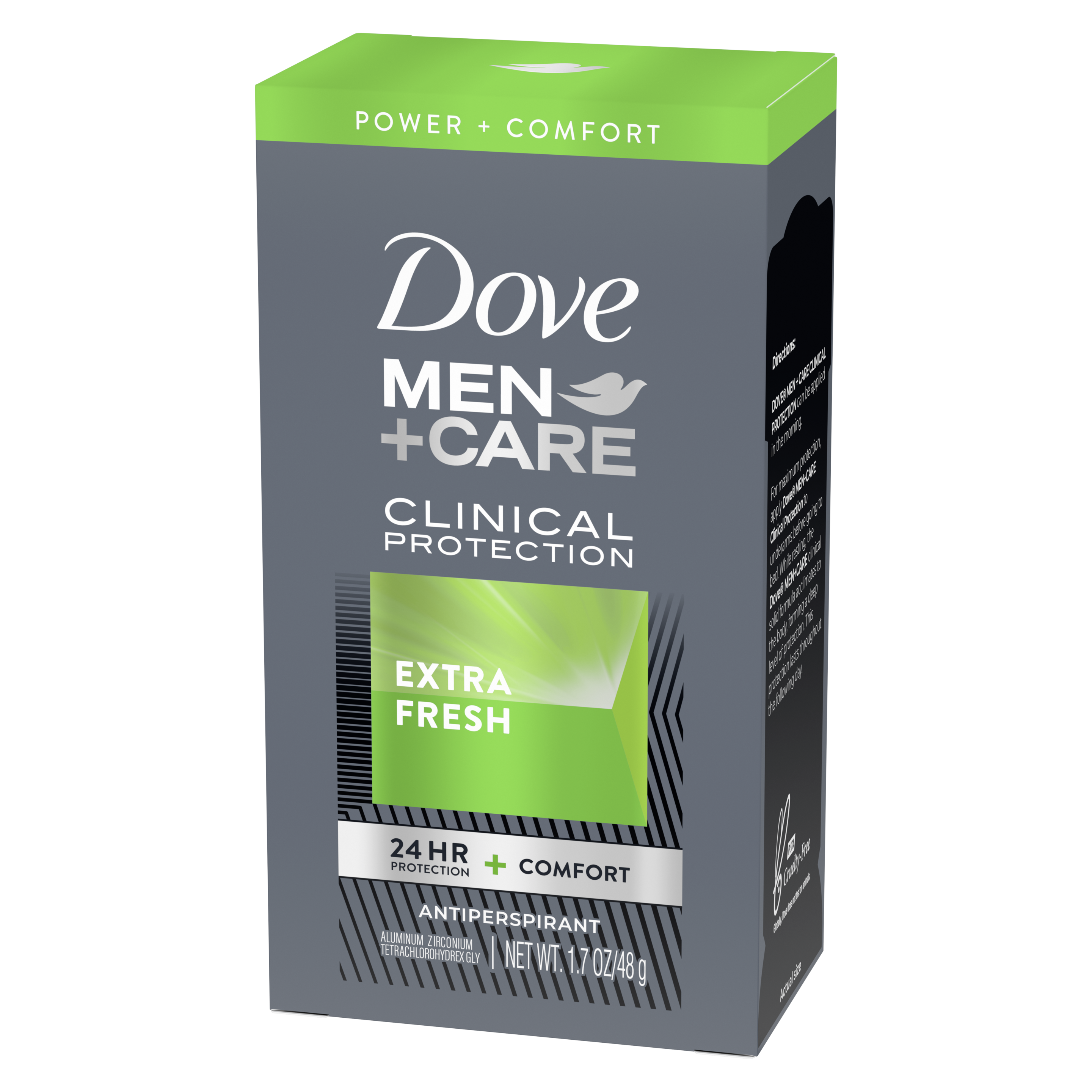 Men+Care Extra Fresh Clinical Protection Antiperspirant
Try Dove Men+Care Extra Fresh Clinical Protection Antiperspirant for 48 hours protection against odor and wetness

Are you looking for prescription-strength sweat protection*? Try Dove Men+Care Clean Comfort Clinical Protection Antiperspirant for a clinical strength antiperspirant for men that will give you powerful protection. It delivers long-lasting protection against odor and wetness and, as part of the Dove Men+Care range, it's specifically designed to care for skin.

Its unique formula, with ¼ moisturizer technology, gives you all the strength and care of a Dove Men+Care antiperspirant. This clinically proven antiperspirant for men helps to combat sweat and odor  and its subtle scent will leave you feeling fresh all day long.

Swipe this Dove Men+Care antiperspirant up and down each armpit several times to dispense an even layer across your skin. Use it in the morning and at night for maximum protection at all times. The clinically-proven soft solid formula works overnight to form a deep level of protection that lasts throughout the next day. It's tough on sweat, not on skin.


The next time you need prescription-strength protection* against sweat, reach for Dove Men+Care Clean Comfort Clinical Protection Antiperspirant: a prescription strength antiperspirant for men.







*Tested against a leading prescription product with 6.25% (w/v) aluminum chloride


Looking for prescription-strength protection from sweat? Dove Men+Care Extra Fresh Clinical Protection Antiperspirant Deodorant is a clinical strength antiperspirant with deodorant that will give you powerful protection against odor and wetness and leave you smelling great all day long. Uniquely formulated for men, Dove Men+Care helps combat sweat and odor, protecting men's skin against irritation with Dove's ¼ moisturizer technology. This antiperspirant deodorant has been specially formulated to be tough on sweat, not on skin.

To use, swipe an even layer of this clinical strength deodorant for men over skin onto each of your underarms for long-lasting protection against sweat and odor. For maximum protection, apply at night before going to bed. The clinically tested soft solid formula works overnight to form a deep level of protection that will last throughout the next day. Extra Fresh  has a crisp, clean men's fragrance that lets you feel fresh all day.

Dove Men+Care celebrates a new definition of strength: one with care at its center. We believe that care makes a man stronger. Real strength is shown through the care you give to the people who matter to you — and that includes you. That's why we specially designed Dove Men+Care products to protect and care for your skin. 


Aluminum Zirconium Tetrachlorohydrex GLY, Cyclopentasiloxane, Dimethicone, Microcrystalline Wax, C18-36 Acid Triglyceride, Fragrance (Parfum), Silica, Helianthus Annuus (Sunflower) Seed Oil, Dimethicone Crosspolymer, BHT


thoroughly first. Twist the bottom until approximately half a centimetre of the block is visible. Swipe over skin to dispense an even layer to each of your underarms.

HELLO, WHAT ARE YOU LOOKING FOR?