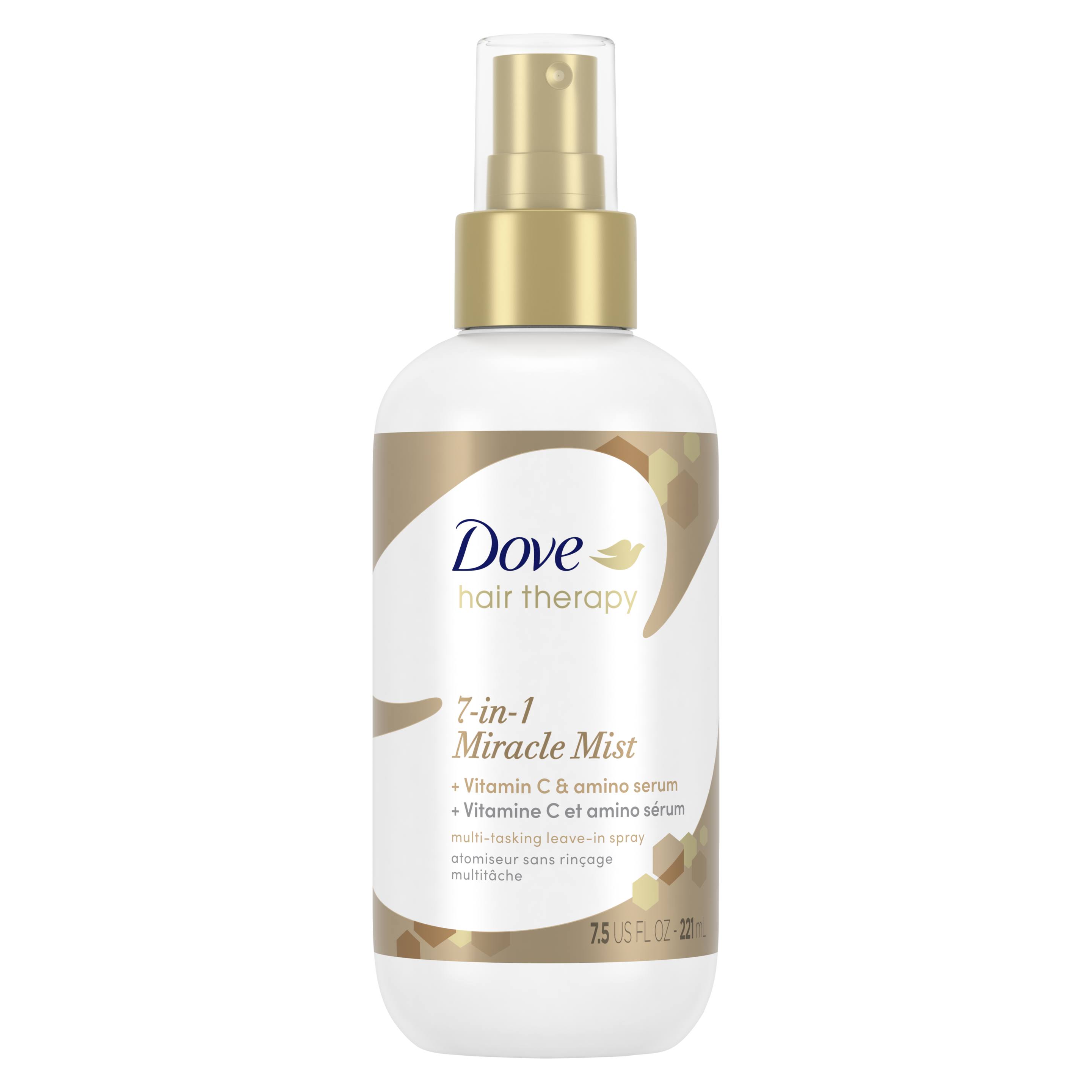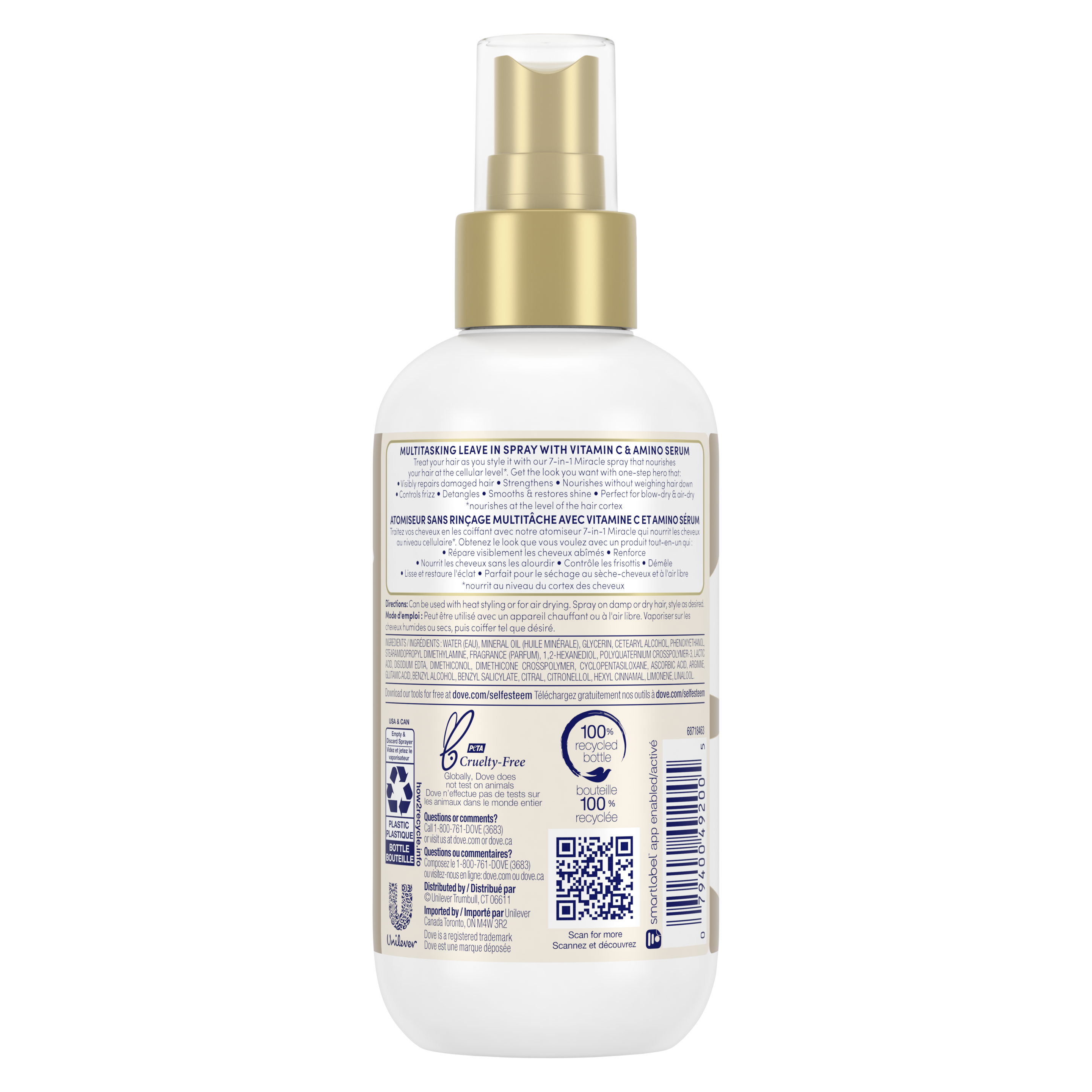 A multi-tasking 7-in-1 styling spray that works to control frizz , detangle and visibly repair hair damage.

●	7-in-1 Miracle Spray is a multitasking spray that works in 7 ways
●	Leave-in hair mist works to visibly repair damaged and tangled hair
●	Detangling hair spray that controls frizz
●	Hair mist with amino serum, like skin care for your hair
●	Inspired by skin care ingredients, infused with vitamin C 
●	Multitasking hair mist you can apply to damp or dry hair


We think that hair care is just as important as skin care. That's why Dove 7-in-1 Miracle Mist is an all-in-one mist that works in seven different ways. It visibly repairs damaged hair, strengthens brittle locks, helps nourish hair and is great for detangling hair. And that's not all – it also helps to control frizz, restores shine and is perfect for air-dried and blow-dried hair.

Inspired by skin care, our multitasking spray is made with vitamin C and amino serum. Part of our Hair Therapy range, this 7-in-1 hair mist nourishes your hair at the cellular level* without weighing it down. Plus, it smooths hair to restore shine and helps control frizz. 
*nourishes at the level of hair's cortex 


INGREDIENTS: Water (Eau), Mineral Oil (Huile Minérale), Glycerin, Cetearyl Alcohol,
Phenoxyethanol, Stearamidopropyl Dimethylamine, Fragrance (Parfum), 1,2-Hexanediol, Polyquaternium Crosspolymer-3, Lactic Acid, Disodium EDTA, Dimethiconol, Dimethicone Crosspolymer, Cyclopentasiloxane, Ascorbic Acid, Arginine, Glutamic Acid, Benzyl Alcohol, Benzyl Salicylate, Citral, Citronellol, Hexyl Cinnamal, Limonene, Linalool.


●	Damaged hair
This lightweight hair mist, with potent moisturizers and nourishing ingredients, nourishes your hair at the cellular level.* 
*nourishes at the level of hair's cortex

●	Tangled hair
Don't let your knots get you down. Our 7-in-1 Miracle Mist is perfect for detangling hair. As it's specially developed to replenish and nourish hair.

●	Beauty lovers
Dove Hair Therapy range is inspired by skin care ingredients. This multitasking spray, infused with amino serum and vitamin C, helps to restore your hair's natural shine.


Our 7-in-1 Miracle Mist can be used when styling hair using heat, or when you're air drying your hair. Simply spray the hair mist on damp or dry hair and style as desired. No rinsing needed.


Try our 7-in-1 Miracle Mist today to experience the seven different ways it works to nourish hair, for healthy-looking locks. 

Hello, what are you looking for?
When it comes to your body, love the one you're with
Beauty is an all-ages show