#WashToCare: The importance of hand washing
In times like these, we believe it's important to show the world that care can have a big impact. Properly washing your hands is one of the best ways to care for yourself, your loved ones and the world – each and every one of us can make a difference. It doesn't matter which brand you use, just remember to do it often.
#WashToCare
We are reinforcing the World Health Organisation's (WHO's) advice on the importance of handwashing properly and frequently for at least 20 seconds.
#WashToCare is our call to action for people to show love and compassion for themselves, their families and communities, by changing behaviours and taking time to wash their hands according to the guidance and more often.
We are redirecting some of our media advertising to provide friendly reminders and 20 second timers to help you #WashToCare – and our #DovePartners around the world will be coming together to share this message too.
We've also joined the UK Government for their 'Enjoy Summer Safely' campaign to encourage safe behaviours and hygiene habits as restrictions begin to ease. We'll be helping you #WashToCare when you're out and about and celebrating the opening of key businesses.
Follow these important steps by the WHO on handwashing and read on for answers to your frequently asked questions.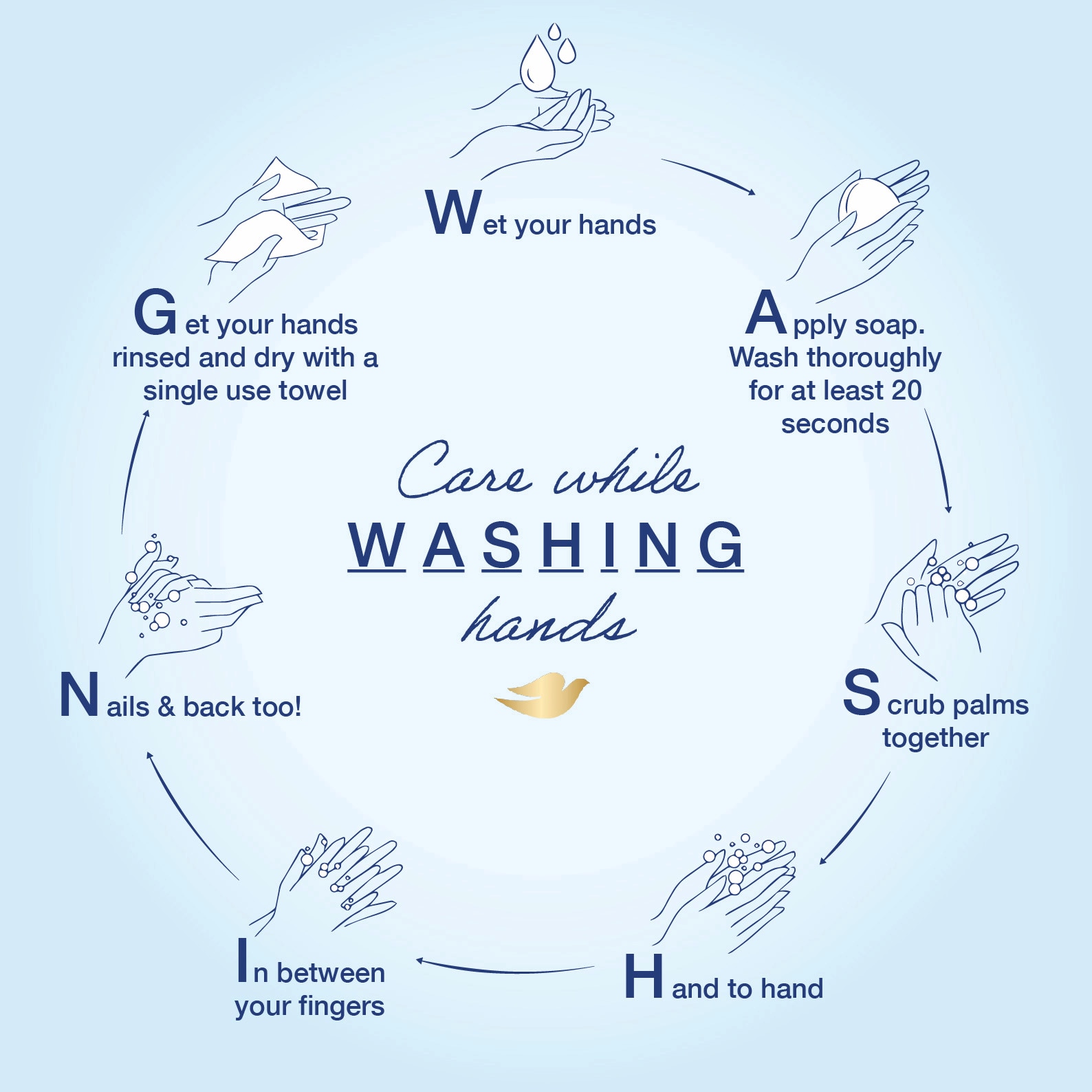 Why is it important to wash your hands?

Our hands touch everything! And we can become unwell when germs picked up on our hands are transferred to our mouth, nose or eyes. These can be spread to other people too ­– but the cleansers (also called surfactants) in soap, handwash and bodywash help lift them away from the skin as you rub so they can be effectively removed and rinsed down the drain.
Which soap can I use?
It doesn't matter which brand you use – you can wash with any soap. Ordinary soap and handwash are just as effective as antibacterial ones and both Beauty Bars and bodywash also work in the same way to wash away dirt and germs. No matter which you choose, be sure to wash often using the WHO hand hygiene guidelines.
How long should you wash your hands for?
We've all heard about singing happy birthday twice, or counting 20 elephants, whatever you're singing, just make sure you wash your hands using the proper technique, for at least 20 seconds with soap and water.
How often should you wash your hands?
We should be washing our hands regularly throughout the day. Especially after going to the bathroom, before eating, and after blowing your nose, coughing or sneezing.
Together, if we all #WashToCare, we can turn the simple act of washing our hands into an act of kindness, compassion and care.
Is there anything else we can help you discover?
When it comes to your body, love the one you're with
Beauty is an all-ages show