Is there a 'Perfect Mum'?
At Baby Dove, we believe there are no perfect mums, just real ones.
But sometimes, the images of parenting we see in the media can set unrealistic expectations for new mums who are still finding their way through parenthood.
For instance, in a recent survey for Baby Dove, 9 out of 10 first-time mums told us they feel pressure to be perfect due to the images they see every day on social media and in magazines. Mums told us this can make them feel uncertain about their own abilities, because the media can make parenting look easy and as if it comes naturally to everyone.
Baby Dove wants to relieve some of this anxiety and encourage mums to realise that the idea of perfection doesn't really exist.
To do this, we started a conversation by presenting a typically one-dimensional image of motherhood that one might find in the media with the question: 'Is there a perfect mum?'
This got mums talking – discussing how it made them feel to see such an image, and what they thought about the idea.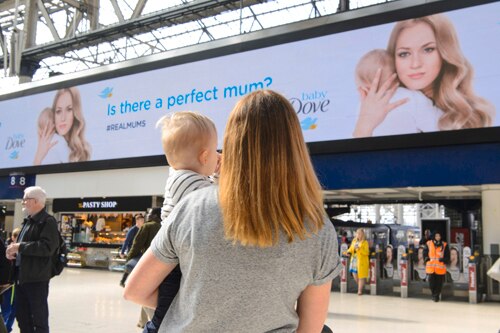 However, there was a twist to our image – she wasn't a real person! She was made using the latest Artificial Intelligence technology, which took over 1800 images of motherhood from newspapers, magazine and social media to create our own picture.
A day after posing our original question, we revealed the truth behind our image, explaining that typical media images often don't reflect the true picture of what being a mum is like for everyone. You don't have to strive to live the way mums are often portrayed in the media to be doing a great job.
After all, there's no 'right' or 'wrong' way to be a parent, just your way. So trust your way.