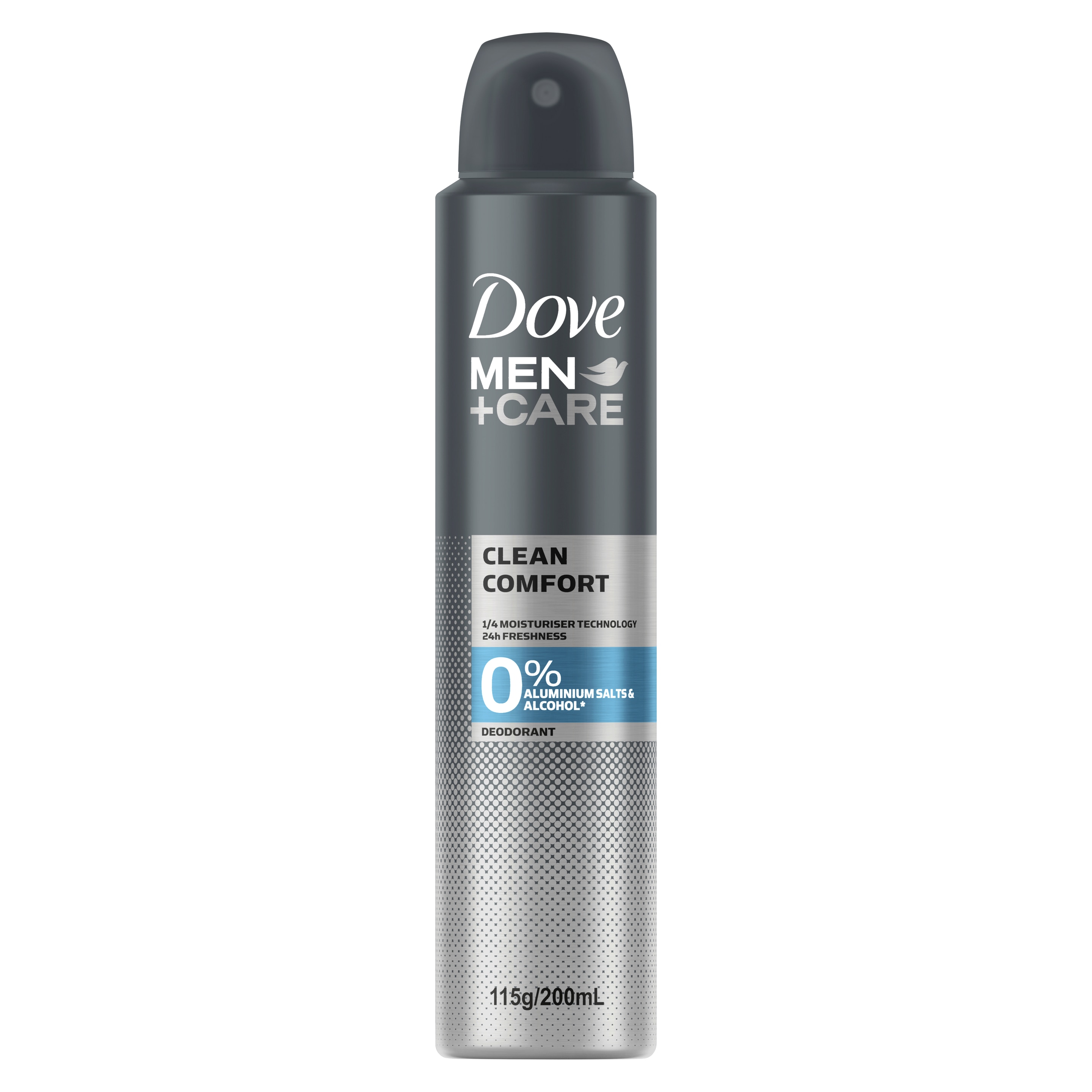 Men+Care 0% Aluminium Aerosol Deodorant Clean Comfort
Fight odour with a Dove roll-on deodorant that provides up to 24 hours of freshness.

• Body odour protection with a lasting fresh sensation 
• Dove Men+Care deodorant that's tough on odour
• Up to 24-hour odour protection
• 0% aluminium salts
• Clean, fresh scent


Stay fresher for longer with Dove Men+Care 0% Aluminium Clean Comfort Deodorant. With a powerful aluminium-free formulation, this Dove Men+Care deodorant gives a kick of freshness whenever it's needed most. 

Giving you up to 24-hour protection from odour, our deodorant without aluminium will help to keep you cool when you need it. With its subtle clean scent, this deodorant spray keeps you feeling fresh, no matter how long your day. 

What's the difference between deodorant and antiperspirant? 
It's simple. Both Dove Men+Care deodorants and antiperspirants shield from odour – but, formulated with aluminium salts, Dove Men+Care antiperspirants also control sweat giving dryness protection. If freshness is enough for the day ahead, choose a Dove Men+Care aluminium-free deodorant. With a clean, fresh scent, Dove Men+Care 0% Aluminium Clean Comfort Deodorant is tough on odour. 


Butane, Isobutane, Propane, PPG-14 Butyl Ether, Cyclopentasiloxane, Fragrance, Triethyl Citrate, C12-15 Alkyl Benzoate, Helianthus Annuus Seed Oil, Ethylhexylglycerin, Glycerin, Niacinamide, BHT, Octyldodecanol.

Cuando se trata de tu cuerpo, ama el que tienes contigo
La belleza es un espectáculo para todas las edades
Todos los cuerpos son hermosos