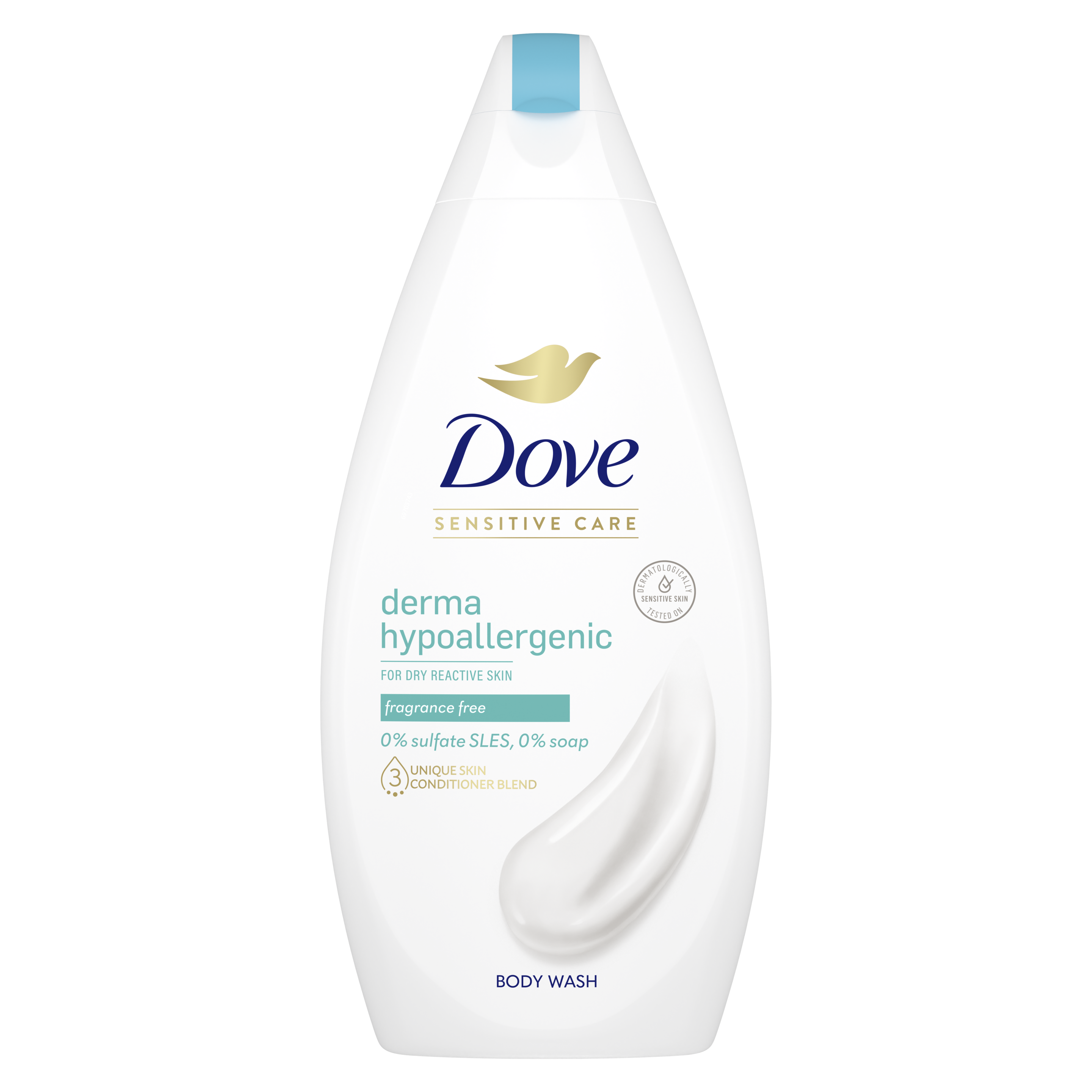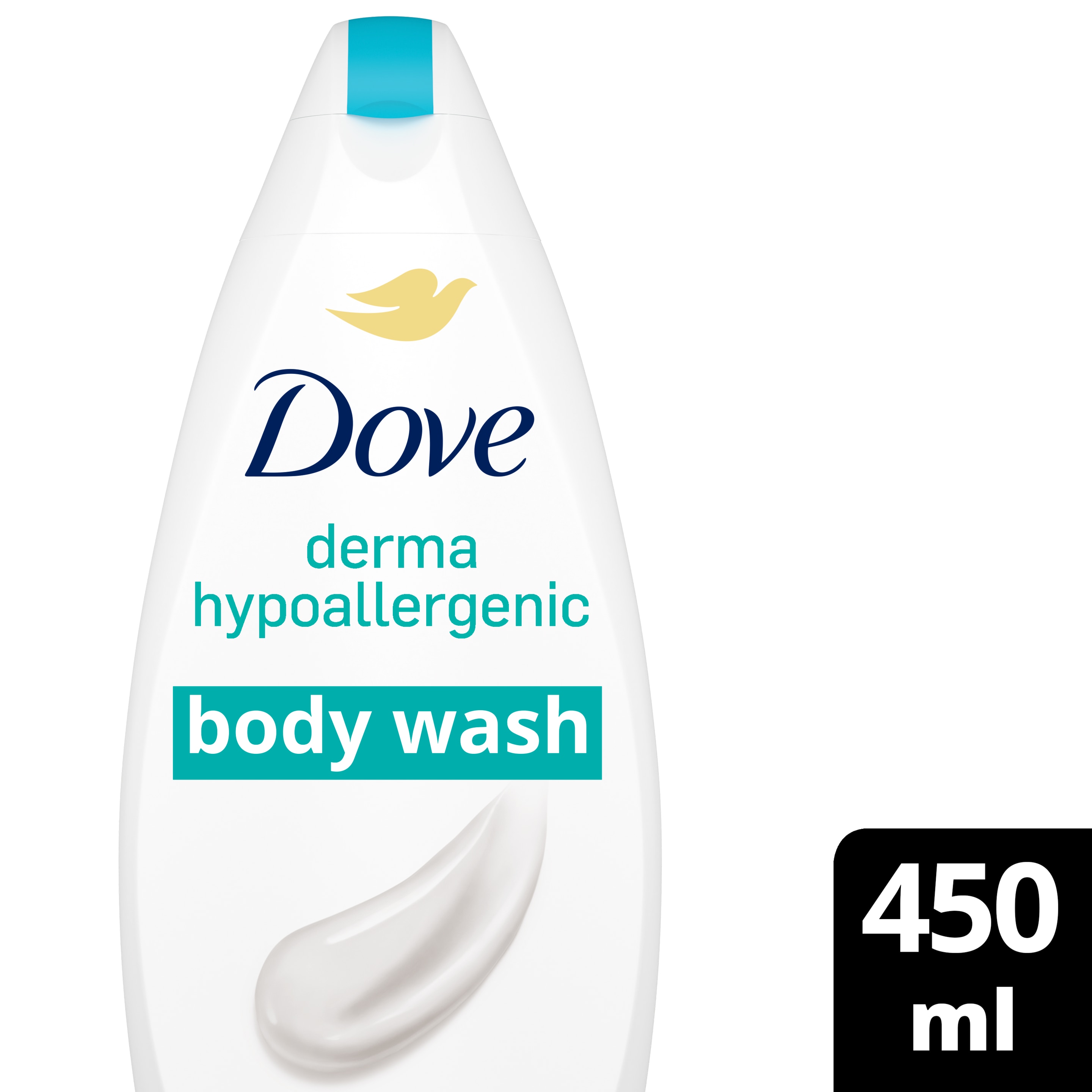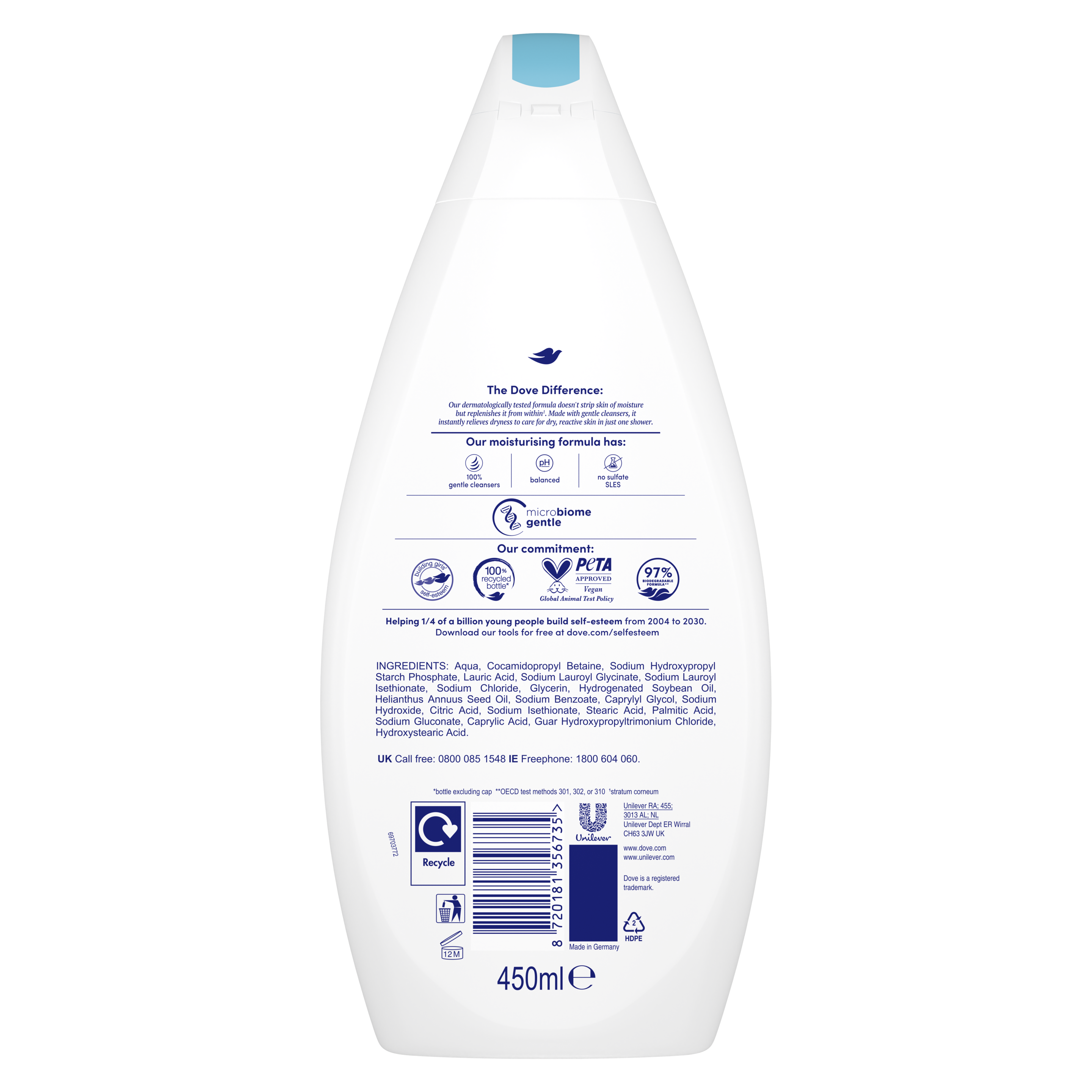 Derma Hypoallergenic Care Body Wash Shower Gel
Dove Sensitive Care Derma Hypoallergenic fragrance-free shower gel Body Wash for dry, reactive skin 450 ml

• Dove Sensitive Care Derma Hypoallergenic Body Wash instantly relieves dryness and cares for dry, reactive skin after just one shower

• Dove body wash delivers skin-natural nutrients to make your skin feel cared for

• The moisturising properties of this body wash replenish moisture from within*

• This body wash's gentle formula protects your microbiome (your skin's protective layer)

• With an ultra-moisturising, fragrance-free formula with a blend of three unique skin conditioners and gentle cleansers, this shower gel leaves your skin soft, smooth and cared for

• Globally, Dove body wash is not tested on animals and is certified vegan and cruelty free by PETA


Give your skin the care it deserves and discover Dove Sensitive Care Derma Hypoallergenic Body Wash. Dermatologically tested, this shower gel doesn't strip skin of moisture, but replenishes it from within* – instantly relieving dryness with gentle cleansers to care for dry reactive skin in just one shower. Dove Sensitive Care Derma Hypoallergenic Body Wash features a fragrance-free, ultra-moisturising formula with three unique skin conditioners to protect your microbiome. With 100% natural, mild cleansers and no sulfate SLES, it leaves your skin feeling soft, smooth and cared for, while helping your skin maintain its natural balance and deliver skin nourishment simultaneously. 

What's more, this shower gel features a 97% biodegradable formula, and its bottle is made of 100% recycled plastic; caring for you and our planet. For best results, simply squeeze this moisturising body wash generously between your palms or onto a shower puff, work into a lather and massage all over your body, allowing the light lather to soothe and cleanse your skin before rinsing thoroughly. While it's great for all skin types, this soothing body wash is perfect for sensitive skin. Globally, Dove body wash is not tested on animals and is certified vegan and cruelty free by PETA. *stratum corneum 


Aqua, Cocamidopropyl Betaine, Sodium Hydroxypropyl Starch Phosphate, Lauric Acid, Sodium Lauroyl Glycinate, Sodium Lauroyl Isethionate, Sodium Chloride, Glycerin, Hydrogenated Soybean Oil, Helianthus Annuus Seed Oil, Sodium Benzoate, Caprylyl Glycol, Sodium Hydroxide, Citric Acid, Sodium Isethionate, Stearic Acid, Palmitic Acid, Sodium Gluconate, Caprylic Acid, Guar Hydroxypropyltrimonium Chloride, Hydroxystearic Acid.


• Ultra gentle cleansing
Dove Sensitive Care Derma Hypoallergenic Body Wash features a fragrance-free, ultra-moisturising formula with three unique skin conditioners to protect your microbiome. With 100% natural, mild cleansers and no sulfate SLES, it leaves your skin feeling soft, smooth and cared for, while helping your skin maintain its natural balance and deliver skin nourishment simultaneously.

• Everday care
An enjoyable shower or mild care – it might feel like you usually have to choose between the two. With this ultra gentle moisturising body wash, you get the best of both worlds: a silky smooth lather and proven lasting care for the skin you live in.


For best results, simply squeeze this moisturising body wash generously between your palms or onto a shower puff, work into a lather and massage all over your body, allowing the light lather to soothe and cleanse your skin before rinsing thoroughly. While it's great for all skin types, this soothing body wash is perfect for sensitive skin.


Your microbiome-gentle routine doesn't have to stop when you step out of the shower. Use sulfate-SLES-free body and face care products for gentle cleansing skin's protective living layer. 

Is there anything else we can help you discover?
When it comes to your body, love the one you're with
Beauty is an all-ages show