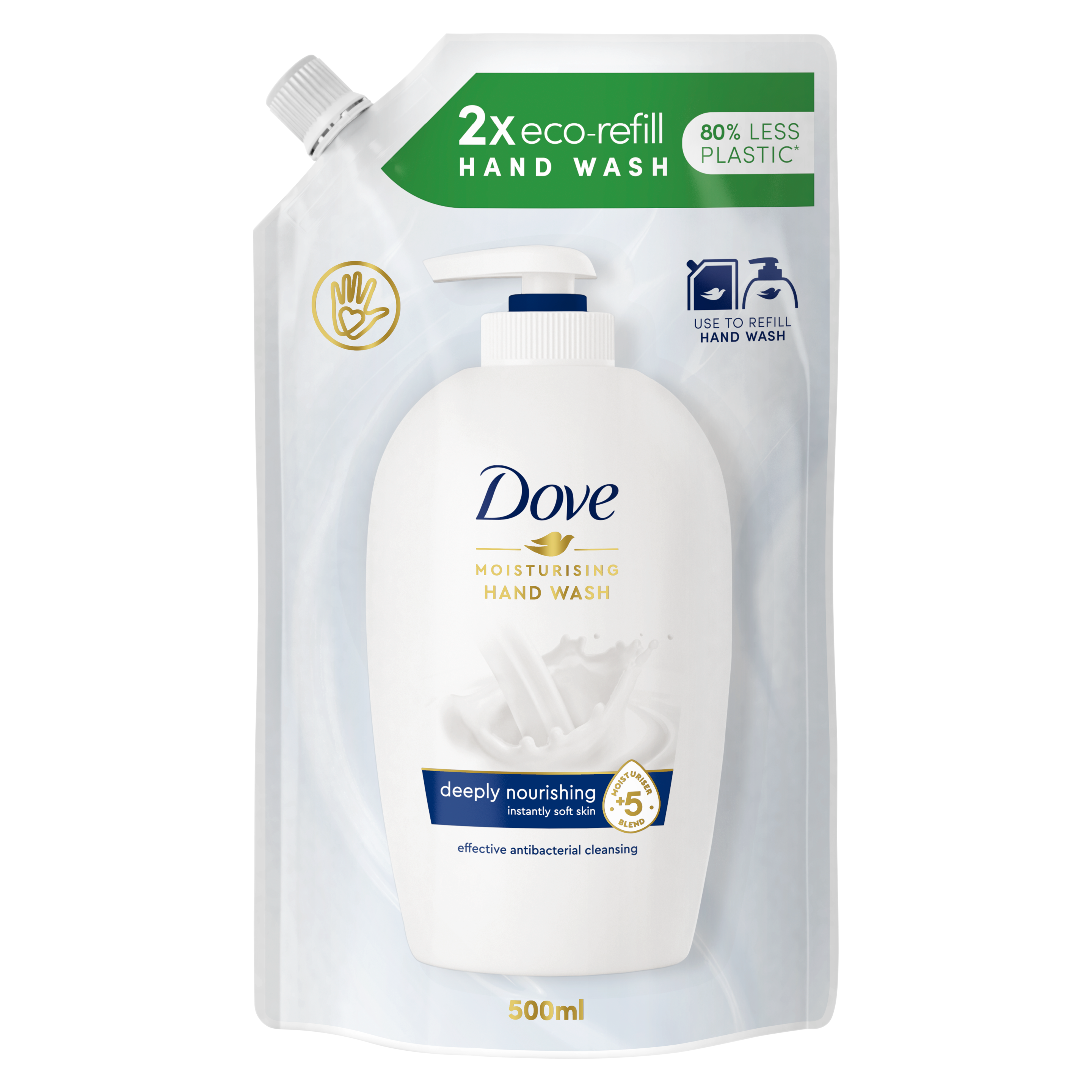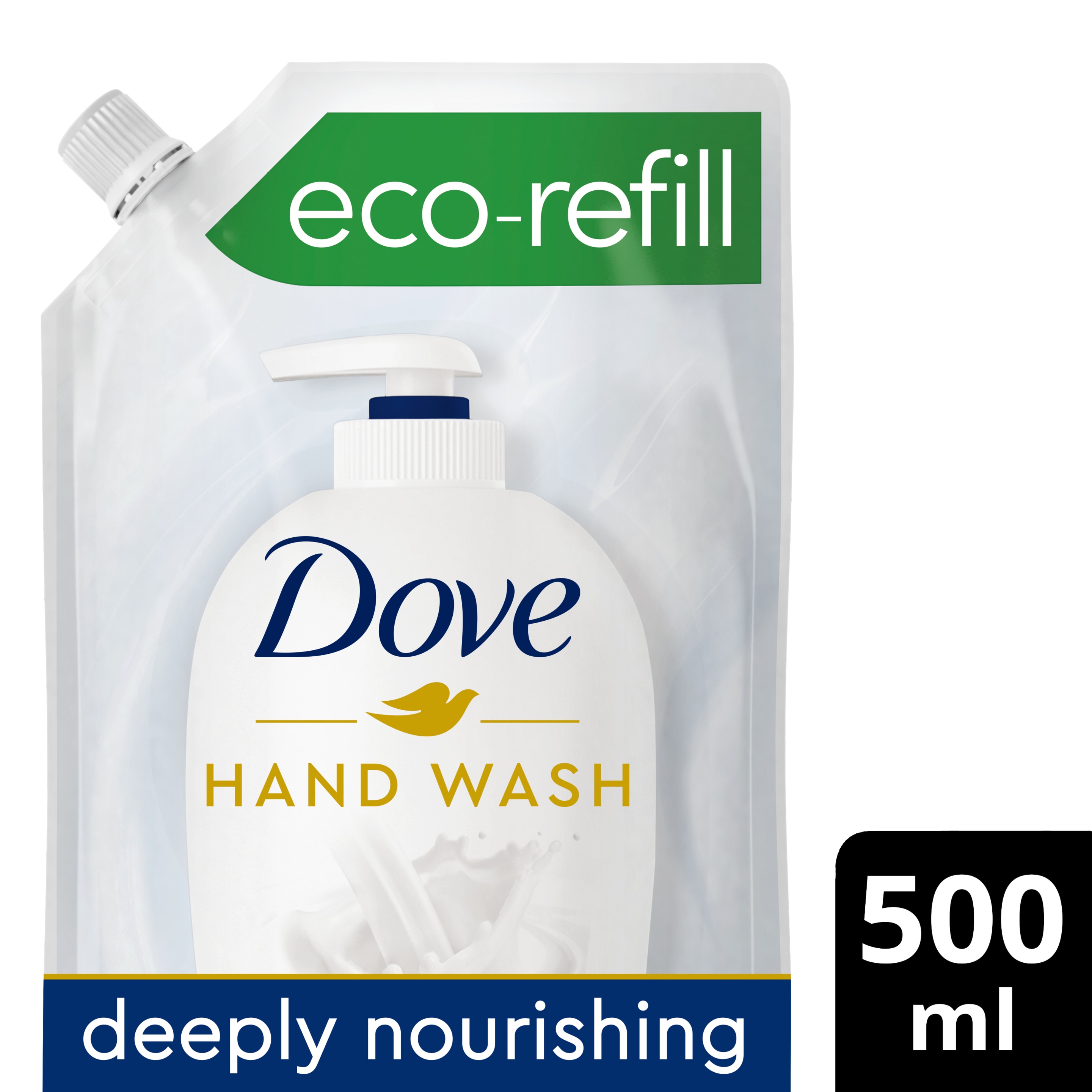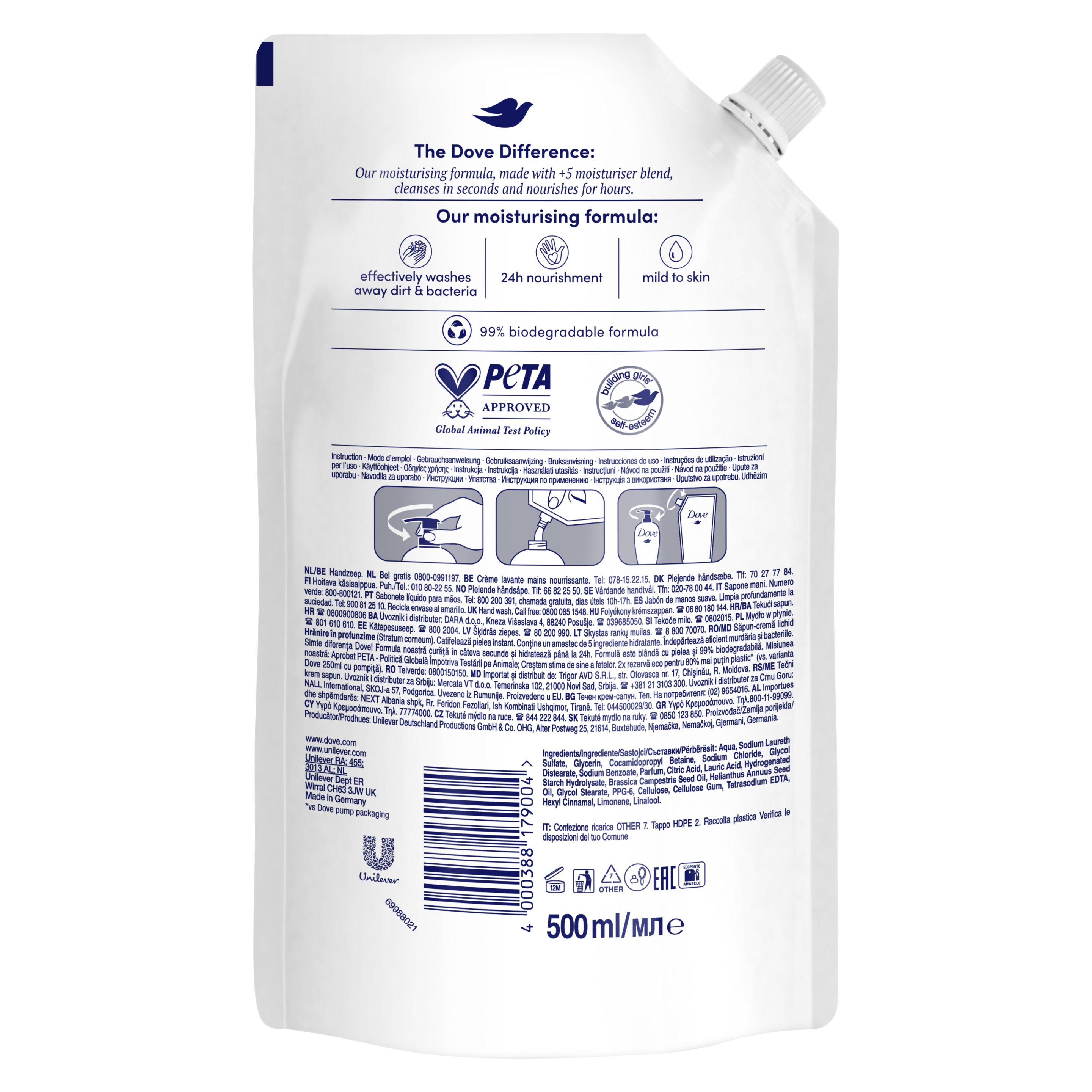 Effectively cleanse skin and protect your hands from dryness with our moisturising hand wash refill pouch.

• Innovative hand wash refill pouch, now a 99% biodegradable formula

• Made with our signature ¼ moisturising cream for soft hands  
       
• Moisturising hand wash formula cares for dry skin

• Makes effective cleansing and caring for skin easy

• Suitable for daily hand care


Washing your hands a little more than usual? You're not the only one. And if you're seeing signs of dryness from all the washing, Dove Caring Hand Wash is for you. In an easy refill pouch, discover a moisturising formula that effectively cleanses, while protecting your hands from dryness.  
 
It's important to take good care of our hands, especially when they're feeling dry or tight. Did you know you could turn washing your hands into an opportunity to care for your skin? This moisturising hand wash cares for your skin while you cleanse. Dove Caring Hand Wash is specially formulated with our signature ¼ moisturising cream to moisturise your hands – leaving them feeling soft and smooth after every use.

And this hand wash not only care for your hands, but also cares for the environment. Our formula is now 99% biodegradable and it only takes one pouch to refill your Dove hand wash bottle twice.

*Compared to Dove 250ml liquid hand wash bottle and pump 


Aqua, Sodium Laureth Sulfate, Glycerin, Cocamidopropyl Betaine, Sodium Chloride, Sodium Benzoate, Parfum, Glycol Distearate, Citric Acid, Laureth-4, PPG-6, Lactic Acid, Tetrasodium EDTA, Hexyl Cinnamal, Limonene, Linalool.


• Skin cleansing and protection 
A moisturising Dove formulation, now 99% biodegradable, our Caring Hand Wash works to moisturise while effectively cleansing and protecting hands from dryness.

• Soft skin
If you get dry hands from washing them often, this moisturising hand wash will give you the nourishing hand care you deserve, leaving your skin feeling soft and smooth.

• Topping up your skin care
Dermatologically tested and suitable for all skin types, the moisturising formula is the perfect addition to your daily hand care routine. Top up your existing hand wash to keep
your Dove care stocked up, without buying new bottles every time.


Ready to refill? Pour the pouch into your favourite Dove hand wash bottle. Pump a generous amount of this caring hand wash into your palms. Work into a rich, creamy lather and massage into your hands for at least 20 seconds. To finish, rinse with warm water.


For the full moisturising routine, follow up with one of your favourite Dove hand cream. Keep one at each sink around your home to care for your skin (and impress your guests). 

Is there anything else we can help you discover?
When it comes to your body, love the one you're with
Beauty is an all-ages show