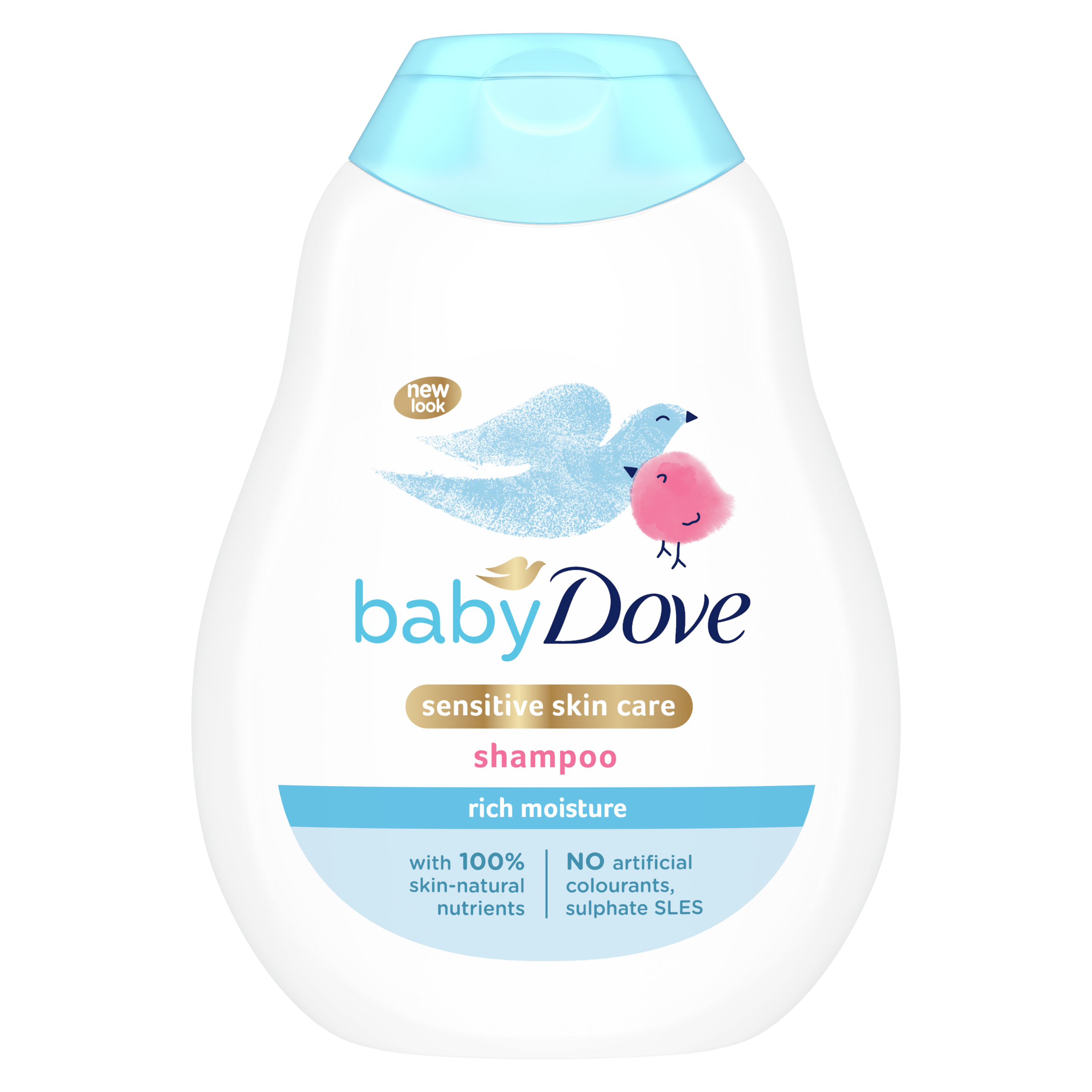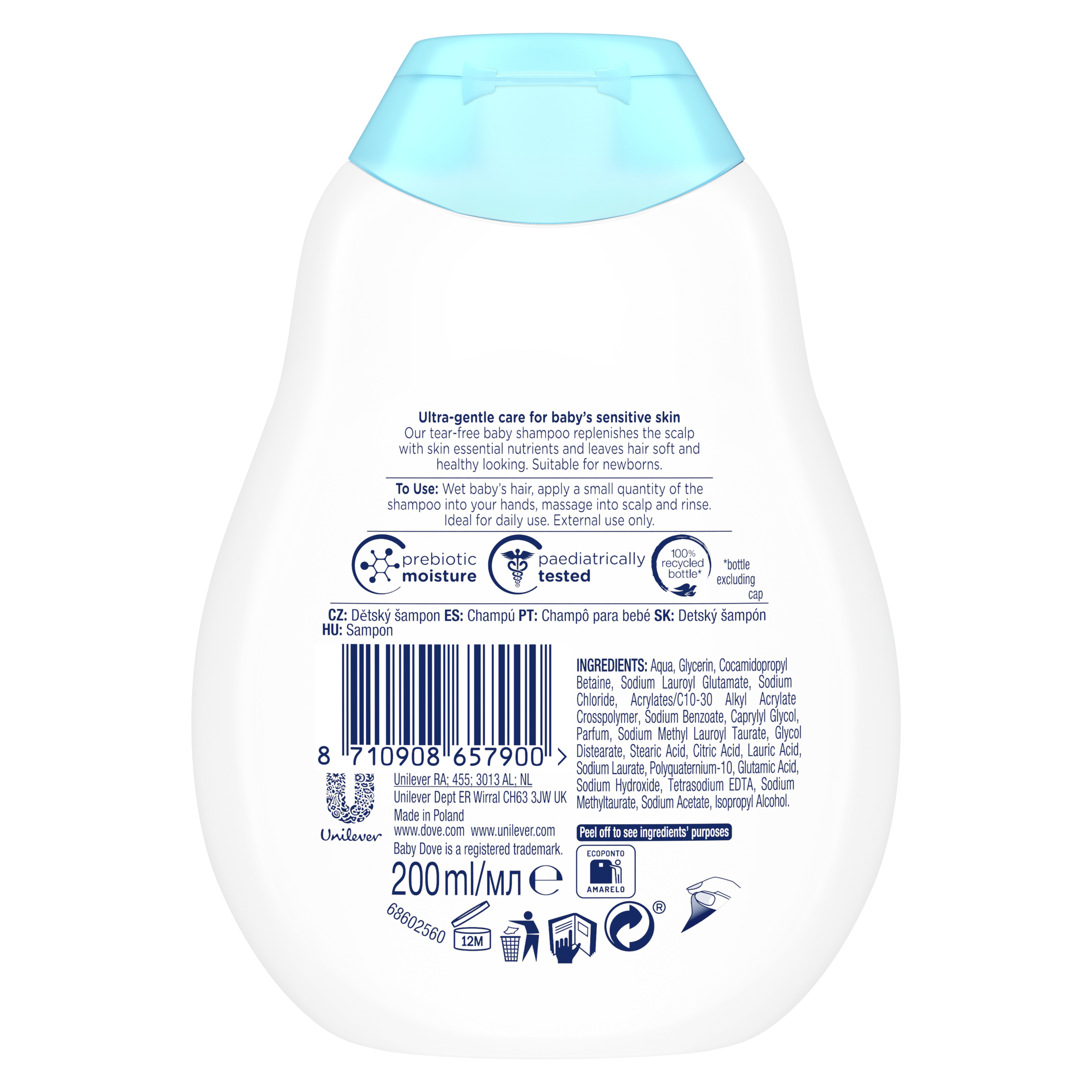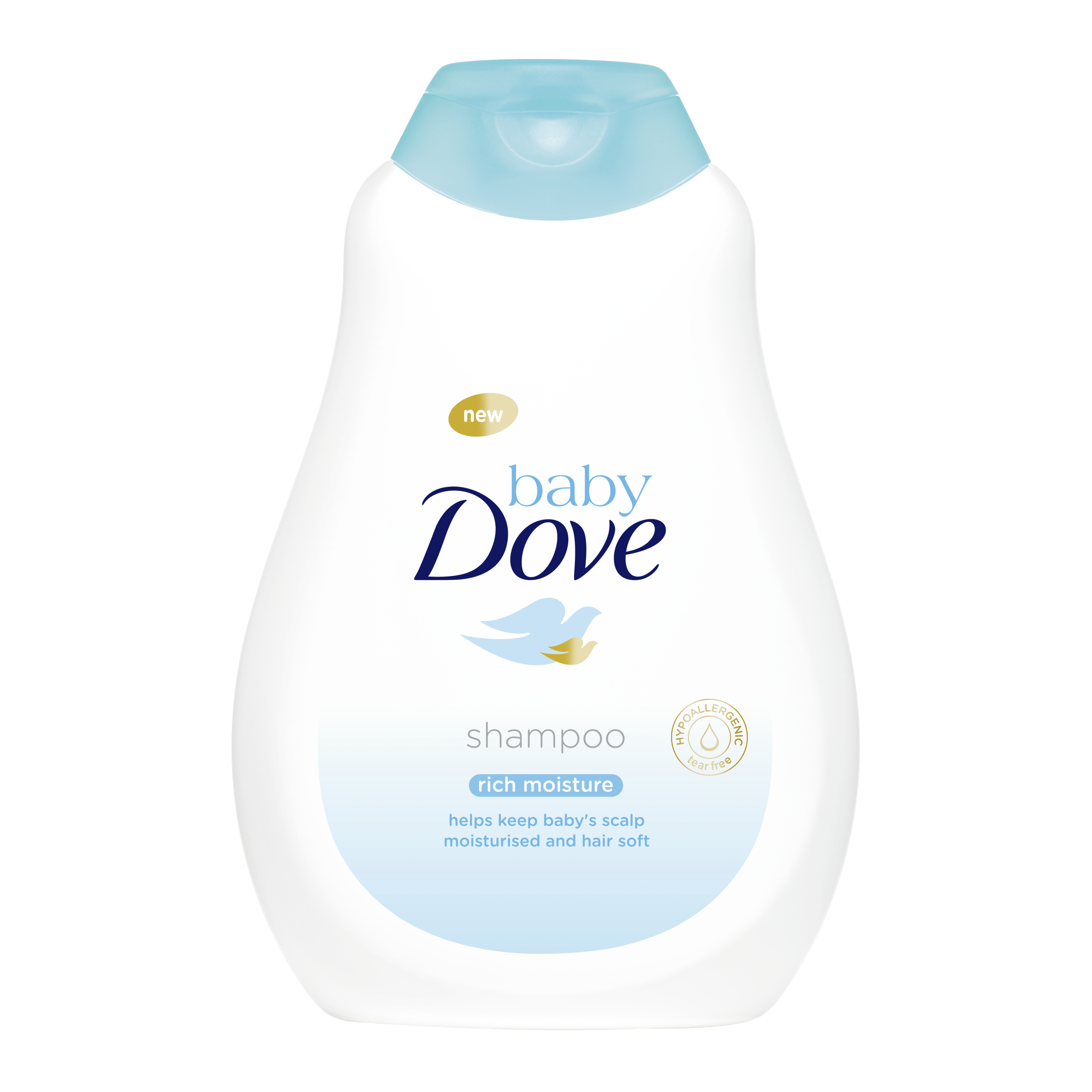 Baby Dove Rich Moisture Shampoo
Keep your baby's hair and scalp clean, visibly healthy and soft with this moisturising baby shampoo. Hypoallergenic and tear-free.

• A gentle baby shampoo that keeps baby's scalp moisturised and visibly healthy

• As gentle as water, it's hypoallergenic, pH-neutral and tear-free

• Our gentle and safety-tested formula is dermatologist and pediatrician-tested

• Our caring formulas are created without dyes, parabens or phthalates

• Fragrance developed especially for baby's delicate skin

• Suitable for newborns and compatible with eczema prone skin


It's not just the skin on your baby's body that needs looking after – did you know that the scalp is one of the most sensitive areas? That's why we think the best baby shampoos should moisturise as well as cleanse. 

Containing our unique ¼ moisturising cream, Baby Dove Rich Moisture Shampoo goes beyond mildness to help replenish the essential moisture and nutrients that your baby's delicate scalp can lose during bath time.

Tear-free and pH neutral, our baby shampoo is as gentle as water and ophthalmologist, dermatologist and pediatrician-tested, so you don't need to spend bath time worrying about irritation. 

The hypoallergenic, mild cleansers in Baby Dove Rich Moisture Shampoo help keep your baby's hair feeling soft and smelling fresh. 


Aqua,  Glycerin,  Cocamidopropyl Betaine,  Sodium Cocoyl Glycinate,  Polyacrylate-33,  Caprylyl Glycol,  Coconut Acid,  Cyclopentasiloxane,  Cyclotetrasiloxane,  Dimethiconol,  Laureth-23,  Lauric Acid,  Parfum,  Phenoxyethanol,  Sodium Benzoate,  Sodium Chloride,  Sodium Hydroxide,  Sodium Isethionate,  Sodium Lauroyl Isethionate,  Sodium Lauryl Sulfate,  Sodium Palm Kernelate,  Sodium Palmitate,  Sodium Stearate,  Stearic Acid,  Styrene/Acrylates Copolymer,  TEA-Dodecylbenzenesulfonate,  Tetrasodium EDTA,  Zinc Oxide,  Benzyl Alcohol, CI 77891.


Ingredients correct at time of publishing. Always check product packaging.


• A clean, healthy scalp

Keep your baby's sensitive scalp looking and feeling healthy with this baby shampoo. Ophthalmologist, dermatologist and paediatrician-tested, its mild cleansers help care for your baby's scalp and keep it clean.

• Keeping their hair baby-soft

With our unique ¼ moisturising cream, this baby shampoo helps replenish essential moisture and nutrients to keep your baby's hair feeling as soft as the day they were born.

• Daily use

Help keep bathtime stress to a minimum every day with this caring, hypoallergenic and tear-free baby shampoo, with a delicate, comforting scent.


After wetting baby's hair with warm water, start with a small amount of baby shampoo in your hands, and gently massage it into baby's scalp, finishing with a quick rinse.


Because Baby Dove shampoo is so gentle (as gentle as water in fact), bathtime is always tear-free. Why not make your little one laugh instead with a fun foam hat made with all those soft bubbles? 

The best way to care for your baby? Your way
There are no perfect mums. Only real ones