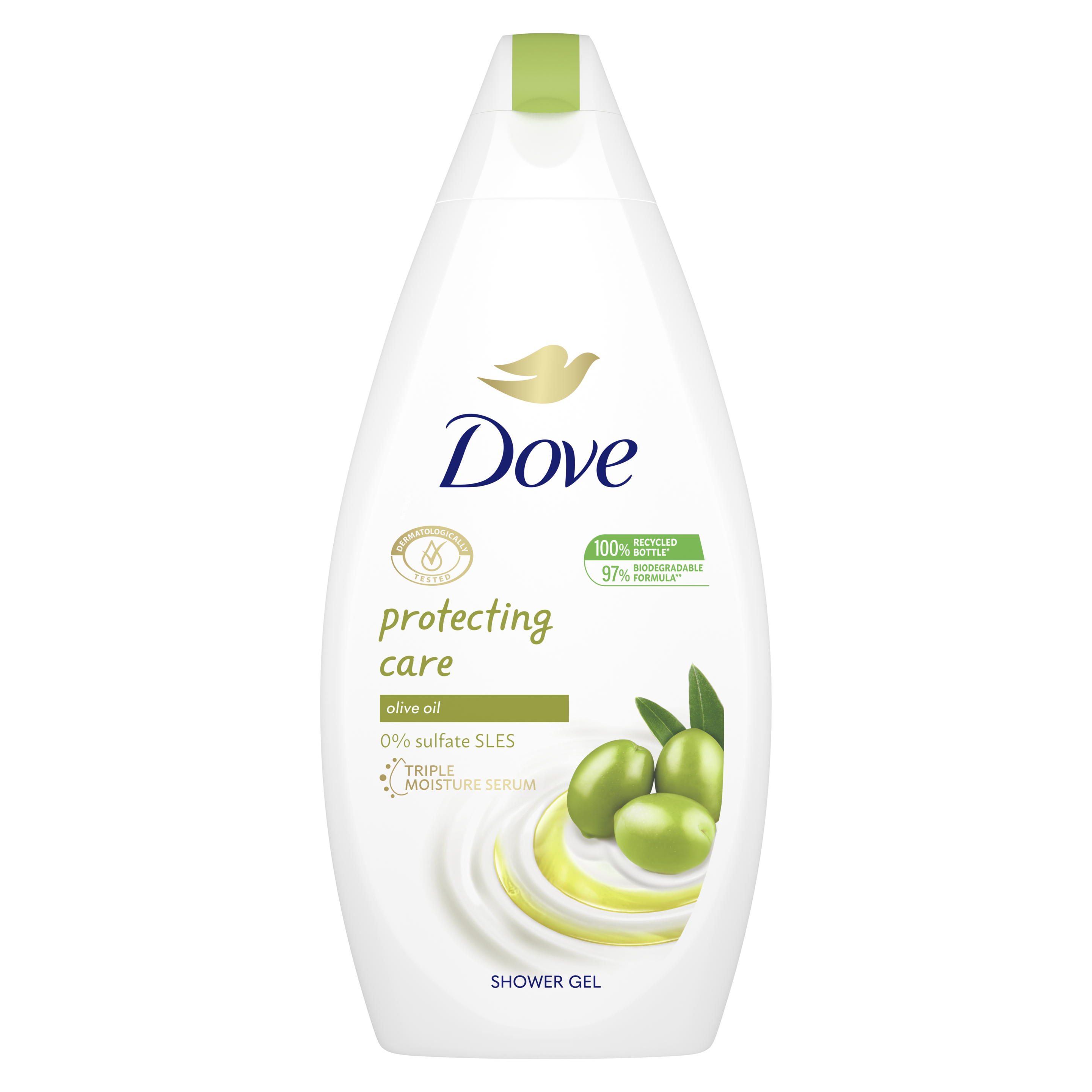 Dove Olive Oil Protecting Care Shower Gel
Dove Protecting Care Shower Gel with Triple Moisture Serum and olive oil nourishes uneven skin in just 1 shower.

• Dermatologically tested Dove Protecting Care Shower Gel gently cleanses and nourishes dry skin.

•  A sulphate-free formula that is more gentle on skin than regular soap.

• Formulated with skin-natural moisturisers to give you lasting nourishment.

• Made with soap-free, naturally derived cleansers and skin-natural moisturisers to help your skin to maintain its natural moisture.


Dermatologically tested Dove Protecting Care Body Wash gently cleanses and nourishes dry skin.

Dove Olive Oil Protecting Care Body Wash is a moisturizing, sulfate-free body wash, with soap free mild cleansers to help retain your skin's natural moisture. The deeply nourishing formula with a combination of Triple Moisture Serum and olive oil protects and nourishes uneven skin in just 1 shower. 

Dove's specialised formula contains a blend of plant-based moisturizers and skin-natural nutrients that help maintain natural moisture and deliver skin nourishment while gently cleansing. This dermatologically tested body wash helps to minimise dryness and nourishes deep beneath the surface layers of your skin, leaving you with softer, smoother feeling skin. Indulge in pampering body care with this nourishing wash with olive oil.

For an exhilarating daily bathing and skin care routine, simply squeeze a little of this body wash onto a loofah and massage the creamy, rich lather over your skin before rinsing away thoroughly. This Dove body wash creates a rich and creamy lather that cares for and softens skin while you bathe so you step out of the shower feeling luxuriously clean, smooth and soft.

Dove body wash is made with a 97% biodegradable formula* and packaged in 100% recycled** bottles.

*OECD test methods 301, 302, or 310.
**Bottle excluding cap. 


Aqua, Cocamidopropyl Betaine, Sodium Hydroxypropyl Starch Phosphate, Laurie Acid, Sodium Lauroyl Glycinate, Sodium Lauroyl lsethionate, Sodium Chloride, Glycerin, Hydrogenated Soybean Oil, Parfum, Helianthus Annuus Seed Oil, Sodium Benzoate, Guar Hydroxypropyltrimonium Chloride, Sodium Hydroxide, Citric Acid, Stearic Acid, Capryloyl Glycine, Undecylenoyl Glycine, Sodium lsethionate, Palmitic Acid, Tetrasodium EDTA, Caprylic Acid, Capric Acid, Olea Europaea Fruit Oil, Hydroxystearic Acid, Benzyl Salicylate, Citronellol, Geraniol, Hexyl Cinnamal, Limonene, Linalool.


Ingredients correct at time of publishing. Always check product packaging.


• Sensitive prone skin that requires a gentle cleanse to leave you with soft, nourished skin

• A much more gentle cleanse on skin vs regular soap

• Delivering skin-natural nutrients to the skin

• Delivering a mild and gentle fragrance

• Helping to maintain the skin's natural moisture with the soap-free formula


Simply squeeze a generous amount of shower gel onto your hands or a shower pouf and enjoy the lather and refreshing scent before rinsing.


Use in your daily shower for soft, smooth skin. Dove's range of body washes includes fragrance combinations for every mood. You'll find invigorating, refreshing fragrances to wake you up for a bright day, and soothing, pampering fragrances to help you relax and unwind. 

When it comes to your body, love the one you're with
Beauty is an all-ages show