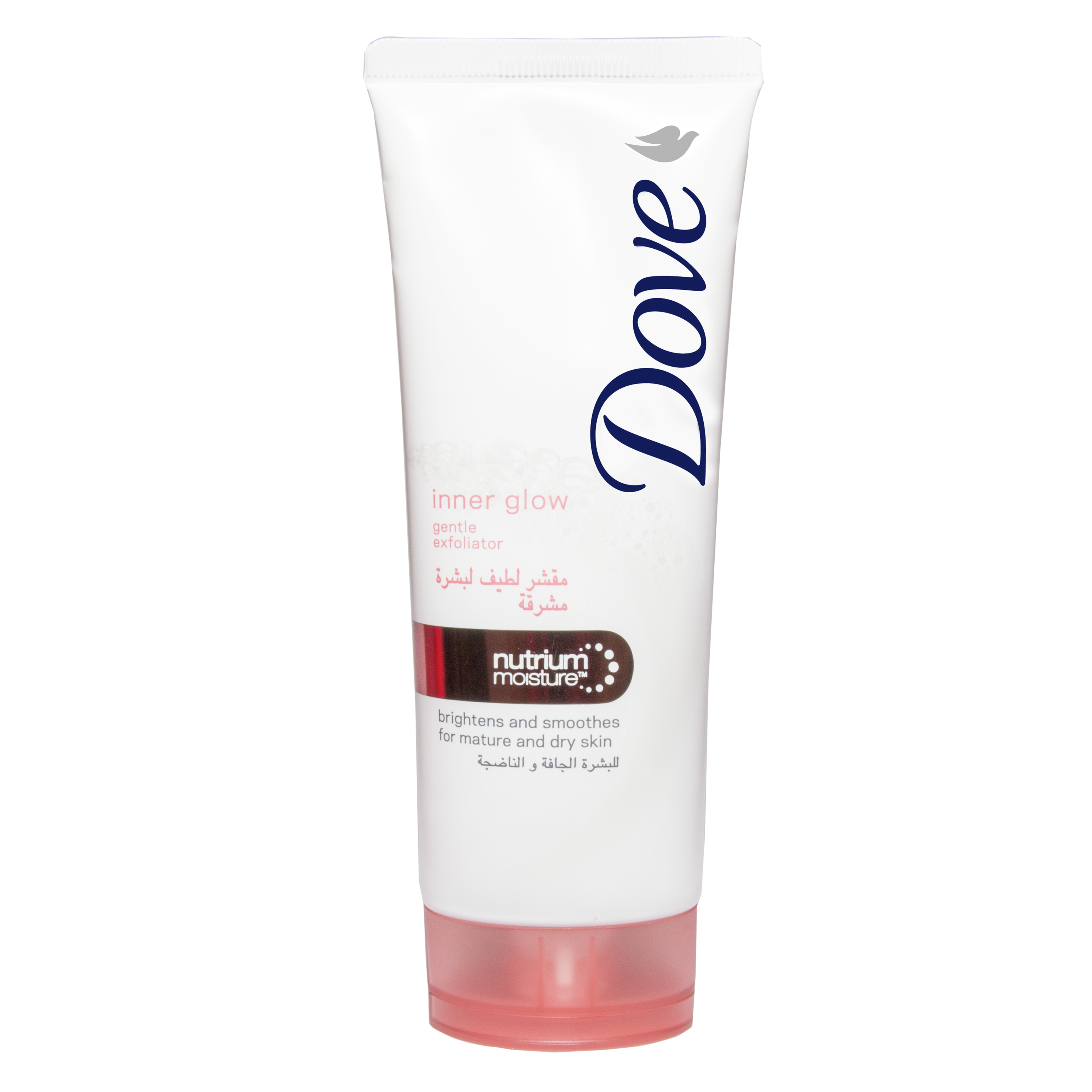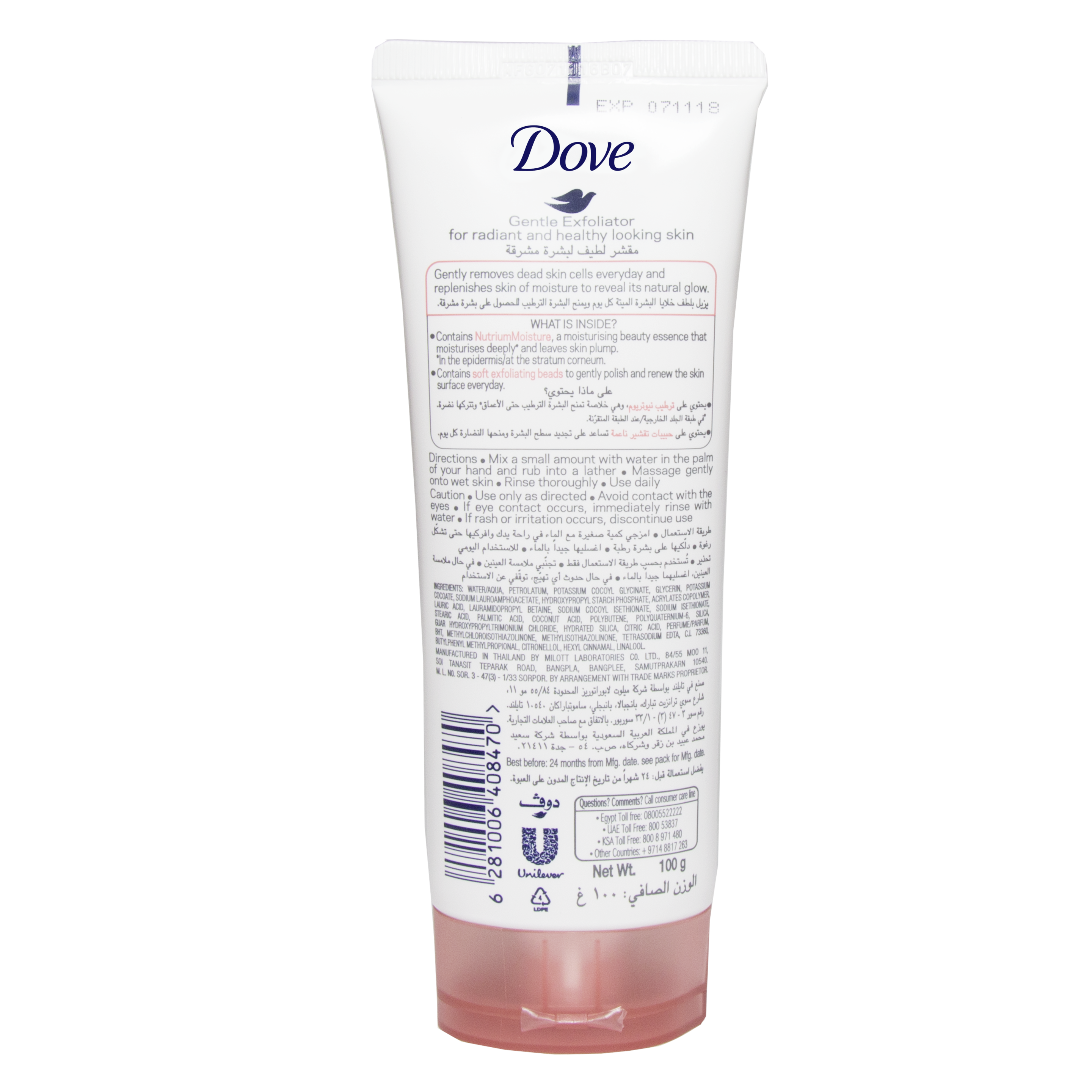 Inner Glow Gentle Exfoliator Face Wash
Reveal your skin's natural radiance with Dove Inner Glow, formulated to gently exfoliate skin.

• Dove Inner Glow Face Wash formulated for smooth and glowing skin

• Gently removes dead skin cells to boost dull, tired skin

• With NutriumMoisture™ Beauty Serum* to nourish skin deeply**

• Moisturises skin to reveal its natural radiance

• Dermatologically tested, suitable for normal skin

• Delicate floral fragrance


Plenty to do this week? Next one as well? When busy day-to-day life takes its toll on your complexion, a harsh face scrub isn't the solution. For skin lacking luminosity, you need a reviving face wash and kind-to-skin gentle exfoliator in one – just like Dove Inner Glow Gentle Exfoliating Face Wash.

This mild Dove face wash exfoliates to softly remove dead skin cells and cleanse skin, revealing its natural, healthy glow. Enriched with NutriumMoisture™ Beauty serum*, this gentle exfoliating cleanser nourishes and moisturises, refining skin texture to leave it feeling fuller and looking smooth. 

If your skin isn't its bright and beautiful self, it doesn't need to stay that way. Revitalise your skin for a brighter, healthier looking complexion with this nourishing face cleanser. 

*Moisture Ingredient 
**Within stratum corneum 


Water, Petrolatum, Potassium Cocoyl Glycinate, Glycerin, Potassium Cocoate, Sodium Lauroamphoacetate, Hydroxypropyl Starch Phosphate, Acrylates Copolymer, Lauric Acid, Lauramidopropyl Betaine, Sodium Cocoyl Isethionate, Sodium Isethionate, Stearic Acid, Palmitic Acid, Coconut Acid, Polybutene, Polyquaternium-6, Silica, Guar Hydroxypropyltrimonium Chloride, Hydrated Silica, Citric Acid, Perfume, BHT, Methylchloroisothiazolinone, Methylisothiazolinone, Tetrasodium EDTA, CI 73360, Butylphenyl Methylpropional, Cintronellol, Hexyl Cinnamal, Linalool.


• Reviving dull, tired or mature skin
Day-to-day life and ageing can take its toll on our skin, leaving it looking a little dull or tired. If your complexion is in need of a boost, Dove Inner Glow buffs away the dead cells that can block out your natural glow, leaving a smooth surface that reflects the light to leave you with skin full of luminosity

• Deeply nourishing skin
There's a reason this mild facial cleanser is better for your skin than a harsh face scrub. Not only is it formulated to softly cleanse and exfoliate skin, but our NutriumMoisture™ Beauty Serum* nourishes skin deeply** to restore its natural moisture

• A skin-brightening boost
Lacking that radiant look? We can help bring it back. Dove Inner Glow Gentle Exfoliating Face Wash polishes and refines skin texture to leave it fuller, smoother and brighter-looking after every cleanse

*Moisture Ingredient 
**Within stratum corneum


Perfect for daily use, mix a small amount of this mild facial cleanser with water in the palm of your hand and rub into a lather. Wet face, then massage on with light pressure to gently exfoliate skin. Rinse thoroughly to reveal your skin's natural glow. Use daily.


Once you've gently exfoliated, cleansed and nourished your skin with Dove Inner Glow Gentle Exfoliating Face Wash, there's only one thing left to do: lock in the moisture to enhance the natural glow this Dove face wash gives you. Try applying a rich moisturiser lightly to your face after cleansing, while skin is still damp, to build up that soft, smooth texture.


When it comes to your body, love the one you're with
Beauty is an all-ages show