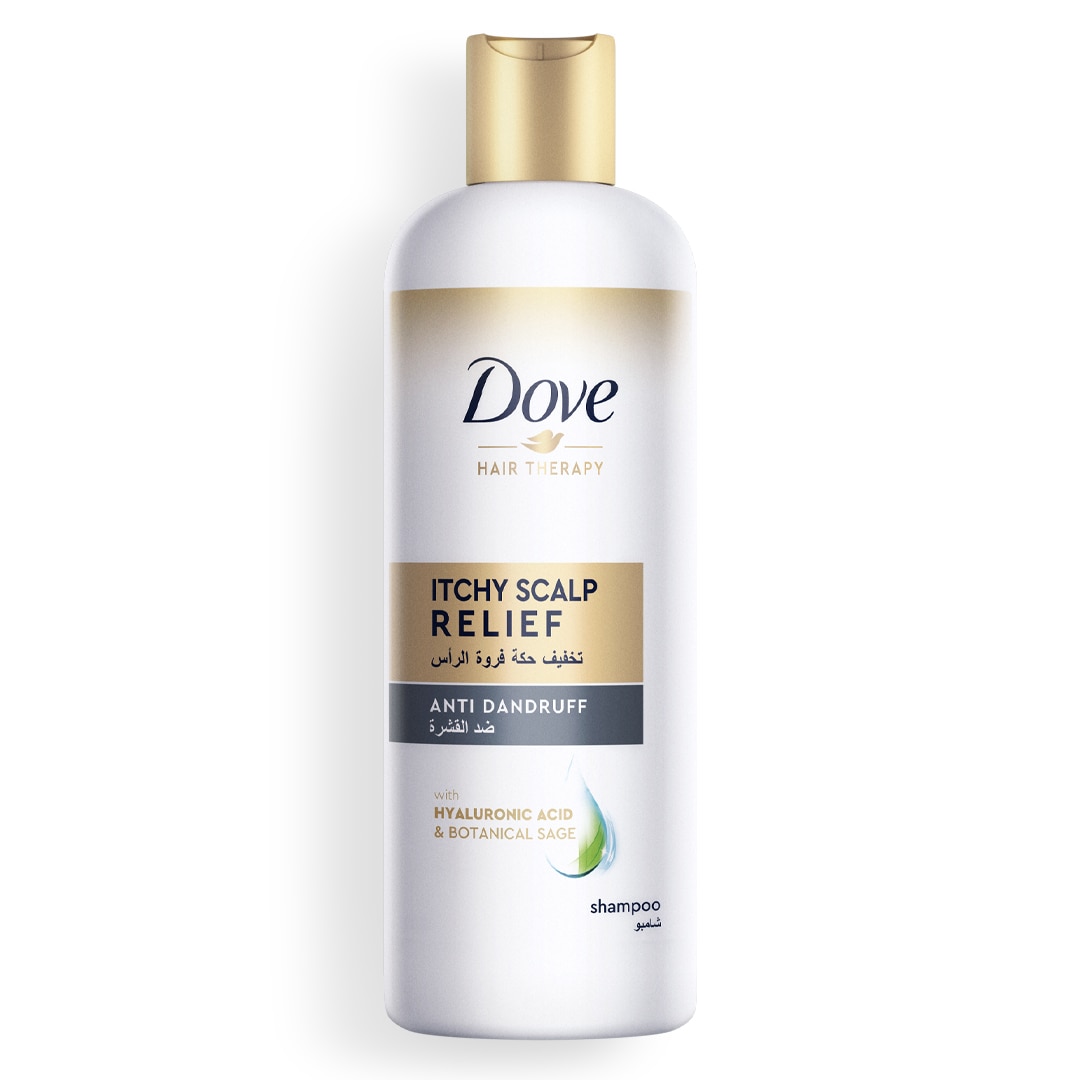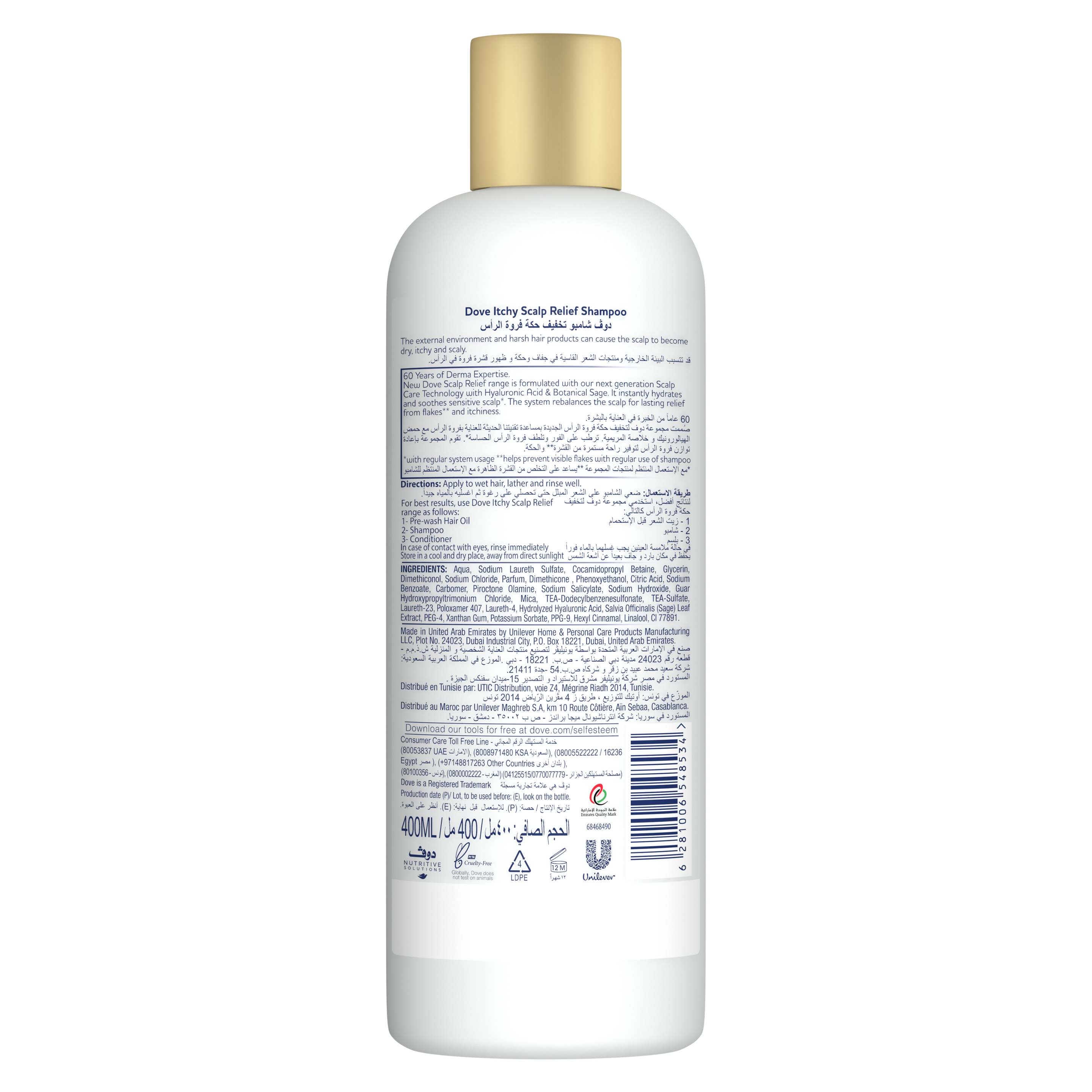 Dove Hair Therapy Itchy Scalp Relief Shampoo
The New Dove Itchy Scalp Relief range is formulated with our next generation Scalp Care technology with Hyaluronic Acid & Botanical Sage. It rebalances, hydrates and soothes the scalp for lasting relief from flakes** and itchiness.

•100% Dandruff Free and Smooth Hair.

•Lasting relief from flakes*** and itchiness. 

•Instantly hydrates and soothes scalp & hair.

•Botanical Sage for antimicrobial properties and soothing scalp.

•Hyaluronic Acid that instantly hydrates and soothes sensitive scalp for lasting relief from itchiness.

•Effective against harsh external environment


t's amazing when your day goes the way you planned, without any hitch or distraction whatsoever. Just smooth sailing from the moment you wake up. 

New Dove Hair Therapy Itchy Scalp Relief Range is to help you with just that. Plan your day, your way,  without worrying about dandruff or itchy, flaky scalp. 

The new Dove Hair Therapy Anti Dandruff Shampoo is formulated with unique Hyaluronic Acid & Botanical Sage. This helps to instantly hydrate and soothe dry scalp and hair, while effectively tackling dandruff too. The shampoo and conditioner, when combined with the pre-wash Itchy Scalp Relief Oil in your hair care routine, further helps to keep hair nourished and strong from the tips down to the roots. 

The range rebalances the scalp for lasting relief from flakes** and itchiness.

So make the most of your day with hair that is 100% dandruff free and 100% soft*. 
Try new Dove Itchy Scalp Relief Anti Dandruff Shampoo and enjoy your hair your way with Dove.


*Compared to non-treated hair
**No visible flakes with regular use 


Aqua, Sodium Laureth Sulfate, Cocamidopropyl Betaine, Glycerin, Dimethiconol, Sodium Chloride, Parfum, Dimethicone , Phenoxyethanol, Citric Acid, Sodium Benzoate, Carbomer, Piroctone Olamine, Sodium Salicylate, Sodium Hydroxide, Guar Hydroxypropyltrimonium Chloride, Mica, TEA-Dodecylbenzenesulfonate, TEA-Sulfate, Laureth-23, Poloxamer 407, Laureth-4, Hydrolyzed Hyaluronic Acid, Salvia Officinalis (Sage) Leaf Extract, PEG-4, Xanthan Gum, Potassium Sorbate, PPG-9, CI 77891, Hexyl Cinnamal, Linalool.


Directions: Apply to wet hair, lather and rinse well.


For best results, use Dove Itchy Scalp Relief system as follows:
1- Pre-wash Hair Oil  
2- Shampoo 
3- Conditioner


When it comes to your body, love the one you're with
Beauty is an all-ages show