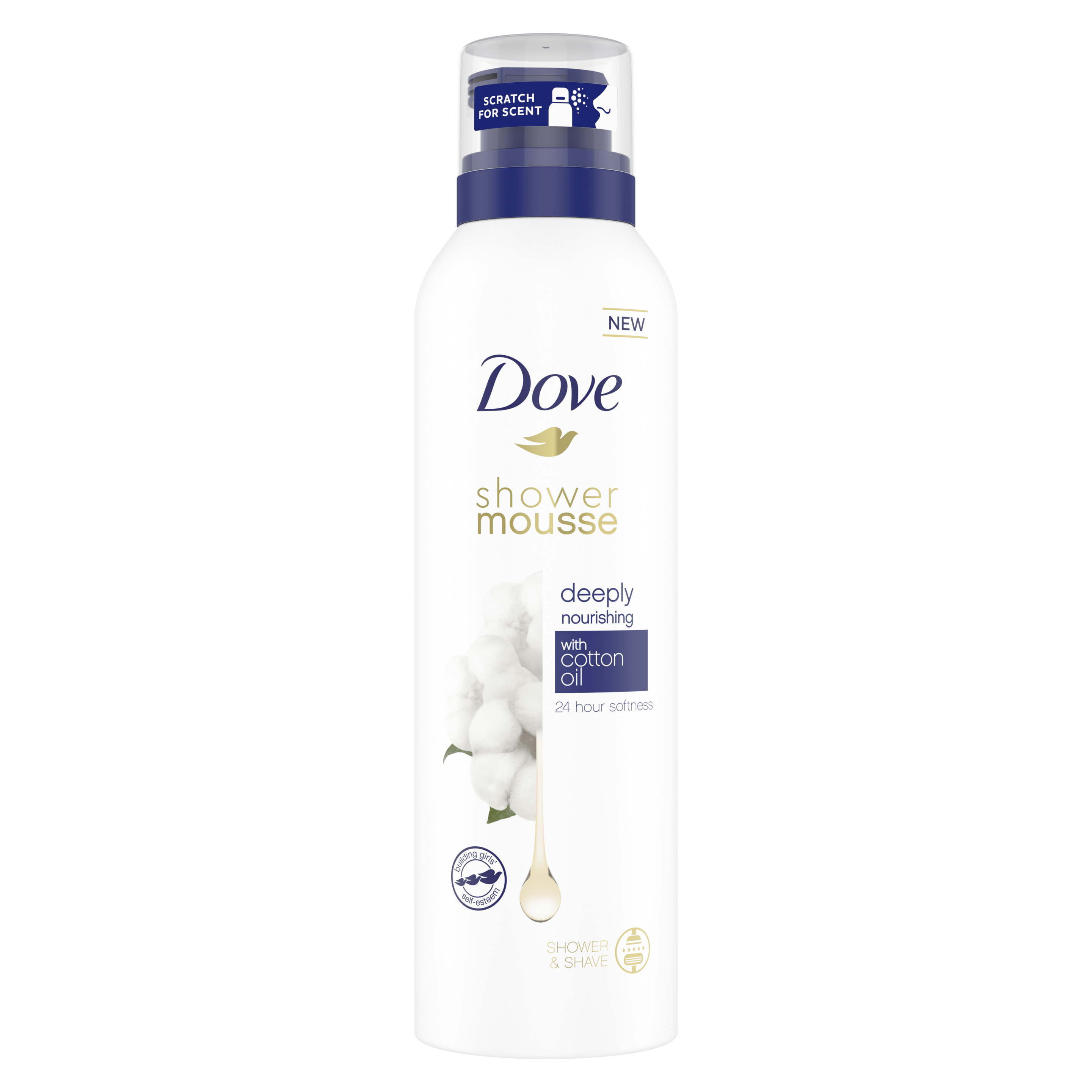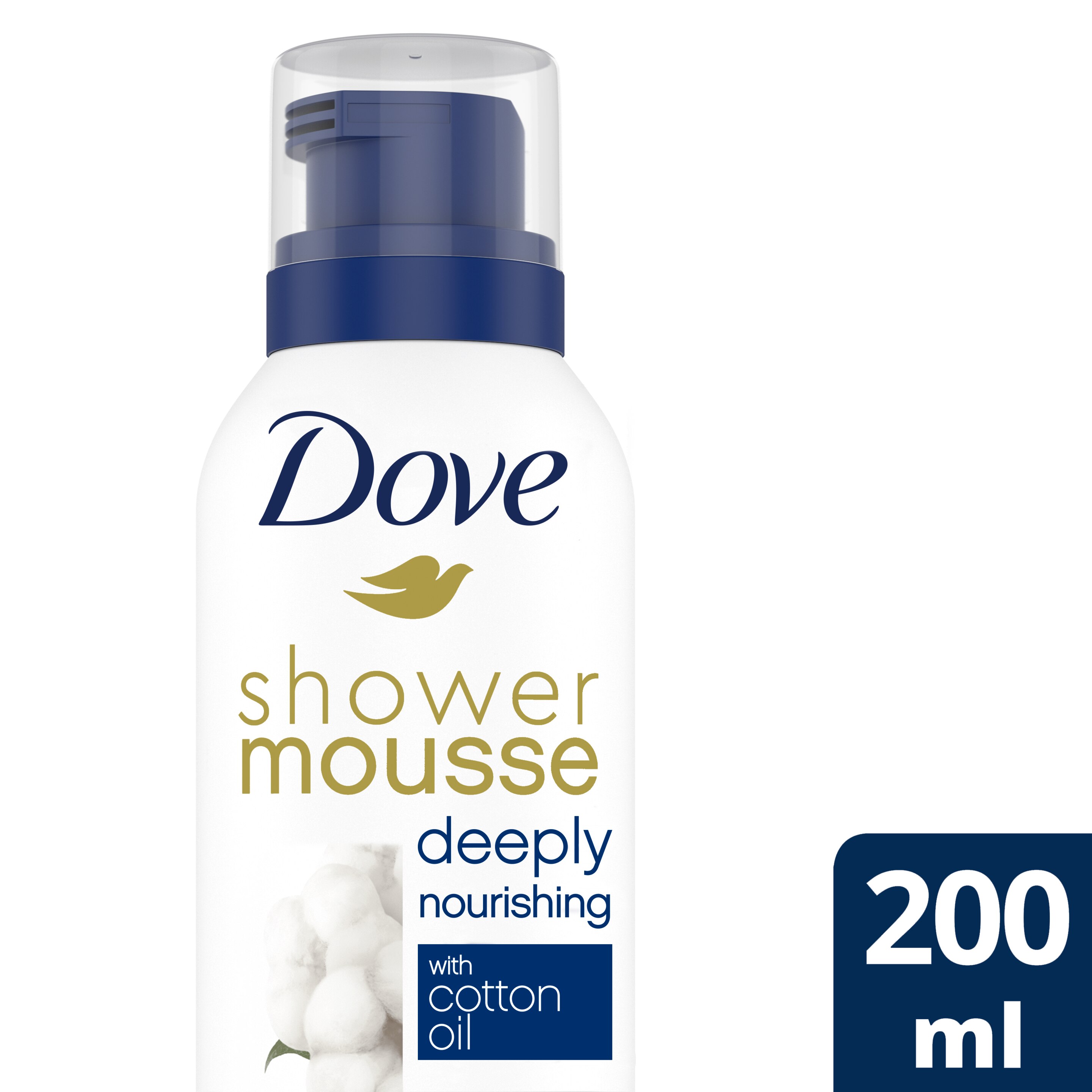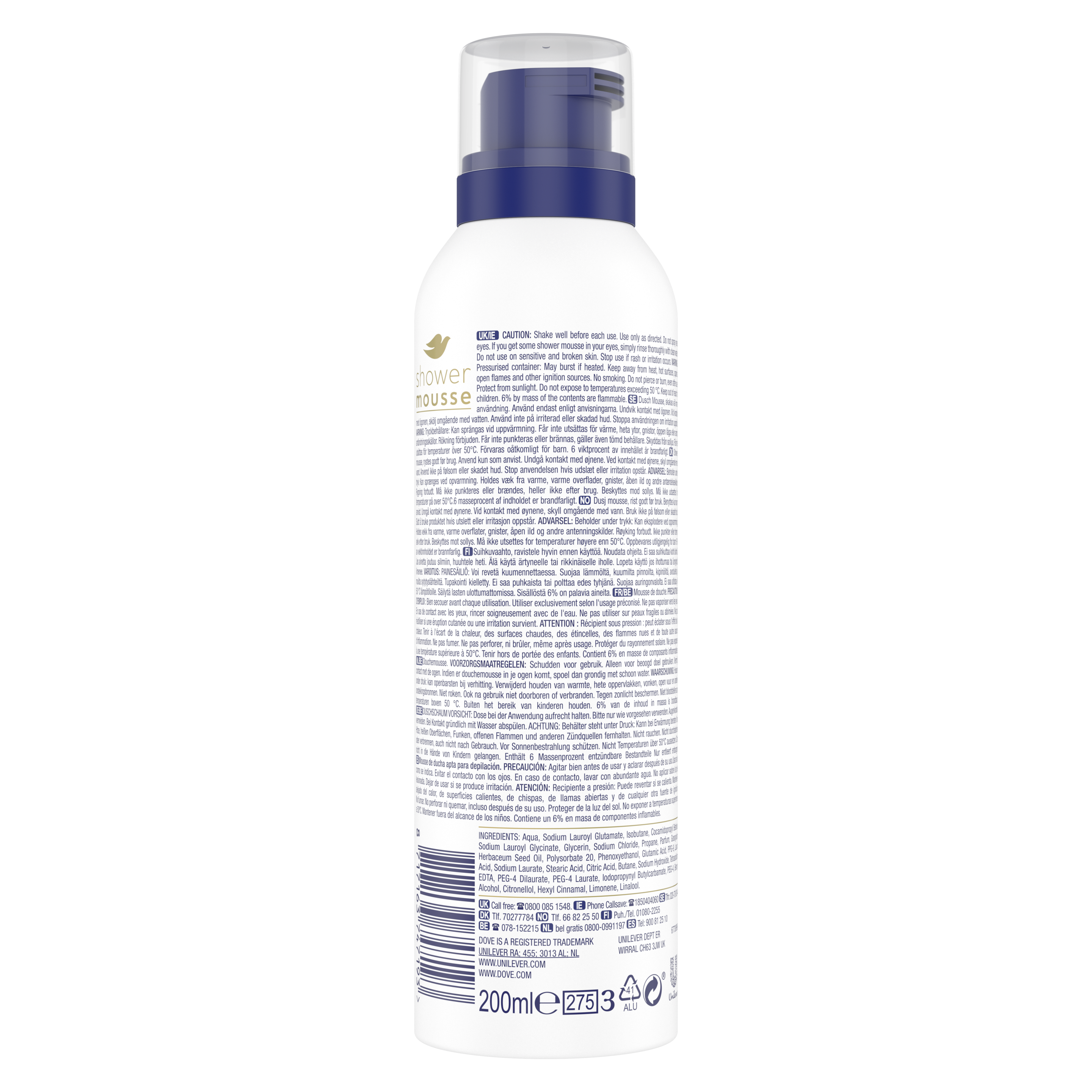 Deeply Nourishing Shower and Shave Mousse
With this shower mousse, enjoy a pampering experience that leaves your skin nourished, smooth and beautifully scented.

• Gently cleanses and nourishes skin, leaving it clean and soft

• Infused with cotton oil 

• Shower and Shave Mousse helps to prevent dryness 

• Caring formula helps to restore skin's natural moisture barrier 

• Rich, creamy formula creates the perfect lather for shaving 

• Creamy cotton scent cocoons you in beautiful fragrance


Envelope your skin in care and your senses in beautiful scent with Dove Shower & Shave Mousse. An indulgent mousse formula infused with cotton oil, our shower foam is the perfect way to create a shower experience you'll love.

Made with gentle  cleansers, our nourishing body wash wraps your body in a rich, creamy lather – making it perfect for shaving, too. Enriched with natural cotton oil, the formula of this Dove shower mousse is specially designed to instantly restore your skin's natural moisture barrier, quenching dryness and leaving skin radiant. Cocooning you in a soothing cotton scent, with our shower and shave mousse your skin is left soft, smooth and beautifully scented with every shower. 


Aqua, Sodium Lauroyl Glutamate, Isobutane, Cocamidopropyl Betaine, Sodium Lauroyl Glycinate, Glycerin, Sodium Chloride, Propane, Parfum, Gossypium Herbaceum Seed Oil, Polysorbate 20, Phenoxyethanol, Glutamic Acid, PPG-9, Lauric Acid,  Sodium Laurate, Stearic Acid, Citric Acid, Butane, Sodium Hydroxide, Tetrasodium EDTA, PEG-4 Dilaurate, PEG-4 Laurate, Iodopropynyl Butylcarbamate, PEG-4, Benzyl Alcohol, Citronellol, Hexyl Cinnamal, Limonene, Linalool.


• Softer, smoother skin
This nourishing mousse has been specifically designed to gently care for your skin, leaving it feeling clean and silky soft with every shower

• Beautifully scented skin
Looking for a beautifully scented shower mousse? Infused with natural oils and a creamy cotton scent, our mousse formula cocoons you in a unforgettable fragrance that stays with you all day

• Delicately moisturised skin
Our oil-enriched formula works to restore your skin's natural moisture barrier, helping to quench dryness and leaving your skin feeling beautifully nourished


Shake well before use. Press the top to release a generous amount of mousse to coat your skin, using it to shave if you wish. Use only as directed. Do not spray near eyes. If you get some shower mousse in your eyes, simply rinse thoroughly with clean water.


Want softer, smoother skin? With our Dove Deeply Nourishing Shower and Shave Mousse we're confident you'll see and feel the difference. Use our nourishing mousse every time you shower for beautifully soft, healthy-looking skin. 

Is there anything else we can help you discover?
When it comes to your body, love the one you're with
Beauty is an all-ages show