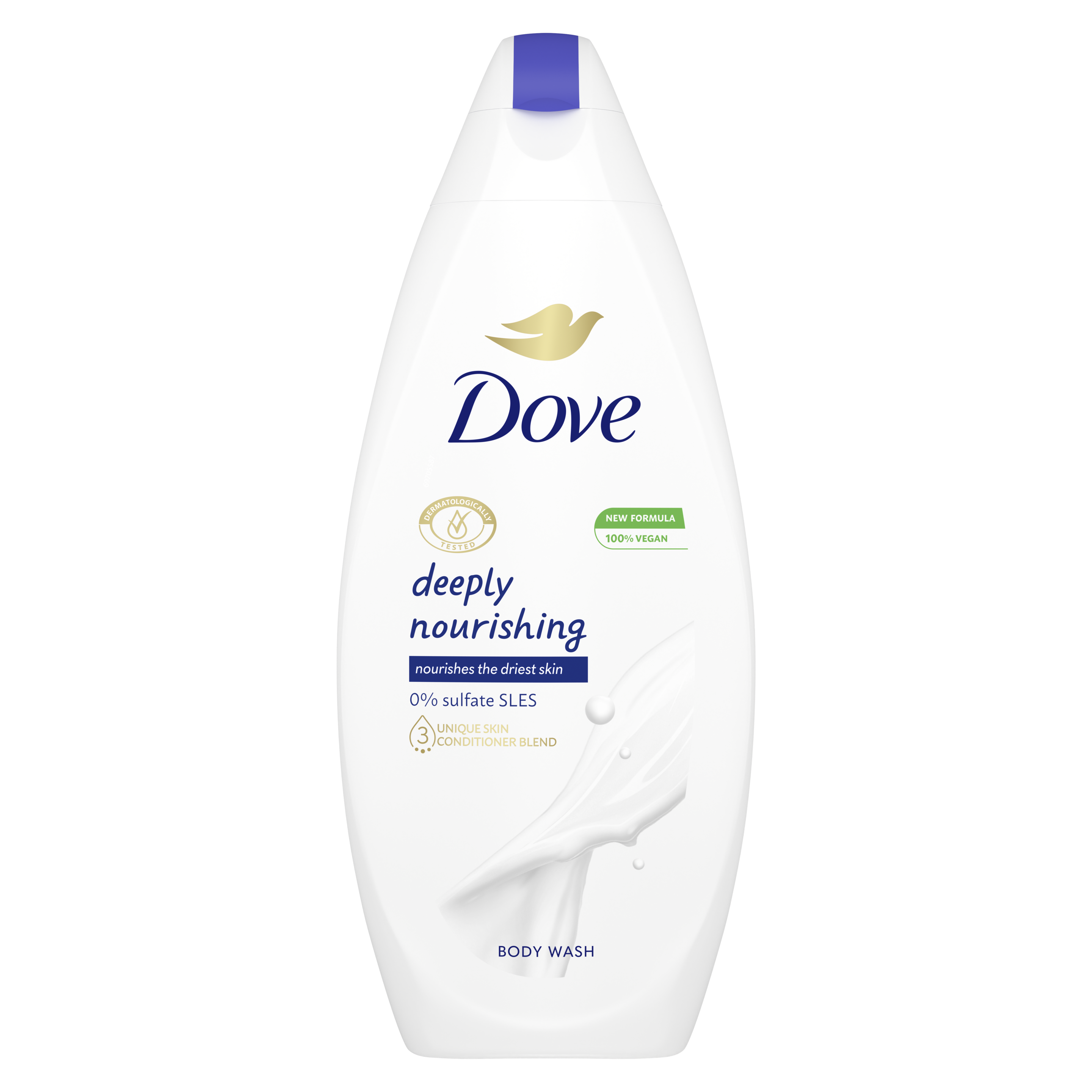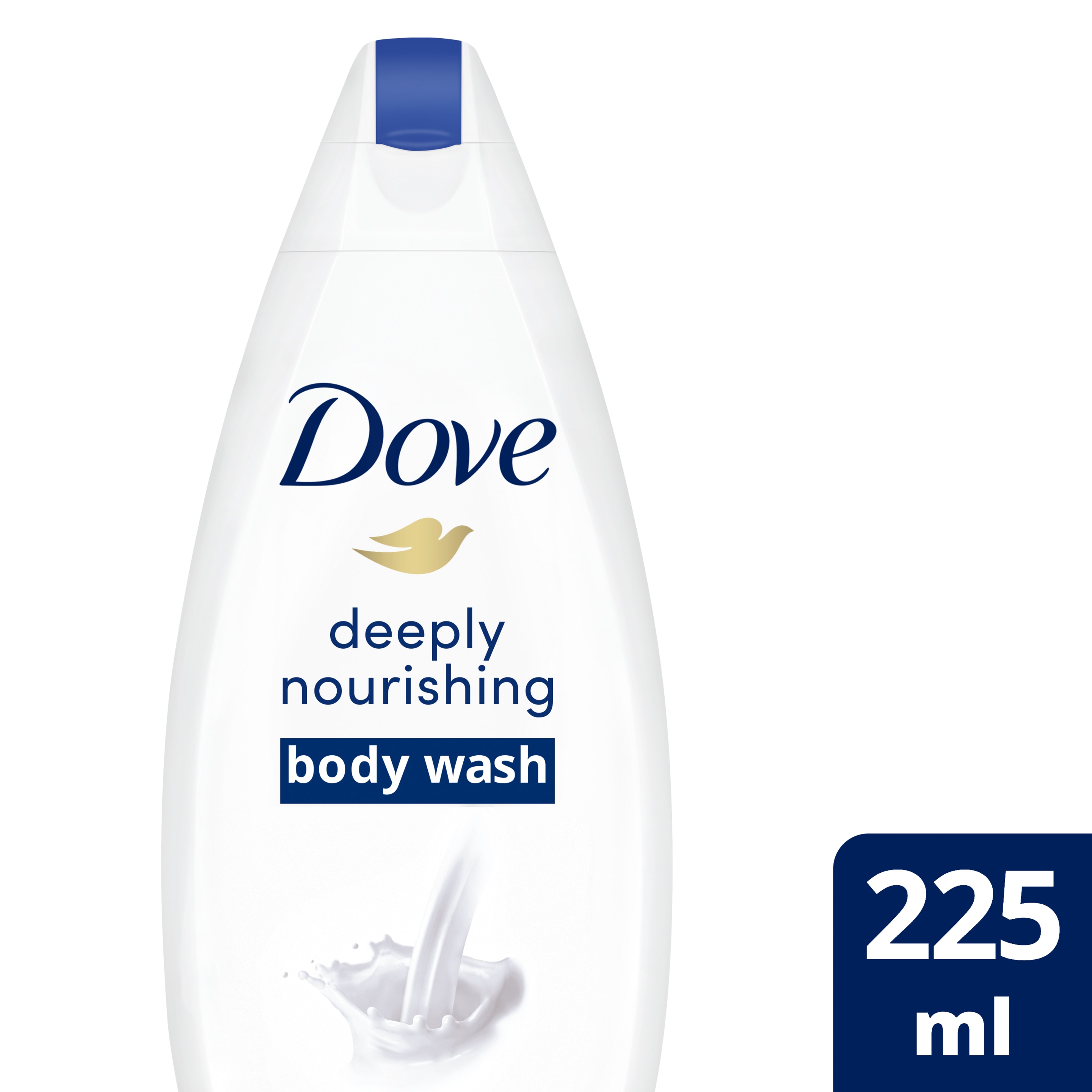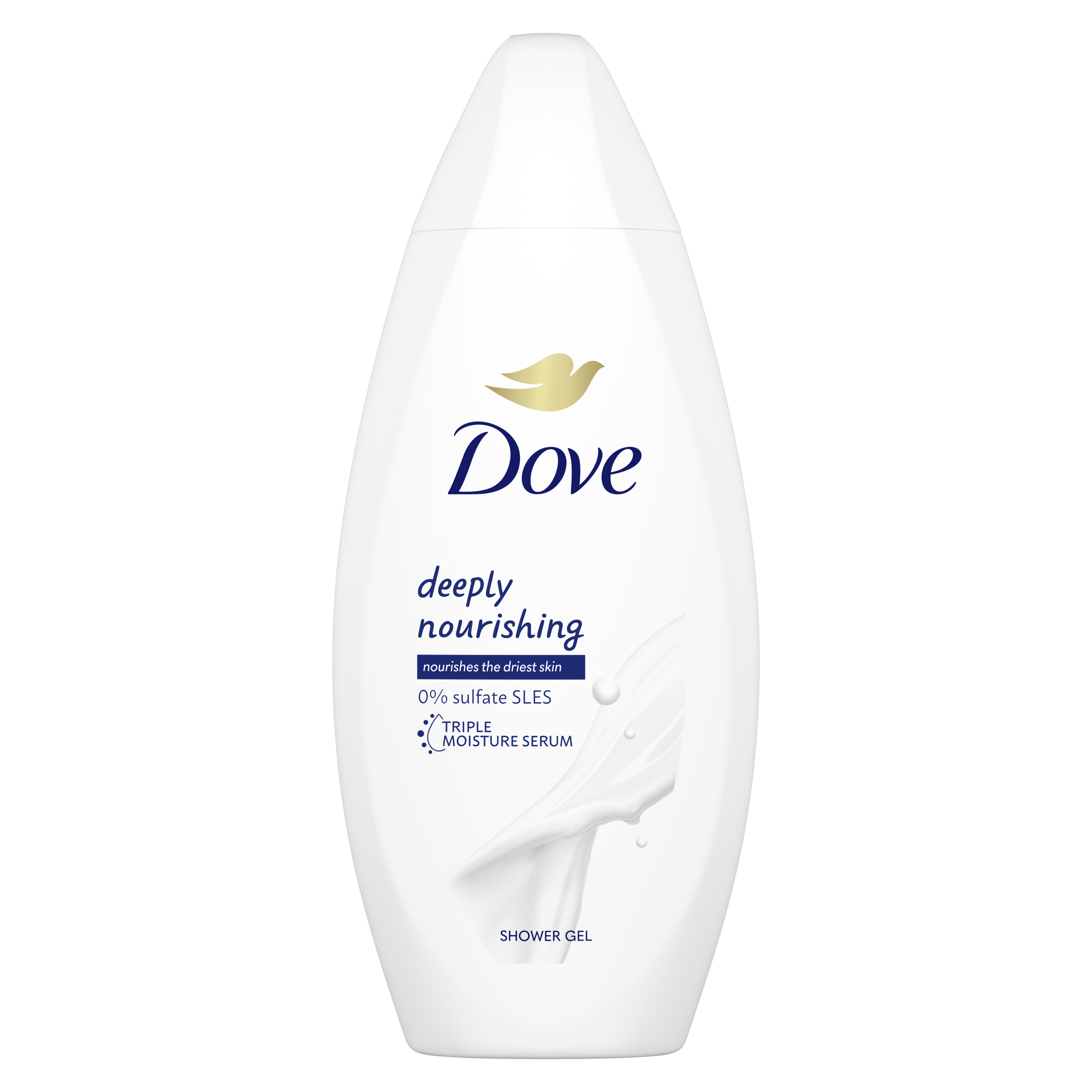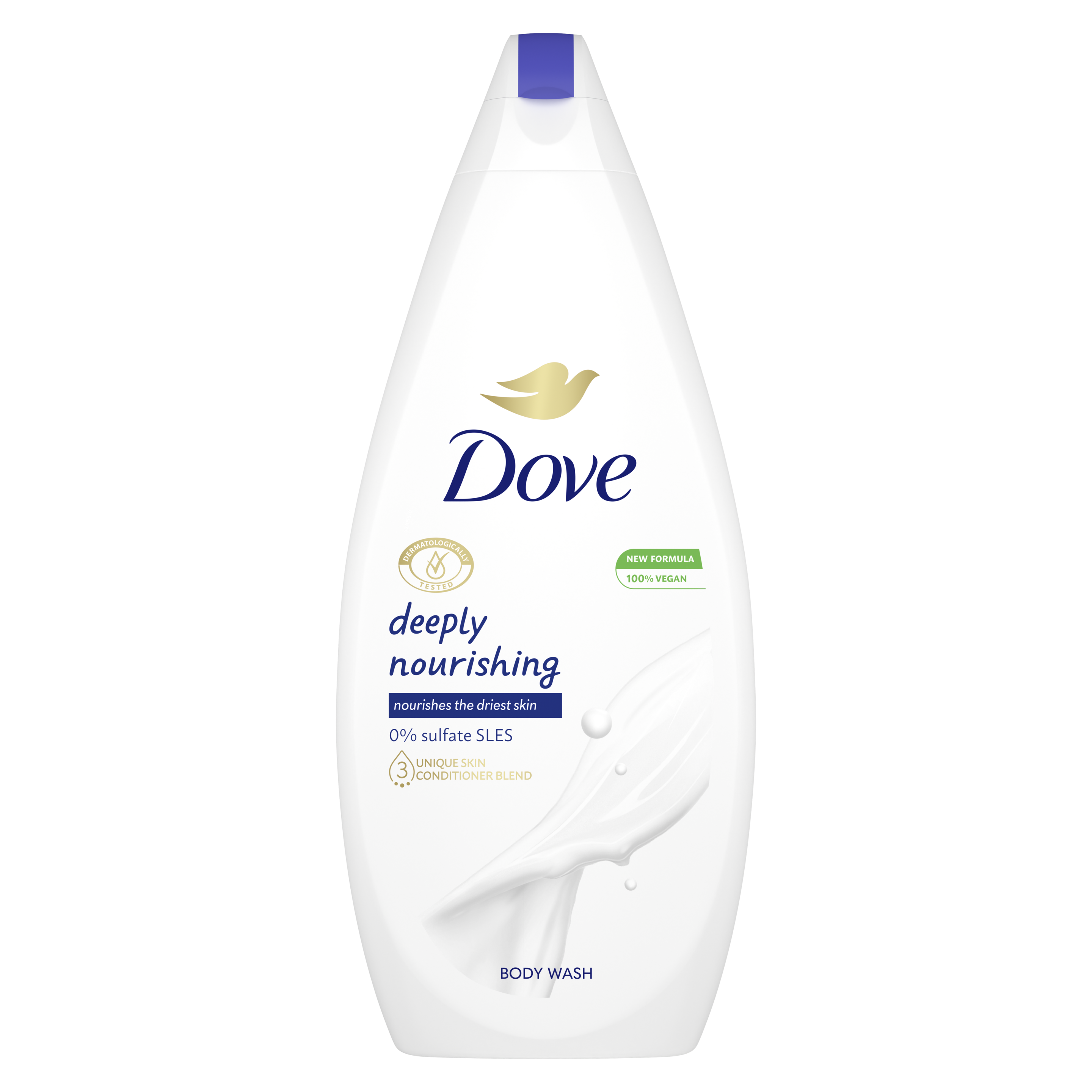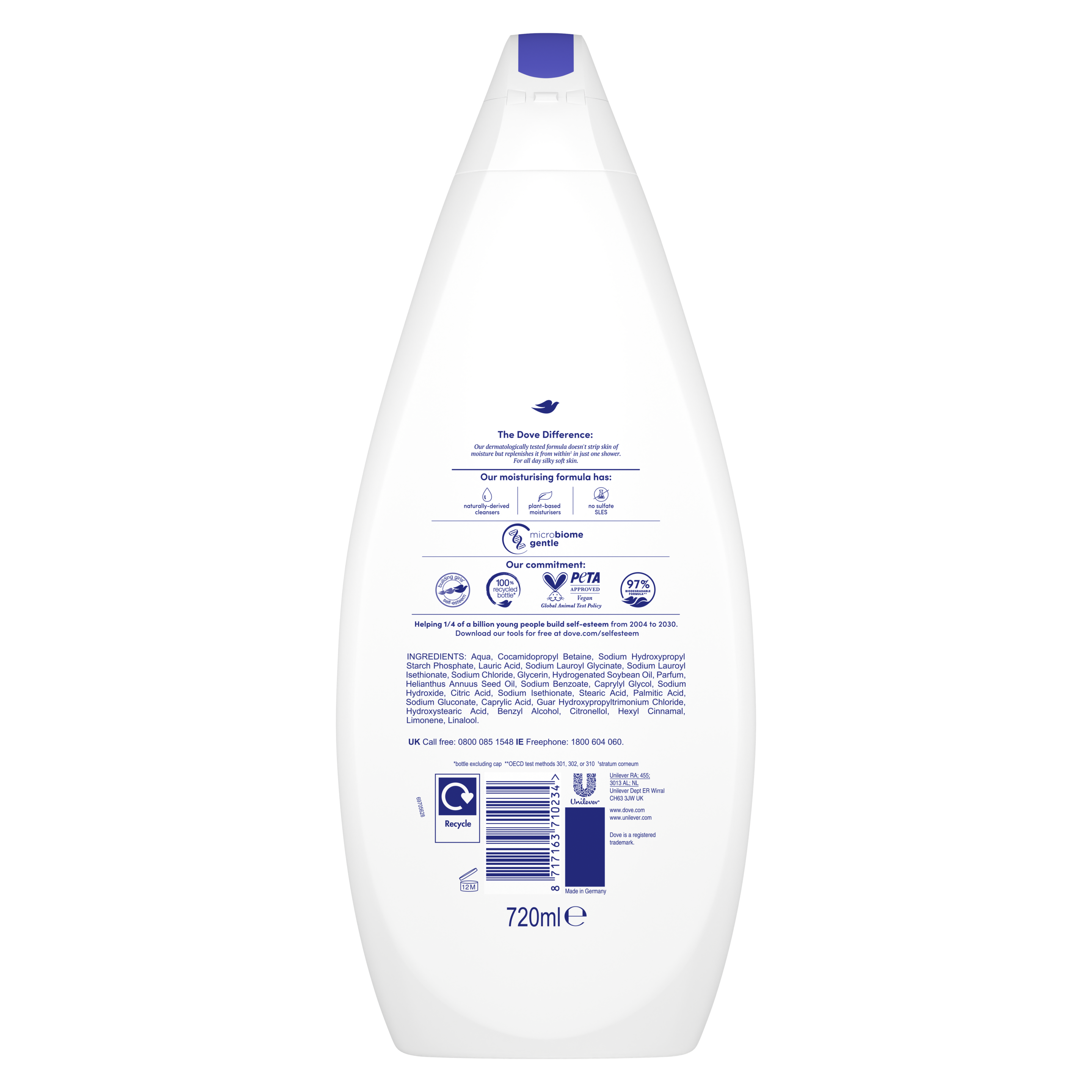 Deeply Nourishing Body Wash
Enjoy instantly soft skin and lasting nourishment with Dove Deeply Nourishing Body Wash.

• Dove Deeply Nourishing Body Wash reveals instantly softer skin

• The moisturising body wash gives long-lasting nourishment

• Skin-natural moisturisers help with taking care of dry skin

• Sulfate-SLES-free body wash respects your skin microbiome

• Nourishing body wash with a fresh, caring fragrance

• Dermatologically-tested body wash


If you're wondering how to hydrate skin, finding the right body wash for dry skin is a great place to start. With the rich, creamy lather of Dove Deeply Nourishing Body Wash, you can transform your shower into a caring ritual for your skin every time – and reveal instantly soft skin day in, day out.

If you ask us, the best moisturising body wash is designed to be ultra-nourishing – that's why this Dove body wash is made with plant-based moisturiser. And blended together with naturally-derived gentle cleansers, this sulfate-SLES-free Dove body wash is kind to your microbiome – your skin's living protective layer. Skin-natural moisturisers with the formula go deep into skin, working with your skin's natural processes to renew skin moisture. So your skin gets the lasting care it deserves, wash after wash. 


Aqua, Cocamidopropyl Betaine, Sodium Hydroxypropyl Starch Phosphate, Lauric Acid, Sodium Lauroyl Glycinate, Sodium Lauroyl Isethionate, Sodium Chloride, Glycerin, Hydrogenated Soybean Oil, Parfum, Helianthus Annuus Seed Oil, Sodium Benzoate, Sodium Hydroxide, Citric Acid, Stearic Acid, Guar Hydroxypropyltrimonium Chloride, Undecylenoyl Glycine, Capryloyl Glycine, Sodium Isethionate, Palmitic Acid, Tetrasodium EDTA, Caprylic Acid, Capric Acid, Hydroxystearic Acid, Benzyl Alcohol, Citronellol, Hexyl Cinnamal, Limonene, Linalool..


• Deep moisture for your skin
Do you know how to keep skin hydrated? This rich body wash has the ultimate nourishing formula. With a blend of naturally derived cleansers and skin-natural moisturisers, our formula goes deep into skin to help renew its natural moisture

• Gentle cleansing
Wondering how to get soft skin? Mild and creamy, this sulfate-SLES-free body wash respects your skin's microbiome. The formula is packed with naturally-derived gentle cleanser and skin-natural nutrients for a nourishing, caring shower experience

• Daily use
This rich body wash promises a caring start to your day: moisturising skin to leave you with an instantly softer, smoother feel long after you've stepped out of the shower


Squeeze Dove Deeply Nourishing Body Wash into your palms or onto a shower pouf. Massage the nourishing formula onto your skin and rinse off to reveal soft, smooth skin, and take a moment to enjoy the fresh scent.


Your shower is the perfect first step to lock-in moisture for your skin, because damp skin is more receptive to lotions and serums. After you step out of your shower, apply your favourite Dove moisturiser to make the most of our Deeply Nourishing Body Wash. 

Is there anything else we can help you discover?
When it comes to your body, love the one you're with
Beauty is an all-ages show