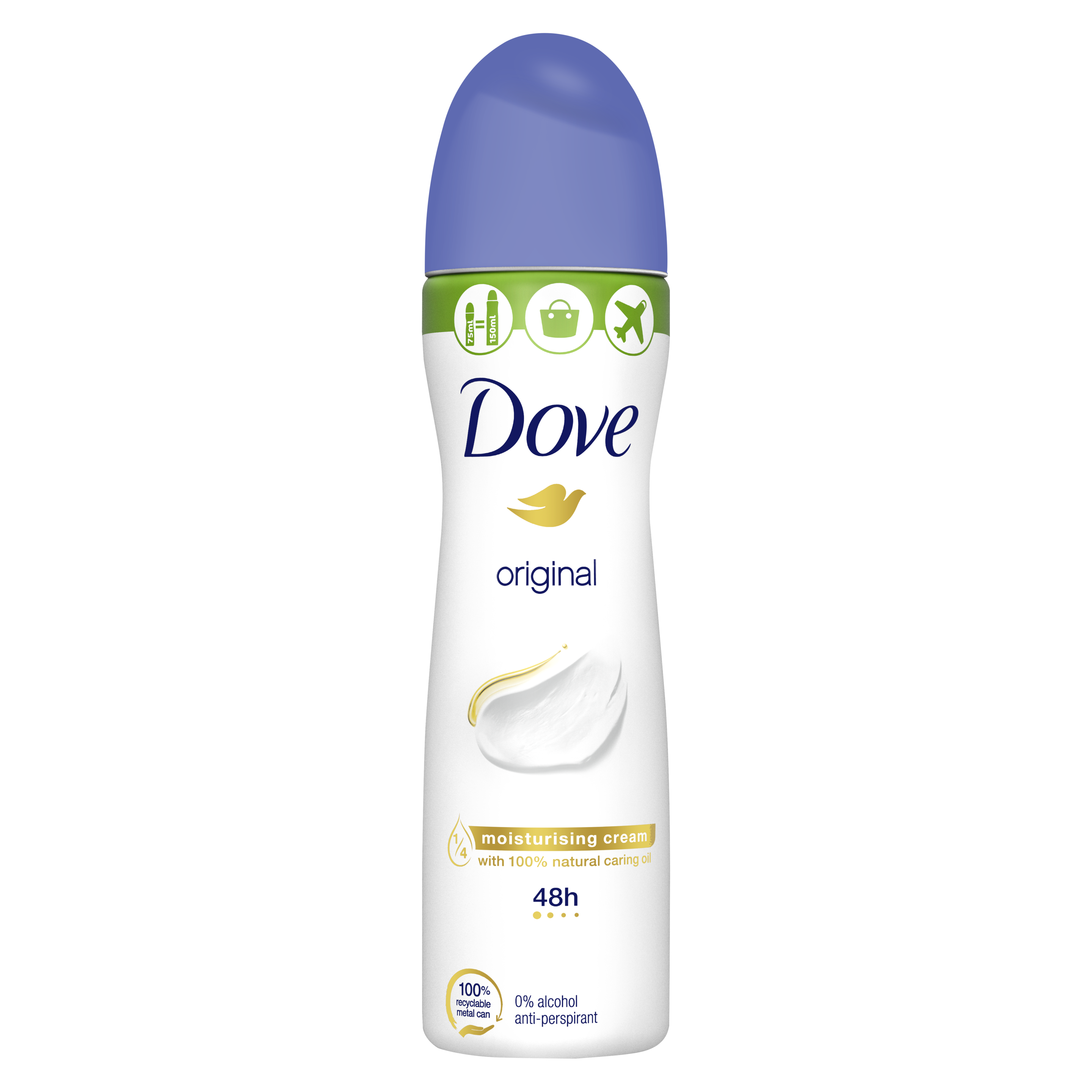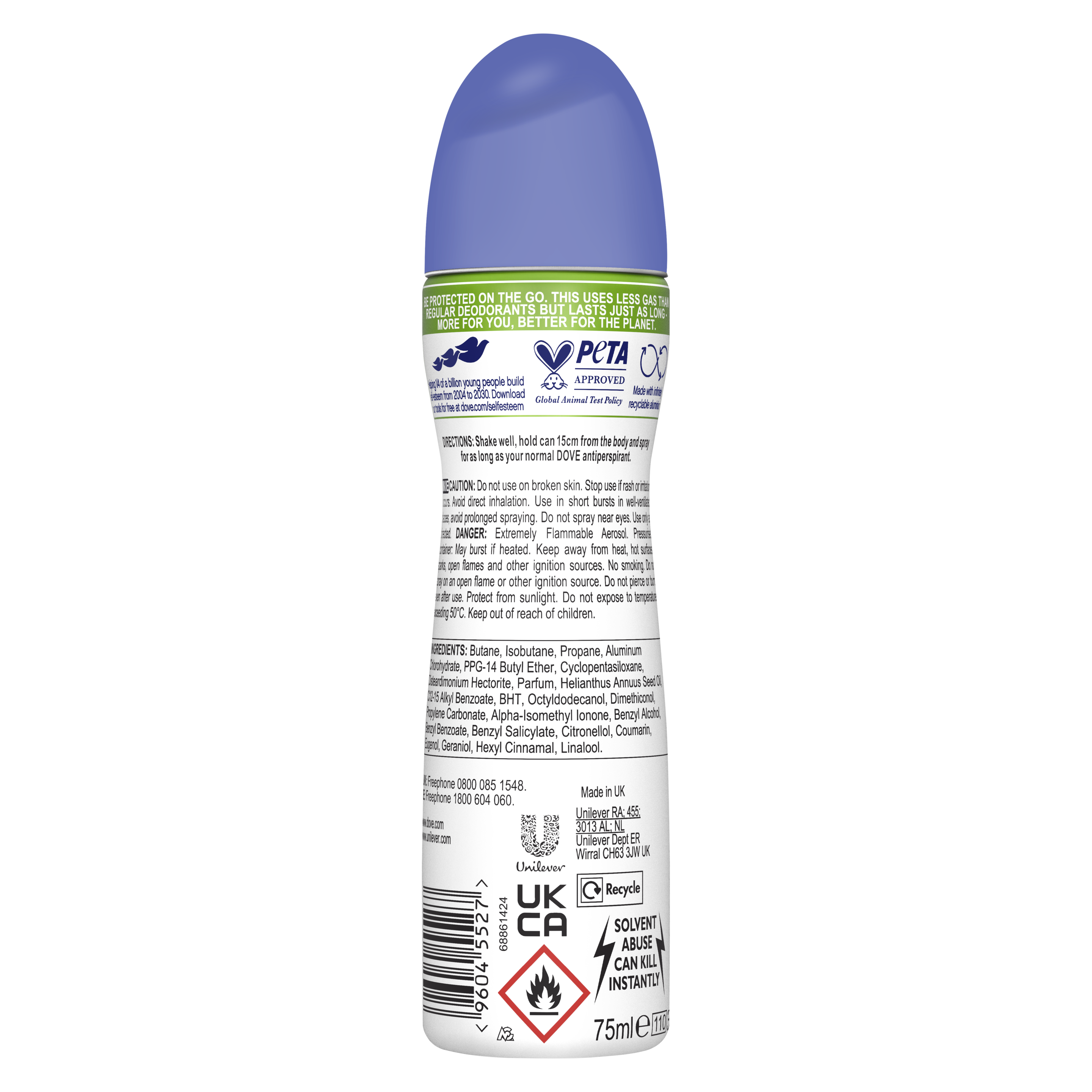 Compressed Original Antiperspirant Deodorant
Dove Compressed Original Antiperspirant Deodorant provides up to 48 hours of antiperspirant protection and great underarm care.

• Moisturises to help reduce skin irritation after shaving

• Provides up to 48 hours of antiperspirant protection

• Fresh, clean scent

• Nourishes your delicate underarm skin

• ¼ moisturising cream for beautifully soft and smooth underarms

• Compressed can lasts as long as our regular cans


Have you noticed how the simple things in life are often the best? How many times have you thrown out a gadget with all kinds of bells and whistles and gone back to the thing you used originally? When it comes to keeping dry and feeling fresh, Dove Compressed Original Antiperspirant Deodorant does exactly what you need it to, fuss-free.

Dove Compressed Original Antiperspirant Deodorant provides up to 48 hours of protection against underarm wetness, offers incredible underarm care, and helps underarm skin to recover from irritation caused by shaving. The delicate scent keeps you feeling clean all day too. What more could you ask for from a moisturising antiperspirant deodorant?

Our compressed 125ml can is smaller and lasts just as long as our regular 250ml can. There's a convenient compressed 75ml can, too. Compressed cans are better for the environment as well as for your overnight bag  – you'll have room to take the hair serum, the hair spray, and everything else you need. Now all we need to do is work out how to compress shoes… 


Butane, Isobutane, Propane, Aluminum Chlorohydrate, PPG-14 Butyl Ether, Cyclopentasiloxane, Disteardimonium Hectorite, Parfum, Helianthus Annuus Seed Oil, C12-15 Alkyl Benzoate, BHT, Octyldodecanol, Dimethiconol, Propylene Carbonate, Alpha-Isomethyl Ionone, Benzyl Alcohol, Benzyl Benzoate, Benzyl Salicylate, Citronellol, Coumarin, Eugenol, Geraniol, Hexyl Cinnamal, Linalool.


• Soft, smooth underarms
Our unique ¼ moisturising cream helps to nourish and protect your delicate underarm skin so that it is beautifully soft and smooth 

• Long-lasting protection
If you want cared for, smooth underarms and freshness that lasts all day, Dove Original Compressed Antiperspirant is for you, giving you up to 48 hours of protection

• Your handbag
Since you get the same amount of antiperspirant deodorant in our compressed cans as in their regular equivalents – just with less packaging – it's perfect for travelling and you can do your bit for the environment


To make the most of your antiperspirant deodorant, follow these three easy steps. First, make sure underarms are clean, cool and dry before you start. Then, shake the can a couple of times to evenly distribute the ingredients. Finally, spray each underarm from around 15cm away with a quick spritz. It's as simple as that.


Friction from our clothes can dry out our delicate underarm skin. Dove antiperspirant deodorant helps you get beautifully soft and smooth underarms with its ¼ moisturising cream, but, if you've noticed any dryness, try wearing looser fabrics. 

Is there anything else we can help you discover?
When it comes to your body, love the one you're with
Beauty is an all-ages show