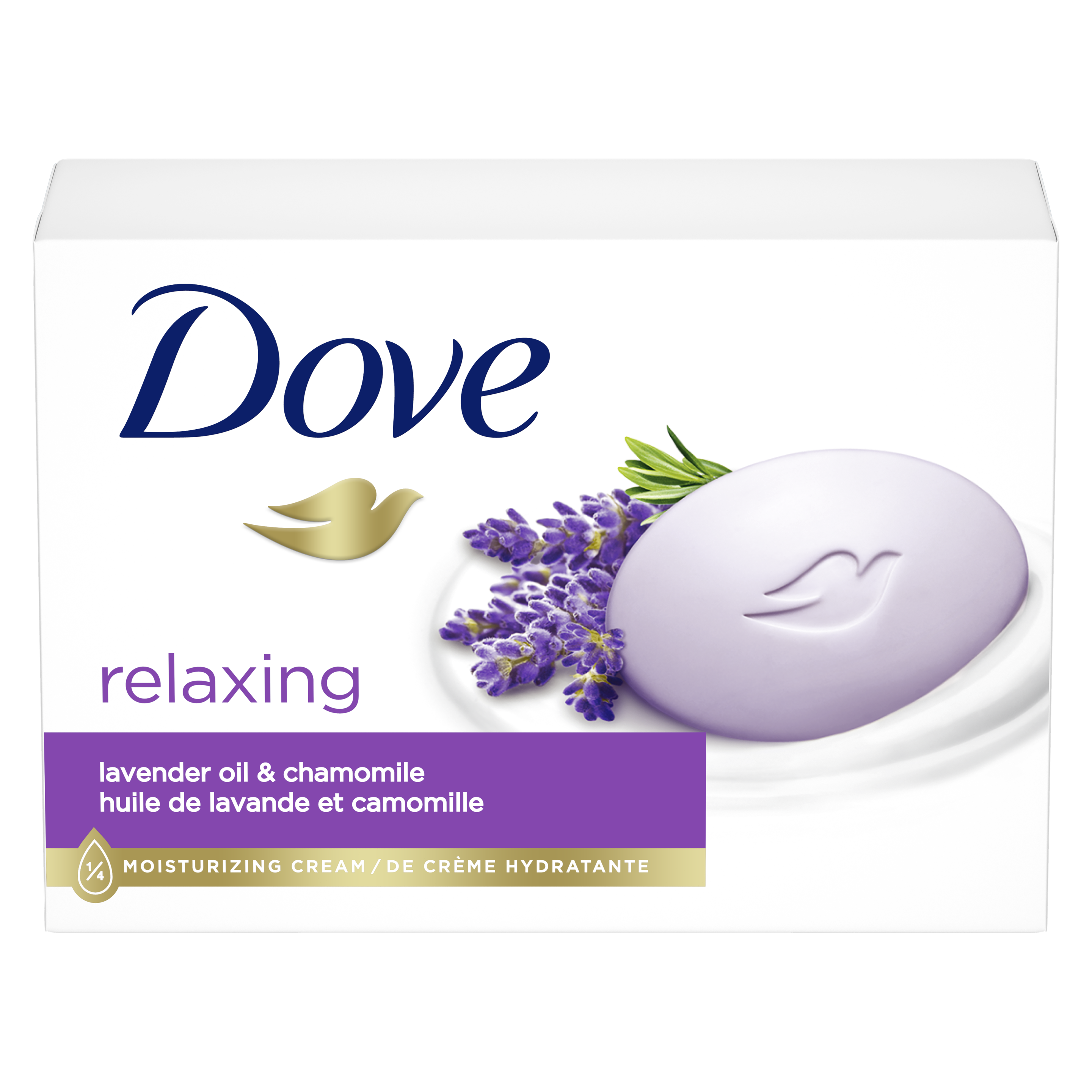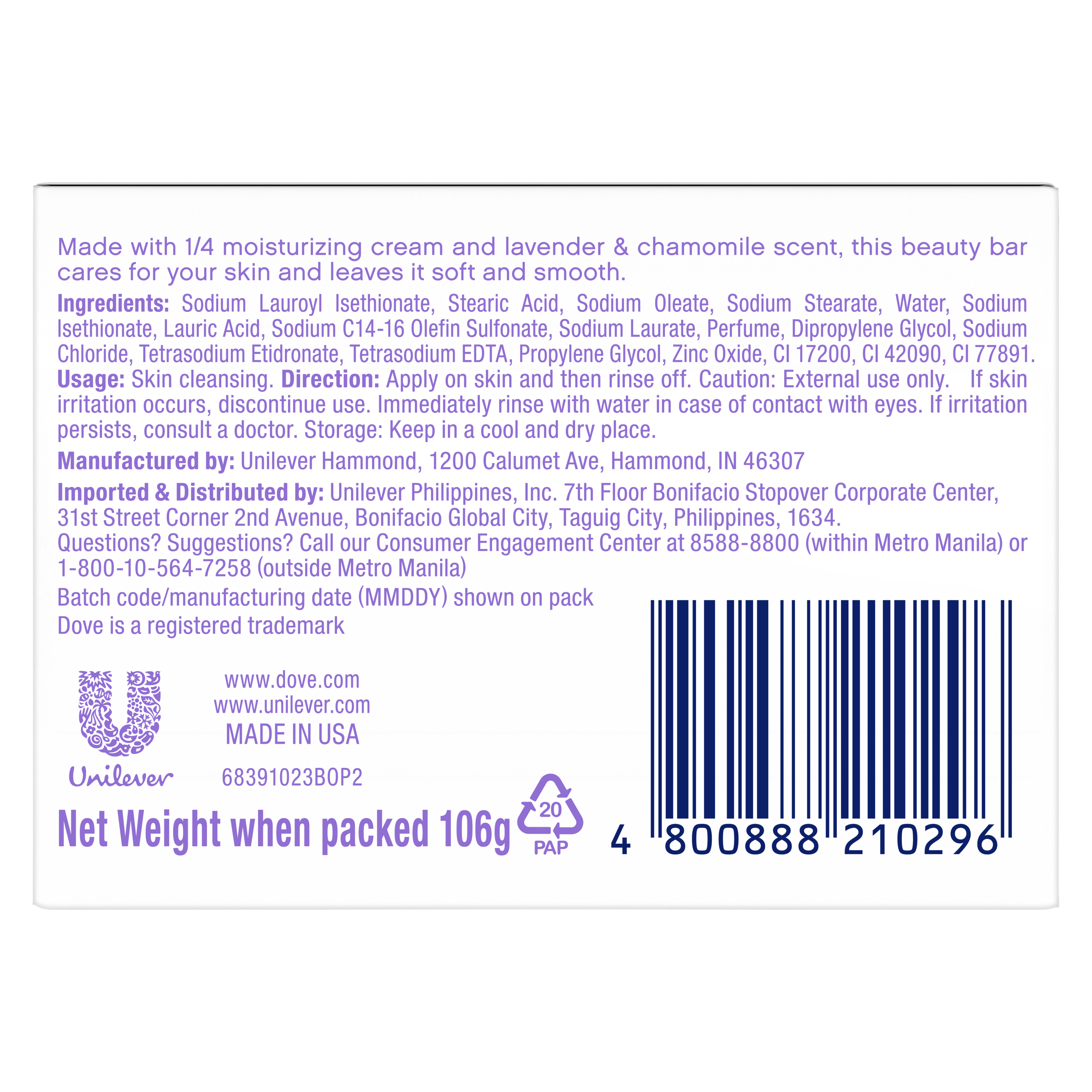 Dove Bar Relaxing Lavender
Among the many moisturizing skin products, Dove's Relaxing Lavender Bar is made with 1/4 moisturizing cream and lavender and chamomile scent for soft and smooth skin. You can use it as a moisturizing soap for face and for skin. Dove Nourishing Care for naturally soft and smooth skin

Dove's Relaxing Lavender Bar is made with 1/4 moisturizing cream and lavender and chamomile scent for soft and smooth skin. Our formula with ¼ moisturizing cream and mild cleansers helps protect skin's moisture. After a wash, it'll leave in a softer, smoother and more radiant-looking compared to ordinary soap. Dove Nourishing Care for naturally soft and smooth skin.


It's not a soap—it's a beauty bar! What is? The Dove Relaxing Ritual Lavender Beauty Bar Body Cleanser for Softer Skin with 1/4 Moisturizing Cream 106g. This Dove beauty bar combines the gentle yet deep cleansing formula with our unique and signature 1/4 MOISTURIZING CREAM to give you smoother, more glowing, and nourished skin after every wash. This beauty bar's mild cleansers also help your skin retain its natural moisture rather than strip it away. Using this skin cleanser will even help replenish key skin nutrients that are lost during bathtime. Where an ordinary soap bar can leave your skin feeling tight and rough, the Dove Relaxing Ritual Lavender beauty bar with the calming fragrance LAVENDER AND CHAMOMILE doesn't dry out the skin. The result? Healthier-looking and softer skin when you walk out of the shower. Since the skin nourishing Dove Relaxing Ritual Lavender beauty bar skin cleanser has a caring formula, you can use it every day—not just on your body, but on your face and hands, too. Usage is fuss-free. Just wet your hands and then rub the Dove Relaxing Ritual Lavender beauty bar skin cleanser gently between them until the bar lathers up. Massage the lather over your face or body before rinsing thoroughly with warm water. There's nothing like knowing that your skin is silky smooth and soft—and with the right products you can have that feeling every single day, starting with your skin nourishing and cleansing routine using the Relaxing Ritual Lavender Beauty Bar Body Cleanser. Say hello to smooth, supple, and nourished skin in no time! 


Sodium Lauroyl Isethionate, Stearic Acid, Sodium Tallowate, Sodium Stearate, Water, Lauric Acid, Sodium Isethionate, Sodium C14-16 Olefin Sulfonate, Sodium Cocoate, Perfume, Sodium Chloride, Tetrasodium EDTA, Dipropylene Glycol, CI 17200, CI 42090, CI 77891


Rub your Dove Relaxing Ritual Beauty Bar between your hands to create lather. Smooth the foam over your skin, massaging gently. Then just rinse off the foam with warm water.


Swap your usual skin cleansing products for just one Beauty Bar and take the #Dove7DayTest. All you have to do is wash your skin for seven days with our Beauty Bar and by the end of the challenge we think you'll see and feel the difference, with beautifully soft, nourished, healthy-looking and more glowing skin. Have a go, and see for yourself! 

When it comes to your body, love the one you're with
Beauty is an all-ages show